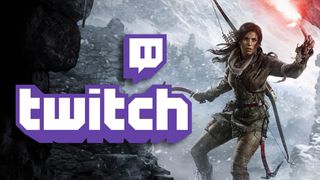 Introduction
Most hobbies are more fun if you can share them with others, and the same is true of gaming. The most obvious way to share your enjoyment of gaming is to indulge in multi-player sessions with mates, or to battle it out in online games with strangers. Another option is to broadcast your games to the world – be they multi- or single player – by streaming them to Twitch.
For any PC gamer who wants to show off their skills, it's a great way to hit a potentially massive audience. Whether you're a fan of driving, first-person shooters or something more out of left field, you can use free screen recorder OBS Studio in conjunction with Twitch to get social with your gaming.
Read on to find out how to start streaming your favorite PC games.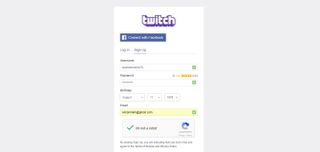 Sign up with Twitch
If you don't already have an account with Twitch, this is a good place to start. Head over to the account sign-up page where you can either sign up with a username and password, or link up with your Facebook account to simplify and speed up the process.
If you opt for the first method, you'll receive an email containing a link that you need to click to confirm your account before you can continue.
If you're new to Twitch, take a little time to take a look around and familiarize yourself with the layout of the site and how it works.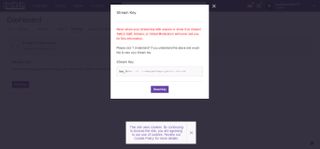 Get a Stream key
In order to stream on Twitch, you need to know your unique Stream Key. This can be found in your dashboard.
Once you've created and/or logged into your account, click your username to the upper right of the page and select Dashboard from the menu. On the Dashboard, head to the Settings section and then click the 'Stream Key' link. Click the 'Show key' button followed by 'I understand'.
You can either copy the code into a local file for reference, or remember where you need to head within Twitch when you need it later.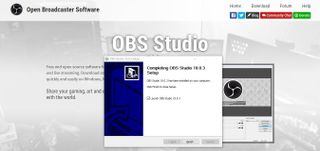 Download OBS Studio
The next thing you'll need – apart from your favourite game, of course – is OBS Studio. Grab this free program and get it installed; it's available for Windows and macOS, so you can use it for broadcasting games from different platforms.
There are no complicated settings to configure, but if you intend to use the software in conjunction with your Realsense camera, make sure you select the open to install these components as well.
With the installation complete, fire up the program and you're ready to get started.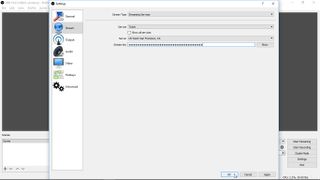 Enter your Stream Key
If the offer of using the auto-configuration wizard pops up in OBS Studio, click 'No' followed by 'OK'.
Click the 'Settings' button to the lower right-hand side of the program window and then click the Stream icon in the left-hand panel.
Over to the right, make sure 'Streaming services' is selected from the Stream Type menu, and that Twitch is selected from the Service menu. Below this, paste your Twitch stream key into the Stream Key field and then click 'OK'.
There are plenty of further settings you could configure, but for now, let's start streaming.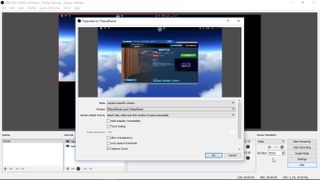 Set up Game Capture mode
Now you need to launch the game you want to stream. Get it up and running and then return to the OBS Studio program window.
In the Source panel at the bottom of the program window, click the '+' button and select 'Game capture' from the menu that appears.
Make sure that the 'Create new' option is select, enter a suitable name – such as the name of the game you're streaming – and click 'OK'. From the Mode menu select the 'Capture specific window' option, and then use the Window menu to select the game that you have running. Click 'OK'.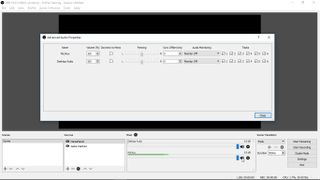 Configure audio
On the main OBS Studio program window, you'll notice that there is probably more than one audio source listed in the Mixer setting. In all likelihood, you will only want to stream audio from one source – the game itself – although this is not necessarily the case.
To broadcast game audio, you just need to have 'Desktop audio' enabled. If you see anything else (such as MicAux, for example), click the corresponding speaker icon to mute the sound.
If you do want to broadcast both – for the purposes of narration, for instance – you may want to adjust volume levels to ensure clarity.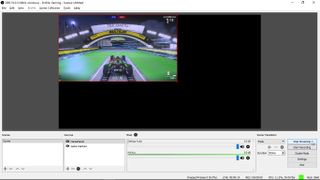 Start streaming
Once you've configured all of the settings to your liking, you're ready to start streaming. Depending on how powerful your computer is, you may need to visit the Video section of Settings and lower the quality of your stream if you start to experience performance issues, but for now just start a stream to see how it goes.
Hit the 'Start streaming' button to the right side of the OBS Studio program window. You can stop it at any time by simply clicking 'Stop streaming'.
You can monitor framerate, the number of dropped frame, CPU usage and bandwidth usage in the status bar at the bottom of the window.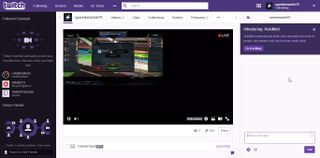 Interact with your audience
People will be able to watch your stream by visiting your Twitch profile, and you can use your profile page to keep an eye on who is tuning in.
Over to the right of the screen you can exchange messages with viewers, and you can use the settings (the gear icon) to choose whether only your followers should be able to view your streams, or they should be open to everyone.
If you start to feel a little more adventurous in OBS Studio, you can add more scenes and sources (such as prerecorded videos or other games you are running at the same time), and then use the Studio Mode button cut between them. Experiment and see what works for you.