The Magnetar UDP800 is a premium disc player that goes a long way to justifying its high price tag. If you miss the heady days of elite Blu-ray players from the likes of Oppo and Pioneer, then this deck will be right up your street. Ironically, the big differentiator when it comes to high-end Blu-ray players is usually their audio capability – this is where Panasonic's generally awesome DP-UB9000 falls short, but there's no such limitation here. The UDP800 plays both with aplomb, as well as looking incredible.
Pros
+

Excellent build quality

+

Universal disc support

+

High-end AV performance
Cons
-

No Wi-Fi

-

No streaming apps

-

It's not cheap
Why you can trust TechRadar We spend hours testing every product or service we review, so you can be sure you're buying the best. Find out more about how we test.
Magnetar UDP800: One-minute review
The Magnetar UDP800 is a reference grade 4K Blu-ray player with audiophile trappings. It delivers superb image clarity from Ultra HD discs, and is also compatible with SACD and DVD-Audio legacy music discs. Build quality is impressive, and includes the unusual provision of balanced XLR stereo outputs, fed by a 32-bit, 192kHz Burr-Brown PCM 1795 stereo DAC.
The name may not be familiar, but the Magnetar UDP800 is a heavyweight disc spinner that deserves the attention of serious cinephiles. Hailing from the same stable as Reavon and Zappiti, this Chinese-made player combines battleship build quality with high-end performance to create absolutely one of the best 4K Blu-ray players, if you've got the case to spare.
Streaming may have the upper hand when it comes to home entertainment these days, but the UDP800 could well convince you there's another (tried and tested) way to amuse yourself – provided you can afford the asking price. Especially if you're into audiophile disc formats too, because that's where this really distinguishes itself over some of the competition.
If you just need something that plays movies at an extremely high level to show off on one of the best TVs and best 4K projectors, the Panasonic DP-UB9000 is maybe a better option at around a third lower in price – but for those who want to unlock elite audio options as well as video, it's excellent.
Magnetar UDP800 review: Price & release
Released December 2022
$1,599 / €1,332 (around £1,140)
Occupying a price point once dominated by AV royalty, in the US the UDP800 sells for $1,599. In Europe it retails for €1,332. Currently there's no UK distribution for the UDP800, but UK buyers can order one direct from France, with free shipping.
This is far higher than most people will spend on a Blu-ray player, of course, but this isn't made for most people. Its high-end audio components and construction are made for people who want the best performance, and will pay for it.
Still, it's "only" about 50% higher-priced than the Panasonic UB9000, though it lacks streaming features. It's definitely one for audiophiles and the home theater hardcore, though.
Magnetar UDP800 review: Specs
Swipe to scroll horizontally
| | | |
| --- | --- | --- |
| HDR support | HDR10, HDR10+, Dolby Vision | Row 0 - Cell 2 |
| Audio support | Dolby TrueHD, Dolby Atmos, DTS-HD Master Audio, DTS-X | Row 1 - Cell 2 |
| Music support | SACD, DVD-A, DSD64/128, 192kHz/24-bit PCM | Row 2 - Cell 2 |
| Connectivity | 2 x HDMI, digital optical/coaxial output, stereo phono/XLR output | Row 3 - Cell 2 |
| Dimensions | 430 mm x 300 mm x 90 mm | Row 4 - Cell 2 |
| Weight | 8kg | Row 5 - Cell 2 |
Magnetar UDP800 review: Features
Dolby Vision and HDR10+ support
SACD and DVD-A compatible
Audiophile stereo DAC
It's a fair bet that if it's round and shiny, the Magnetar UDP800 will play it. In addition to 4K Ultra HD Blu-rays, and both regular and 3D Blu-ray, it spins DVD, AVCHD, SACD, CD, and a raft of recordable formats. Laserdisc is out, though, sorry.
The Magnetar also supports all mandated HDR formats for recorded media, including dynamic metadata rivals HDR10+ and Dolby Vision.
The deck can function as a self-contained content hub, with support for external HDD drives up to 16TB, which makes for a sizeable library by any measure. It will also stream from connected NAS devices, using DLNA and SMB.
There's no support for Wi-Fi or Bluetooth though. You'll need to hardwire everything. And apps are conspicuous by their absence – this is not a streaming hub. Get yourself an Apple TV 4K (2022) or something for that.
Like many high-end disc players, there's a big focus on sound here. The components are audiophile grade. Beneath the lid lurks a 32-bit, 192kHz Burr-Brown PCM 1795 stereo DAC. A four-layer PCB sports a high-quality op-amp for the deck's Pure Audio mode, with a high-power, custom 60W transformer and Japanese Rubycon electrolytic capacitors.
There's no shortage of ways to integrate the UDP800 into a sound system: rear connections include a stereo XLR gold-plated balanced output, as well as a standard stereo RCA phonos. Of course, for convenience, many users will simply stick with HDMI – there are two here, for flexibility.
Magnetar UDP800 review: Performance
Excellent image clarity
High-grade audio performance
Universal disc support
Disc loading times are relatively fast. A Sherlock Holmes (2009 vintage) UHD Blu-ray went from tray to Warner Bros logo in 30 seconds, while a Goldfinger Blu-ray travelled from tray to main menu in 40 seconds.
The UDP800 uses a quad-core system Media Tek MT8581 chipset, which boasts enviable audio video decoding.
Picture performance is sublime. The aforementioned Guy Ritchie 4K Sherlock disc opens with a heavily shadowed slow-motion action set piece with Robert Downey Jr. The deck delivers detail down to near black, without obvious noise or artefacts being introduced.
A 4K test disc featuring impeccably polished musical instruments conveys all the luster and near three-dimensional texture you would hope for. The featured instruments reveal subtle thumbprints and the minuscule patina of use.
Ironically, where premium Blu-ray decks such as the UDP800 really shine is not so much through video, but audio. This deck is an absolute joy to listen to.
A 96khz 24bit 7.1 (Japanese) recording of The Earth overture, by Kosuke Yamashita, in linear PCM sounds superb, with crystal clarity and hugely dynamic fanfares. It's like sitting amidst the orchestra.
The deck's stereo performance is similarly involving. Jazz SACD Bluesmith, by Tommy Smith, is a revelation (particularly if, like me, you spend too much time listening to smart speakers). This two-channel DSD 2.8MHz recording exhibits astounding depth of tone and clarity.
Obviously, the UDP800 does all the immersive audio stuff too – with bitstream support for Dolby Atmos and DTS:X. Movies and music are equally impressive. This will make the most of any of the best TVs, best 4K projectors, and whatever elite sound system you have available to you.
Magnetar UDP800 review: Design
Formidable build quality
Versatile connectivity
Button-heavy remote control
The UDP800 can be considered old-school handsome for AV fans. Weighing in at 8kg, it feels like the sort of equipment that will still be going strong in a decade or two.
The player itself features a double-layer chassis structure, 1.6mm thick, with a 3mm steel plate for extra rigidity.
The front fascia has a premium hairline finish, broken only by the center-mounted disc loading tray and LED display. To the left is a concealed USB port, while to the right are transport and control buttons.
Rear connections comprise two HDMIs, one of which is audio only, a USB 3.0 port, and two digital audio outputs, one coaxial and the other digital optical. The deck also has a stereo analog audio output, with both RCA phono and XLR options.
There's an Ethernet port for networking, but no Wi-Fi or Bluetooth. Smart home system control is offered via an RS-232C port.
Similarly suggestive of times past is the IR remote, which is festooned with tiny buttons. Why navigate a menu when you can give pretty much every option its own button? Thankfully, usability in practice is less intimidating.
Magnetar UDP800 review: Value
Built to last
High-end componentry
Unapologetically expensive
Let's be clear: the Magnetar UDP800 is a niche product. No one is going to slap this kind of cash down on a whim, but if you already have a big investment in physical discs, be they Blu-ray, 4K UHD, discs, CDs or SACD/DVD-As, then its punchy price starts to make a lot more sense.
The price tag is commensurate with the Magnetar's build and specification – it's not double or triple the price of the Panasonic UB9000, yet it delivers a real feast for audiophiles.
On the other hand, it doesn't have streaming apps, so it can't be your all-in-one movie and music hub. While this is technically a knock against its value, we expect that the target audience has no problem picking up a high-quality streamer too.
Magnetar UDP800 review: Should I buy it?
Buy it if…
You want a leading edge disc Blu-ray player
The UDP800 outperforms streaming services when it comes to image quality by a long way, as well as cheaper Blu-ray players, and does a decent job upscaling legacy DVDs. It's guaranteed to make your new 4K TV look its best.
You want audiophile as well as videophile disc skills
This is a disc spinner that will do justice to your CD and esoteric music disc format collection – it's as much a hi-fi product as it is a video one.
Don't buy it if…
You already have an elite 4K Blu-ray player
If you already own a Panasonic DP-UB9000 Blu-ray player or an Oppo UDP-205, there's not enough of a performance bump to justify the upgrade.
You want a disc and streaming hub in one
There's no support for streaming 4K services such as Netflix and Disney Plus, or music offerings from the likes of Spotify and Tidal. You'll need to get that from elsewhere if you buy this.
Magnetar UDP800 review: Also consider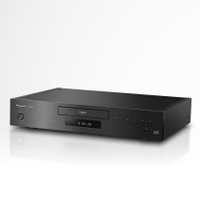 Panasonic DP-UB9000
At around two thirds of the price of the Magentar, the main thing you're missing out on here is the audiophile specs. In terms of picture quality, the Panasonic is still fantastic, and has streaming support built-in too. Here's our full Panasonic DP-UB9000 review.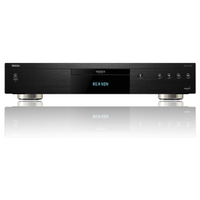 Reavon UBR-X200
For around the same price as the Magnetar, you can get this very similar beast – but it doesn't include DVD-Audio support, or HDR10+ support. However, it does have analog 7.1 output, in addition to stereo outputs to match what the Magnetar offers. So, if that's important to you, maybe you want the Reavon. Here's our full Reavon UBR-X200 review.
First reviewed: August 2023
Home entertainment AV specialist
Steve has been writing about AV and home cinema since the dawn of time, or more accurately, since the glory days of VHS and Betamax. He has strong opinions on the latest TV technology, Hi-Fi and Blu-ray/media players, and likes nothing better than to crank up his ludicrously powerful home theatre system to binge-watch TV shows.