Performance is a hard thing to judge on an ereader – I can't download GeekBench 3 software and give you the exact results here.
What I can say is that the Amazon Kindle Oasis is the fastest ereader I've ever used. Amazon doesn't share details about its processor setup for Kindle products, but it's certainly improved on what was in the Kindle Voyage.
One area in which you notice this is the page-turning speed – it's almost instantaneous on the Oasis, which is a surprise considering that it's using e-ink technology.
Downloading books from the Kindle store proved quick over both 3G and Wi-Fi, so you won't be slowed down there either.
The Kindle Oasis comes in Wi-Fi-only or Wi-Fi + 3G variants. The 3G version costs more, but the internet will be free for the Kindle's life in 100 countries around the world.
So you could be sitting on a beach in Thailand, Oasis in one hand and a piña colada in the other, and be able to download a new book without getting off your sun lounger.
The signal will be limited in some territories, but the service stretches from Japan to Chile and from South Africa to Finland.
You'll have to decide if it's worth shelling out the extra £60/$70/$AU95 for the 3G version – I don't think it's particularly useful, as I download my books at home before taking my ereader out and about with me.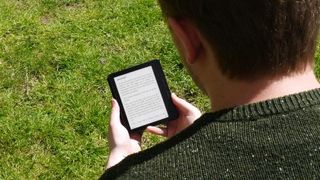 It all comes down to how often you'll use the Oasis when you're away from home.
Storage-wise Amazon has seen fit to put 4GB in the Kindle Oasis, and while that may not sound like much it really isn't a problem – you're unlikely to ever fill 4GB with ebooks, as the files are so small.
Even in the rare event that you do fill up the storage on the Oasis, you'd just have to go in and delete a few files from the device – they'll still be in your library if you want to download them again.
Battery
The battery is one of the more controversial features of the Amazon Kindle Oasis. You get two weeks' battery life from the device itself, but that has been pared down from almost a month on other Kindle devices in the pursuit of thinness.
To make up for this, the leather charging case is included to give you an extra month's charge – when you have it connected the Oasis will have six weeks battery life, and that's the longest of any Kindle device ever.
It's also as much as you're ever going to need, and if you're happy to use the case you can throw your Oasis in your bag and be confident it'll have some charge left in a week's time.
It's still a shame, though, that you lose out on the battery life of the device itself – if you lose the case, or leave it behind when you go on a long trip, you'll be restricted to those two weeks battery life.
And, as I've mentioned, using the Oasis with the case on means you're not enjoying the optimum reading experience, which is the whole point of the revolutionary design.
That said, two week's battery life is still phenomenal for a device this thin. In the time I've used the Oasis I've only had to recharge it once, and that's because it wasn't fully charged when I started. The claim of two weeks' battery with moderate usage is borne out.
It takes about three hours to fully charge the Oasis with the case attached, and the device on its own takes an hour or so to charge, so it's not like you have to leave the device plugged in overnight before you can use it again.
Ultimately I am disappointed that Amazon decided to reduce the battery life of the Oasis – but then I am used to devices with longer life, and I guess putting it on charge once a fortnight isn't that big a deal.