With Apex Legends riding high after an impressive first month launch, fans clamored for a season pass to invest their hard-earned time into, while looking for the opportunity to reap exclusive rewards.
On March 19, Respawn responded by releasing the Titanfall spinoff's first Battle Pass. Users quickly jumped in to see what road map the developers had outline for the preceding months. Season One had landed but was it worth the wait?
Named 'Wild Frontier', Apex Legends' Battle Pass arrived alongside the game's first new character, Octane. The adrenaline junkie proved a hit due to his increased speed and entertaining launch pads hurdling players across the map, however the Battle Pass has been contentious for a number of reasons, though we'll let you decide that for yourself.
Here's everything you need to know about Apex Legends' Battle Pass.
Apex Legends Battle Pass: what is it?
The Apex Legends Battle Pass grants access to numerous rewards that can be unlocked via XP earned throughout playing the game. It's essentially an incentive to retain players, while helping to keep long-term players invested in the experience. There's a free version of the pass that will unlock rewards as well as a premium version that gifts users a bigger variety of in-game items.
Those that purchase the pass can receive over 100 items from playing the game, including skins, banners, taunts, in-game currency and more. For those that stick to the free pass, a maximum of 24 items can be claimed. The setup is similar to Fortnite as each level brings with it a bonus of some sort. The max level caps out at 110.
Players also have the option to level up their battle passes by 25 levels at any time during the season through the Battle Pass Bundle. Positioned as a shortcut to jump to level 25 from the beginning, it's actually a better strategy to hold off until the last few days and claim the higher tier prizes with whatever level you've reached.
Apex Legends Battle Pass: season roadmap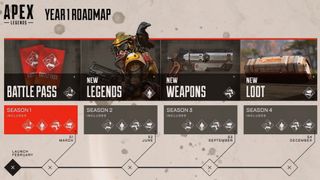 Apex Legends Battle Pass seasons run for approximately three months. Currently four seasons have officially been announced:
Season One: March 19, 2019 until June 18, 2019.
Season Two: June 2019
Season Three: September 2019
Season Four: December 2019
Apex Legends Battle Pass: how much does it cost?
The standard Battle Pass costs 950 Apex coins and the Battle Pass Bundle can be bought for 2,800 Apex coins. 1000 coins are priced at £7.99/ $9.99/ AU$11.95, with extra coins given for purchasing larger amounts of the currency.
Items that are exclusive to Wild Frontier will disappear once the season ends and will not be available to unlock via any other method.
For the first Battle Pass there is no way to gain free access. Going forward however, it's worth noting that players can earn 1000 Apex coins by reaching level 97, meaning for those that accomplish this impressive feat (and have the will to save all of the coins), following seasons can be unlocked in exchange. Arguably this could work for every proceeding season, but it's possible Respawn could change elements of the Battle Pass or means of earning Apex coins for free.
Apex Legends Battle Pass: how long does it take to unlock everything?
This heavily depends on your play style and whether you opt for the Battle Pass Bundle. For the purpose of this guide, let's assume only the standard pass is acquired. Reddit users have spoken of their experience of unlocking all items taking anywhere between 80 and 100 hours. This method needs to take into account at least a few daily challenges, mainly because Apex gives 500 battle points for the first kill of the day.
The other aspect for quickly levelling up is the Legend Bonus. Each character can earn an extra 25,000 battle points per week by simply using them in battle. A great motivator for players to ditch their mains for a little bit and get out of their comfort zones.
Apex Legends Battle Pass: the good and the bad
Featuring 110 levels, the Apex Legends Battle Pass has been designed to keep players busy for the coming months. Obtaining the pass immediately grants users access to three exclusive skins: Lifeline Revolutionary skin, Mirage Outlaw skin, and Wraith Survivor skin.
It's great to have such a long trajectory outlined, though the problem that many players encountered very swiftly was the uneven grind. There's nothing wrong with the grind when done right but the selection of bonuses unlocked in Apex's is very unbalanced – especially when you look at how competitors like Fortnite are handling the situation.
New arrival Octane was released as part of the Wild Frontier season but does not become unlockable at all in the Battle Pass. There is also no quest system, resulting in a rather dull affair that at its best offers an animated Wild Frontier emblem and a legendary skin for the Havoc Rifle. At its worst pointless stat trackers alongside uninspiring weapon skins will be added to your collection.
Some players have worked out you can enhance your overall rewards by switching the location of your console/PC to Belgium. As Belgium has cracked down on loot boxes, Belgian players receive crafting materials instead of a lucky dip via pack robots. Saving up enough crafting materials then allows users to claim one legendary gear of their choice. Not great, but it's something.
Apex Legends Battle Pass: improvements for Season Two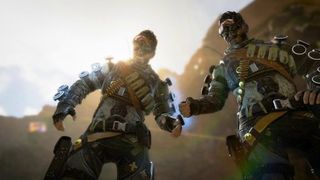 Season Two is likely to drop in June, giving Respawn plenty of time to take into account player feedback. To keep momentum going, Apex Legends needs to step up its game. Not making new character Octane available in some form was disappointing, yet understandable. However, the lack of creative incentives when it came to legendary skins and gear wasn't. By opting for safe choices, it's easy to be turned off by the selection but by making everything a bit more inventive and mad, Respawn can give players something they actually want to strive for.
Both EA and Respawn must garner some goodwill come June. A free character would go a long way to entice players back, although bigger than that would be the introduction of a new map. Kings Canyon was a terrific establishment for the series but it's time to shake things up. What better way would there be than a new location to fight it out for the role of champion?
Fortnite has done wonders by changing the terrain across its map. Taking a leaf out of the competitor's book before it's too late may be exactly what Apex Legends needs.
Apex Legends Battle Pass: is it worth picking up?
Well considering we're one month into the two-month lifespan of Season One, it depends on your motive for the next couple of months. If you plan on investing dozens of hours into Apex Legends and believe what has been outlined is enough for you then of course it's worth it.
The real question needs to be posed at Season Two and whether jumping in for another three months will bring the necessary hooks to keep players going. Respawn knows it needs to make amends but whether EA lets it is yet to be seen. Only time will tell…
(Image credits: Respawn Entertainment/EA)