30-second review
Just when you thought the market for wireless noise-cancelling headphones couldn't get any fuller, here comes one of the biggest brands in the business. The Technics EAH-A800 have the looks, the build quality and the specification to compete, as well as a storied logo. That's just as well, really, as on paper they look slightly overpriced.
There are a few areas where they could do better, sure - especially where active noise-cancellation is concerned. But when you balance that against these noise-cancelling headphones' enormous battery life, long-haul comfort and vivacious sound, it's easy to forgive. Easier, certainly, than an asking price in excess of pretty much any realistic rival.
Intrigued? Read on for our full Technics EAH-A800 review.
Technics EAH-A800: price and availability
Available now
$349 / £299 / AU$549
The Technics EAH-A800 wireless over-ear headphones are on sale now, for $349 / £299 / AU$549.
Of course, there's a list of viable alternatives from credible brands as long as your arm. Sony may be gearing up to replace its all-conquering WH-1000XM4 wireless over-ears, but that only makes the remaining stock even more of a bargain.
Bose offers its slinky Noise Cancelling Headphones 700 for a little less than these Technics; Shure's AONIC 50 may not be the most discreet but they sound great; and so on and so on. This is a congested market, brimming with worthwhile products, so even a brand with the cachet of Technics has its work cut out.
Technics EAH-A800: design and features
Bluetooth 5.2 with LDAC compatibility
Impressive battery life
Voice, app and touch control
There's a time and a place for breaking new design ground and it's emphatically not when designing a pair of over-ear headphones. If you thought Technics was about to tear up the rulebook, think again - the EAH-A800 look, feel and (to a lesser extent) even smell like we all expect a reasonably expensive pair of headphones to look, feel and (to a lesser extent) smell.
Key specs
Acoustic design: Closed
Weight: 298g
Frequency response: 4Hz to 40kHz
Drivers: 40mm dynamic
Battery life: Up to 60 hours
Active noise cancellation? Yes
Extra features: Touch controls, Alexa/Siri support, adjustable EQ
They're available in silver or black finishes (although my black review sample is more a dark metallic gray, at least where its plastic parts are concerned), and are built and finished with the sort of thoroughness Technics is renowned for. At 298g they're just about light enough for extended listening sessions, and they fold up sufficiently to fit into a quite compact, egg-shaped semi-hard case.
The earpads and inner part of the headband are filled with memory foam and covered in faux leather. In conjunction with a nicely judged amount of clamping force, they make the EAH-A800 unburdensome to wear for hours on end. And the materials resist absorbing (and then returning) body heat for quite a while, too.
Behind each earcup, there's a 40mm dynamic driver with a free-edge diaphragm in the dome and a claimed frequency response of 4Hz - 40kHz. It's augmented by an Acoustic Control Chamber that's designed to control airflow and allow the driver to perform to its maximum where spatial expression and low-end presence are concerned.
The Technics use Bluetooth 5.2 for wireless connectivity, along with compatibility with SBC, AAC and LDAC codecs. As well as permitting big hi-res audio files onboard, Bluetooth 5.2 is usefully energy-efficient, which contributes to headline battery-life figures of between 30 hours (LDAC, with noise-cancelling switched on) and 60 hours (AAC, with noise-cancelling switched off). These are numbers not many rivals can live with. From flat, the EAH-A800 can be fully charged in around three hours, and just 15 minutes on the mains is good for another 10 hours of playback.
Noise-cancelling itself is governed by a system Technics rather self-importantly calls 'dual hybrid noise-cancelling technology'. It uses an analog filter with feedback mic, plus digital filter with feed-forward mic, in an attempt to minimize noise intrusion from both inside and outside the earcups. In fact, there are a total of eight mics distributed across the earcups. Technics is confident the call quality and accompanying noise suppression it's achieved here is a match for that of any alternative design.
That's it for the left earcup's responsibilities, though - almost all the action is on the right-hand side. The right earcup features a touch surface (of extremely limited functionality), and a physical three-part multi-function button dealing with 'volume up/down', 'play/pause', 'skip forwards/backwards' and 'answer/end/reject call'. There's also a 'power on/off/Bluetooth pairing' button, a USB-C input for charging and a 3.5mm analog input for hard-wired listening.
The EAH-A800 are compatible with Technics' strangely austere 'Audio Connect' control app. Here's where you can specify your voice assistant of choice (as long as it's Amazon Alexa or Siri), dial in the amount of noise cancellation or ambient sound you like (from 0 - 100 in both cases), investigate some EQ presets or set your own using the five-band equalizer, or specify the function of the touch surface. It's limited to variations on 'noise-cancelling on/off/ambient sound' and 'answer/end/reject call', though - most of your interaction with the Technics is likely to be via voice or the physical controls.
Technics EAH-A800: audio performance
Detailed, expressive sound
Plenty of scale and momentum
Passable noise-cancelling
Technics has given the end-user quite a degree of control over the way the EAH-A800 sound - and that's unequivocally a good thing. But then again, Technics has voiced the EAH-A800 to sound their best with the EQ levels left well alone - and, not for the first time where a product like this is concerned, you can try all you like but you won't be able to improve on the balance the engineers struck. Oh, you can make it different. But better? No chance.
So with the EQ adjustment possibilities ignored and a chunky MQA-powered TIDAL Masters file of Paul Simon's deathless Diamonds on the Soles of Her Shoes playing, the EAH-A800 sound as they were designed to. And they make an uncomplicatedly enjoyable and periodically absorbing sound.
From the top of the (crisp, substantial) frequency range to the (deep, dextrous, properly controlled) bottom, the Technics are a realistic and convincing listen. Bass sounds are hefty but never overblown, and their straight-edged punctiliousness where the attack and decay of individual sounds are concerned means the song fairly motors along.
Less accomplished designs can let the bass information drag at this song's tempo, but not the EAH-A800. And treble reproduction is similarly alert - the easy momentum of the recording is carried along in the most unforced manner. At times it ventures this close to becoming edgy or coarse without ever quite getting there.
Between these two extremes, the Technics deliver an articulate, expressive and impressively detailed midrange. Voices are alive with character and nuance, and communicate eloquently as a result. If a singer has an attitude or an emotion to express, the EAH-A800 will let them do so without overplaying or understating the performance.
The tonal balance is convincing, and the Technics serve up a coherent, easy-to-follow soundstage. Every element of a recording, even the most complex or involved, is given a little breathing space - and consequently is straightforward to follow.
Big dynamic shifts are handled fairly confidently - the EAH-A800 don't put the most distance between 'near-silence' and 'final chorus crescendo', but neither are they the most inhibited in this regard. And they do equally respectable work with the finer, but no less significant, harmonic variations that give a recording real character and flavor. Rhythmic expression is pretty good too - in fact, across the board the EAH-A800 never dip below 'pretty good' and have some real areas of expertise.
That's as far as reproducing music goes, anyway. As far as cancelling external noise so that you can hear that music without disturbances, they're a slightly more qualified success. Certainly, they're able to do a job on ambient sound without affecting their tonality or introducing a sensation of opposition (which is not something all their rivals can do), but they don't eliminate external sounds in the manner that, say, the Bose Noise Cancelling Headphones 700 can manage. As long as you're fine with 'reduced' rather than 'removed', the Technics are more than adequate.
Should I buy the Technics EAH-A800?
Buy them if...
You like to wear the right logo
Few brands have the emotional resonance of Technics.
You're never at home
The battery life here can be reasonably described as 'epic'.
You enjoy big, detailed and convincing sound
The Technics provide an engrossing listen.
Don't buy them if...
You're touchy-feely
The capacitive control surface isn't all that much use.
You're the Google Assistant type
Interaction is with Amazon Alexa or Siri only.
You're a misanthrope
You'll never completely banish the outside world with a pair of these.
Also consider
If our Technics EAH-A800 review has you considering other options, here are three more noise-cancelling headphones to ponder: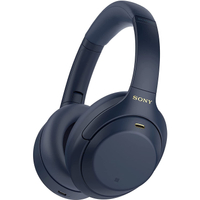 (opens in new tab)
Sony WH-1000XM4
These Sony noise-cancellers are our pick for the best headphones you can buy today - and although we're expecting to see the Sony WH-1000XM5 later this year, they're still well worth considering if you want excellent sound, brilliant ANC, and best-in-class features.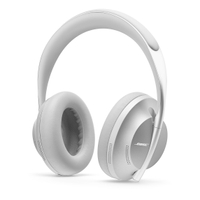 (opens in new tab)
Bose Noise Cancelling Headphones 700
If you're looking for a more unique design, try the Bose Noise Cancelling Headphones 700. These lightweight headphones offer 11 modes of active noise cancellation and an excellent audio performance.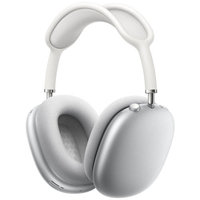 (opens in new tab)
Apple AirPods Max
Apple fan? The AirPods Max are an excellent pair of noise-cancelling headphones. Be warned though - these very expensive headphones don't come with a 3.5mm audio jack.
First reviewed: April 2022