The TCL 6-Series Roku TV offers a supremely good value for first-time 4K TV buyers, whether you're buying it at a standard 55-inch size or a larger (more recently released) 75-inch display, as one of the best TCL TVs out there.
It offers a big course correction to older 6 Series models too, many of which were limited to a single size, and restricting buyer flexibility – making the odd model that did make our best TVs list all the more impressive.
Thankfully, that issue has been fixed in the new 6-Series TVs that offer both a 65- and 55-inch variation, and since 2019, a new 75-inch version with even more contrast control zones.
As for the panel itself, there have been a few modifications for this year – TCL has increased the number of contrast control zones from 72 to 96 on the 55-inch models, and upwards of 120 on the 65-inch version of the TVs. The 75-inch edition tops out at 160 contrast control zones.
But largely you're getting the same core specs from last year: Namely, a 4K TV with three types of HDR support including Dolby Vision, the built-in Roku operating system and a full-array panel - all of which TCL is selling for an unbelievably low $649 for the 55-inch 55R617, and $999 on the 65-inch 65R617. The brand new 75-inch 75R615 is a leap and only sold through Best Buy for $1,799.
Said simply, if there's a better value TV on the market, we've yet to see it.
It's also worth noting that TCL is bringing its brand of low-cost TVs over the border to Canada: Starting in November, the premium 6-Series will be available in Canada in two versions, a 55-inch model (55R617-CA) that will sell for CA$849, and a 65-inch model (65R617-CA) will be on offer for CA$1249.
Design
Before we dive too deep into it, It should be stated that there are three different models of the TV, each of which are available in 55-, 65-, and 75-inch variations. There's the R615 model, which comes with a standard remote and can be found for $50 less than the usual MSRP of its older sibling, the R617, which offers a smart remote with a microphone for voice search built straight into it. (Pro tip: Spring for the smart voice remote - it makes searching for content 100 times easier than typing it in by hand.)
For our review, we were shipped a 55-inch R617, but you can apply the vast majority of what's said here to both the R615 and R617 in both the 55- and 65-inch versions.
Let's move on to what TCL's latest TVs actually look like … which, for lack of a better word, we'd describe as industrial. That's not a bad thing, though. A large factor contributing to that industrial feeling is the brushed metal exterior, jewel-like power button and robust frame that's probably an inch and a half thick.
That said, even though TCL's TVs don't have the extremely thin frame that we've seen before on OLED and some edge-lit LED/LCD TVs and it can look sometimes a bit daunting sitting on a TV stand, it's relatively unobtrusive - especially considering what's underneath the hood of this TV.
What's under there, in case you need a reminder, is a full-array LED panel with an unbelievable amount of contrast control zones. TCL is one of just two companies to announce how many zones it uses in its full-array TVs and by comparison it is completely crushing the competition: The VIZIO 2018 M-Series only offers 32 local dimming zones in its similarly priced 55-inch TV compared to the 96 zones found on the TCL 55R617.
The 6-Series stand on two metal v-shaped legs that have rubber padding on the bottom to prevent slippage. They can be fitted relatively quickly, and the TV should be up and running in a matter of minutes if you have all of your cables sorted and ready to be plugged in.
In terms of connections, what you'll find on the back of the R615 and R617 are three HDMI 2.0 ports with HDCP 2.2, one with HDMI ARC, one USB 2.0 port, a 3.5mm Headphone Jack and Digital Optical-In, plus an AV In port that takes your standard composite (Red-White-Yellow RCA) input, great for classic gaming or older AV devices. It'd be nice to see another HDMI port here, but three HDMI ports should be enough for all but the most ardent of AV enthusiasts out there.
The one area we'd like to see the 6-Series improve next year - and it's a small critique - is that its open-back design with the HDMI ports sticking out of the side leads to an unsightly mess of cables hanging off the side of your brand-new TV. The the TCL 8-Series 8K Roku TV has been announced, but back looks about the same.
One possible solution would be to design something similar to Samsung's T-shaped stand that routes all cables through the base of the stand, and then along the grooves in the back of the TV. It's a much neater solution and one that helps its TVs feel more premium even if the picture quality leaves something to be desired.
Design TL;DR: TCL's 6-Series is a bit on the thick side, but that's because it houses the all-important full-array panel.
Smart TV (Roku TV)
Once you get the TV up and running, you'll be met with the familiar veneer of Roku TV – an egalitarian operating system that handily retains its top spot as the best operating system year after year. It's intuitive to use (if a bit boring) and its lack of ties to a particular streaming platform allow it to point you to all the places content can be found without bias.
That last bit is important, especially if you've ever used an Apple TV or Amazon Fire TV, both of which would much rather have you stream from their ancillary streaming services over any of the third-party ones. Because Roku doesn't have ties to a major streaming service - other than a vague deal to include FandangoNow on the home screen of the OS - it doesn't push you any direction you don't want to go and happily supports everything from Netflix, Hulu, Sling TV and Amazon, to lesser-known channels like Pluto.tv, tubi, Crackle and others.
That's to say nothing of Roku's own streaming service that it launched at the end of last year, which provides its own collection of entirely free movies that change in and out every few months. Most aren't anything to write home about, but this month's featured film is Whiplash - which, if you've never seen it, is entirely worth capitalizing on the free admission.
If you've got your mobile phone handy while surfing the channels, you can download the Roku TV app which will help you manage your My Feed content (a user-curated watch list that will let you know when a movie or TV show comes to a streaming service) and will allow up to four people listen to the TV in private listening mode - a new feature for 2018.
One nice surprise TCL and Roku tucked into the TV is that it has Chromecast built-in - a handy feature that allows you to cast content from your mobile device to your TV. This is nice if you have a group of friends over and they all want a turn showing their favorite YouTube clip, or if you want to use your TV as a digital picture frame when family comes to visit.
While it'd be nice to see the inclusion of artificial intelligence and personal assistants on Roku TV - similar to what LG is doing with WebOS and Samsung has done with Tizen and SmartThings - all things considered, this is still one of the best smart TV operating systems.
Smart TV TL;DR: While you won't find smart assistants here or any sort of AI, Roku TV has laser-precision focus on delivering nearly every known streaming service and cataloging shows and movies in its robust, searchable database.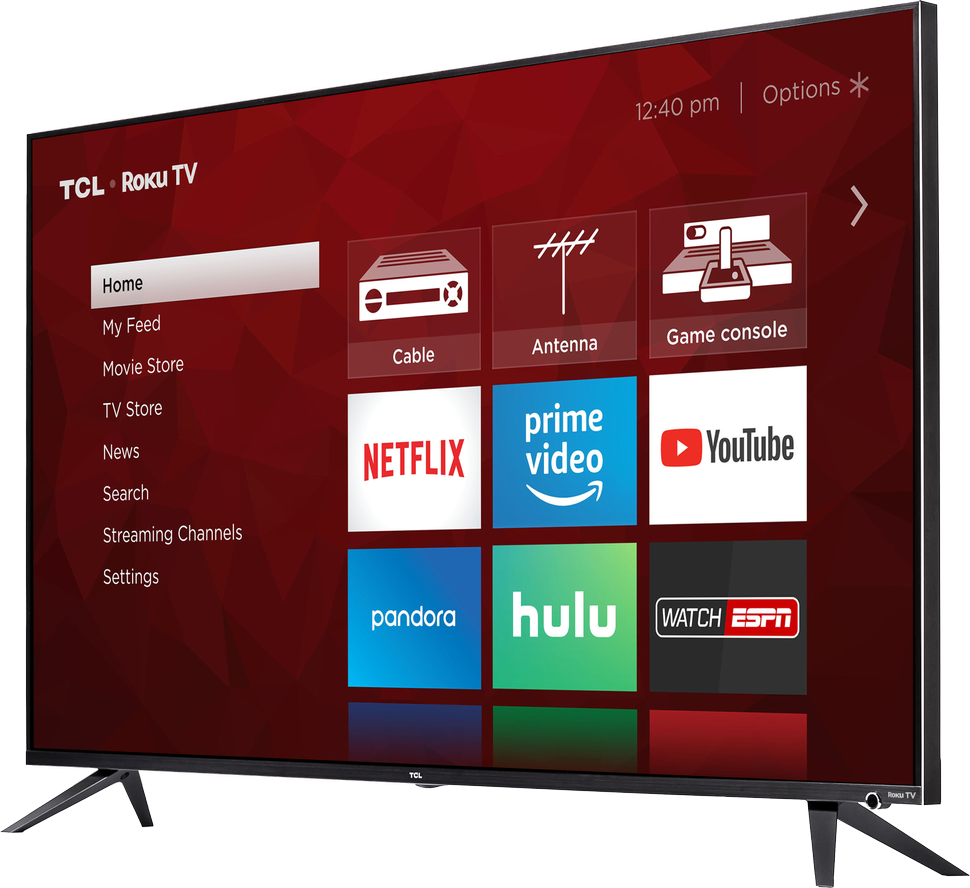 HD/SDR Performance
One major critique we levied against the P6-Series was its inability to properly upscale content from HD/SDR to 4K/HDR. The good news is that largely isn't the case any more - HD/SDR content looks generally pretty great on the 55R617.
Take Guardians of the Galaxy 2, for example. Known for its bright, colorful scenes, the 6-Series handily upscaled the film's 1080p SDR picture into a lush, near-4K image. Is it possible to make this movie even brighter and more colorful? Sure. Is it possible to do it without actually watching a native 4K HDR Blu-ray? Probably not.
The obvious advantage TCL has here is its full array panel and several dozen contrast control zones - they help each scene obtain higher contrast and even help SDR content look its best. What it means in practice is that you'll notice a distinctive lack of gray hues on the TCL 6-Series that might've passed for black on previous TVs you owned. According to TCL, the 6-Series' contrast performance exceeds the leading competitor by 300% and put the put the contrast ratio somewhere in the ballpark of 12,000:1 with SDR content.
Where there's room for improvement here is with how the TV handles motion. For the most part, it's surprisingly good - even if you're watching fast-paced content - but the way Roku TV is implemented here, you don't have much control over how motion is handled. There are just three settings - high, medium, low - or it can be turned off entirely.
Three options are better than none, obviously, but Samsung offers a more controlled 10-point scale. Whatever you might see on the box, it's just a 60Hz panel - even if it hides that fact rather well.
The last point that's worth making on the HD/SDR performance is that gamers can expect extremely low levels of input lag on the 6-Series. TCL says they measured it at around 17.7ms, which would put the 6-Series right around where we measured the LG OLED E8 - a TV that is significantly more expensive.
HD/SDR Performance TL;DR: Significantly improved from last year, the 6-Series' HD/SDR performance is outstanding.
4K/HDR Performance
Where the TCL's success in HD/SDR is pretty much undeniable, its performance with 4K/HDR content is nearly just as good and rarely needs qualification: Stacked against the competition even in its most unfavorable conditions, the 6-Series holds its own; Put it in a spot where the 6-Series can thrive, though, and it will outclass TVs that cost two, three and even four times as much.
So just where should the 6-Series go?
You will get better performance unilaterally if the TV is placed in a dark room. Details at the ends of the light spectrum - in particularly bright scenes and particularly dark scenes - will retain their splendor, and colors won't fade. Here, in the comfort of a darkened room, the 6-Series stands toe-to-toe with Samsung's top-tier QLED TVs, LG's OLED and Sony's legendary LED-LCDs.
The key here, besides the iPQ Engine that helps expand contrast and the full-array panel which has more control than most TVs on the market, is its WCG (Wide Color Gamut) capabilities that come from its NBP Photon technology. NBP, or Nano Band Phosphor, uses high-output LEDs with precision phosphors that help the 6-Series display 93% of the DCI-P3 color space, very nearly all of it.
But move the 6-Series into a brightly lit room, say in a living room near a window, and some of these advantages begin to crumble. Black details begin to get lost, colors begin to fade some and the brightness that the TV once had - or, more accurately, felt like it had - dims.
This is because of a difference in peak luminance. TVs like the Samsung Q8FN are outputting twice as much as the TCL 6-Series and that means it looks better in bright rooms, while OLEDs like the Sony A1E and LG C8 OLED can do better black reproduction.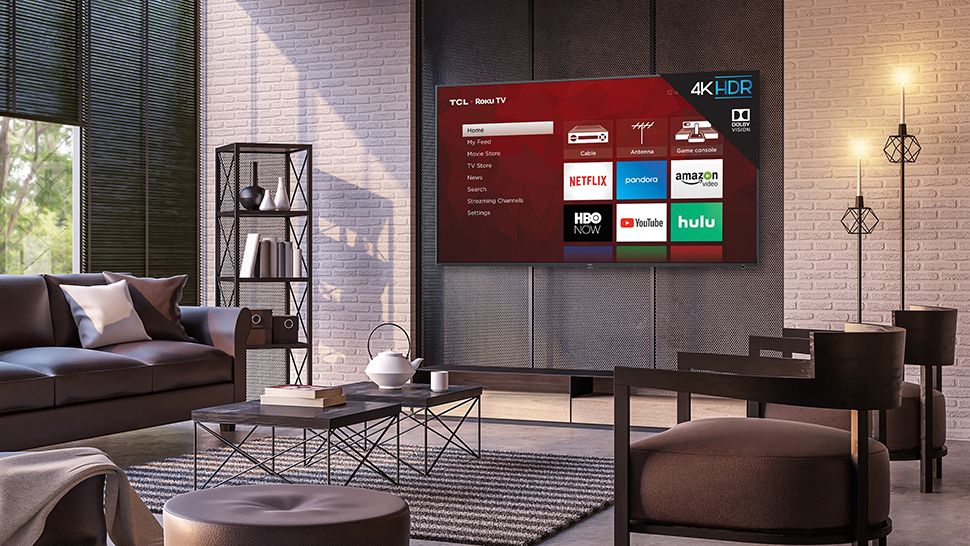 Of course, TCL isn't going down without a fight to a brightly lit room - there are ways to increase luminance at the expense of black levels. One of those ways is with HDR Pro Gamma that allows you to change from Dark HDR modes for your stereotypical home theater, to Bright HDR for your window-lit living room and Normal HDR for anywhere in between. This helps fight back against fading colors and blown out images but it merely puts a band-aid on the TV's light issues.
But all this might give you the impression that the 6-Series is a weak performer in the 4K HDR area. It's not. It's just the one area that it does lose ground in to the TVs that it so easily trumps in every other department. If you can look past some issues - which, trust us - it's not hard to do, you are treated to spectacular-looking images.
This makes it a great partner for the Xbox One X and PS4 Pro. Playing through God of War on the PS4 Pro was an absolute treat, and Forza Motorsport 7 on Xbox One X is what we've always wanted a driving game to look like.
Taking the TCL's HDR performance one step further is Dolby Vision support - a format used by movie studios and TV producers to great effect. Watching Daredevil in Netflix, Dolby Vision provides more of those low-light and ultra-bright details than standard HDR10 ever could on its own. Having it available here on a TV at this price point speaks volumes of about the value TCL and Dolby have created here.
No Dolby Vision demo content? Don't worry about it. New this year is the Dolby app that offers free clips of Dolby Vision and Dolby Atmos content that you can use to showcase your new TV. Educational, entertaining and best of all free, it is a welcome addition to TCL's spectacular set.
4K/HDR Performance TL;DR: A perfect companion for games and movies (especially those in Dolby Vision) the 6-Series punches well above its weight.
Sound
In terms of audio, there's not much new to report with the TCL 6-Series.
Like last year's P607, the R617 uses two downward-firing 8-watt speakers that produce a sizeable amount of noise – it's enough to completely fill a small room like a bedroom or cut through larger to midsize rooms without compromising too many of the details.
In terms of tonal balance, TCL has wisely placed an emphasis on the mids and highs rather than wall-shaking bass. That means the TV performs well in shows and movies where dialogue is the most important or prominent type of audio, but falls a bit short on music or games where explosions reign supreme. It's not a complete slouch here, but if you're looking for wall-shaking bass, you'll need to invest in a soundbar.
It's worth noting, though, that the 6-Series supports Dolby Atmos passthrough. This means you can hook it up to something like the Creative X-Fi Sonic Carrier or a Focal Sib Evo Dolby Atmos-enabled home theater system and you'll get immersive sound like you've never heard it before. It's a definite perk.
Other panels to ponder
The obvious competitor is the Samsung NU8000 - it offers a similar performance in many aspects but is a tad bit more expensive than the 6-Series.
The good news if you pick the Samsung over the TCL is that you get the equally great Tizen smart TV system, which now offers Samsung SmartThings integration alongside Samsung's slightly better HDR upscaling algorithm, HDR+.
What you'd be missing out on, though, is the full-array panel on the TCL as the NU8000 uses an edge-lit display. The NU8000 is a bit brighter and more colorful with 4K HDR content, but overall HD/SDR content looks nicer on the TCL 6-Series. You can't go wrong either way, but for the price the 6-Series is our pick.
If you're thinking about an LG, you should look at the LG SK8000, part of the Super UHD line-up. Super UHD TVs are based on quantum dot technology that handily outshines TCL's iPQ Engine in the color department.
In the LG SK9000, the SK8000's older sibling, we liked the improved blacks and impressive AI features that came built into this year's webOS but were put-off by the TV's sound performance. While you'll get slightly better performance from the SK8000, you'll have to pay more for it as the 55-inch LG 55SK8000 is currently sitting at $899 after an already steep $300 discount.
Verdict
If you had deep pockets and checkbook filled with blank checks, we'd tell you to reach deep and shell out for only the best TVs on the market - LG's crazy-thin OLED W8 or Samsung's ultra-bright Q9FN QLED. But that's not realistic. For the vast, vast majority of us, our budget to spend on a TV is limited to somewhere under $1,000 - and often less than that.
To that end, it's absolutely fair to say that the TCL 6-Series is the best TV you can possibly get in this price range. Its performance per dollar is unmatched and its picture quality - despite a few minor flaws - will truly impress you.