Razer Leviathan V2: two minute review
The Razer Leviathan V2 brings a much needed refresh to every PC gamer's favorite soundbar with one of the best computer audio experiences you're going to find right now, and it's not even really close.
And while not exactly cheap, the Leviathan V2 offers an incredible soundscape at a reasonable price point, easily making it one of the best computer speakers you can buy right now. It's not without its faults though, and the loss of 3.5mm and optical input pretty much consigns the Leviathan V2 to your PC for good, though it does have Bluetooth connectivity as well so you still have some flexibility.
The THX Spatial Audio is a welcome feature, and the bass response from both the subwoofer and the soundbar itself is impressive. This is helped in large part by the longer form factor over its predecessor, which allows the Leviathan V2 to fit in passive radiators to extend its audio range, something you're going to feel when playing the best PC games.
The addition of customizable 18-zone RGB lighting is also something a lot of gamers are going to like, especially as it is possible to sync the lighting to react to in-game activity and integrate it into your broader RGB gaming space thanks to Razer Synapse.
Considering that there aren't a whole lot of gaming soundbars on the market, the Leviathan V2 is definitely one you should consider if you're looking to give even the best PC gaming headsets a rest and enjoy some room filling audio. It might be pricier than other computer speaker systems, but the Razer Leviathan V2 is unquestionably worth what you're spending on it.
Razer Leviathan V2: price and availability
How much is it? You can buy it for $249 / £229 / AU$449
When can you get it? It is available now
Where is it available? It is available in the US, UK, and Australia at launch
The Razer Leviathan V2 went on sale on April 21, 2022, and is available in the US, UK, and Australia, as well as other regions globally.
It'll cost you $249 / £229 / AU$449, which is a bit more expensive than the model it is replacing (currently $229 / £174 / AU$379, up from the initial launch price of $199 / £159 / AU$279 we saw during our Razer Leviathan review back in 2014).
Still, given that its predecessor was released nearly a decade ago, some price inflation is to be expected and there are some noticeable improvements here that justify a price bump.
Razer Leviathan V2: design
18-zone RGB lighting
Swappable angled feet
The Razer Leviathan V2 has gotten some upgrades over its previous iteration. It still sports the same trademark Razer black with green accents look, and the soundbar's onboard controls are fairly subdued.
The build quality is superb, as you'd expect from a Razer product, and even though nearly the entire thing is made of plastic, it doesn't feel cheap in the slightest.
Razer Leviathan V2 Key Specs
Frequency Response: 45 Hz - 20 KHz
Input: USB Type-C
Power: External power adapter
Drivers: Full range (2 x 2.0 x 4.0 ins), tweeters (2 x 0.75 ins), passive radiators (2 x 1.7 x 5.3 ins), and down-firing subwoofer (1 x 5.5 ins)
Spatial Audio: THX
Dimensions (W x H x D): 19.7 x 3.6 x 3.3 ins / 500 x 91.3 x 84 mm (Soundbar) | 8.67 x 8.67 x 9.5 ins / 220 x 220 x 241.5 mm (Subwoofer)
The soundbar is now a little bit deeper than its predecessor, and the biggest design change is the move to a pure cube shape for the subwoofer, rather than the semi-cube of the V1.
The feet of the Leviathan V2 can also be swapped out to angle the sound bar upward rather than straight out at desk level. The front grill of the soundbar is solid plastic with the Razer logo stamped in the middle.
All in all, the soundbar fits comfortably under most monitors and, other than the RGB lighting, is inocuous enough that it can easily blend into your desktop workspace.
The subwoofer, meanwhile, is a very nondescript plastic cube with a down-firing horn to push out the bass. It is also much larger and harder to hide unless you put it under your desk on the floor (if you live in an apartment anywhere other than the ground level, your neighbors are absolutely going to love you if you do that). The subwoofer is wired, unfortunately, so it can't go too far from the soundbar.
Razer Leviathan V2: features
THX Spatial Audio isn't as good as Dolby Atmos, but it's still good
Chroma RGB lighting controlled through Razer Synapse app
No 3.5mm or optical audio input, so strictly a desktop PC soundbar
The Razer Leviathan V2 introduces a couple of new features to the line, while dropping a couple of fan favorites as well.
First, there's the THX Spatial Audio, which goes beyond basic stereo to create a much more surround sound-like experience. It does the job fairly well, but it's not on the same level as the Dolby Atmos you'd get in a home theater soundbar. This isn't all that surprising, considering that the Leviathan V2 is significantly cheaper than the best soundbars out there which leverage Dolby Atmos to its fullest extent.
The other major feature of the Leviathan V2 is the inclusion of 18-zone Chroma RGB lighting, which is controlled through the Razer Synapse. In addition to using Razer Visualizer for some cool music driven settings, you can also have gameplay driven color effects as well. Working the Leviathan V2 into your existing Chroma setup with other devices is also easily controlled through Synapse, so RGB customizers will have a lot more to play with here.
The inclusion of Chroma RGB should also be a pretty clear signal that the Leviathan V2 is definitely a gamer's soundbar, not an audiophile's. While the previous Leviathan model accepted 3.5mm and optical audio inputs, the Leviathan V2 ditches those for a single USB Type-C connection. While you can also connect your phone or other Bluetooth-capable devices to the Leviathan, these are nice-to-haves, but is clearly not the direction that Razer is taking their new soundbar.
A lot of people might be disappointed with these exclusions, but this was always designed to be a PC gamer's soundbar, not a replacement for a home audio setup. Nearly every gamer is going to have a USB Type-C port on their PC, possibly several, so it's understandable that Razer would go this route.
Razer Leviathan V2: performance
Incredible audio experience
Bluetooth not great for gaming audio
All of that is fine, but how does the Razer Leviathan V2 actually sound?
Thanks to the array of drivers on both the soundbar and subwoofer, the soundscape produced by the Leviathan V2 is honestly one of the best audio experiences you're going to find anywhere close to this price range. Gaming, blasting music, watching new Netflix movies between gaming sessions, whatever. It's going to sound amazing.
The addition of the two passive radiators on the soundbar definitely improves the low register performance of the Leviathan V2 over its predecessor by digging deep into the 45Hz territory, down from the 180Hz of the Leviathan V1.
The full range drivers and tweeters also easily fill the room, and a switch in the Synapse settings can redirect the sound to the center channel, making sure that you are getting the fullest audio experience when sitting at your desk.
When gaming though, it's best to plug the soundbar into the PC directly, rather than use a Bluetooth connection. The Bluetooth latency is low (60ms), but that's wide enough to lose some synchronicity while gaming, even if it's slight, and that will definitely irk some people for sure.
The THX Spatial Audio does an admirable job at creating a pseudo-surround sound experience, especially when environmental audio cues in gaming are important – like in the middle of a competitive match. And while it isn't quite up to Dolby Atmos standards (not to belabor the point too hard), it doesn't need to be if we're being perfectly honest. At this price, spatial audio is a bonus, and the fact that it's as well executed as it is makes this a clear win for Razer.
Unless you were hoping to hook the Razer Leviathan V2 up to your TV or home audio system, you're not going to find anything to be disappointed with here. And if you're looking for computer audio that isn't going to be clamped to your head for a change, then the Razer Leviathan V2 doesn't just need to be on your shortlist, you should probably just go ahead and buy the damned thing.
Should I buy a Razer Leviathan V2?
Buy it if...
You want excellent performance from a PC soundbar
The audio performance of the Leviathan V2 is simply unbeatable at the moment for a PC soundbar.
You don't want to spend a fortune
The price of the Leviathan might have gone up a good bit, but it is still one of the cheapest PC gaming soundbars around.
You want all the twinkly lights
Razer brought Chroma RGB to the Leviathan V2, so if you want your desktop to resemble a carnival, you're going to enjoy playing with all 18 RGB zones at your disposal.
Don't buy if...
You want a wireless subwoofer
The subwoofer plugs into the soundbar and its cable isn't all that long, so if you wanted flexibility in placing the soundbar and subwoofer, they are a package deal.
You want 3.5mm and/or optical audio input
Razer went with a USB Type-C input here, and that's it. The best you're going to get otherwise is Bluetooth connectivity.
You want Dolby Atmos-quality spatial audio
The THX Spatial Audio does a good job here, but if you're used to Dolby Atmos, you're probably not going to be impressed.
Also consider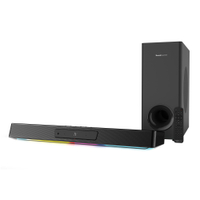 (opens in new tab)
Creative Sound BlasterX Katana
If you're looking to get optical audio input with your PC soundbar, then the Sound BlasterX Katana has a lot of the same pluses as the Leviathan V2, though it is somewhat more expensive.
Read the full Creative SoundBlasterX Katana review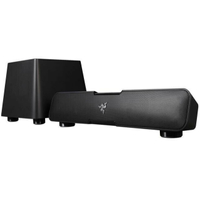 (opens in new tab)
Razer Leviathan V1
As of the time of this writing, the Leviathan V1 is still available for sale, though how much longer that will be the case isn't clear. If you're looking to connect a smaller soundbar to more than just your PC or Bluetooth capable devices, the Razer Leviathan V1 is still one of the best options out there if you're able to grab one.
Read our full Razer Leviathan review
First reviewed April 2022