The Pluto Pillow promises to let you build the perfect pillow according to your preferences. It walks you through a variety of questions, based partially on the pillow you currently have – and how well you like it. Other questions include your exact age, height, and weight, and also questions about the firmness of your bed, pillow surface preferences, and sleeping positions.
The result is what you would expect – the perfect pillow based on what you indicated that you'd like. Unless you input the wrong data, it's hard to see how someone wouldn't be happy with the Pluto Pillow. We tested it out to see how it matches up to the best pillows on the market. To boost your sleep comfort further, take a look at our guide to this year's best mattress for all budgets.
Pluto Pillow review in brief
The Pluto Pillow is the first, and, to our knowledge, only pillow that provides such a high degree of customization. The first step in the process is to complete a questionnaire that asks your name, email address, age, height and weight. Aside from the fact that you should never ask a lady her age (and many don't want to reveal their weight either), we did have a privacy concern, considering how often companies have their data hacked and sold on the black market – and many companies also freely sell the personal data of consumers. It seems that only medical professionals really need to know your age, height, and weight. For a pillow, perhaps an age range or weight range should be sufficient.
Pluto Pillow at a glance
Type: Foam core
Best suited to: Side, back, and stomach sleepers
Dimensions: Queen 24" x 16 inches; King: 34" x 16"
Trial period: 110 nights
Warranty: 1 year
But aside from these privacy concerns, the questionnaire helps to discover your preferences – for example the type of pillow you currently use, how you would describe it, the current pillow's height, and how much you like it (on a scale from the 1-5).
The questionnaire also asks your starting sleep position as well as the position you tend to wake up in. Even your mattress type is taken into consideration, as well as your preference for a softer or more supportive pillow, whether you prefer a smooth or quilted surface, and whether your head gets hot when sleeping.
This information is run through Pluto's proprietary algorithm - and we found that the Pluto Pillow you receive really is designed to be the perfect pillow for your individual needs.
Pluto Pillow review: price and deals
Pluto makes an original size Pluto Pillow that is available on the Pluto website for $110. It also makes a king size pillow for $140. Pluto also makes a body pillow (opens in new tab) (21" W x 54" L) for $110.
The price point for the Pluto Pillow puts it in the luxury pillow category. Competitors include the Layla Kapok Pillow, which is on our list of the best bed pillows of 2023, and retails for $109 for a queen. It's not nearly as customizable as the Pluto Pillow; however, the Layla Kapok Pillow zips open, and comes with a bag of extra fill, which allows you to add or remove fill from the pillow to reach the desired level of softness or firmness. In addition to memory foam, the Kapok pillow consists of natural Kapok fibers (that have been harvested from the seeds of Kapok trees and are designed to create a down-like feeling).
If memory foam is a preference, and keeping cool at night is a priority, the Saatva Memory Foam Pillow (opens in new tab) is another memory foam option. At $165, it is significantly more expensive than the Pluto Pillow. And, it does not zip open like the Layla Kapok Pillow to allow you to add or remove fill. However, the graphite-infused memory foam used in the pillow is designed to provide a cool night's rest by pulling heat away from the body.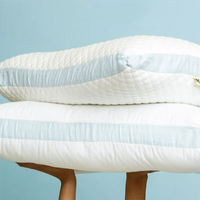 (opens in new tab)
Pluto Pillow: from $125 at Pluto (opens in new tab)
The original size Pluto Pillow is available on the Pluto website for $125. Since it's customized, the pillow is not available anywhere else. Also, since it's customizable the pillow is suited for any type of sleeper.
Pluto Pillow review: design and materials
Pillow is springy and bounces back
Breathable foam is temperature-responsive
Choice of covers
Regardless of the results of your sleep profile, the Pluto Pillow is made of CertiPUR-US certified foams that are free from ozone depleters, TCEP flame retardants, lead, mercury, and other heavy metals, and also free from formaldehyde and other bad materials and chemicals. The foam core is made of breathable polyfoams that are temperature-regulating. Your pillow may be softer or firmer depending on your selections.
There's a choice of covers, depending on your results: for example, it may be a high thread count cotton, or it may be a quilted knit. It may have an advanced cooling surface if you're a hot sleeper, but it won't if you indicate that you don't sleep hot. However, one constant is true across the board: long, silky fiber clusters are individually blown into each cover – but how many of these fibers are included depends on your questionnaire responses.
The cover is removable, and can be laundered (separately) in the washing machine in cold water on a delicate cycle. (Only non-chlorine bleach should be used if needed.) You can also tumble dry the pillow on a low heat setting. Pluto recommends washing the cover every 2 to 3 months – or whenever you think it needs to be laundered. Otherwise, fluff it every few days to help the pillow maintain its shape.
Pluto Pillow review: performance
Supportive in every position
Cooling experience
Plushy/melt-in feeling
For over two weeks, we slept on a pair of Pluto Pillows to see how they fared in performance, testing for setup, comfort, support, and temperature regulation. We also slept on side, back, and stomach positions to see if the performance was the same. Here's how we got on...
Setup
5 out of 5 stars
Setup was extremely easy. The pair of Pluto Pillows arrived in brown shipping boxes, and inside of that, they were each in Pluto-branded boxes. Upon opening the interior boxes, the pillows were covered with a sheet of white packing paper, along with a thank you card, and a piece of Airheads bubble gum.
There was also another sheet of paper that recapped our tester's questionnaire responses. It included her height and weight, current pillow (feathers/down with low (0-3 inches) regarding height and firmness level. We rated her current pillow a 5 out of 5, and Pluto said our tester seemed to prefer plushy & melt-in (she does). The paper also noted that our tester generally settles into bed on her side and wakes up on her stomach.
Based on those responses, our tester was informed that the enclosed Pluto Pillow's foam core and plush cover would combine to provide her with the plush and melt-in feeling that she preferred.
The pillows were shipped full size instead of being compressed, so there was no need to wait for them to regain their shape.
Pluto noted that if the pillows had a scent, it would quickly go away, but we did not experience any off-gassing smells.
Temperature regulation
5 out of 5 stars
Our tester noted on her questionnaire that her head tends to get hot while sleeping. However, the Pluto Pillows are not only cooling, they're actually cool to the touch. This is an important distinction as some "cooling" pillows feel like normal pillows to the touch. As a result, we did not wake up hot and sweaty at any time during the testing process. Even more than two weeks later, and with heavy winter bedding – including a weighted blanket and faux luxe fur throw included on the bed - the pillows were still cool to the touch, and the temperature-regulating features kept our tester from sleeping hot.
Firmness and support
5 out of 5 stars
Our tester's primary pillows are the Casper Down Pillows, and since she rated these pillows 5 out or 5, Pluto's mission was to provide a comparable experience. We feel it's important to note this because our tester did not want a firm pillow. Given the choice between "plush and melt-in" and "settled and supportive," she chose the former.
It should also be noted that our tester has a medium firm Saatva mattress. In fact, the firmness level of the mattress is one of the questions on the Pluto Pillow questionnaire. And since the mattress is already firm, a soft pillow can offset or balance the firmness.
For sleeping on side and stomach positions, the pillow felt luxurious and she did actually feel like she was melting into it. Even sleeping on her back was comfortable. But if you prefer a firmer pillow that provides more support, your questionnaire responses should indicate such.
Pluto Pillow review: user reviews
The Pluto Pillow is not available on Amazon or other third-party sellers, so all of the user reviews we saw were on Pluto's website. Currently, there are 1,998 reviews, with an average rating of 4.81 out of 5. Buyers are generally well pleased. Some have stated that the pillows have caused them to experience the best sleep ever.
Among the few complaints: some buyers thought the pillow was too hard while others thought it was too soft. One person found it too bouncy and didn't like that it sprang back when her head was removed. Yet another customer complained about the blue stripe on the pillow and said she wished the pillow was completely white.
Should you buy the Pluto Pillow?
We highly recommend the Pluto Pillow – especially for people who struggle to find the right pillow for their needs. The ability to complete a detailed survey asking about preferences, sleeping positions and firmness levels – even the firmness of the mattress – cannot be overstated. Your responses should help you land up on the most comfortable pillow for your needs.
We were concerned about the personal information required to customize the pillows. We felt that a range of answers, instead of very specific information, could have sufficed. Also, we would have liked to see details on the actual pillow chosen for us. For all we know, Pluto may only have 2 or 3 different pillow types to choose from, and they're not being customized at all. But even if this is the case, our tester swears her pillows were perfect.
If you prefer another foam option that also has cooling features, check out the Saatva Memory Foam Pillow. It costs much more, and does not include the range of customization features found in the Pluto Pillow. However, it does include graphite-infused memory foam, which is designed to pull heat away from the body to keep the sleeper cool at night. We haven't found anyone else using that type of technology.
If customization is important, the Layla Kapok Pillow, while not as customizable as the Pluto Pillow, does have a zippered cover, so the fill can be added or removed. It also comes with an extra bag of fill. And unlike the foam used in the Pluto Pillow, the Kapok pillow consists of natural Kapok fibers (designed to mimic the feeling of down).