Verdict
Is the Samsung Galaxy Tab S2 enough of an upgrade over the company's 2014 tablet? It's certainly has a new shape and it's thinner. In this way, it mimics the iPad Air 2, but not in enough areas.
We liked
As Samsung's thinnest and lightest tablet, the Galaxy Tab S2 is easy to tote around. Its 9.7-inch model's weight fits in between the iPad Air 2 and iPad mini 4. Its 8-inch tablet is even lighter. Yet it upgrades to a metal frame, keeps the microSD card slot and uses a more comfortable, soft touch plastic back.
To Samsung's credit, the TouchWiz software doesn't get in the way of Android 5.1.1 too much, and it includes extra features, like a fingerprint sensor in the home button and multitasking. The Tab S2 is not as powerful as it could be or as long lasting, but it's enough for a consumer tablet.
We disliked
Besides the svelte design and slight specs upgrade, the Samsung Galaxy Tab S2 isn't always better as much as it's different from the Galaxy Tab S1. The tablet is less powerful than an iPad Air 2 and has a smaller battery compared to Apple's tablets and Samsung's own tablet from last year.
It's not best for movies, either, with its more boxy 4:3 screen, instead of a wide-screen-friendly 16:9 aspect ratio. That makes it a matter of taste, but no one will like the fact that Samsung backed off the pixel count in the transition to the new screen shape.
Final verdict
The Samsung Galaxy Tab S2 is a lightweight tablet that's a lightweight upgrade over the 2014 Galaxy Tab S. Andbeyond the thinner and lighter design, it can't keep up with the iPad Air 2.
There's still plenty of reason to invest in this reading and web surfing-friendly tablet. Its size and shape is better suited for everything but video, and for some, that's a big plus.
It has stronger multitasking functionality to rival iOS 9 and features that Google isn't premiering until the Android Marshmallow launch. Samsung is slightly ahead of other Android tablets, even if this year's update is as small as the form factor is thin.
How does the Galaxy Tab S2 look compared to the rest of the market? Here are some other choices you may prefer to Samsung's latest attempt.
iPad Air 2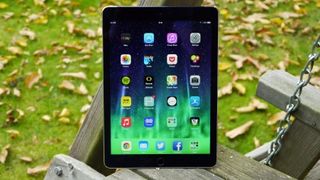 We love the iPad Air 2 – there's no denying that, it's one of favorite tablets out there and it's hard to go wrong with this slate. But it is a little more expensive than the Galaxy Tab S2, and has a very different set up to Samsung's slate.
It may over a year old and the iPad Air 3 is near, but the iPad Air 2 has one of the best screens around and the processing power that would impress any tablet owner. But the Galaxy Tab S2 does hold its own against the iPad Air 2 with another powerful processor set up.
If you enjoy iOS on a tablet though, this is probably your number one choice as it's running iOS 9.1 and offers the best overall experience.
Sony Xperia Z4 Tablet
Sony's Xperia Z4 Tablet is probably the most suited piece of competition compared to the Galaxy Tab S2. Sony has done really well in its latest tablet by including a 10.1-inch 2K display in a beautiful design that's slimmer than we've seen before from the company.
It runs Android and is set up with the ugly Sony UI, but it does come with PS4 Remote Play to make up for it. It means you can play your PlayStation 4 on your 2K screen anywhere in the house, and one day you could maybe even play it on a different internet connection.
The keyboard is also nicely set out so it's easy to work from the Xperia Z4 Tablet – if you're looking for something a little more premium than the Tab S2, then maybe go for Sony's best slate yet.
iPad Mini 4
Apple's third Mini tablet was a bit of a let down without adding much new apart from Touch ID, but the iPad Mini 4 has made up for that stumble. If you're looking for a tablet closer to the smaller slate in the Galaxy Tab S2 range, this will be your choice.
Much like the iPad Air 2 it comes packing iOS 9.1 – with possibly the best tablet app line up out there - and a beautiful screen. But this time it's in a smaller package with a 7.9-inch display.
There's no 3D Touch here though like we were hoping for from Apple, plus it's still running on an older processor set up so it's not exactly perfect. But that said, this is the best smaller tablet you can buy right now… if you're willing to pay Apple prices.