Verdict
Misfit's first attempt at a smartwatch does a lot of things right, but there's so much competition in this space right now it's a difficult one to nail.
There are lots of great Android Wear watches as well as running watches or even the Apple Watch 3 to choose from, but the Misfit Vapor has done a lot right and kept the price low given the features on offer.
This is perhaps the most affordable high-end watch that also looks fashionable and runs Android Wear 2.0 software, and while the fitness side is limited it achieves a lot given the amount of money you're spending here.
Who's this for?
We'd recommend the Vapor for anyone who's looking to get an Android Wear watch on their wrist but wants to look fashionable and not spend lots of money. The design is really well thought through on the Vapor and with a more vibrant display than a lot of the competition it helps the watch stand out from the rest of the crowd.
The Vapor isn't the best fitness tool on the market, but it looks great and although it's limited it can still track your runs, walks, swims and cycles.
Should you buy it?
If fitness isn't your main intention of buying a smartwatch, we think the Misfit Vapor will be a happy medium. The price is low considering the rest of the market, this comes with a heart rate tracker as well as connected GPS and there's all the benefits of Android Wear as well.
This is a watch you'll want to wear on multiple occasions and if you want something stylish you can wear while working out and swap the straps for that business meeting, you'd struggle to go wrong with the Vapor.
Competition
Don't think you like the Misfit Vapor? Here are some watches you should also take a look at.
Fitbit Ionic
Another fitness-focused watch, the Ionic is Fitbit's first attempt to make it into the smartwatch business and switch from just making fitness trackers. If you're already embedded in the Fitbit platform after owning a Fitbit, the Ionic may suit you well.
There are a lot of similar features on the Ionic, but this has GPS built-in and is going to cost a lot more than the Misfit Vapor, so if you're on a budget the Vapor could be a better choice.
Apple Watch 3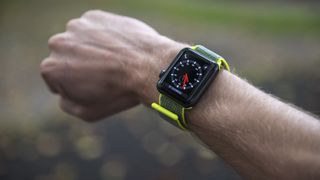 This will only suit you if you own an iPhone, but the Apple Watch 3 is one of the best smartwatches in the world right now and looks a lot more fashionable than this choice from Misfit.
Fitness features are about the same on both of these watches, but there's an LTE version of the Apple Watch 3 up for grabs if you want to be able to take calls on your wrist without having to take your phone out for a run with you.
That said, any version of the Apple Watch 3 is going to cost you a lot more than a Misfit Vapor so be prepared to spend more if you opt for the iOS-only choice.
LG Watch Sport
One of LG's flagship watches is perhaps the best fitness device in the Android Wear space right now and tackles the Misfit Vapor at what it's attempting to do the best. You can use the LG Watch Sport without your phone a lot more easily than the Vapor, and strength tracking is included in LG's wearable too.
Compared to the Vapor though, the design isn't as nice and the battery life isn't much better so it's a difficult choice to make that largely comes down to whether you want to go running without your phone or you're happy to have it in your pocket.