With InterServer you can be sure you'll find a complete collection of hosting options to choose from, including shared and managed WordPress-specific hosting as well as advanced types such as reseller, VPS, dedicated server and collocation hosting services. The feature list you'll get even with the entry-level package is nothing short of impressive, performance is pure power, the support staff is fast and friendly and the total cost is rather reasonable, making InterServer quite the catch.
Pros
+

30-days money-back guarantee

+

"Epic" support available 24/7

+

Free SSL and Intershield security

+

Full range of easily scalable hosting solutions

+

Unlimited storage, data transfer, FTP and email accounts
Cons
-

Data centers in the USA only

-

No free domain for new users
Why you can trust TechRadar We spend hours testing every product or service we review, so you can be sure you're buying the best. Find out more about how we test.
What started as a dream of two enthusiastic tech-savvy high school students by the names of Mike Lavrik and John Quaglieri was turned into reality in 1999 in the form of a web hosting company called InterServer. The dream was to create a company that can provide best-in-class data services for all sorts of customers without compromising the general quality. They claim that their customer base ranges from individual freelancers to high-ranked businesses, both US-based and beyond. Given the wide variety of services they offer, this is probably true.
InterServer is headquartered in Secaucus (New Jersey, the USA) and it operates several onshore data centers: four in Secaucus and one in Los Angeles. As a result, users from the USA can expect nothing less than lightning-fast speed. And if you want to learn all the little technical details about each of their data centers, InterServer's official site offers more than enough information as well as on-site photographs.
InterServer's official website is far from flashy and a bit confusing at times but it is well-packed with everything you need to know before deciding whether you want to give them a chance or pass up. The "About" section doesn't only go into details about the company itself, but also says something about key members of InterServer's team. Unfortunately, the minister of defense, morale, and mental health which is probably better known as a Good Boy/Girl (yes, we are referring to the resident dog) hasn't been granted its own section yet, which we were looking forward to reading.
Almost everything said about InterServer's site can be said about its official blog as well. It is filled with well-written articles with the new ones seemingly coming out each month. As for their social media accounts (Facebook, Twitter, Instagram, and YouTube), they feel a bit neglected at times, but still far from being pronounced dead.
Plans and pricing
Intending to fit every bill, InterServer offers a wide array of web hosting services from simple shared hosting and WordPress-oriented packages to reseller hosting, VPS, dedicated servers, and colocation services. If you are looking for a budget-friendly solution to launch a simple site InterServer's all-inclusive Linux-based shared hosting plan is your safest bet.
For a mere $2.50 per month this plan will supply you with unlimited storage space, unlimited data transfer, an infinite number of FTP and email accounts, weekly backups, an SSL certificate (via Let's Encrypt), one-click installer, and industry-leading cPanel. However, you should keep in mind that this bargain is a one-time thing because you'll be charged $7.00 per month after the promotional period.
If you want something more ambitious or to upgrade your current plan, you can go with one of the highly customizable VPS packages (optimized for Linux, Windows, WordPress, Webuzo, or storage) or one of the dedicated server ones.
InterServer's shared hosting plans are backed with a 30-day money-back guarantee, but it excludes add-ons such as domain name.
The available payment methods cover all major credit cards (including Mastercard, Visa, American Express, and Discover), PayPal, wire transfer, check, and money order. However, these methods may differ depending on the country you want to make the payment from.
Swipe to scroll horizontally
Ease of use
Creating an account with InterServer is a pretty straightforward process in which you'll be asked to decide what to do with a domain name (register a new or use an existing one), provide your email address, create a strong password, confirm that you've gone through "Terms of Service'' and convince everyone that you're not a robot. After this, you'll have to fill in your personal details including your full name, physical address, phone number and fax (does anyone remember those?).
To finally make a purchase, you'll have to decide about the billing intervals (every month, 6 months, or a year), and with a longer one you may get an additional 5-20% discount. For instance, going for a month with the entry-level plan will cost you $2.50 per month, but for the first month only, after which it will be renewed at almost three times higher $7.00. However, if you subscribe for a year it will cost you $30 per year (which comes down to the same $2.50), which means you'll get a chance to enjoy the promotional price for a whole year. To wrap everything up you'll have to choose a payment method (credit/debit/ATM card or PayPal in our case), fill in the billing information, and make a payment.
While you're on the same page, you can also decide whether to add WHOIS privacy protection for $5.00 per year. We should also add that since there are no free domain names with InterServer (not even with the entry-level plan) getting one will cost you $7.99 for the first year.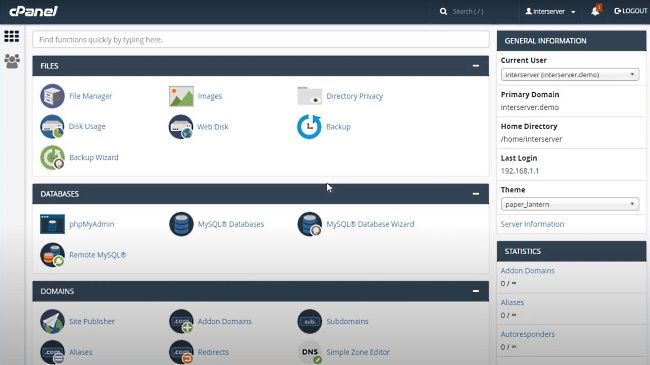 Our newly created account was available without much ado, so yours should too. From InterServer's UI you should easily enter a control panel you picked out (if you had an opportunity to do so). With the entry-level plan, you are left with a user-friendly cPanel, and to our sheer delight. However, advanced hosting plans will allow you to choose among cPanel, CloudLinux, DirectAdmin, and Plesk, and all for extra cash.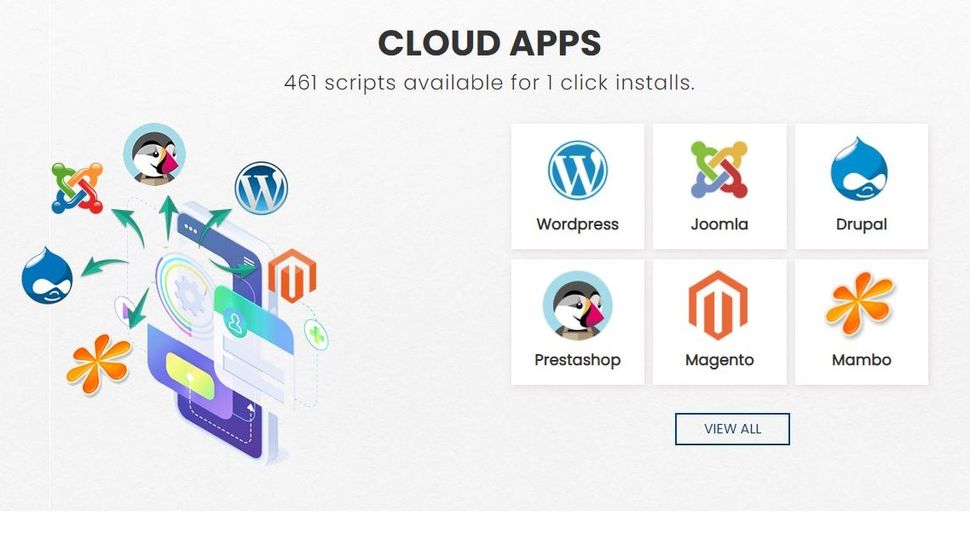 Our plan came with the Softaculous one-click installation tool, thanks to which WordPress and over 400 handy apps could be ours in a click or two. And if you would rather use a proper no-code website builder to design your site, you have full access to a drag-and-drop builder from SitePad (with hundreds of professional-looking themes and widgets) at no additional cost.
Speed and experience
Following a couple of speed checks on InterServer's official site (via GTmetrix), we got a glimpse of the perfectly promising performance. The page loaded in 3.5 seconds, which looks even better in comparison with the average result of 8.1 seconds. On top of this, all other vital web metrics (total blocking time, largest content element, and cumulative layout shift) were well above the average bringing on an inspiring A (100%) as a GTmetrix's conclusive grade.
Because InterServer is partnered with Cloudflare (free access to Cloudflare CDN being one of the common features of their hosting packages), this should ensure the reliability of services and a minimum uptime of 99.9% in any given month. UptimeRobot's two-week-long test of their official site failed to report any downtime whatsoever, with just a single (quite ignorable) bump in response time with an average of 248.77 milliseconds, which leaves a fine impression.
Support
InterServer's "epic" support can be reached round-the-clock in a few ways including telephone number, ticket, email, and live chat. In addition to the USA line (one of the two numbers is toll-free), there are separate telephone numbers for customers from the UK, Israel, Brazil, and Mexico, and all in their native languages.
We tried our luck with the live chat by asking several straightforward questions since finding answers to them on InterServer's site wasn't as straightforward as we hoped. Fortunately, while the estimated waiting time in the queue was 26 minutes, we got our reply within a minute and it was both informative and packed with friendliness.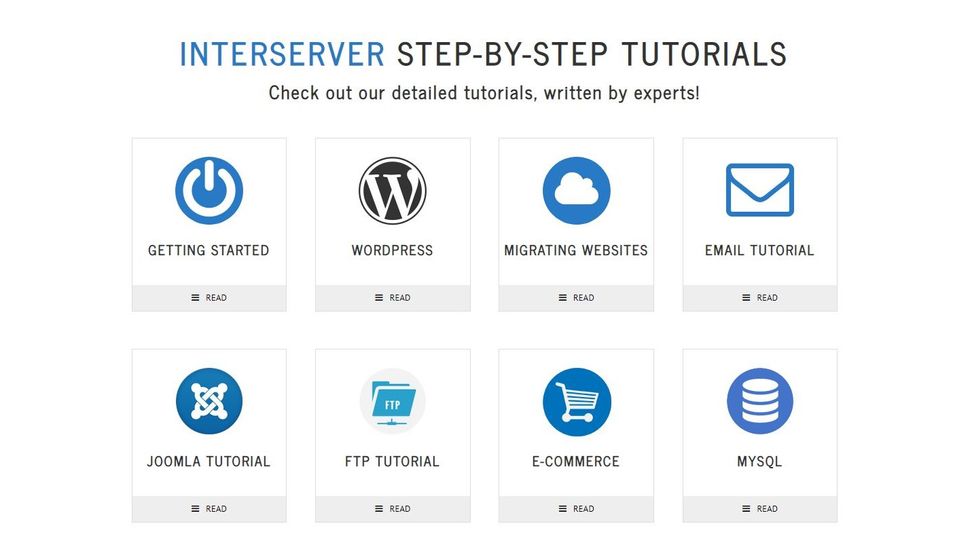 When it comes to self-help options, the first one you'll likely find is "Tips" (right on the navigation bar) which will lead you to InterServer's knowledgebase (titled "InterServer step-by-step tutorials''). It gathers over 400 articles divided into eight main categories (Getting started, WordPress, Migrating websites, and so forth) and most of them seem fairly detailed and easy to follow. However, since articles seem to be all over the place, getting the right one might be a bit tricky.
Besides this, there is a short FAQ section, a YouTube channel with about forty fairly simplistic how-to video guides, and a good old-fashioned community forum
The competition
Both HostGator and InterServer are US-based hosts offering a wide array of hosting services at pocket-friendly pricing. Their entry-level plans are similarly priced (it is $2.75 with HostGator and $2.50 with InterServer), however, if you look a bit closer at their features, you'll notice some minor differences. For instance, if you subscribe for at least a year with HostGator you'll get a free domain, while that isn't the case with InterServer. On the other hand, InterServer provides more apps for one-click installation than HostGator, which can be a time-saver.
Another popular US-based alternative to InterServer is Bluehost, a well-versed host which, in addition to web hosting services, offers marketing training, SEO services, graphic design services, and much more. However, when it comes to simple shared hosting, its entry-level plan holds more restrictions than the one you'll get with InterServer, primarily with storage space and bandwidth.
GreenGeeks is another fan-favorite host from the USA and an excellent choice for all eco-conscious individuals out there. Its entry-level plan is more expensive at its regular rates of $10.95 per month (it is $7.00 InterServer), however, since it also includes a free domain registration for the first year the odds are about even.
InMotion Hosting is another one of InterServer's competitors and a tough one to beat. Both hosts offer a full range of hosting options, lots of unlimited features, and round-the-clock support. However, InMotion Hosting lacks Windows servers, while you can still get them with InterServer.
Final verdict
All things considered, InterServer is a compelling choice. If we were to nitpick, we would like to see InterServer arrive at the conclusion that simplicity is the supreme sophistication by doing something about its old-fashioned interface and slightly confusing website.
Although one of InterServer's many features is Cloudflare CDN, that doesn't change the fact that all of their data centers are located in the USA. If you think this will be an issue for you, check out GreenGeeks since it also provides data center locations in Canada and the Netherlands. However, if you simply want a US-based alternative to InterServer, both HostGator and Bluehost will do the trick.
Mirza Bahic is a freelance tech journalist and blogger from Sarajevo, Bosnia and Herzegovina. For the past four years, Mirza has been ghostwriting for a number of tech start-ups from various industries, including cloud, retail and B2B technology.