[Product name]: Two-minute review
Launched alongside the Alienware Aurora R15 are the Alienware AW420K gaming keyboard and the Alienware AW720M gaming mouse, the former of which is a mechanical keyboard outfitted with Cherry MX Red switches. And as with other Alienware keyboards, this one screams premium with its high-quality build, programmable hot keys, RGB lighting, and more. Not to mention the always great Alienware Command Center software, which is easy to use and lets you customize your keyboard in nearly any way possible. If you're looking for the best gaming keyboard, this is a hot competitor.
The keys feature all the bells and whistles that you'd come to expect from a contender for best mechanical keyboard. That incudes anti-ghosting and N-key rollover, industry-standard Cherry MX Red switches that are boasted by Dell to have a 100 million actuation life cycle (which means even the most typing-heavy user will take years to burn through this keyboard), and PBT double-shot keycaps that increase the wear and tear the keys can handle. The per-key RGB backlighting is also fully customizable through the Alienware software. Finally, the switches are mounted directly on a smooth metal top plate, which makes cleaning and maintenance a breeze.
Thanks to the red switches, each key has a lovely, tactile feel that's lighter than Cherry Blacks. If you want something extra clacky and loud, then you'll need to look elsewhere, but in my opinion, these reds offer a great balance, giving more than enough feedback for the mechanical enthused while not putting off those with sensitivity to ultra-tactile switches. The keycaps are a bit on the narrow side, and if you don't have piano fingers then you'll be feeling that when you occasionally mistype. I was able to adjust after a while, but it did hamper my typing and gaming performance until I was able to. I also wish that you could swap out the switches, either through Dell's online store or by customizing them yourself, as one of the joys of mechanical keyboard ownership is creating one that works perfectly for you.
The Alienware AW420K comes in two gorgeous color palettes that match both the Alienware AW720M gaming mouse and the Alienware Aurora R15 gaming PC, Dark Side of the Moon and Lunar Light. Despite the former being all black, the chassis has a unique and stunning design that's complemented by the RGB lights. The latter is an even more gorgeous white color that's sure to garner some attention from anyone seeing your setup. It's refreshing to have such a distinctive design and color choice considering how common the 'gamer aesthetic' is.
Thanks to its tenkeyless design, it takes up less space than a normal keyboard with a num lock pad. It's a balance between the full-sized keyboard and the 60/65% versions that toss out the arrow keys altogether. Though I'm not a personal fan of this format, it benefits those who have no need for a num lock pad, allowing them to save on desk real estate which can get a bit precious. It's also fairly light, weighing less than two pounds, making it easier to carry around, although it can't beat out one of the best mini keyboards in terms of portability.
The Alienware AW420K is a wired keyboard that includes a USB-C to USB-A cable for handy conversions. On the one hand, this means that latency is a non-issue, which is one of the most important factors for a dedicated gaming keyboard, especially for hardcore and professional gamers who can't afford a single delay between key press and onscreen action. For those looking for extra portability, however, a wired keyboard may be a slightly tougher sale.
Alienware AW420K: Price & availability
How much does it cost? $149.99 / £145 including VAT / AU$238.70
When is it available? Available now
Where can you get it? In Dell's online store in the US, UK, and Australia
Despite the premium pricing on the Alienware AW420K, it's actually a bit more affordable than comparable tenkeyless keyboards on the market. For instance, the SteelSeries Apex Pro TKL sits at $189.99 / £189.99 / AU$219.99 while the Logitech G915 TKL Lightspeed retails for $230 / £199 / AU$380. Only the Roccat Vulkan TKL is far cheaper at $129 / £119 / AU$209.
As with the vast majority of other Dell products, including the Alienware gaming brand, the Alienware AW420K is available in the US, UK, and Australia for $149.99 (£145 including VAT / AU$238.70). As it's a premium brand and build quality, the pricing reflects that which could turn away most except dedicated mechanical keyboard enthusiasts.
Only the US has both the Dark Side of the Moon and Lunar Light colors, with the latter costing $10 more. The UK and Australia only has the Dark Side of the Moon version, which is a little disappointing for those wanting a color more striking than black.
Alienware AW420K: Specs
Swipe to scroll horizontally
| | |
| --- | --- |
| Layout: | Tenkeyless |
| Switch: | Cherry Red MX |
| Programmable keys: | Yes |
| Dimensions: | 14.5 x 5.8 x 2.2 inches (32.2 x 11.2 x 4 cm) |
| RGB or backlighting: | RGB |
Should you buy the Alienware AW420K?
Swipe to scroll horizontally
| | | |
| --- | --- | --- |
| Value | It's a great quality TKL keyboard with a lovely design, though the pricing is a bit high. | 4 / 5 |
| Design | It's beautiful and well built with great software support, but you can't switch out the switches or keycaps. | 4 / 5 |
| Performance | Performs perfectly with no latency issues whatsoever. | 5 / 5 |
| Average rating | Row 3 - Cell 1 | 4 / 5 |
Buy it if...
You want high-quality switches
The Alienware AW420K uses Cherry MX Red switches, which are some of the best in the market. Combined with its promise of a 100 million actuation lifecycle, you have switches that will last for years no matter how often you type.
You want easily customizable keys
Though you can't directly swap the switches or keycaps out, you can use the software to customize programmable keys as well as RGB lighting.
Don't buy it if...
You're on a budget
While not the most expensive TKL keyboard on the market, it's still very pricey. If you're on a budget, you might want to pass this one up for another one.
You want a wireless keyboard
While wired gaming keyboards have numerous benefits, if you're looking for a wireless one out of convenience then this isn't the one for you.
Alienware AW420K: Also consider
Swipe to scroll horizontally
| | Alienware AW420K | SteelSeries Apex Pro TKL (2023) | Logitech G915 TKL Lightspeed |
| --- | --- | --- | --- |
| Price: | $149.99 / £145 including VAT / AU$238.70 | $189.99 / £189.99 / AU$219.99 | $230 / £199 / AU$380 |
| Layout: | TKL | TKL | TKL |
| Switch: | Cherry Red MX | OmniPoint Adjustable Mechanical Switch | GL mechanical switches |
| Programmable keys: | Yes | Yes | Partial |
| Dimensions: | 14.5 x 5.8 x 2.2 inches (32.2 x 11.2 x 4 cm) | 355.44 x 139.26 x 40.44 mm | 5.91 x 14.49 x 0.87 inches (150 x 368 x 22 mm) |
| RGB or backlighting: | RGB | RGB | RGB |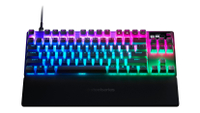 SteelSeries Apex Pro TKL (2023)
The SteelSeries Apex Pro TKL is another premium option for those looking to invest in a TKL gaming keyboard. It comes with a wrist rest and, just like the Alienware one, the Apex Pro TKL is very customizable with excellent gaming performance. The software is, unfortunately, a bit buggy, and it's pricey.
Read our full SteelSeries Apex Pro TKL review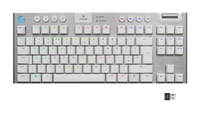 Logitech G915 TKL Lightspeed
The Logitech G915 TKL Lightspeed is a top-class TKL gaming keyboard. It's a wireless option with excellent tactile feedback, wireless multi-device connectivity, top-notch gaming performance, and great battery life. Unfortunately, it doesn't have any full remapping/macro capabilities, and it's also very pricey.
Read our full Logitech G915 TKL Lightspeed review
How I tested the Alienware AW420K
I spent about two weeks testing the keyboard
I tested its portability, typing feel, and gaming performance, among other factors.
I used this keyboard as both a gaming and productivity device, connected to my personal computer.
Once I received the Alienware AW420K, I connected it to my personal gaming PC and began testing the switches for their tactile response, durability, and ease of typing. After that, I played various PC games to test out gaming performance and latency.
This keyboard is primarily made for gaming, as it uses switches that are common for that niche. It's also wired, which completely eliminates latency issues, something that hardcore and professional gamers cannot deal with.
I've tested plenty of gaming peripherals like keyboards, mice, and headsets, making me more than qualified to understand how to properly test out these devices to see how well they perform in their claimed niche.
We pride ourselves on our independence and our rigorous review-testing process, offering up long-term attention to the products we review and making sure our reviews are updated and maintained — regardless of when a device was released, if you can still buy it, it's on our radar.
First reviewed April 2023