Alienware AW720M: Two-minute review
The Alienware AW720M, like most from its product line, is a premium quality and premium-priced gaming mouse. This is a mouse for serious gamers, with its sleek and lightweight body and high-end specs coupled with solid software that lets you fully customize your button layout.
The body is simple, opting to focus on keeping the mouse relatively lightweight at 0.19 lbs (86g). It features seven programmable buttons including the scrolling wheel, a respectable amount for a general-use gaming mouse.
It comes in two colors, Dark Side of the Moon and Lunar Light, both of which are equally stunning. The choice simply depends on your preferred aesthetics. Though there's no true RGB lighting, the Alien logo on the body lights up in different colors, which makes it stand out even more against the pretty color palette. Its form factor may be lightweight but it, like any other best gaming mouse, has a solid feel to it that tells you that you can drop it on the floor several times without any real consequences.
In terms of specs, the Alienware AW720M sports a ridiculously high movement resolution of 26,000 DPI, which alone would make it an attractive mouse for hardcore and professional gamers. It also features a 1000Hz wireless polling rate and 1ms response, which, when combined with the high DPI, means you have a wireless mouse with low latency. It also boasts tracking of up to 650 IPS and sensors that can handle up to 50G of max acceleration. You can adjust the DPI settings on-the-fly, thanks to a button at the bottom of the mouse, and all other settings can be fully optimized through the excellent Alienware Command Center software.
Its ergonomics are well-suited for both claw and palm grips, thanks to the large right and left buttons on top. Best of all, it has a completely symmetrical design, meaning that it's one of the few gaming mice on the market that's actually ambidextrous. Left-handed gamers can finally rejoice at not having to adjust to their non-dominant hand, which is a boon for those who are professional or hardcore players that see their performance suffer otherwise.
Both sides have 3D-sculpted thumb grips which, while not as robust as the MSI Clutch GM51, have equally-sized divots and are still great for keeping your thumbs firmly in place. The PTFE skates are smooth and work well with most surfaces including wooden and metal desks. It makes moving the mouse around a breeze. Paired with the lightweight body and specs, and you got yourself a mouse that's super easy to control even during the most intense of matches.
According to Dell, battery life is up to 140 on wireless mode. And while that's a difficult claim to fully test out, I've found that I can go nearly a full week without charging it and longer if I'm not gaming at all. Bluetooth lasts far longer at up to 420 hours, but latency is worse so that's an option for those who aren't super hardcore gamers. You can get 20 hours of playtime off a five-minute charge, which is very impressive.
There are also multiple adapters that come with the mouse, including one for magnetic charging. It's simple and lets you charge quickly and easily, taking far less time than fiddling with a USB Type-C charge in the middle of a session.
But these features and specs come at a very steep price; even on sale, it's $129.99 / £124.99 / AU$151.80, which prices out a lot of gamers right off the bat. Though that price matches or is superior to many other premium mouse options, it's still quite expensive compared to some other mid-range options that offer most of those features for a much more reasonable price point.
Alienware AW720M: Price & availability
How much does it cost? $129.99 / £124.99 / AU$151.80
When is it available? Available now
Where can you get it? Available in the US, UK, and Australia
The Alienware AW720M gaming mouse normally retails at $149.99, but as of this writing is currently on sale for $129.99 / £124.99 / AU$151.80 at Dell's online storefront. Funny enough, the sale does beat out other premium offerings like the Razer Deathadder V3 Pro.
While it is excellent quality, it doesn't change the fact that you can still purchase a similar gaming mouse like the MSI Clutch GM51 or even the Cougar Airblader Tournament if you don't mind a super budget mouse.
Availability is quite good, as it's in both the UK and Australia directly from the Dell online store. So if some of the other premium offerings are out of stock, you can reliably purchase this mouse outside the US.
Alienware AW720M: Specs
Swipe to scroll horizontally
| | |
| --- | --- |
| Interface: | USB, 2.4 GHz, Bluetooth 5.1 |
| Ergonomics: | Ambidextrous |
| Buttons: | 7 |
| DPI: | 26,000 |
| Switches: | Optical |
| Weight: | 0.19lbs (86g) |
Should you buy the Alienware AW720M?
Swipe to scroll horizontally
| | | |
| --- | --- | --- |
| Value | Though very pricey, it comes with some excellent specs and a light form factor. | 4 / 5 |
| Design | Beautiful colors and ambidextrous design, it sports a lightweight form factor and seven buttons to customize. | 5 / 5 |
| Performance | Features some of the highest specs around including DPI, polling rate, acceleration, and tracking, you're getting top notch performance. | 5 / 5 |
| Avarage rating | The Alienware AW720M gaming mouse is as close to perfection as possible, with excellent specs and build quality all around. | 4.5 / 5 |
Buy it if...
You want an ultra premium gaming experience
The specs in this mouse are incredible: insanely high DPI and polling rates coupled with high tracking and max acceleration. The mouse also offers the ease of programming its seven buttons with a great software.
You want high-end build quality
It's lightweight yet has good heft, an ambidextrous form so left-handed players aren't left out, and beautiful lighting and color options that make you feel extra fancy.
Don't buy it if...
You don't have money to burn
Like most premium gaming mice, this one is very expensive so if you're on a budget, it's best to look for any budget options instead.
You want more programmable buttons
While seven is respectable, especially since it includes the scrolling wheel, it would be nice to have seen more button options.
Alienware AW720M: Also consider
Swipe to scroll horizontally
| | Alienware AW720M | MSI Clutch GM51 | Razer Deathadder V3 Pro |
| --- | --- | --- | --- |
| Price: | $129.99 / £124.99 / AU$151.80 | $99.99 / around £83 / around AU$148) | $149 (£149 / AU$279 |
| Interface: | USB, 2.4 GHz, Bluetooth 5.1 | USB 2.0 / USB 3.0 or above for MSI Snap Charging | USB Type-C |
| Ergonomics: | Ambidextrous | Right-handed | Right-handed |
| Buttons: | 7 | 6 | 5 |
| DPI: | 26,000 | 26,000 | 30,000 |
| Switches: | Optical | Omron | Optical |
| Weight: | 86 g | 85 g | 63 g |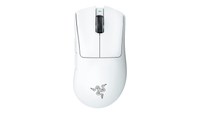 Razer Deathadder V3 Pro
This is one of the best gaming mice, period. While it's expensive it's more than worth the price of admission, with its light and sleek design, near-perfect performance, and long battery life.
Check out our full Razer Deathadder V3 Pro review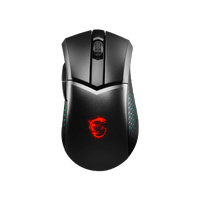 MSI Clutch GM51
If price isn't a barrier, then this gaming mouse is an excellent choice as well. Lightweight with a well-balanced body, excellent DPI and response time, with an absolutely stellar battery life. Very few gaming mice reach this level of quality.
Check out our full MSI Clutch GM51 review
How I tested the Alienware AW720M
I used the Alienware AW720M for about two weeks
I tested it out using first-person shooters as well as for work
I used the Alienware software to test out various settings
I used the Alienware AW720M in my home office for extended periods of time. I tested out various settings like DPI and customizing button layouts, as well as how well the mouse's ergonomics felt using it in both claw and palm grips and how it held up in right and left-handed use.
To further test out its gaming capabilities, I tested it with first-person shooters like Call of Duty: Modern Warfare II and Cyberpunk 2077 in order to see how quickly and efficiently I can move or shoot. Third-person shooters and action games were also played to test how flexible this mouse was.
I've reviewed a number of mice, both gaming and productivity, in my career. This allows me to know what to look for on an individual basis as well as compare the performance of this mouse to other ones I reviewed in the past.
First reviewed March 2023