Cougar Airblader Tournament: One-minute review
The Cougar Airblader Tournament is a follow-up of sorts to the Cougar Airblader pro-level gaming mouse, with improvements made to its specs across the board. It's very lightweight, which makes for fast, precise movements during intense gaming sessions, and it sports a pretty solid poling rate of 2,000Hz and DPI of 20,000.
The mouse's button placement is particularly noteworthy, with top buttons that extend past the body for a more comfortable grip and the side buttons slightly above where your right thumb naturally rests. This means that for those with larger hands and fingers, it's nearly impossible to accidentally press the wrong button and potentially click out of whatever you're currently playing or doing. The downside is that it's not built for left-handed users, which is a huge problem with mice in general.
The body is well-designed, though a bit on the cheaper side as it's mostly plastic. Both the palm and claw grips, as well as the fingertip grip, are more than feasible on the Airblader Tournament, though we find the claw grip preferable, considering that it's geared toward hardcore and professional gamers. And since it's made for hardcore gaming, it is a wired USB mouse with a cord that's quite long and durable.
There's supposed to be downloadable software to customize and monitor specs for the mouse. Sadly, not only is it incredibly difficult to find on the official website, but we found that it won't install properly on PC once we did find it. Luckily, DPI can be altered with a button press on the mouse, but not being able to customize the buttons and specs through the software is rather inconvenient.
As for its pricing and availability, it's set to release in the US sometime this March for $54.99 (around £45 / AU$80), which isn't a bad price at all and puts it squarely in budget mouse territory.
Cougar Airblader Tournament: Price and availability
How much does it cost? $54.99 (around £45 / AU$80)
When is it available? March 2023
Where can you get it? Sometime in March 2023 at most major retailers
As of this writing, there isn't any pricing or availability information for the Cougar Airblader Tournament tournament listed on the official webpage. But we confirmed that it should be releasing sometime in March 2023 at major retailers.
According to Cougar, the MSRP will be $54.99 (around £45 / AU$80), which isn't a bad number considering the features it does offer. Though it's not the best gaming mouse out there, it's a solid option for those who need something that won't break the bank.
Cougar Airblader Tournament: Design and features
Lightweight and glides well
Made for most grips
Feels a bit plasticky and flimsy
The Cougar Airblader Tournament comes in two colors: white and black, with the former featuring black highlights and the latter orange highlights. There's also optional grip tape that comes with each mouse for a better hold when things get sweaty, and it functions pretty well for something so simple and inexpensive.
It's built to be extremely lightweight, which it manages by going the efficient route of using as little material as possible. Compared to the far more common honeycomb design of other gaming mice, this take is a bit more refreshing and looks more visually appealing. However, the lighter weight comes at a price, as it's obvious the body is made entirely of plastic, giving it a cheaper feel.
Palm, claw, and fingertip grips are all possible on this mouse, thanks to the extended left and right buttons and the decently round body. The side buttons being placed just above the right thumb rest works especially well for palm grip as those with larger hands and fingers won't accidentally press those buttons. Overall, it seems meant more for claw grip because the button layout would put every button on the mouse in immediate reach.
Cougar Airblader Tournament: Performance
Pretty good specs
Performs well in most gaming sessions
Software doesn't work
Overall, the Cougar Airblader Tournament's specs have been improved from the previous Airblader, with the former boasting a respectable 20,000 DPI, switch click life cycle of 80 million, IPS of 650, and a PAW 3399 sensor. This is compared to the latter's 16,000 DPI, switch click life cycle of 50 million, IPS of 400, and PAW 3389 sensor. Both, however, still have a poling rate of 2,000Hz, which is a shame that there are no upgrades there.
Trying it out for ourselves, we found that teh gaming mouse speedy and accurate, with the DPI and poling rate more than suitable enough for intense sessions. And thanks to the handy button located on the bottom of the mouse, you can adjust the DPI on the fly. Compared to the Airblader, the location is a vast improvement as it prevents accidental presses during a session. Its PTFE skates are surprisingly good as well, as they work on most surfaces, though it's best to use a mouse pad with them.
Despite this being a pretty good gaming mouse with some solid specs and build, it still has a big issue that could impact how you interact with and customize it. The software that would allow you to customize the buttons and adjust DPI is difficult to find on the website and simply would not install properly on our PC. It's a shame since going by the price, $54.99, it would be a great value and terrific alternative mouse for those who want good performance but can't afford more premium gaming mice.

Should I buy the Cougar Airblader Tournament?
Buy it if...
You want a lightweight gaming mouse
One of the best aspects of this mouse is its weight, which is ideal for quick movements during more intense games like shooters, MMOs, and more.
You want solid specs and PTFE skates
Though the specs won't blow you away, they're good for most gaming, and the PTFE skates work well on most surfaces.
Don't buy it if...
You want a premium build gaming mouse
While the build quality isn't bad, it's mainly plastic and definitely not a premium gaming mouse as you'll feel the difference immediately.
You want to be able to customize buttons/specs
Though you can control the DPI through the button at the bottom of the mouse, not being able to download the companion software and customize it is a drawback.
Also consider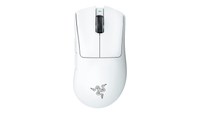 (opens in new tab)
Razer Deathadder V3 Pro
This is one of the best gaming mice, period. While it's expensive, it's more than worth the price of admission, with its light and sleek design, near-perfect performance, and long battery life.
Check out our full Razer Deathadder V3 Pro review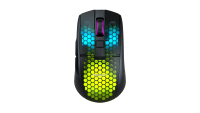 (opens in new tab)
Roccat Burst Pro Air
Like the Aerox 5, this mouse features great performance and gorgeous RBG lighting. It also sports an accurate sensor and optical switches, though the PTFE sliding pads don't work well on some surfaces.
Check out our full Roccat Burst Pro Air review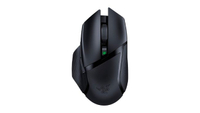 (opens in new tab)
Razer Basilisk X Hyperspeed
With excellent performance, a long-lasting battery life, and like the SteelSeries Aerox 5 features two connection methods. The only downsides are no wired options and no DPI indicator.
Check out our full Razer Basilisk X Hyperspeed review
Cougar Airblader Tournament: Report card
Swipe to scroll horizontally
| | | |
| --- | --- | --- |
| Value | The Cougar Airblader Tournament is a pretty decent value for what you're spending, with solid specs all around. | 3 / 5 |
| Design and features | Though it feels a little flimsy thanks to the plastic build, it's lightweight and suits most grip styles. | 3.5 / 5 |
| Performance | Not the greatest gaming mouse but gives a solid performance with pretty good specs and PTFE skates. | 3 / 5 |
| Total | The Cougar Airblader Tournament seems to be a no-brainer for budget gaming mice, though its software doesn't work. | 3 / 5 |
First reviewed March 2023
How we test
We pride ourselves on our independence and our rigorous review-testing process, offering up long-term attention to the products we review and making sure our reviews are updated and maintained - regardless of when a device was released, if you can still buy it, it's on our radar.