I remember the excitement around OnLive: the pioneering cloud gaming service that was meant to completely shake up the way we buy and play games. When it launched in the early 2010s, the tech clearly wasn't there quite yet. I remember trying to play a murky and laggy Metro 2033 for about an hour and then never returned. The service shut down two years later.
Now we're more than a decade on and I don't think it would be unfair to say that nobody has completely cracked cloud gaming yet. Arguably, though, Microsoft has come closest with Xbox Cloud Gaming. It's something I've dabbled with a number of times while I've had an Xbox Game Pass Ultimate subscription, too. I've neither found it to be a runaway success nor a catastrophic failure. It's been, well, fine.
Mostly, I've found it to be a reasonable way to stream Xbox games to my phone while at home thanks to the blessing of gigabit broadband. It's not great for all games, but it's been a perfectly fine way to play the likes of dystopian dice-rolling life sim Citizen Sleeper, old-school RPG Chained Echoes, and moreish deck-builder Monster Train.
And while my Samsung Galaxy S23 Plus performs well, has a decent screen, and doesn't lose all its battery in five minutes, I hit another roadblock: I just couldn't deal with the atrocious touch controls.
So, I picked up the Razer Kishi for Android - a handy mobile gaming gadget that was on sale recently. Now I've seen the light. I've seen the possibilities. I'm fully on board. I've decided to embrace my fate as a mobile gamer and one of the cloud gaming converted.
A clever little controller
The Razer Kishi is a neat little accessory that attaches to your phone to give you a full-size controller experience on said mobile. It has a flexible holster that can fit the majority of phones and it plugs straight into the USB-C port for power and minimal latency. Best of all, though, it can shrink down to the size of your palm for easy portability and storage.
It could be easy to be put off by the usual cost of around $100 / £80. But when I picked it up it was just £34.99, which I've found to be an absolute bargain. This is the kind of price I can easily justify for my now regular mobile gaming sessions. As of writing, it's also currently on sale for only $39.99 in the US at Amazon, which is just as good a deal as when I snagged it on this side of the pond.
Obviously, I don't think this one small gadget will mean I bin off my PS5 tomorrow. But I'm excited to say bye-bye to rubbish touch controls for those times when I do have a quick session on my phone. I'm also looking forward to delving more into the Xbox Game Pass library and trying out some games that I wouldn't otherwise thanks to the convenience of the cloud and a more traditional controller.
There are still steps to take but clever innovations like the Razer Kishi, constantly improving streaming technology and the wider availability of faster internet speeds, have convinced me there's still some hope yet for cloud gaming.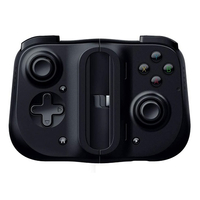 Razer Kishi for Android: was $99.99 now $39.99 at Amazon
Playing mobile games with touch controls isn't exactly the best way to play so this clever accessory attaches to your phone to give you a full controller experience. It's the lowest price we've seen for the gadget we called one of the best gamepads for Android in our Razer Kishi review.