I wanted more bass from the HomePod 2, and I got it by adding the original HomePod
It turns out that three's a crowd-pleaser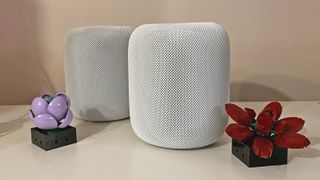 (Image credit: Future)
When I wrote our HomePod 2 review, I commented on how the bass on the new model isn't as deep as on the original HomePod, but it's balanced out in terms of the overall sound by a marked improvement in the forwardness and clarity of the upper-mid-range. That makes the new model better suited to vocals and acoustics, and it's preferable for a lot of music.
But using a pair of HomePod 2 in stereo configuration in day-to-day life since, I gotta say I've been missing the bass of the original HomePod. Electronic and dance music is what I tend to have on the most at home – something with big energy in the background when friends are visiting – and I can really feel the relative absence of the low-end now.
That's not always important in songs, but I listened to Destroy Everything You Touch by Ladytron, and Dosti from the RRR sountrack (the best Netflix movie of last year!), and both just lack the full punch I know they have when played on the new HomePod 2.
And then I accidentally solved the problem. I still have one of the original HomePods set up, from the comparisons I was doing during the review, and I was giving my partner a demonstration of the difference between the old model and new model because she also noticed the change in sound. And while switching between them, I selected both the new HomePods and the original in one group and played music through it all at once… and the scales fell away from my ears.
Apple's AirPlay 2 wireless system is excellent at syncing sound perfectly between speakers, so both flavors of HomePod were playing together with exact timing, and it gave me the extra bass I wanted, but still with the extra vocal and instrument clarity from the new HomePod 2.
Ever since, that's just the setup I've been using – old and new, playing together in one group – and it's really put a smile on my face. I mentioned in the HomePod 2 review that I was hoping for an audio leap forward in the same way the AirPods Pro 2 were, but what we got was more of a rebalancing. But I feel like I've got that from combining the two.
Three's a crowd-pleaser
Now, the obvious problem with this setup is that it's only available to people with the old HomePod, and who don't find it ridiculous to spend the money to combine them, Power Rangers-style, into the MegaHomePod. I'm not a maniac, I know that spending hundreds on using the new one to enhance your old one is a weird thing to do. I'm not recommending it to everyone.
But I know there will be people like me who had the original, tried the upgrade, and felt something missing. And if you have the original around still, then maybe I am recommending it to you. At least to try.
This setup of having one extra old HomePod obviously isn't conducive to well-balanced stereo from two HomePod 2s, or perfectly angled Dolby Atmos sound – but that's actually not how I use stereo HomePods anyway. They're on either side of my living room, rather than in a position where I can sit in a sweet spot, so it's fine that the balance is off. What I want from them is impact and diffusion in the background, and my jury-rigged system works great for that.
If you want a system that has similarly big sound without Frankensteining multiple generations of a product into one, our guides to the best wireless speakers and best AirPlay speakers have some high-end options that will give you the business. But I actually really love my weird HomePod setup – it's a small footprint, it's distributed around the room, and the sound balance is juuuust right.
Get daily insight, inspiration and deals in your inbox
Get the hottest deals available in your inbox plus news, reviews, opinion, analysis and more from the TechRadar team.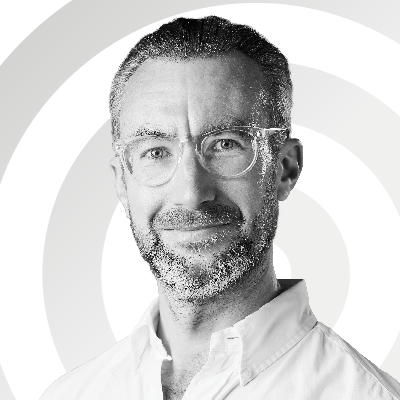 Managing Editor, Entertainment
Matt is TechRadar's Managing Editor for Entertainment, meaning he's in charge of persuading our team of writers and reviewers to watch the latest TV shows and movies on gorgeous TVs and listen to fantastic speakers and headphones. It's a tough task, as you can imagine. Matt has over a decade of experience in tech publishing, and previously ran the TV & audio coverage for our colleagues at T3.com, and before that he edited T3 magazine. During his career, he's also contributed to places as varied as Creative Bloq, PC Gamer, PetsRadar, MacLife, and Edge. TV and movie nerdism is his speciality, and he goes to the cinema three times a week. He's always happy to explain the virtues of Dolby Vision over a drink, but he might need to use props, like he's explaining the offside rule.