What to expect at Microsoft's Surface Pro 4 event
Surface Pro 4, Lumia phones and more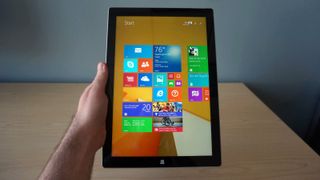 (Image credit: Future)
Introduction
A new Surface Pro 4 is widely expected at Microsoft's big New York City event Tuesday morning, but that's just scratching the surface. The event will likely be part of Microsoft's larger play to expand the breadth and reach of Windows 10, and we may see new devices beyond the Surface Pro 4, Microsoft's flagship laptop-tablet hybrid.
With Microsoft's ambitious plans to have a billion devices running Windows 10 in the next few years, here are some possible announcements that could begin to shape that landscape:
1. Surface Pro 4
The Surface Pro 4 is likely the star attraction of the show. With a slim tablet form factor, removable keyboard dock and pen, the Surface Pro franchise already played inspiration for Apple's rival iPad Pro. Here are some rumors that we've heard over the past several months that could make the Surface Pro 4 even better.
For starters, the device could arrive with Intel's sixth generation Core Skylake processors, which means better processing performance, faster graphics and longer battery life. Skylake already comes with support for Thunderbolt 3 and USB-C, and it's unclear if Microsoft will adopt either of the reversible connectors.
If USB-C is chosen, the port could bring faster data transfer speeds when connecting an external drive. The slimmer standard means Microsoft could even load multiple USB-C ports on the Surface to alleviate the port shortage on the current Surface Pro 3, which comes with a Mini DisplayPort and single USB port. Even replacing the Mini DisplayPort with a second USB-C port opens the Surface Pro 4 to more connectivity options as the port can handle power, display and traditional USB I/O functionality.
Additionally, the bezels may become even smaller, which may help keep the overall tablet footprint small if Microsoft chooses to debut a second, larger Surface Pro 4 model with a 14-inch screen size, up from the 12-inch on today's Surface Pro 3. It's unclear if Microsoft will increase the screen resolution to compete against the iPad Pro's 2,732 x 2,048 resolution Retina display.
Microsoft may also improve the Surface Pen's accuracy or slim down its form factor to more effectively compete against the Apple Pencil.
2. Lumia
Microsoft is long overdue for a refresh of the company's flagship Lumia series smartphone, a line that it inherited when it acquired Nokia's device business. Similar to how Surface helps showcase the power of Windows 10 on laptops and tablets, Lumia is the centerpiece of Microsoft's Windows 10 Mobile operating system strategy, showing the world its vision of how Windows on a smartphone is supposed to work.
Prior leaks suggest that Microsoft has two phones in the pipeline: a Lumia 950 and Lumia 950XL, both with high-end specs, ample RAM, wireless charging and three flashes to aid the rear camera in low light.
For enterprise customers, Microsoft is also rumored to include biometric security for the first time on a Lumia by bringing an iris scanning camera to the front. This will help Microsoft compete against iOS's Touch ID on the iPhone and Android 6.0 Marshmallow's baked-in fingerprint APIs.
These Lumia flagship phones may also come with the newer USB-C standard. While the reversible port is useful in day-to-day charging over the micro USB protocol, USB-C will help Microsoft showcase Continuum.
The port standard supports charging, data input and output (similar to USB on-the-go) and video out (similar to MHL over micro USB). When you connect your phone to a monitor, for example, the phone's interface will change to a desktop UI. When you're docked and working in Office, you'll get the desktop experience, not just the mobile experience blown up on a bigger screen, allowing you to be more productive.
3. Wearables
Microsoft could also announce updates to its wearables at its private media event. This could lead to a new Microsoft Band smartwatch and more news about HoloLens.
A new Microsoft Band could help Microsoft compete more effectively against Apple Watch and a slew of new Android Wear devices running Google's wearable operating system.
It's unclear if HoloLens, Microsoft's virtual reality glasses, would be ready in time for this event, but Microsoft could release more information about how it hopes to tackle VR glasses in the enterprise space. Unlike Facebook and Oculus, which are targeting gaming, Microsoft hasn't been shy about its plans to focus on the enterprise space, and the company could leverage the event to showcase some enterprise HoloLens apps and how the platform integrates with desktop and mobile.
4. Peripherals
In addition to big name computing products, Microsoft also makes a number of different peripherals and accessories.
We may see a Surface mouse introduced along with updates to Microsoft's Type Cover keyboard case for the Surface Pro 4. Even though the Type Cover delivers a comfortable typing experience despite the shallow keys due to the thinness of the cover, one area that I'd like to see Microsoft improve on is the trackpad. A larger, more accurate trackpad would go a long way to helping business users stay productive on Surface when using the tablet as a laptop with the Type Cover engaged.
Potentially, if Microsoft adopts USB-C for the Surface Pro 4, we could also see a new Surface Dock, allowing users to dock their tablets when at their desk and easily connect a keyboard, mouse, display and peripherals to the tablet for use as a desktop PC.
5. Surface Hub
Even though Microsoft had revealed details about its Surface Hub, the company could use the event to update prospective buyers on the status of the Hub. After having announced pricing and shipping information for Surface Hub, Microsoft's conference room PC hit some unexpected delays.
6. Windows 10 on Xbox
We may even learn more of Microsoft's plans to bring Windows 10 to Xbox. Microsoft has announced that Xbox One users will be able to stream console games to their laptops, and universal games will work across Microsoft's platforms. Microsoft also announced a partnership with Oculus.
Hopefully, more gaming-centric news will trickle out from this event, as Windows 10 is slated to arrive on the Xbox in November.
What are you expecting to see Tuesday? Let us know in the comments.
Are you a pro? Subscribe to our newsletter
Sign up to the TechRadar Pro newsletter to get all the top news, opinion, features and guidance your business needs to succeed!