This haptic shirt shocked me at CES and I'm not sure I hated it
OWO Haptic Gaming System delivers sensations directly to your body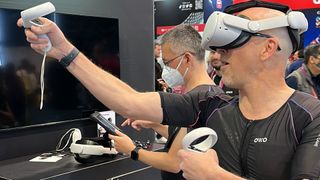 (Image credit: Future)
You and technology are the only reasons I'd endure being shocked by a haptic shirt at CES 2023.
I visited OWO on the floor of CES to try out the company's new haptic sleeves for which it won a CES innovation award. Perhaps I shouldn't have been surprised that those somewhat less radical wearables weren't ready to test. No, OWO had its second skin haptic shirt, which is basically a Lycra t-shirt with wires craftily sewn into it, ready to go.
Company CEO Jose Fuertes explained to me that the shirt doesn't do pressure-based haptics. Instead, it delivers low-power electrical pulses to muscles in your stomach, back, arms, and chest to simulate a wide range of physical effects. The company is in talks to license the technology with most of the major gaming studios.
With the shirt on, you could feel a knife sticking into your chest or a bullet entering your stomach and exiting your back. You could feel the recoil of a shotgun. This is what Fuertes promised. Naturally, I was intrigued, even more so when I learned that the $399 (€399) second skin haptic shirt was only in a relatively few hands, as the product doesn't officially ship in the US and Europe until February.
I wanted to try it. I mean, I thought I did.
OWO reps directed me to a privacy booth where I could remove my shirt and undershirt. The shirt's very sticky electrodes need skin contact to work.
They measured my chest but when put on second skin I found it incredibly tight. They told me a tight fit was best. With effort, I zipped up the front. Then someone from OWO placed a slightly bulky battery pack in a pocket near my midsection and added a contact to each arm and zipped the sleeves closed, as well.
The shirt offers nine parameters of electrical waves based on an algorithm of sensations. What this means is that there's some calibration to make sure the sensation for each type of haptic effect is to your liking.
I stood with the OWO rep as he used the Bluetooth-connected app to calibrate sensations on each muscle location and for a variety of sensations.
Initially, I felt nothing. Then he raises the intensity by an increment and I felt a sharp and not particularly pleasant stinging sensation in, for instance, my arm or stomach.
When he turned the digital dial too high, I winced. Eventually, though, we got it all in what I thought was an acceptable range.
Next, I put on a Quest 2 VR headset and started playing a game in which I was being attacked by drones.
Suddenly, I felt a sting in my arm, I was being shot by a drone coming in on my left. Soon I was shooting down drones while being brutalized by their hits and the increasingly painful stings of the haptic shirt.
The fusillade culminated in a large black drone flying directly at my head and exploding inches from my face. My entire torso lit up in pain.
I heard the OWO ask if I wanted to try a different game. I answered a little too quickly, "NO!"
I peeled myself out of the shirt and pulled off at least one electrode that seemed fused to my skin. For an hour after that experience, I could feel the phantom pain of those pulses. Was the name of this company OWO or "Ow Ow Ow"?
Jose Fuertes ran up to me before I left and asked, "Did you like it?!" Seeing my uncertainty, he said that now knowing what it was like I'd have a better experience doing it again. I wasn't certain. I have a feeling that the sleeves, which confine the sensations of fishing and throwing a ball to your arms might, ultimately, prove more popular.
Still, I can see the utility of something like the OWO Haptic Gaming System for combat training and hardcore gamers who want that extra level of commitment.
As for me? It wasn't love, but it wasn't hate either.
Check out our CES 2023 hub for all the latest news from the show as it happens. We'll be covering everything from 8K TVs and foldable displays to new phones, laptops, and smart home gadgets, so stick with us for the big stories.
The most painful thing I've ever done at CES. Hands on with OWO Second asking Haptic Gaming System. It delivers tiny electrical charges to your body. (Feel gunshots, stabbing) You set the intensity, but ow! Cost $399, ships in February. No price or avail on the sleeves. #CES2023 pic.twitter.com/i9GGcyiwD9January 5, 2023
Sign up to receive daily breaking news, reviews, opinion, analysis, deals and more from the world of tech.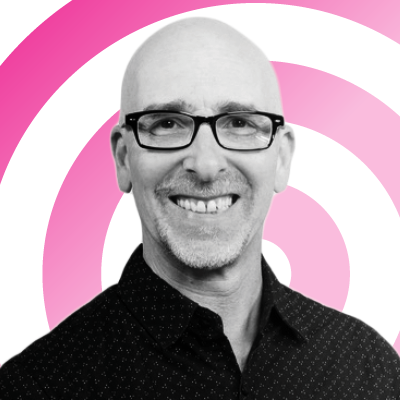 A 35-year industry veteran and award-winning journalist, Lance has covered technology since PCs were the size of suitcases and "on line" meant "waiting." He's a former Lifewire Editor-in-Chief, Mashable Editor-in-Chief, and, before that, Editor in Chief of PCMag.com and Senior Vice President of Content for Ziff Davis, Inc. He also wrote a popular, weekly tech column for Medium called The Upgrade.
Lance Ulanoff makes frequent appearances on national, international, and local news programs including Live with Kelly and Ryan, Fox News, Fox Business, the Today Show, Good Morning America, CNBC, CNN, and the BBC.