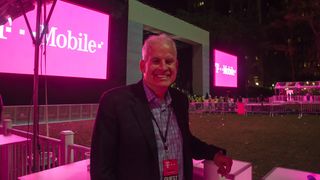 T-Mobile decided to put the world on the stage for its Un-carrier 3.0 event Oct. 9, and it flipped the mobile script yet again by cutting out roaming charges, introducing $0.20/minute international calls and a larger US 4G network.
At the event crowds gathered to see the musical stylings of DJ Swizz Beatz and the magenta carrier's latest celebrity recruit, Shakira. We decided to slink away and catch up with Neville Ray, chief technology officer for T-Mobile US, to see if he could address a few of our unanswered questions.
We were curious about the impetus to offering free unlimited data and texting abroad, and Ray was quick to answer that it was yet another way for T-Mobile to be a rebel in the mobile industry.
"We have our list of paying points for customers that we look at and everyone of those we believe is an opportunity for us to stand for something different in the marketplace," Ray said.
"'Un-carrier' is a great term for how we want to break the mold of the industry standards and stand for something different for customers."
International numbers
It's a nice thing to say and looks better on paper, especially when it's a feature being added on to your account free of charge. But we reminded Ray that the data speeds are limited, coming in at about 128 kilobits per second.
"It's going to vary by country, so what we're trying to do is called a standard speed that will support browsing, emails, social networking, maybe some light streaming," he said.
"But if you want to do a lot of video, the experience is not going to readily support that. We'll offer you, on the phone, to purchase a speed pass for a day, week, or two weeks."
While Ray wouldn't give exact data speeds as it varies by country (with more than 100 Simple Global nations in all) he said users would get the maximum speeds supported by that country's network.
"There is very little LTE roaming available right now," he continued. "[Simple Global] can support speeds that are great for video - so five to eight megabit per second. But it will be whatever the best speeds are available in the country.
"We have 500 roaming relationships in existence today and we keep negotiating those arrangements and deals. We haven't done anything extraordinary at the time for this arrangement but we'll see how things go here and keep working with those non-domestic carriers."
Back in the States
In the last nine months, T-Mo has expanded its LTE service to surpass the old 4G HSPA+ network. Now its 4G LTE network reaches more than 200 million people in 233 metropolitan markets with speeds ranging between between six and 20 Mbps.
It's breakneck growth, and we questioned Ray if T-Mobile was finished improving its LTE work in the US.
"We're not done with what we achieved in the first nine months of the year," he said. "We have more to deliver in fourth quarter and we will keep moving and growing this network in 2014 and 2015."
The year has been busy for T-Mobile, but does it have what it takes to implement any future Un-carrier plans, if any?
"We have plenty left in the tank, but I can't tell you what it is," Ray said. "But it won't be too long. We keep building on stripping away the paying points for the customer; contracts, upgrades and all these different things that have been out there for the industry for a long time."
Sign up to receive daily breaking news, reviews, opinion, analysis, deals and more from the world of tech.
Kevin Lee was a former computing reporter at TechRadar. Kevin is now the SEO Updates Editor at IGN based in New York. He handles all of the best of tech buying guides while also dipping his hand in the entertainment and games evergreen content. Kevin has over eight years of experience in the tech and games publications with previous bylines at Polygon, PC World, and more. Outside of work, Kevin is major movie buff of cult and bad films. He also regularly plays flight & space sim and racing games. IRL he's a fan of archery, axe throwing, and board games.