Apple Event summary: iPhone 14, Watch Ultra and everything that happened
Post Apple Event breakdown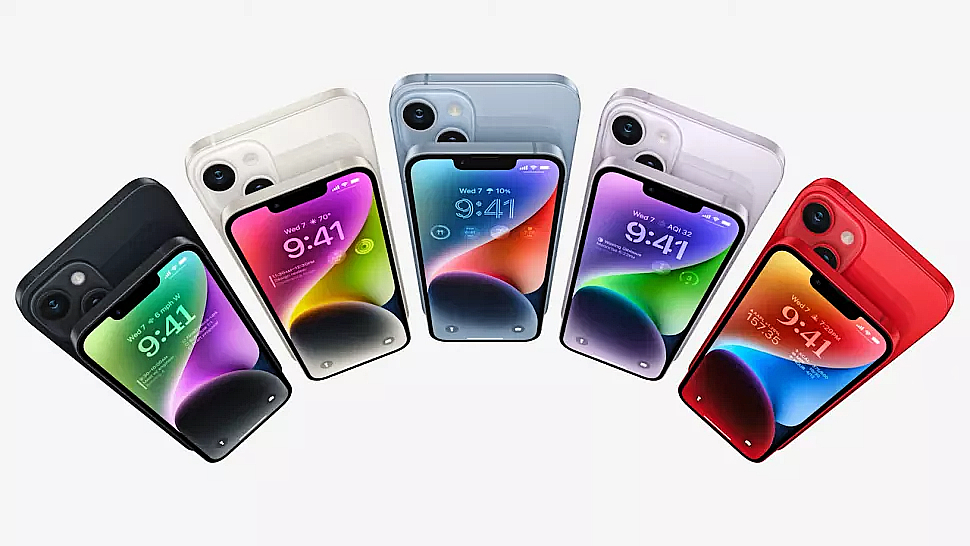 You've seen the announcement, you've patiently read our news and our Apple iPhone 14 hands-on review, and today is the day that you can finally order Apple's new phone. We're still following events live on pre-order day, looking for great deals as they pop up and any new developments as we learn more about the iPhone 14 and the even more exciting new iPhone 14 Pro.
Standing in the aftermath of Apple's 7 September 'Far Out' event, we've had a little time to process the slew of new wares that the company showed off and even been able to get hands on with them too.

Apple unveiled eight new products, including four iPhones, three Apple Watches and some new AirPods.
iPhone 14: quick links
Today's best iPhone 14 deals:
Our early impressions:
---
The iPhone 14 looks like the most pedestrian update across the new range, although the iPhone 14 Plus, with the longest battery life of any iPhone ever, was a pretty good draw.
The iPhone 14 Pro and iPhone 14 Pro Max were big wins for the brand, despite not coming with huge upgrades over last year... but the new Dynamic Island is a bit of an impressive win.
If you want to get your hands on any of these phones, you can check out our iPhone 14 pre-orders page to get everything you need.
Before that though, we had some huge Apple Watch news... literally. No, not the Apple Watch SE 2, which is basically the old SE with a slight lick of paint, a new chip and a price reduction.
No, not even the Apple Watch 8, which added in a tiny amount of new tech to allow for better menstrual tracking and low power management.
It was the Apple Watch Ultra, the company's first real Garmin rival, that stole the show. It's an interesting play from Apple - not in the same league as Garmin in some respects, not ridiculously expensive at $799 and it does have some interesting features for the outdoors.
And then we had the much-upgraded AirPods Pro 2 - all new power, great noise cancellation (we couldn't believe how much in the tests we did) with Apple making a big deal about how all these devices connect together.
It was a whistle-stop event that still took over 90 minutes and even managed to cram in some more news on the release date for iOS 16 and watchOS 9, if you're interested in when those are coming to your devices.
That's certainly a huge amount of products, and from what Apple showed off, these devices will bring some exciting new innovations.
We also have info on how much they cost and when they go on sale, so read on to find out more, and we'll be answering all your questions from Twitter if you ping us over on @techradar... go do it!
And don't give up on this live blog just yet - we'll be bringing you all the news, hands on and more as we get them, with plenty more analysis and insight to come.
Currently running this live blog is:
Currently running this live blog is:
Phil Berne is a preeminent voice in consumer electronics reviews, having reviewed his first device (the Sony D-EJ01 Discman) more than 20 years ago for eTown.com. He has been writing about phones and mobile technology, since before the iPhone, for a variety of sites including PCMag, infoSync, PhoneScoop, and Slashgear.
Refresh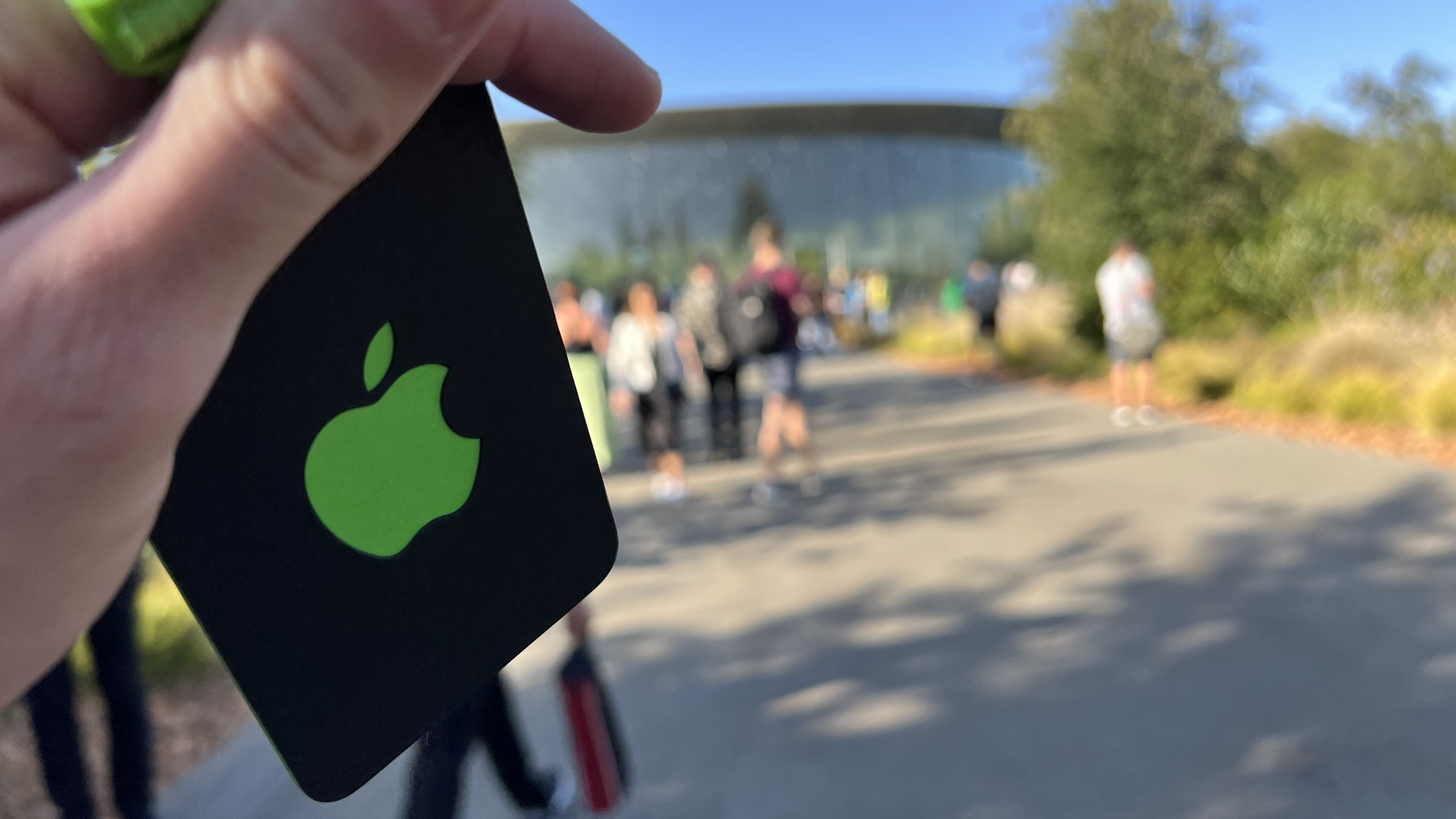 OK, so we're ten minutes from the launch, I've been outside in the sweltering heat for too long and am starting to crisp... but this is one of the big, tentpole moments of the year - being in the Steve Jobs Theater to see new iPhones being launched.
And this is more special as it's been three years since the last one of these - man, I'm going to enjoy it.
Or weep at the speed of having to type. Lance is just next to me taking pictures and having a lovely time... I hope he starts doing something useful in a moment.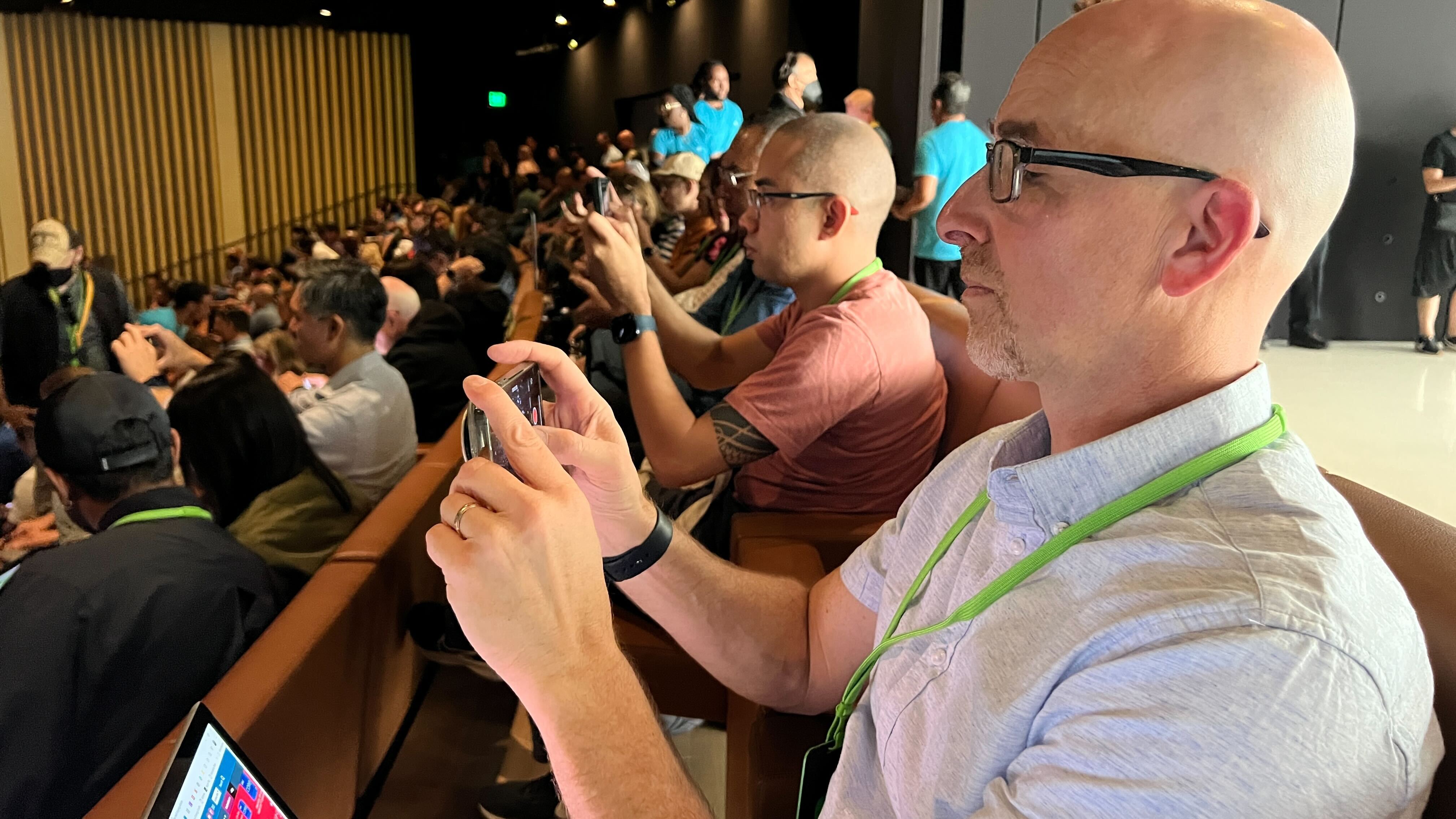 Ok, he's already given me some good info - Lance has been checking out the crowd and has 'spotted nobody interesting yet'. Not sure who he's loking for to be honest, but he's looking hard.
He did just run into Phil Schiller, so that's nice.
The lights just dimmed, and we were told to prepare for the event to start. We're both near a restroom, but there's zero chance of us doing that. Game time. Here come Tim!
We've just been told: "hope you enjoy the film..." does that mean this is going to be a pre-record?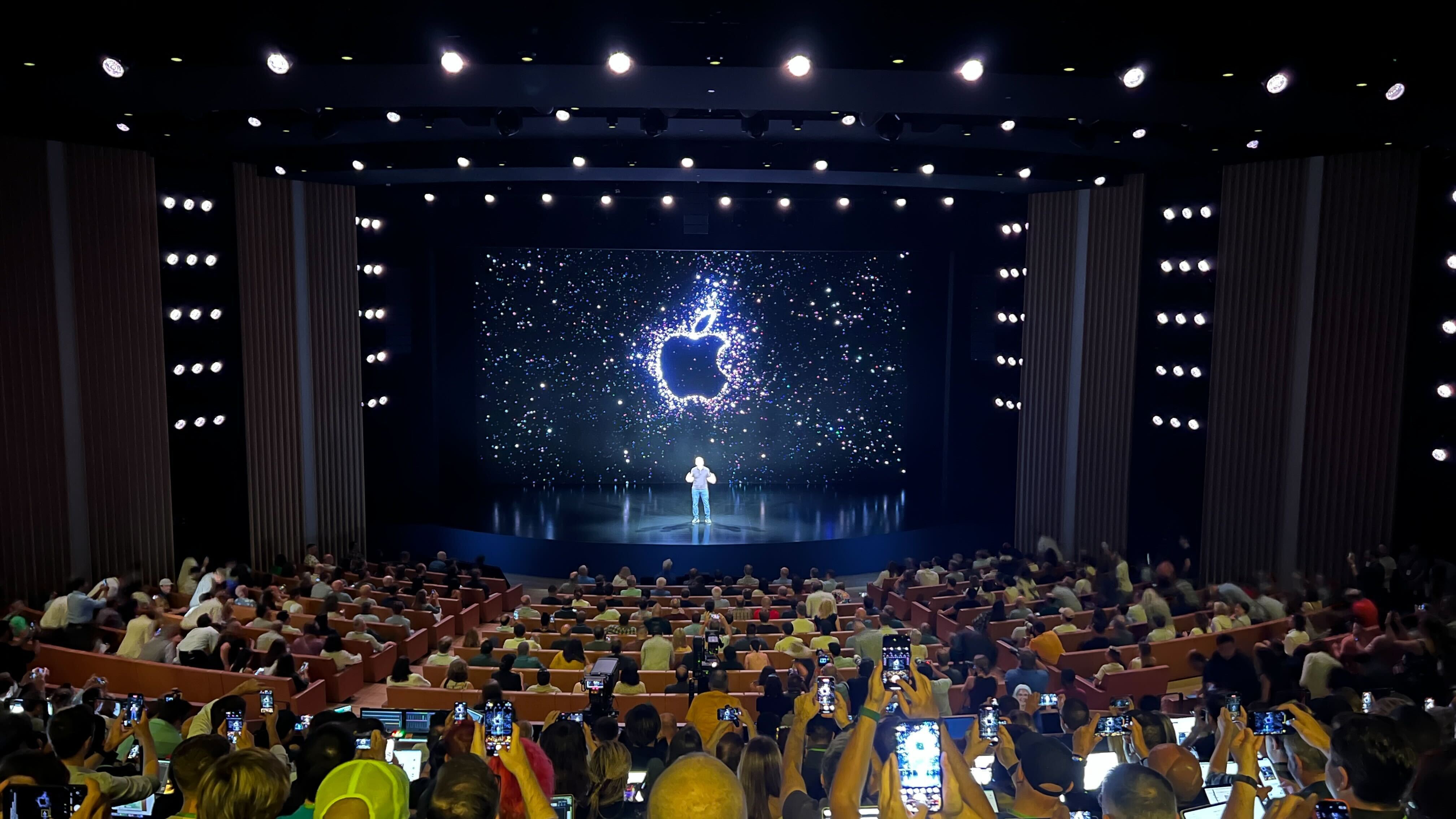 Looks that way - Tim is now on the video, telling us that we're going to be seeing new iPhones, AirPods and Apple Watch, and how the headphones connect the two.
This is showing that three devices are becoming more of a simple situation where you need to do things like setting destination on their Watch and pick it up on the go.
I've never seen Apple so clear about what a launch is going to be about - and 'this is something that only Apple can do.'
OK, so we're starting with the Apple Watch. Is this going to be the shortest launch of all time? Or is it just there will be so many things coming.
Ah, the old video talking about how Apple Watch saved a life or two.
Apple is starting by sharing Apple Watch stories health sent to Tim. They love to do this. #AppleEvent pic.twitter.com/30SzCpqv2dSeptember 7, 2022
These are some nice stories. A plane crash, a bear attack, being stuck in a trash compactor, a Watch that spotted a heart issue... inventing something that managed to save a single life has to be a good thing to have made, right?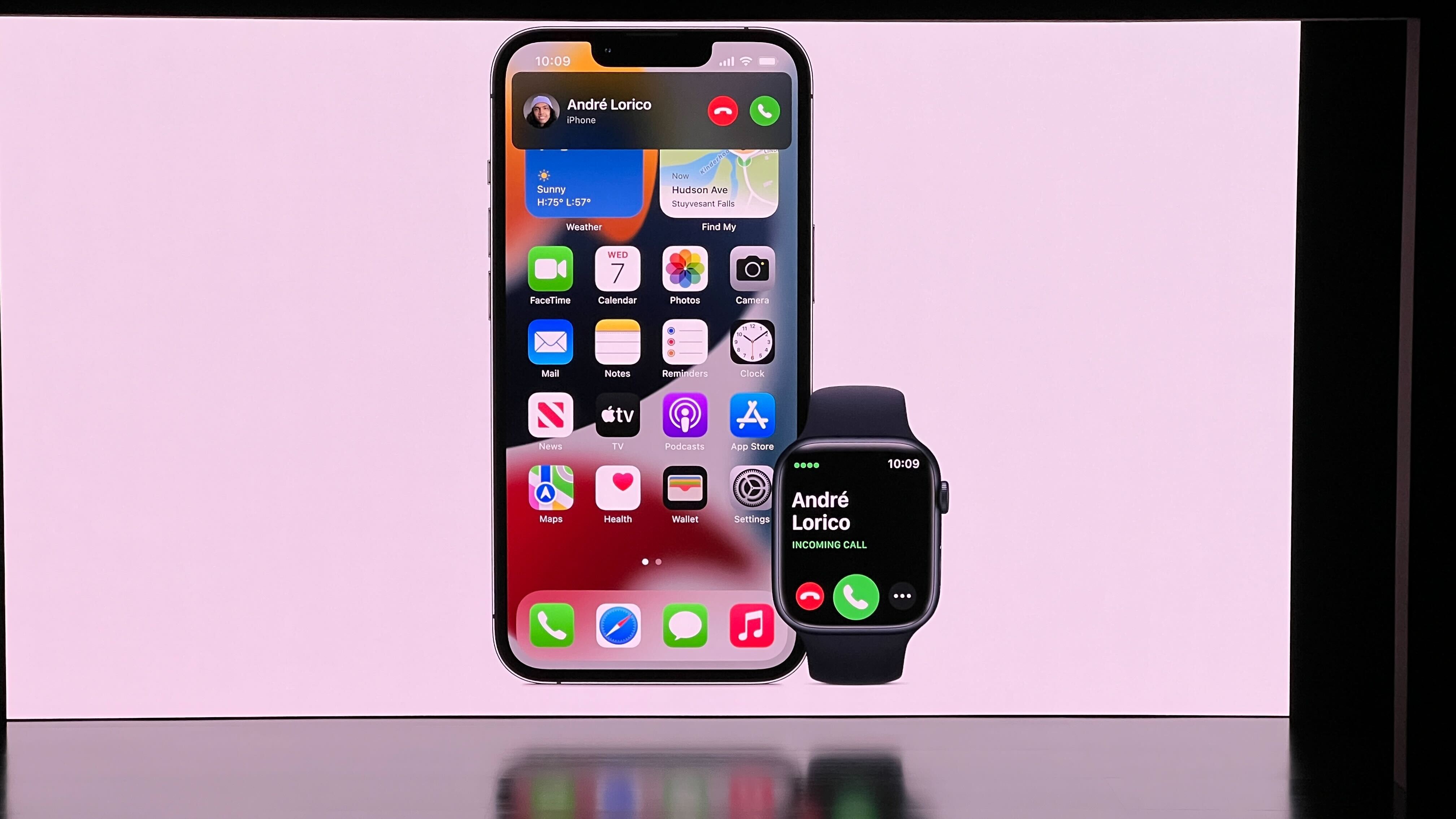 Right, we're going to hear about 'what's next' now.
It's the Apple Watch Series 8 to start - what's going to be different though?
We've heard about the extra robustness on the front, making it swim and dustproof... but I don't know if that's actually anything new.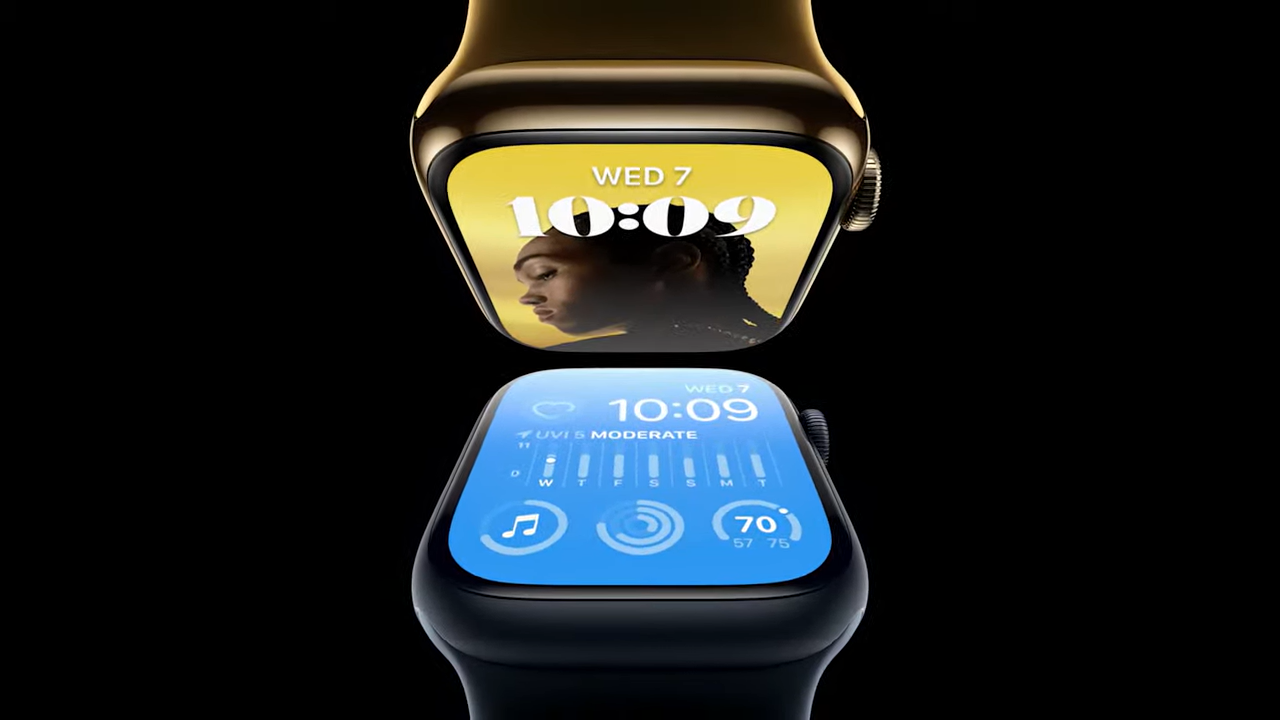 Right, the temperature sensor is in there, and it's to help women's health. It's good to see a proper reason to put this in.
This new sensor will able to help further with menstrual cycle tracking, and the extra features will go deeper into things like ovulation - and there's a lot of push on how this data is secure and private. That's pretty clear.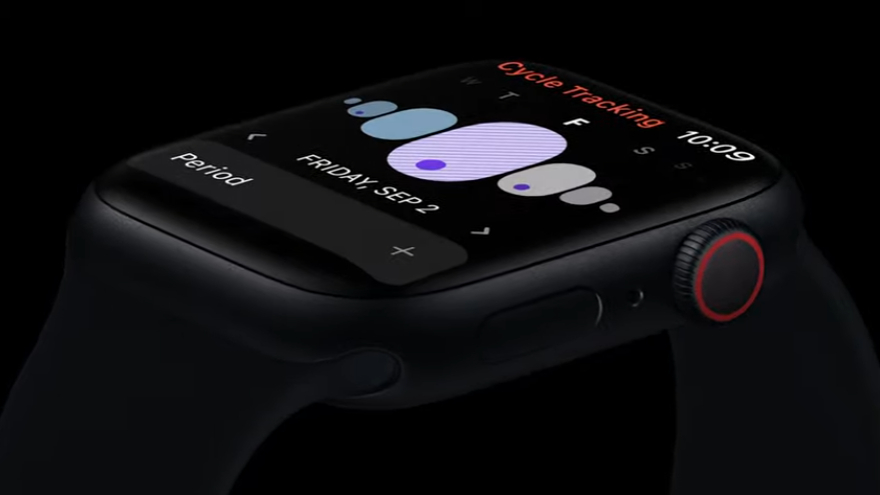 There are two sensors, one on the back and one on the front, with the wrist able to retroactively spot ovulation - and it'll check every 5 seconds while you sleep, and it'll show changes to things down to 0.1 degrees of temperature.
It's good to see this being done on the wrist - new and automatic ovulation estimates and notifications of possible cycle deviations, like prolonged periods or spotting that could be a separate health symptom.
Again, more talking about privacy here - meaning that Apple can't decrypt the data and can't read it. Only with explicit permission can it be shared... all of this is clearly designed to make sure women worried in the US since Roe vs Wade are able track things securely.
Now, we're onto car crashes...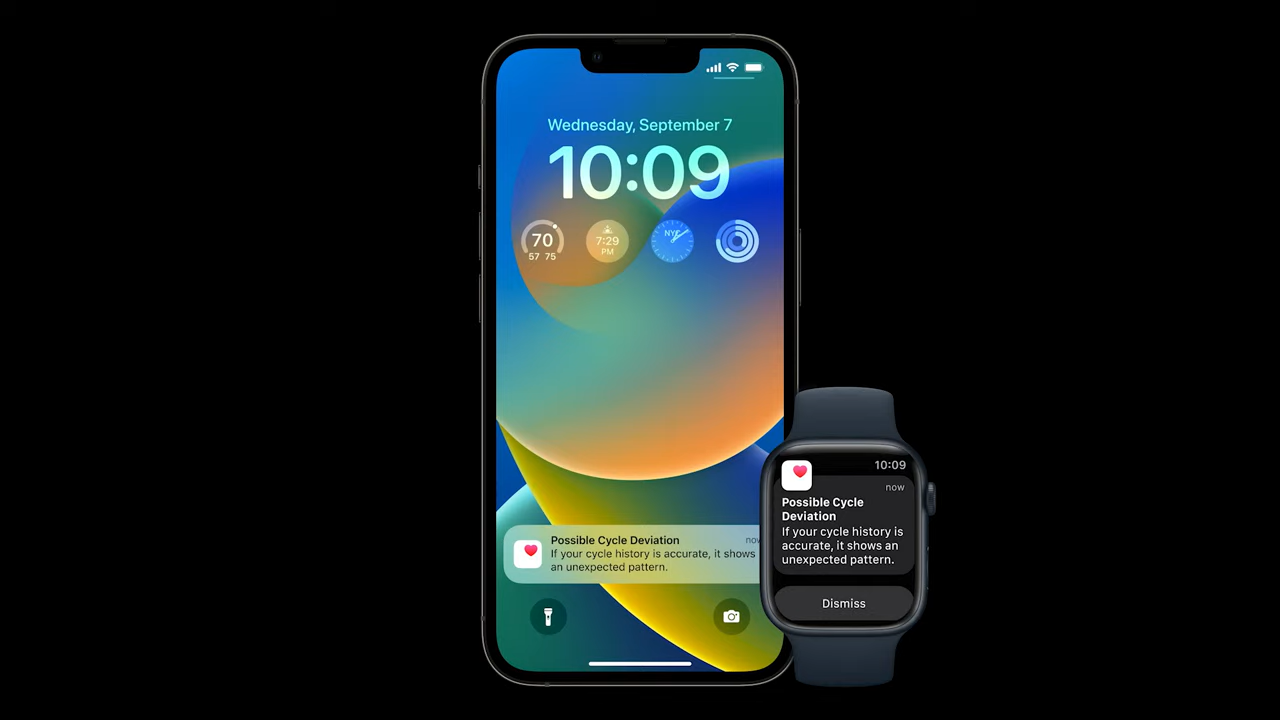 OK, you're going to be getting Crash Detection, which can alert close contacts and emergency services.
There are two new sensors in the Watch 8, with a g-force accelerometer, with over 200G of impact able to be spotted. And it can spot them four times faster, so the notifications can come quicker.
Apple has been studying many different kinds of crash testing, from head-on to rolling, and used machine learning to add in the sensor to GPS and microphone listening and work out when you're crashing - and only processes data on the Watch when you're driving and only in a crash situation.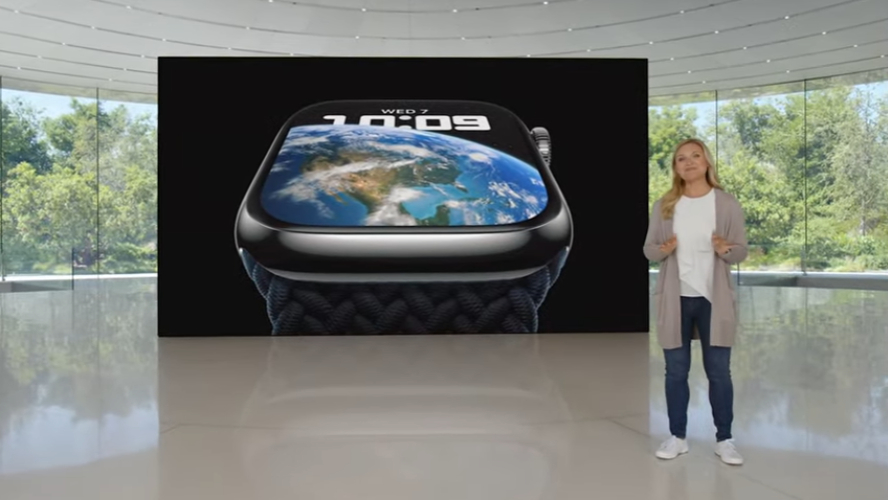 This launch is whipping by now... there's a lot coming I feel.
Oh, still got an 18-hour battery life. But this time we're finally getting Low Power Mode, which will boost things up to 36 hours, while still allowing fitness tracking and fall detection, but dropping always on display and auto-workouts.
This will come to older models as well (we both missed how long back it'll go).
There are four colors, midnight ,starlight, silver and red. Plus silve, gold and graphite for the stainless steel models too.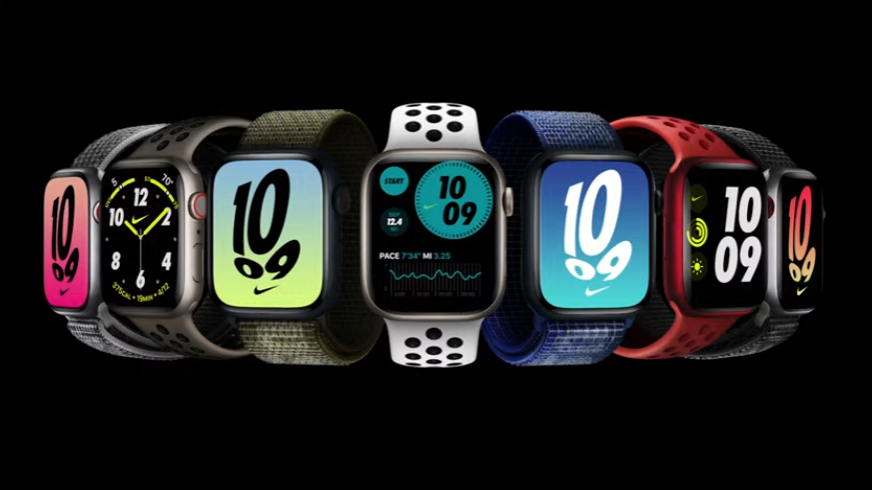 New Nike+ versions again, with 'Just Do It' woven into the band, and there's new (and very expensive) Hermes bands coming too.
That's not a huge update to this - but it's starting at $399 for GPS only, and $499 for the cellular model. You can order it today and then get it from September 16.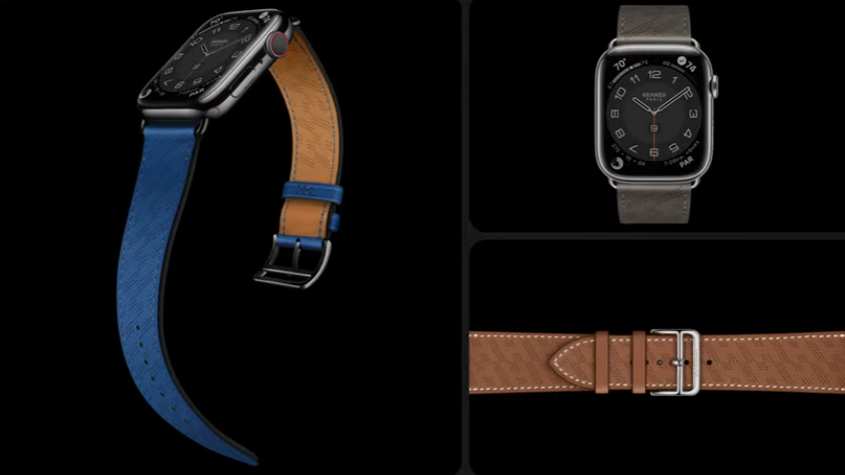 I wonder how many people go for the Nike+ and Hermes bands... actually, enough of that chat. We're onto the Watch SE.
It's coming in silver, midnight and starlight in aluminum - with the back case made of 'nylon' composite that match the color of the case.
That's a quick overview.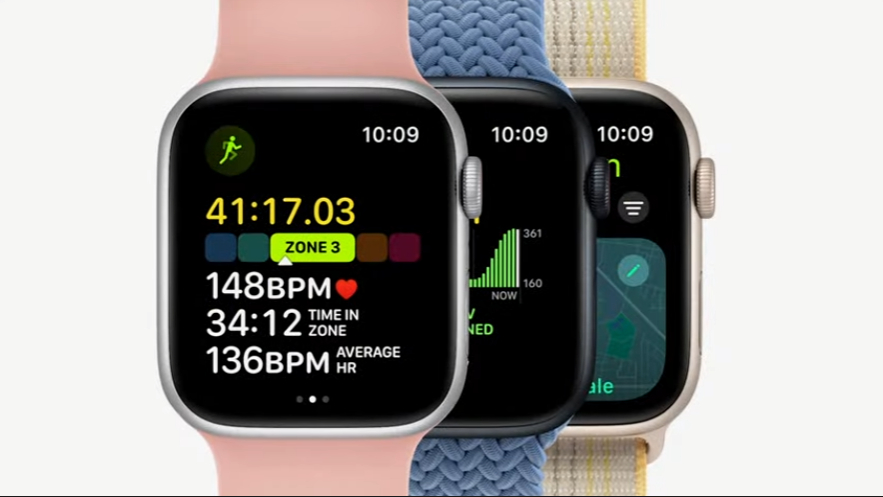 There's nothing here that's really news - 30% larger than the Watch 3 seems to be the same as the previous model, but it is coming with the new chip inside the Watch 8, making it 20% faster than previous.
The watch will cost $249 for GPS and $299 for cellular - and again, you can order from today and get it on September 16.
And here comes the Watch Pro...
This is a Watch 'years in the making' and designed for higher endurance. Here comes a video...
It's a lot of mist and close up images of the new Watch. There's the new button on the side, there's the bulge on the right-hand side...
It's being shown in hot and cold temps, in the desert. Apple Watch Ultra!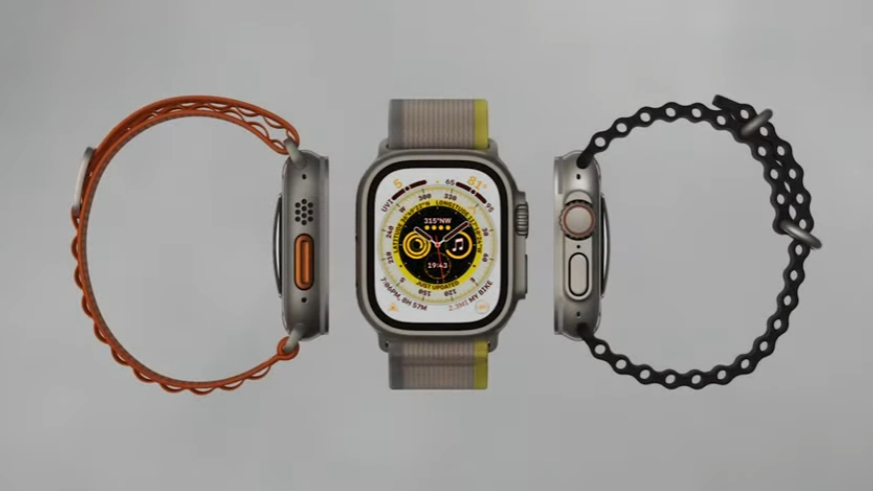 Didn't see that name coming.,
It's made from titanium, and that extends around the sapphire display, which protrudes from the top.
It's got the biggest and brighest display - with the 'action' button on the side in orange.
The digital crown is larger and has larger grooves to be easier to use - there's a second speaker for higher volume for voice calls in windy conditions.
And every Watch Ultra has a cellular connection, and it can last for 36 hours or 60 hours if you use a new battery optimization setting coming later this fall.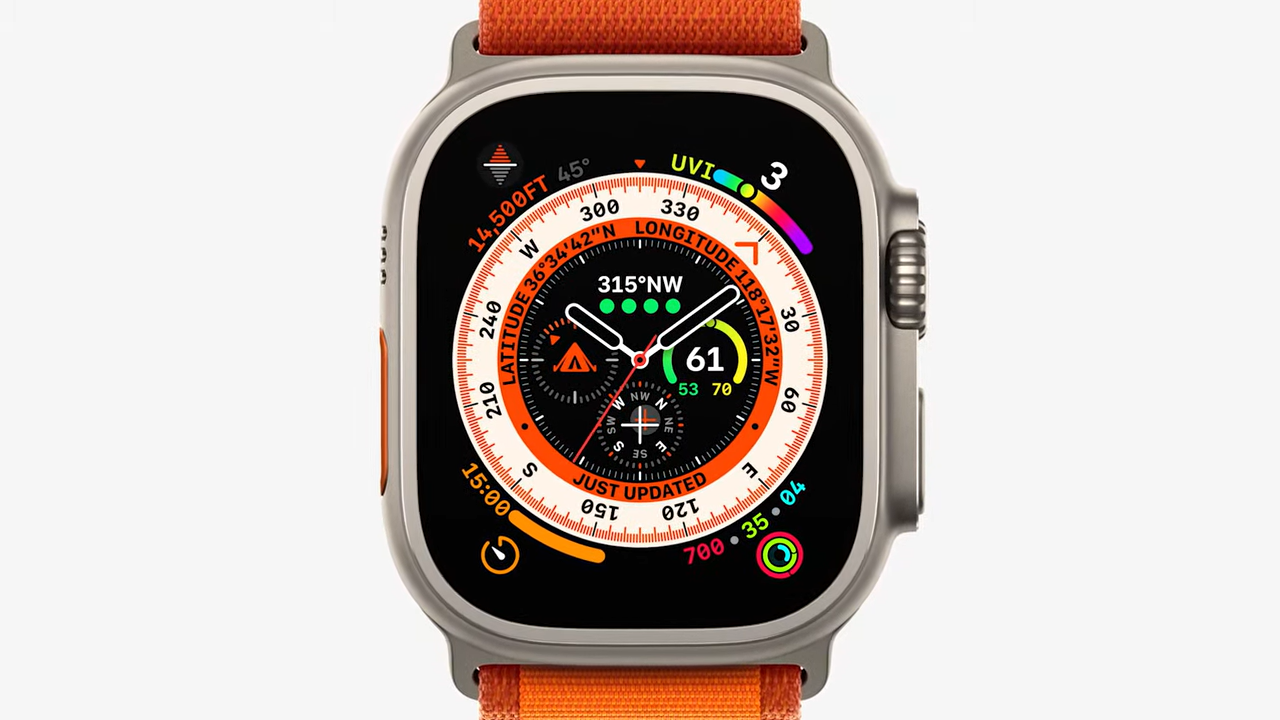 There's Night Mode too - the UI turns red for better visibility in the dark.
A new band set has been made - the Alpine Loop has a titanium hook that slips in. The Ocean Band has a longer, stretchier fit for over a wetsuite and a buckle secures it.
The Trail Loop has increased elasticity, and a quick tab for making adjustments. It's for 'accomplished athletes and explorers' primarily... how much is this thing going to cost?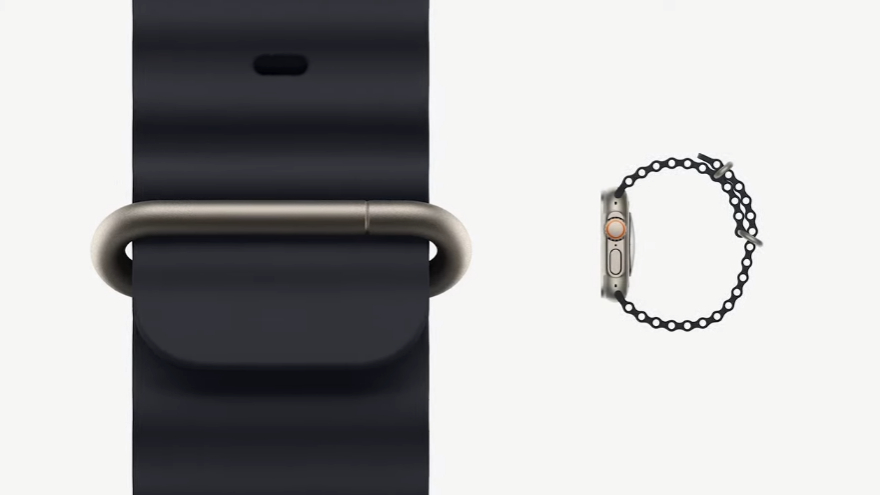 There's an improved GPS set on here for when there are tall buildings or in less-hospitable enviroments.
A new fual-frequency GPS solution, with L1 + L5 GPS... it's 'the most accurate GPS of any smartwatch on the market' in certain situations.
Now the Action Button. You can instantly transition through triathlon, or automatically detect when you're on a track running, or using the button to track laps better.
Using the new low-power workout setting you should be able to do an Iron Man (interesting that wasn't named in there).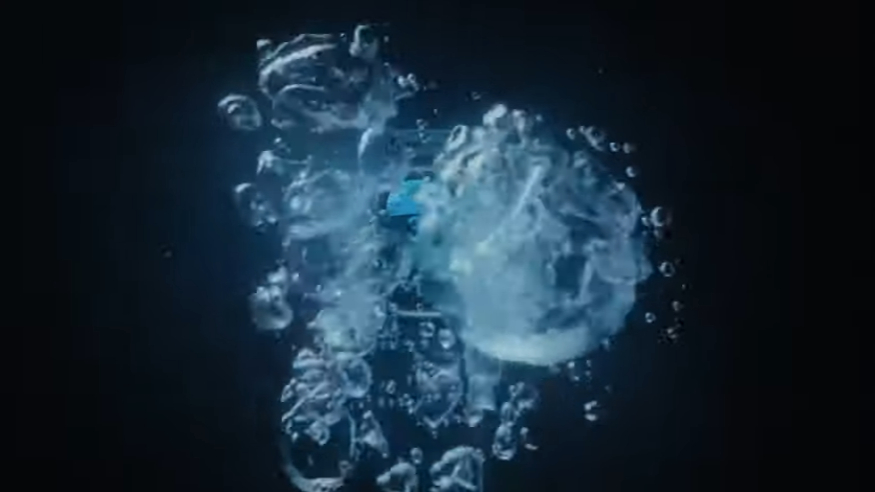 The new watch faces for Watch Ultra are exciting if you're needing things like BackTrack, better compass recognition on the face or getting help when you're lost on the hill.
There's an 86dB siren on there for people being able to hear you from 600 feet away... and man, that's an annoying (but hearable) sound.
And there's also a new auto-depth app when you go diving, so you'll be able to see where you are underwater.
And it's supporting EN13319... whatever that is. But it's more powerful and able to withstand water than before.
I'll tell you what - this is what Samsung should have done if it was serious about the Galaxy Watch 5 Pro.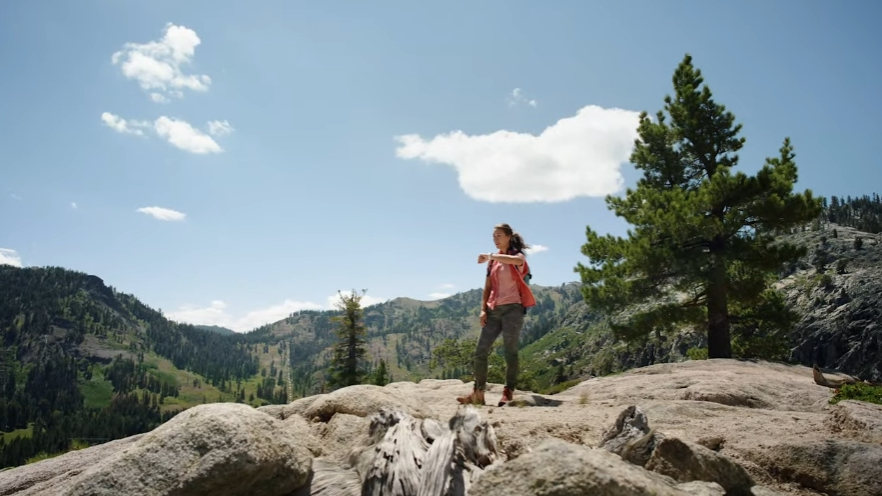 It's a 49mm case, 6000 nits of display brightness and all the other features of Series 8 as well... looking forward to seeing this on the wrist.
But how much is it?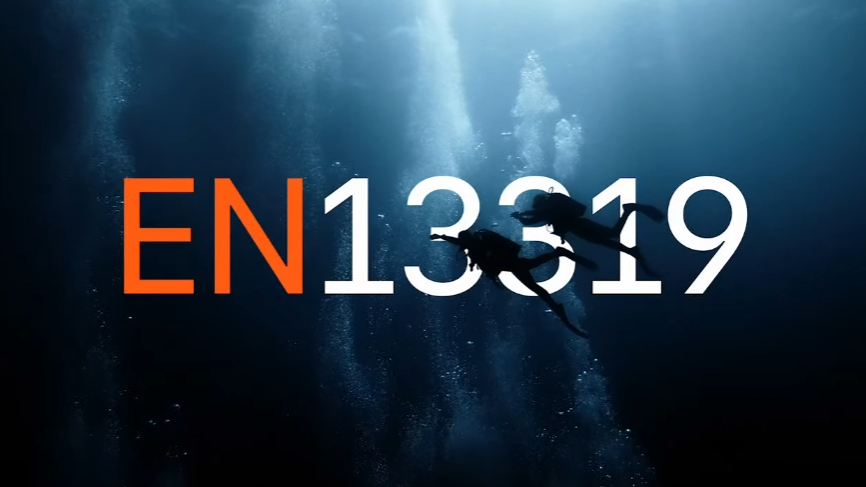 All the models of the Watch Ultra will be starting at $799, which is cheaper than I expected. It's something you can order from today, but it'll be available from a week later on September 23.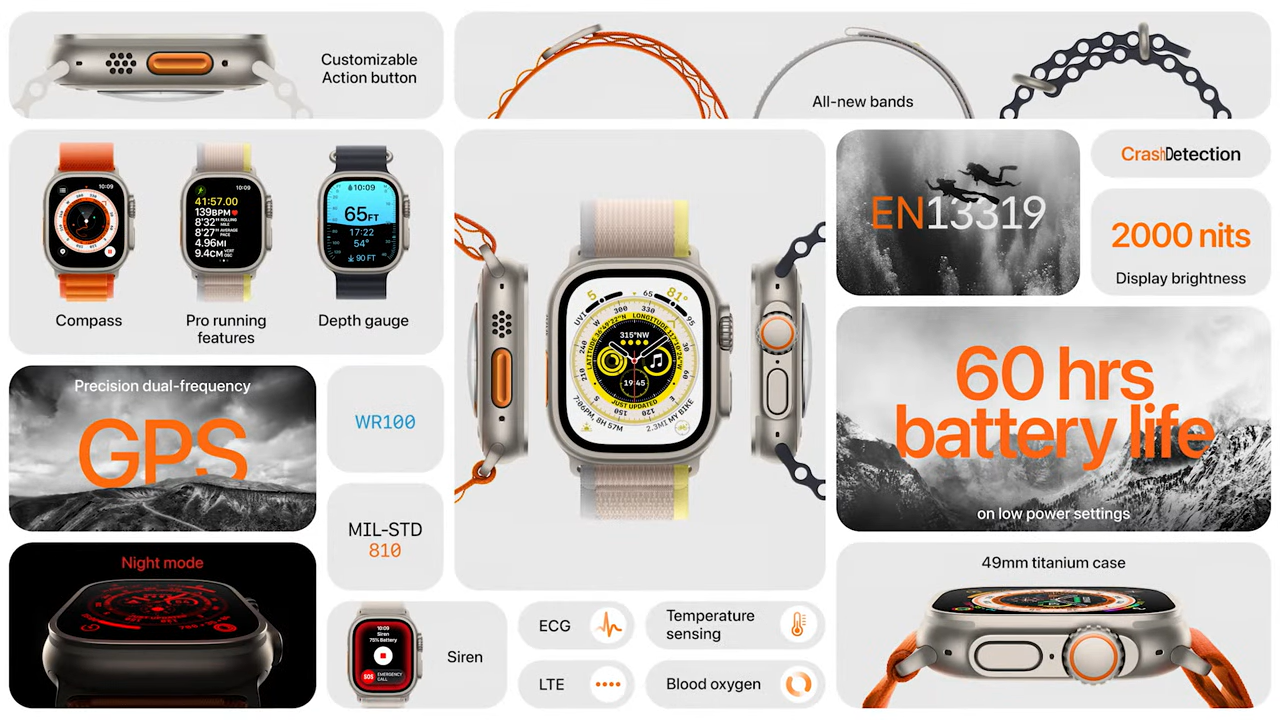 Apple does a really good job of making it seem like these things are going to solve everything for the outdoor user - the key thing is whether they'll actually be useful for people who like to dive, climb mountains and more.
They're showing people in snowdrifts up snowy hill, lost in the desert... would you want a Watch that lasts only 36 hours at launch? That's an open question... a louder loudspeaker is a great idea, and the bigger button is useful.
I think that's Apple Watch over. Tim is back and he's very excited about the Ultra... but we're going to AirPods.
Next up, the most 'advanced AirPods yet' - they've still got the stalks from this video. You can also dance in silhouette... not sure if that's a feature.
Oh man, I've got a blister on my finger already. This has never happened to me before.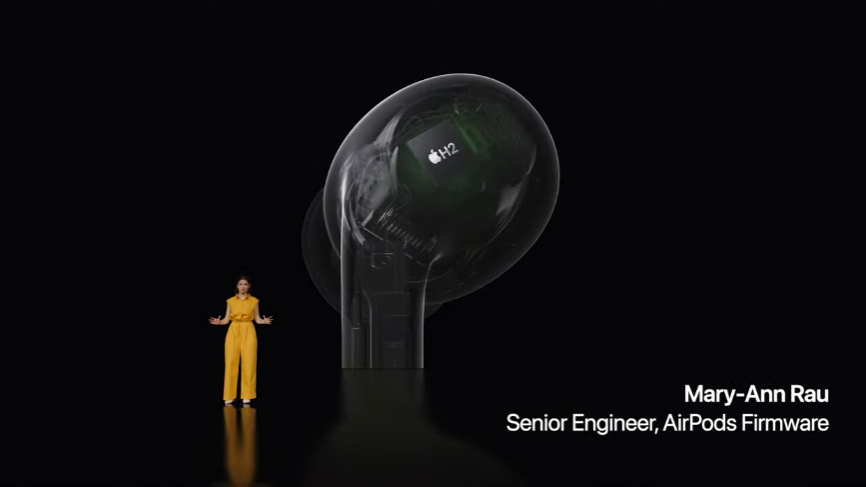 Inside the new AirPods is the new H2 chip inside, which helps to improve the audio performance with new drivers and amplifiers too.
Spatial Audio is here, and the TrueDepth camera to make a personalized tuning just for you.
Active Noise Cancellation is improved too, with 'advanced computational audio' with twice as much noise cancelled over the original AirPods Pro.
There's a new extra-small ear tip - which our audio writer Becky Scarrott will be in love with.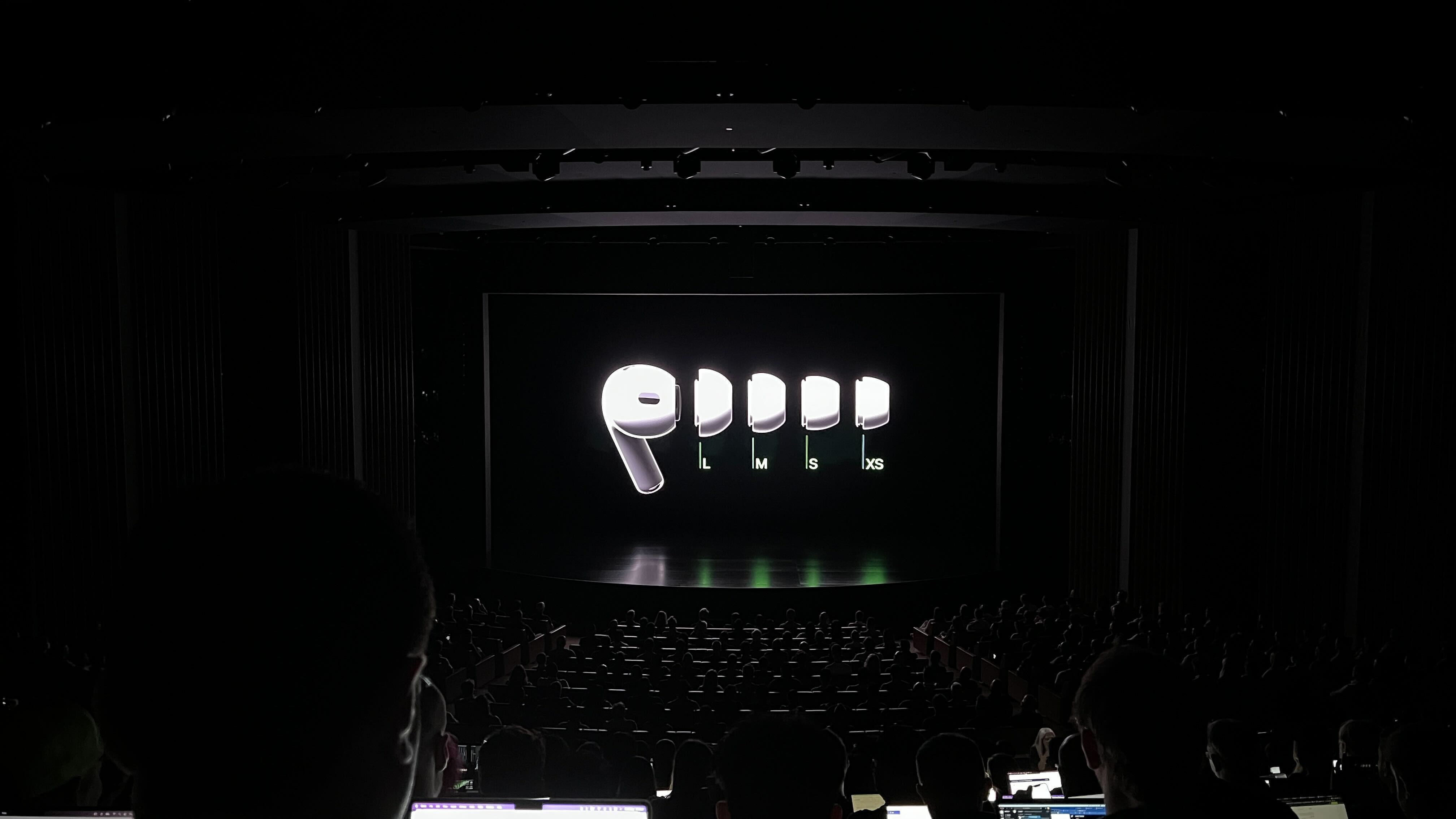 The touch-sensitive area of the AirPods Pro has a capacitative sensing layer so you can control volume by swiping up and down.
Finally.
There will be 6 hours of listening time on a single charge, with 30 hours using the case.
The new AirPods Pro, if you misplace the charging case, precision finding will help you navigate to it. And there's a speaker to play louder tones, with pairing, low power and when charging has starting. Plus you can use the Apple Watch charger finally.
Oh, and there's that lanyard clip! I didn't think that would be there if there was no chat about the AirPods Pro 2 being good for hearing disability.
Coming from $249, you can order from Friday 9 September, and buy them from 23 September.
Right, it's new iPhone time.
There we go, there's going to be a purple color. And it's confirmed: iPhone 14 Plus.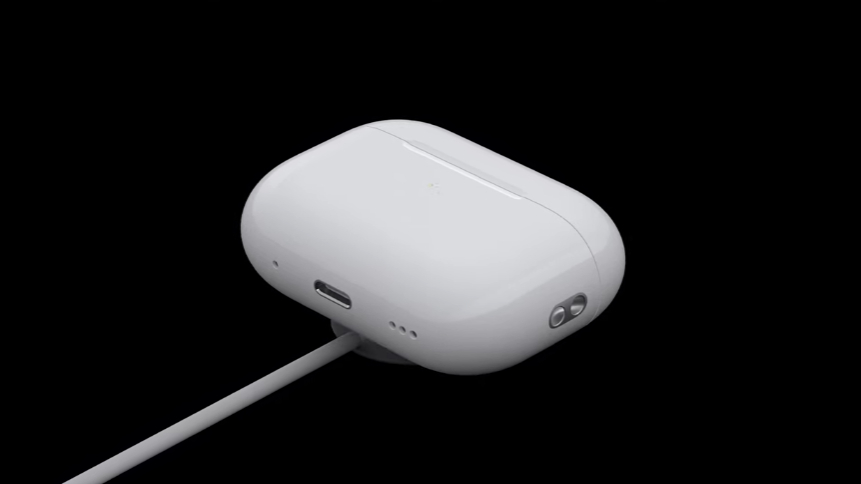 The iPhone 14 will have a 6.1-inch display, with the iPhone 14 Plus will ahve a 6.7-inch display too.
There's a speeding through this section - I feel the cool stuff is going to be kept for the iPhone 14 Pro soon.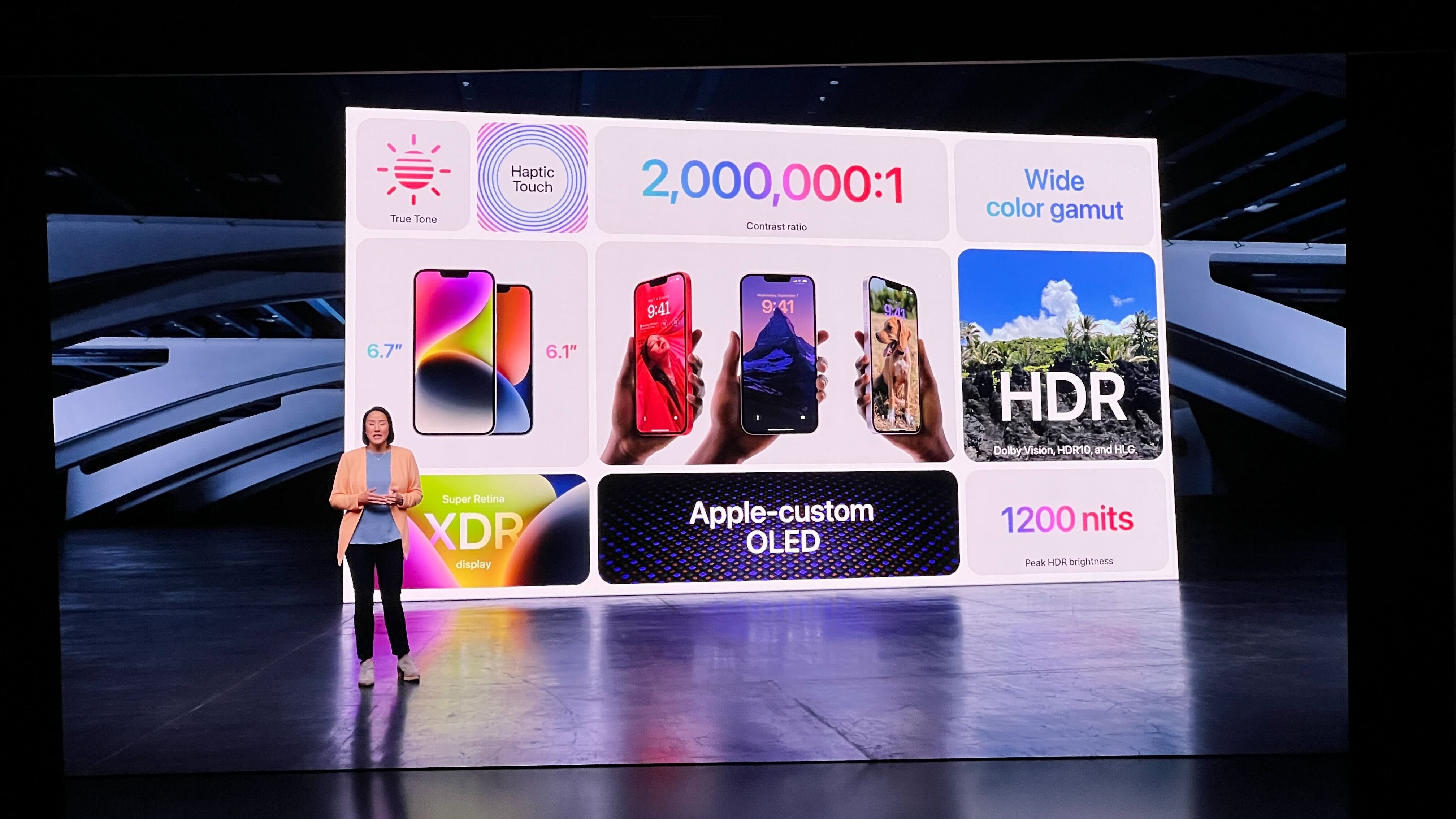 The iPhone 14 is 'designed to last' - both models have ceramic shield on the front, and water and dust resistance... what's going on here, there's very little that's being shown off that's new?
Apart from a new blue and lavendar color. Oh, wait, here we go - the best battery life in a smartphone... because it's got the larger battery size inside.
We're hearing about how the iPhone 13 Pro A15 chip that's coming to the iPhone 14 - it's faster than last year's model, but it's still the same chip. Basically, a bit better.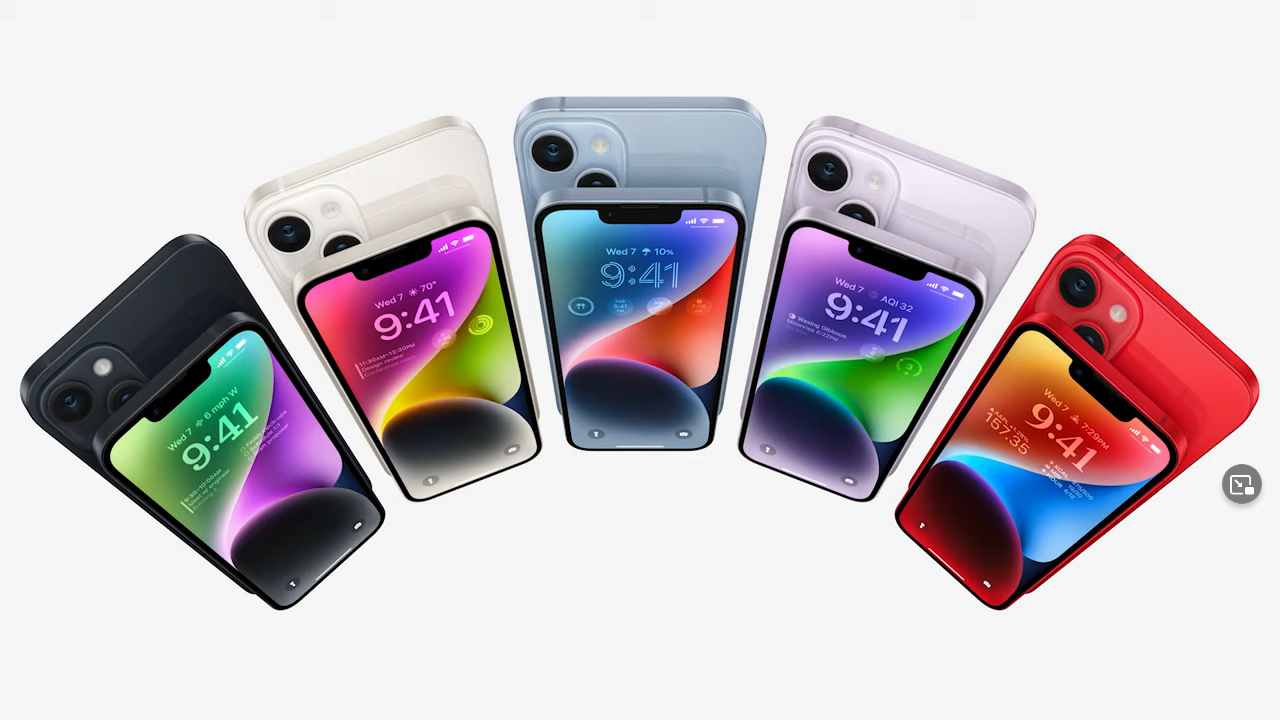 There is a new camera in there, with a larger sensor and faster aperture, with 1.9 micron pixels and an f/1.5 for better results when things are darker or more 'challenging'.
There's a new True-Depth camera, with an f/1.9 (I think) aperture and autofocus on there too... we've been waiting for that for some time.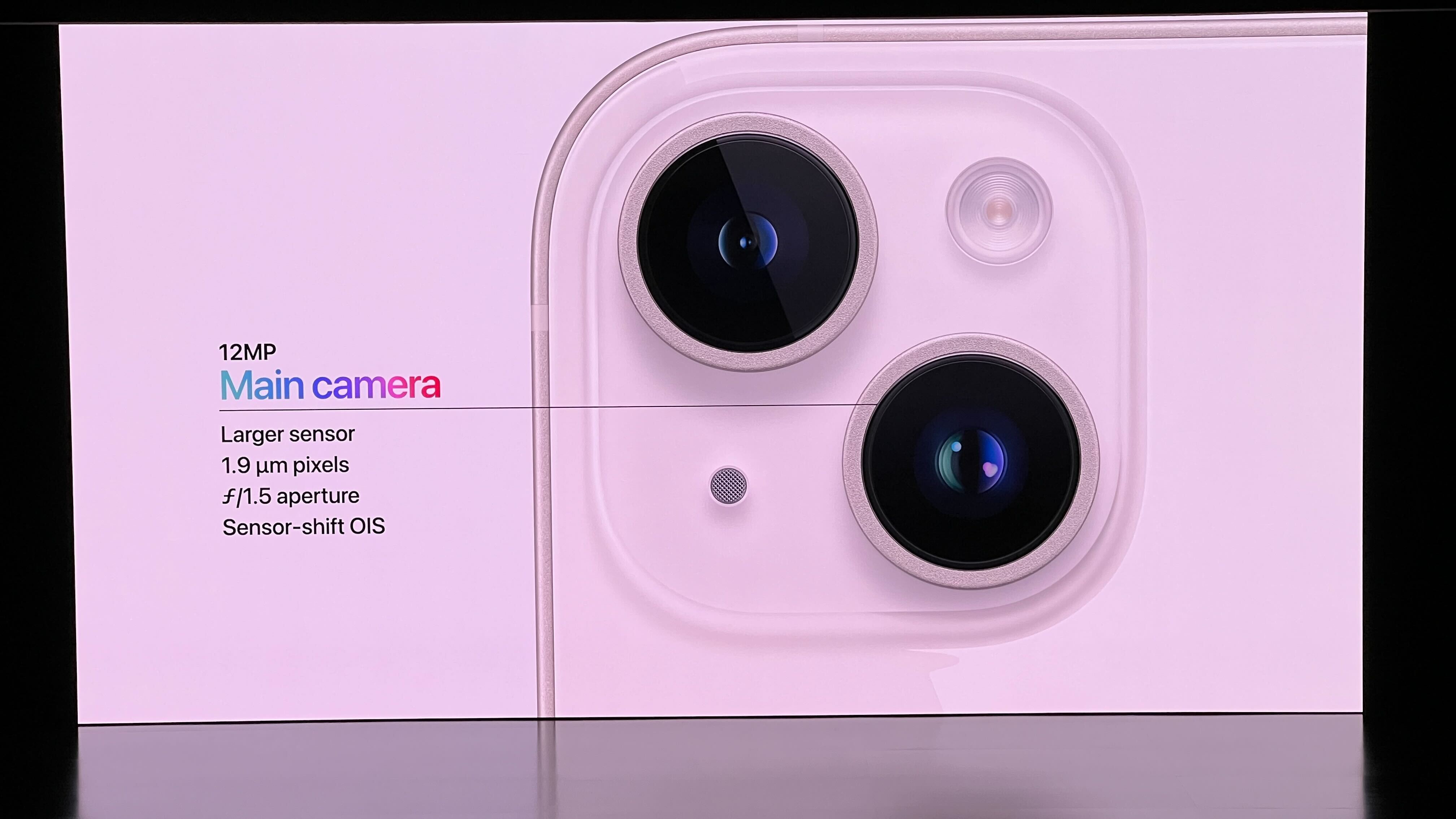 Hearing more about Deep Fusion right now - with more improved performance from the new 'Photonic Engine', with the images taken all combining to make an even better photography experience... and this will work on older phones too.
So basically this is another step where the phone takes better photos without even improving the sensor.
Video will be more stable in 'Action Mode', so when you're running around you can toggle it on without needing to add a Gimbal, and it supports Dolby Vision and HDR.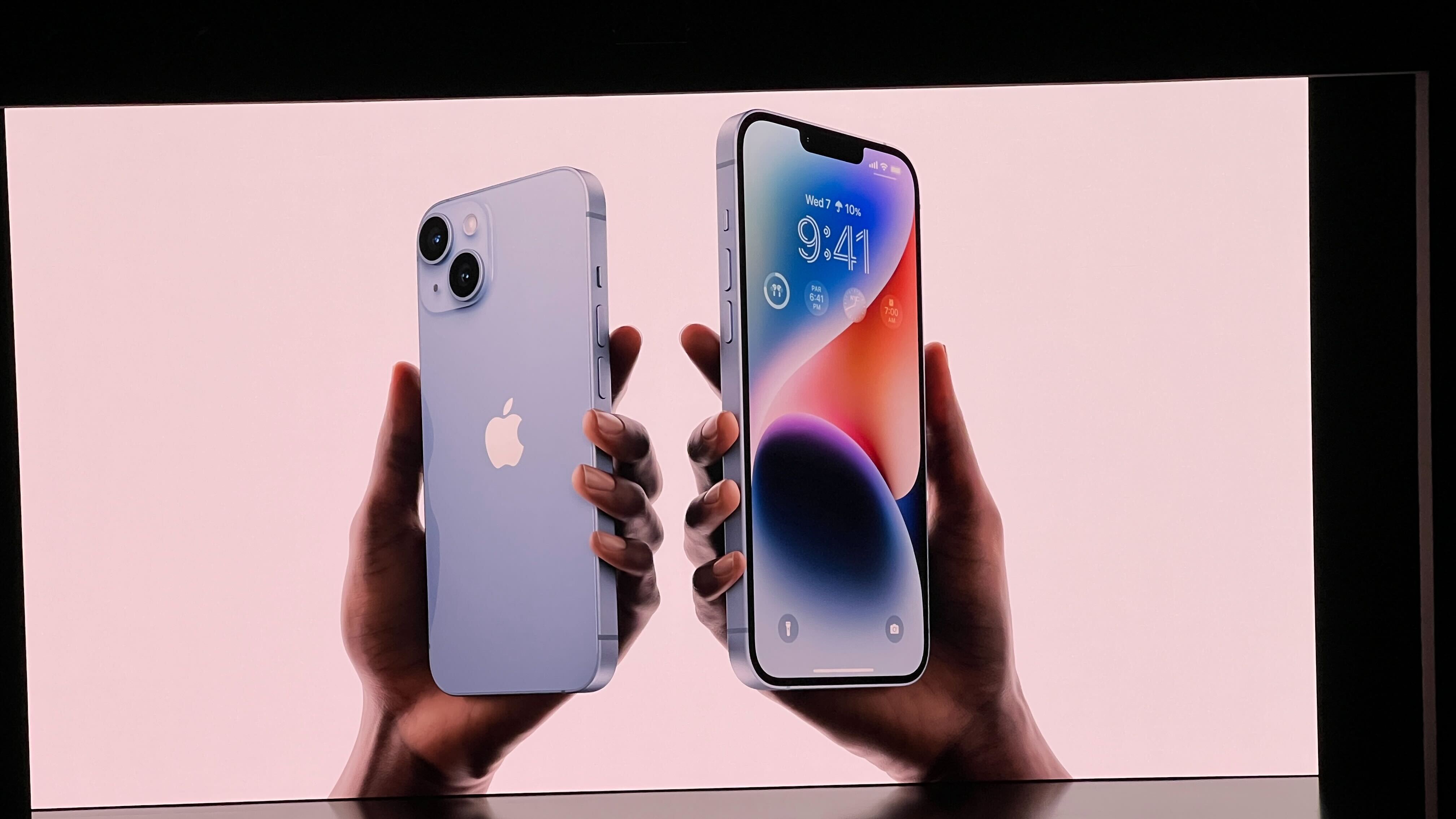 Now we're onto connectivity: 5G is the big buzzword here. There's the eSIM option in there, where you don't need to pop a new card in your phone... allowing you to do it digitally and the ability to have multiple SIMs or contracts.
There's a lot more chat about this feature this year... what's this about? Apple says it has improved things.
Whoa - all US models won't have the SIM tray. That got a WOW in the room...
Lance is just shaking his head next to me. How will people upgrade easily to the new model if they buy it SIM free?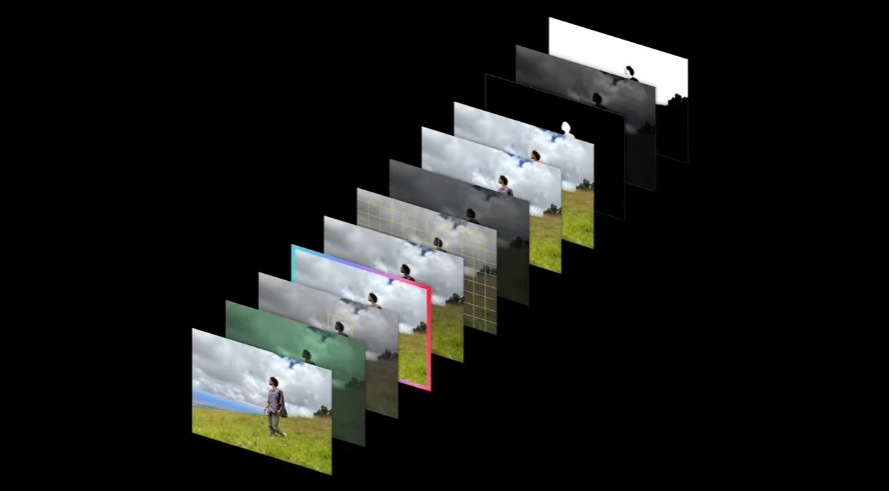 The iPhone 14 line-up has the same high-speed sensor inside it, so if you're in a car crash it'll alert the emergency services on the go - working with the Apple Watch 8 if you've got both on.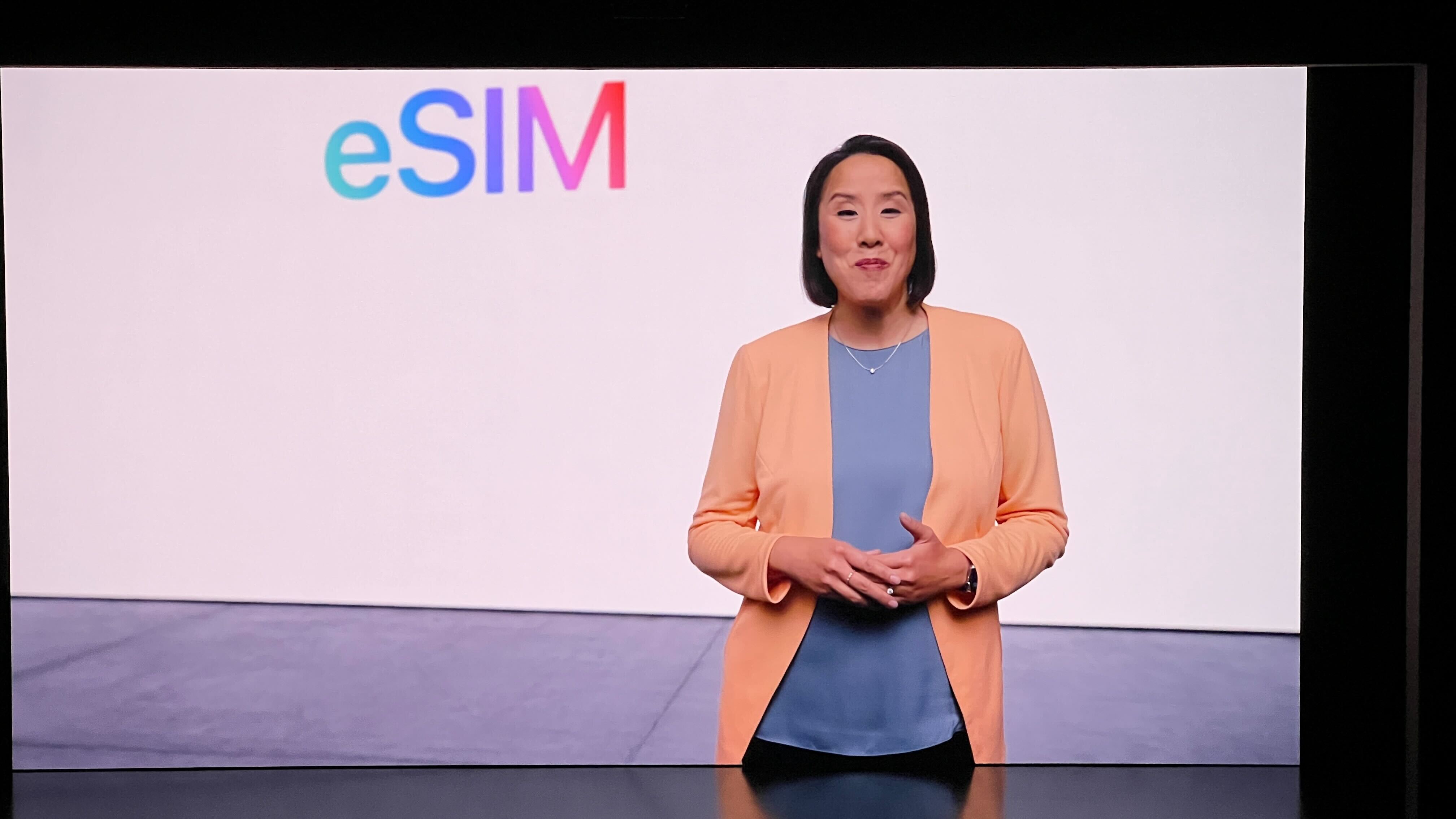 Now we're talking about how things can connect when you're 'off the grid'... satellite connectivity?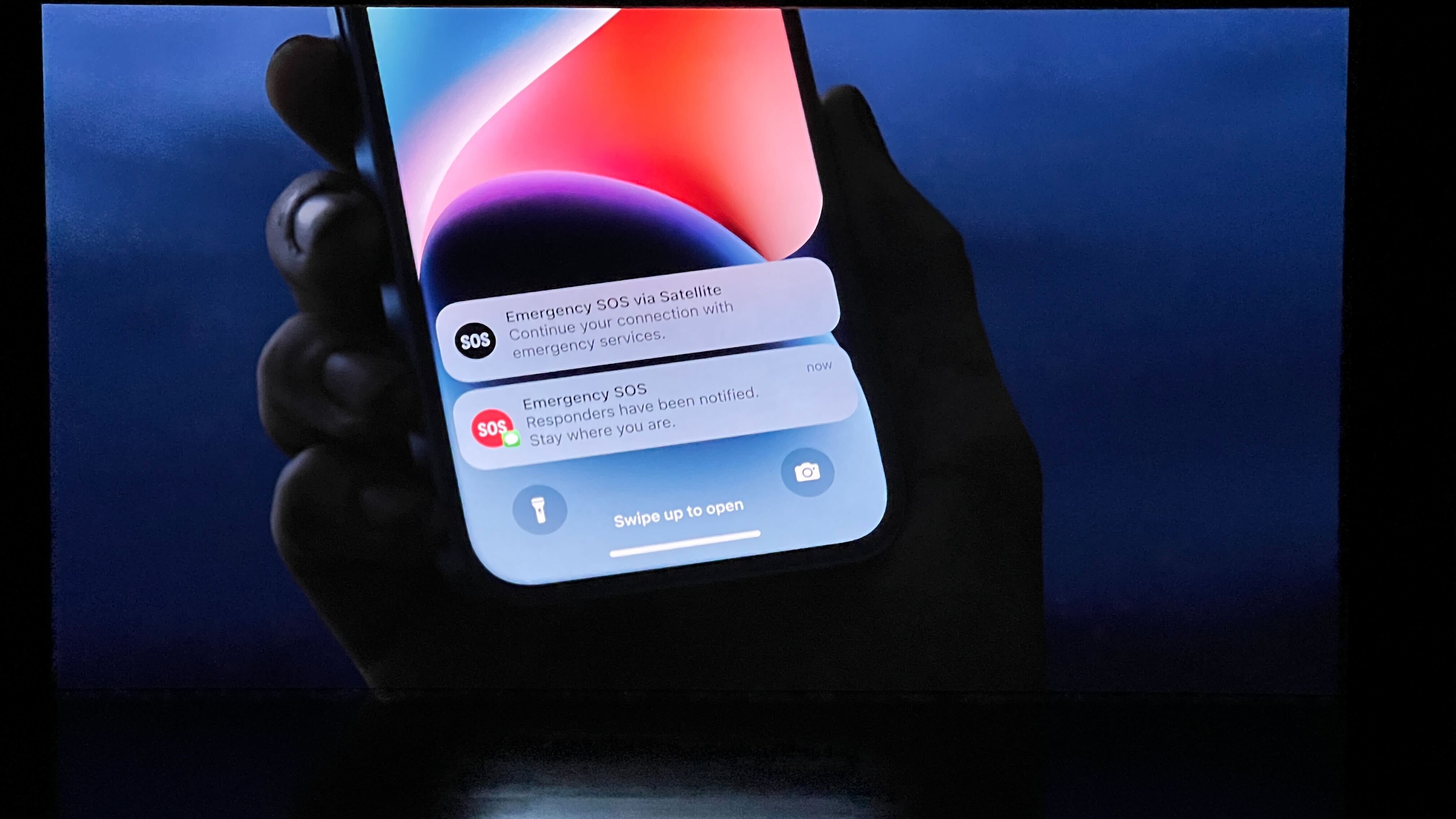 That eSIM change is going to piss off a lot of people in the short term, I think. Unless it's a super slick changeover.
We're being shown an image of someone being found on a mountain top - through the 'Emergency SOS via satellite' functionality - the satellite rumors were true.
The idea is that connectivity in areas like complete backwaters or high mountains means that no connectivity is available. You'll need to be outside and with a clear view of the sky.
Apple has 'invented' another way, so that iPhone 14's antennas can connect with satellite frequencies... and there's a new software experience to show you where to point your phone and keep things connected.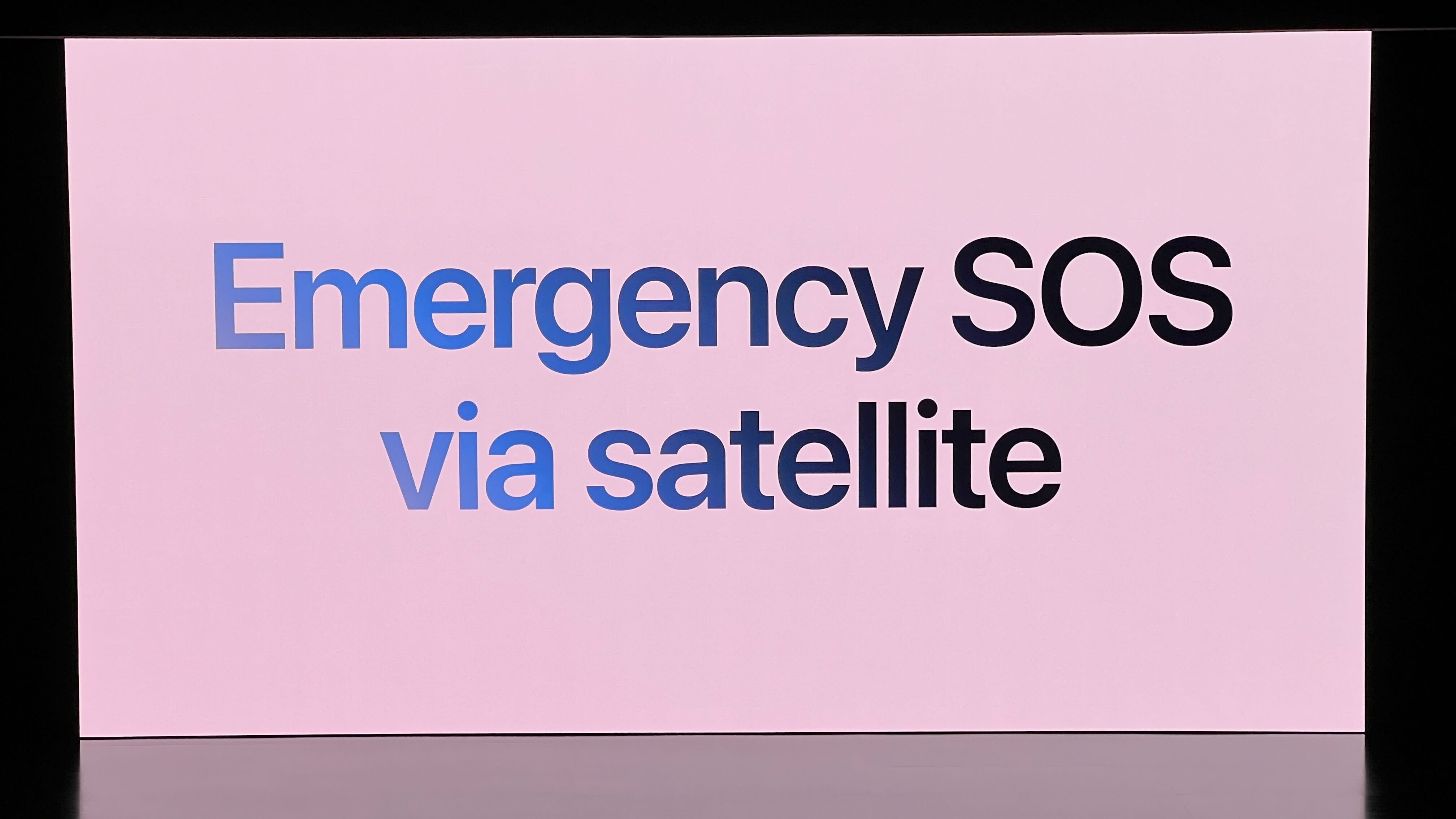 The messages have been shortened massively, down to three times as short - with all the key questions answered quickly so as little information as possible is needed to be sent over satellite.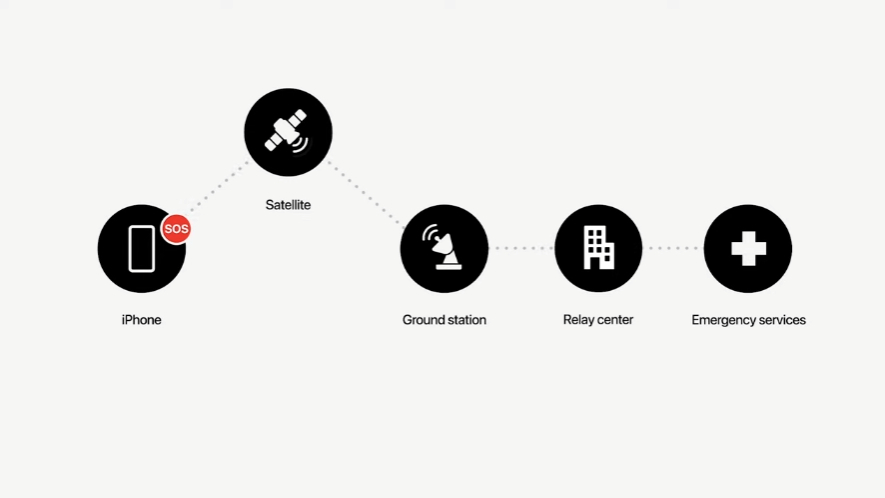 This service can also be used in other ways - you can share your location via satellite on the Find My app (and has been part of the development cycle for years).
You'll get this free for two years, it'll be coming to November first and only in the US and Canada to start.
Apple Fitness+ is coming to iPhone users later this year too, while we're here.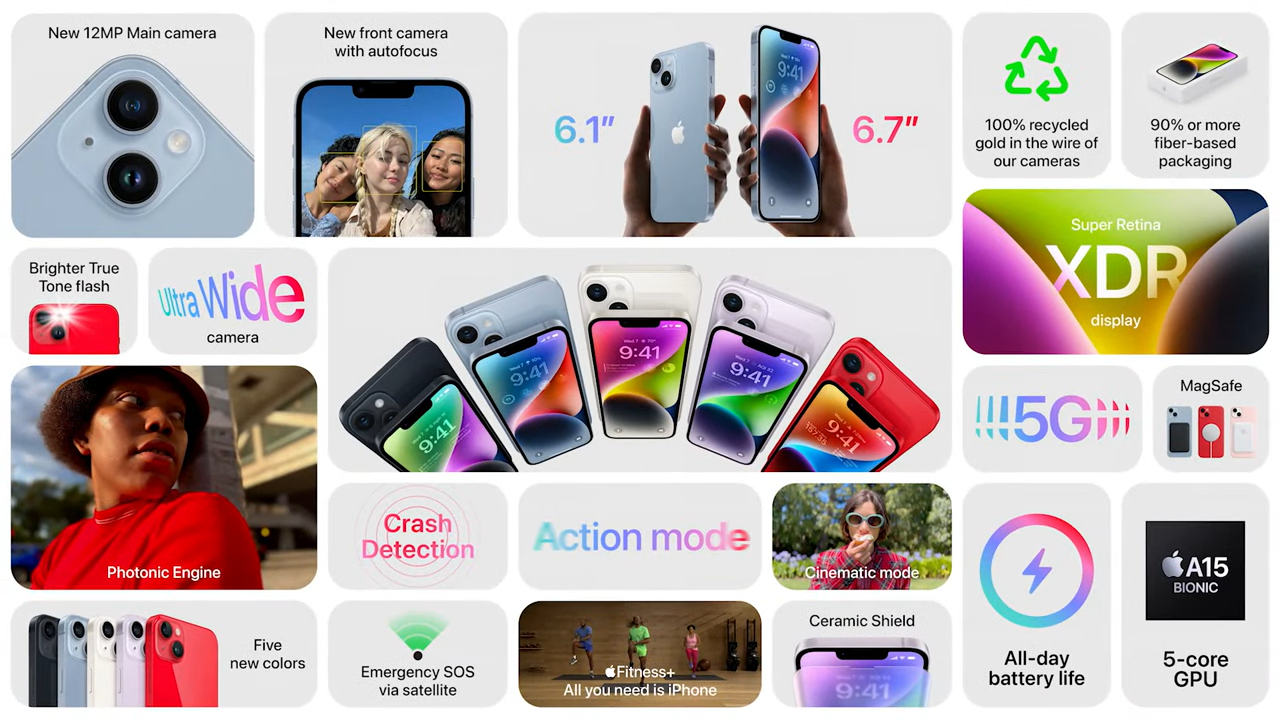 The iPhone 14 will start at $799, the same as the iPhone 13, and the iPhone 14 Plus will cost $899.
You can order both from September 9, but you'll only be able to get the iPhone 14 on September 23, with the iPhone 14 Plus from October 7... the rumors of the delay were indeed true.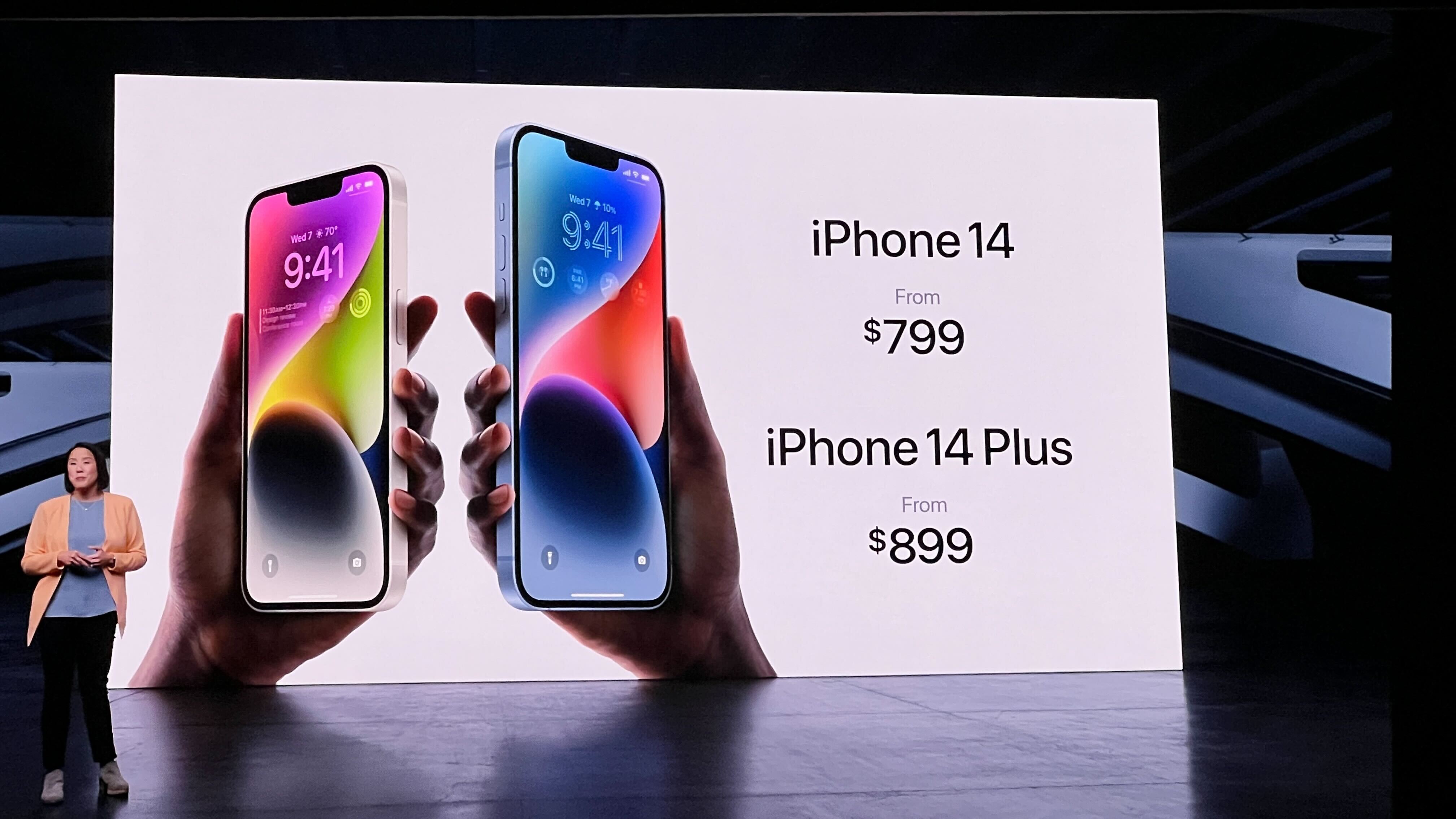 OK, here come the new iPhone 14 Pro models. A lot of fanfare here... and confirmation of the notch becoming the single lozenge at the top.
Whoa, it moves! It becomes longer, shorter and wider to show notifications. That's unexepected.
Right, here are the colors - gold, purple, black and a graphite color.
The notch is changed, and this is clever - all the sensors are in the screen and the new experience will make it a space that shows up background activity in an interesting way.
It's called the 'Dynamic Island' - that got a laugh here.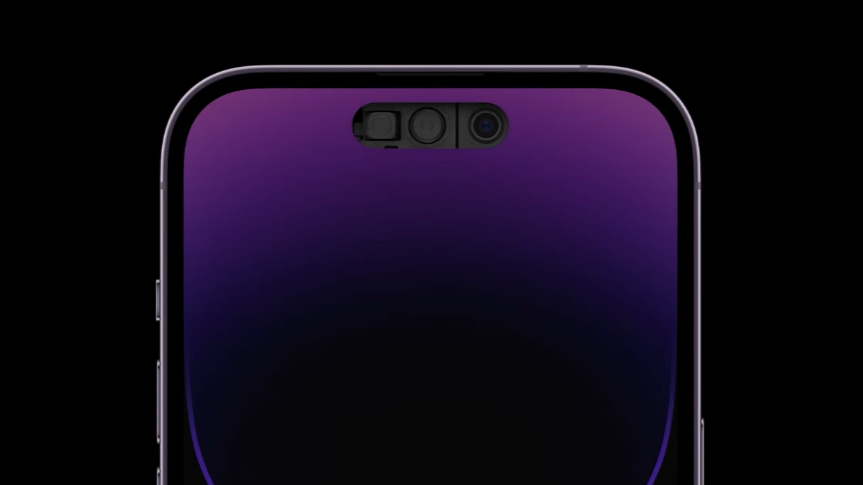 The idea for this means you don't need to be distracted or having notification shades coming down, with each alert having a different character, tapping iPhone on location, or using FaceID, or the music app moving up there.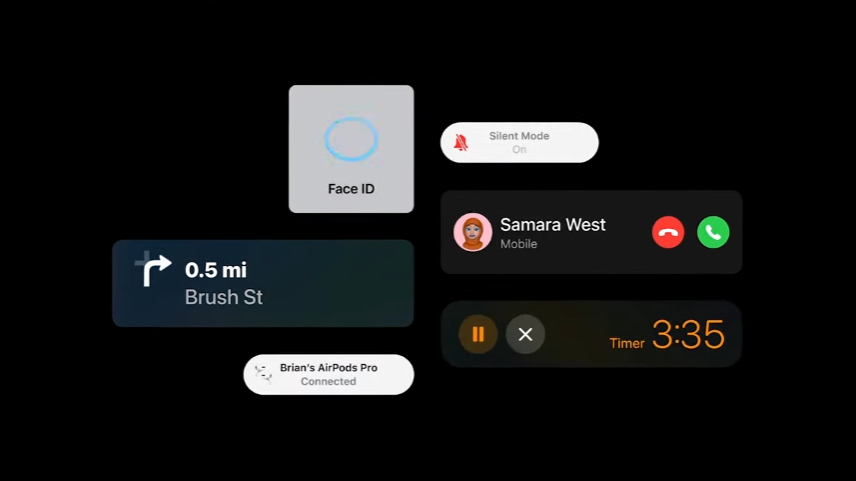 There's a lot on the Dynamic Island stuff here - it's a clever way to distract from the notch completely - it can even split between two apps if they're running in the background.
The iPhone 14 Pro also has a new display, coming with 6.1-inch and 6.7-inch displays. They're brighter than before, with a peak of 2000 nits and that's twice as much as before.
And, as expected, here comes the Always-On Display. It keeps the essential information on there -that's because it can go as low as 1Hz, meaning the whole screen can dim easily.
The time, widgets and live activities are always going to be available as a result, and you'll still see your wallpapers too.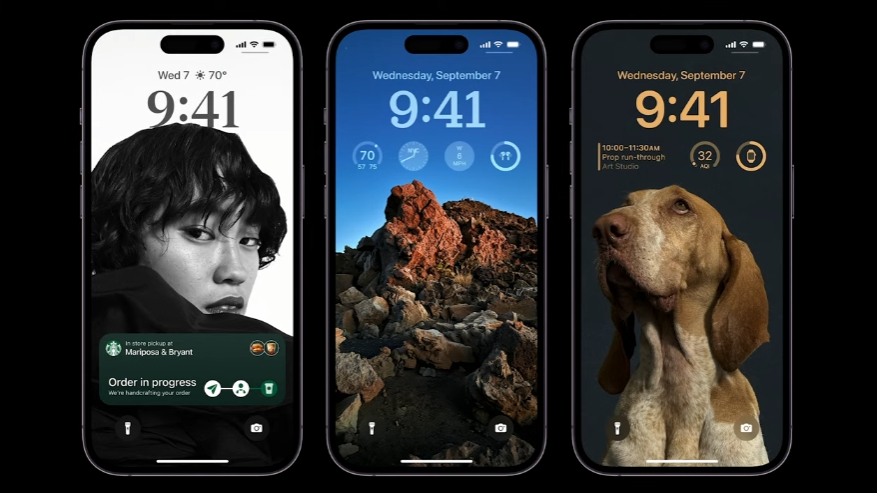 As predicted, the iPhone 14 Pro Max will have the A16 chip inside, with it being (apparently) 40% faster than any other chip on the market, but that has to be proven.
Apple has boosted the core efficiency too - meaning that when it's in low power mode, it's even lower than before.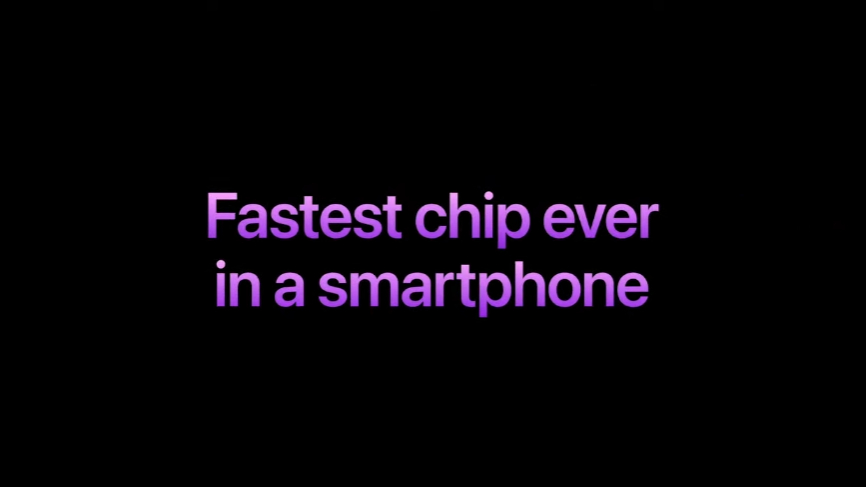 The CPU, GPU, neural engine and ISP all work together in concert to help support the new Pro camera system.
There are the three camera sensors on the back again, but they're new - a 48MP sensor that's 65% larger than the one on the iPhone 13 Pro. It's got a 24mm focal length too.
By combining four pixels together, you'll be able to get night mode performance that's twice as good as last year.
The new sensor is designed to work with each pixel individually - and there's a new 2x telephoto option as well, using the larger pixels to optically grab that image without any loss in performance.
That's a good move - the difference between 1x and 3x felt like too much.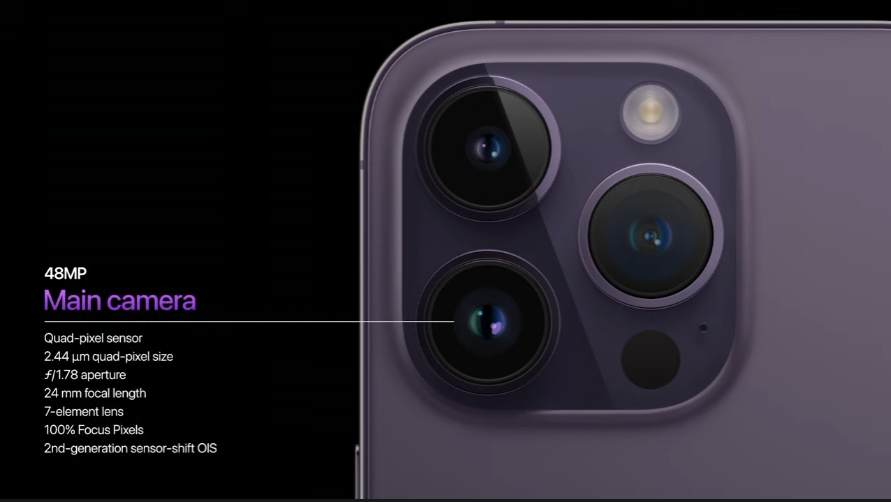 It's easy to forget about ProRAW, but it's actually a pretty cool feature of the phone - I've taken some much better photos when I want to play with my images a bit more.
There's a new UltraWide camera - with larger pixels although still only 12MP. It means that the macro mode has been improved too.
The flash has been redesigned, with 9 LEDs that can be twice as bright as before with more uniformity of flash. The front-facing camera is twice as good in low-light too, thanks to the new computation photohgraphy.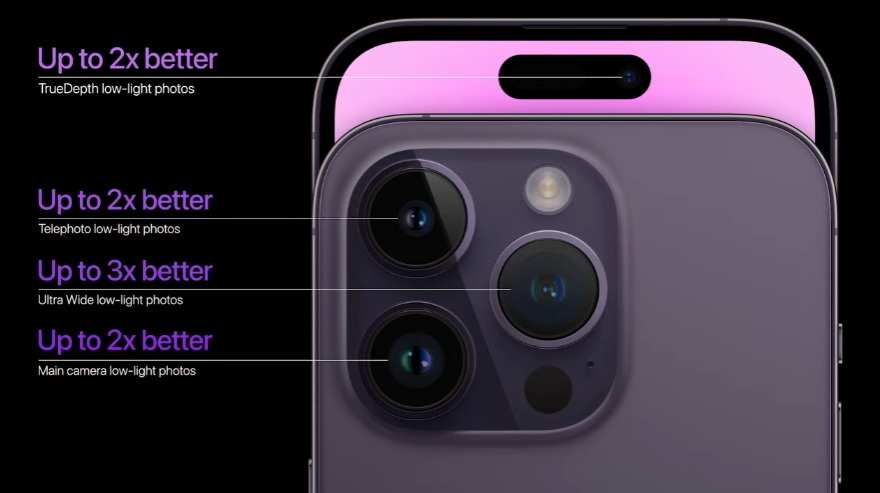 Righty-ho, that's everything about the iPhone 14 Pro and iPhone 14 Pro Max - we must be getting to the end of this event soon.
We still don't know the price yet...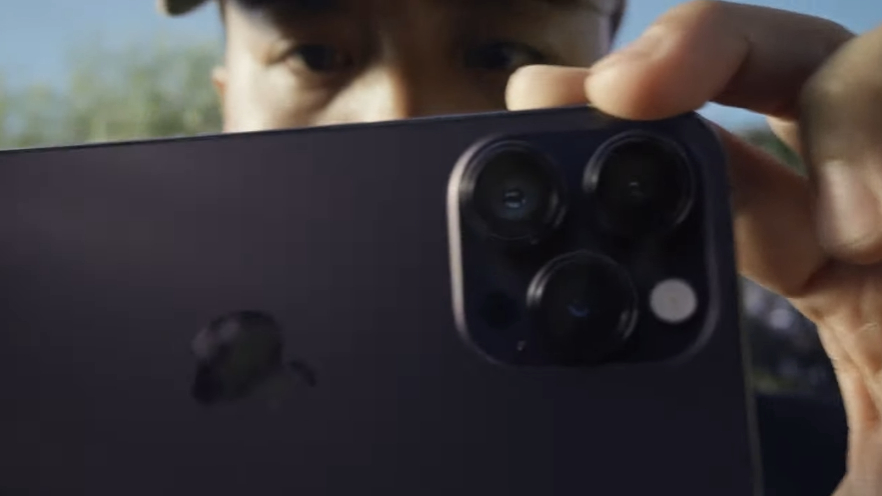 Prices aren't as high as expected: $999 for the Pro, and $1099 for the iPhone 14 Pro Max, which is the same as last year, with both phones available to pre-order now and can be purchased from September 16.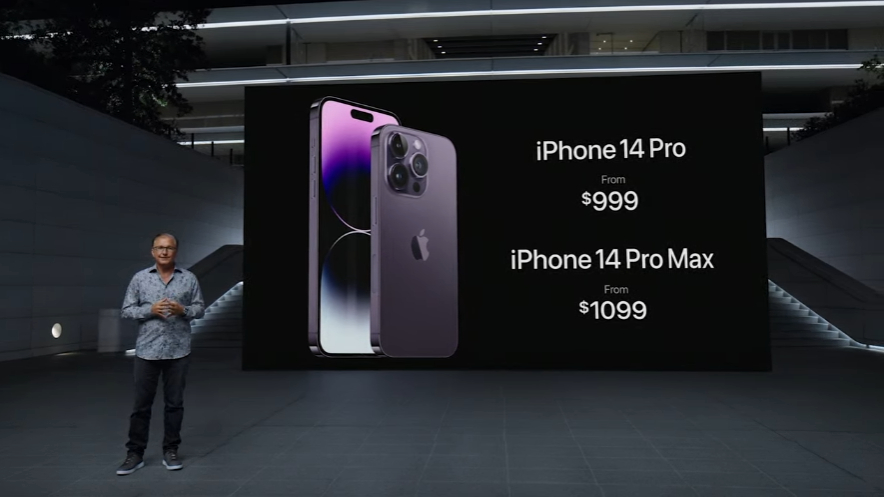 That looks like it for now - the days of 'One More Thing' are all gone, in favor of far clearer outlines of what's coming.
Tim Cook is just running through what we're getting from the new devices... although saying the iPhone 14 is full of innovation is a bit rich.
I'm going to have to sprint and go look at these new phones - here's hoping the scrum isn't too bad.
Right, that's it. Thanks for being here today with me - it's been lots of fun talking to you and we're out!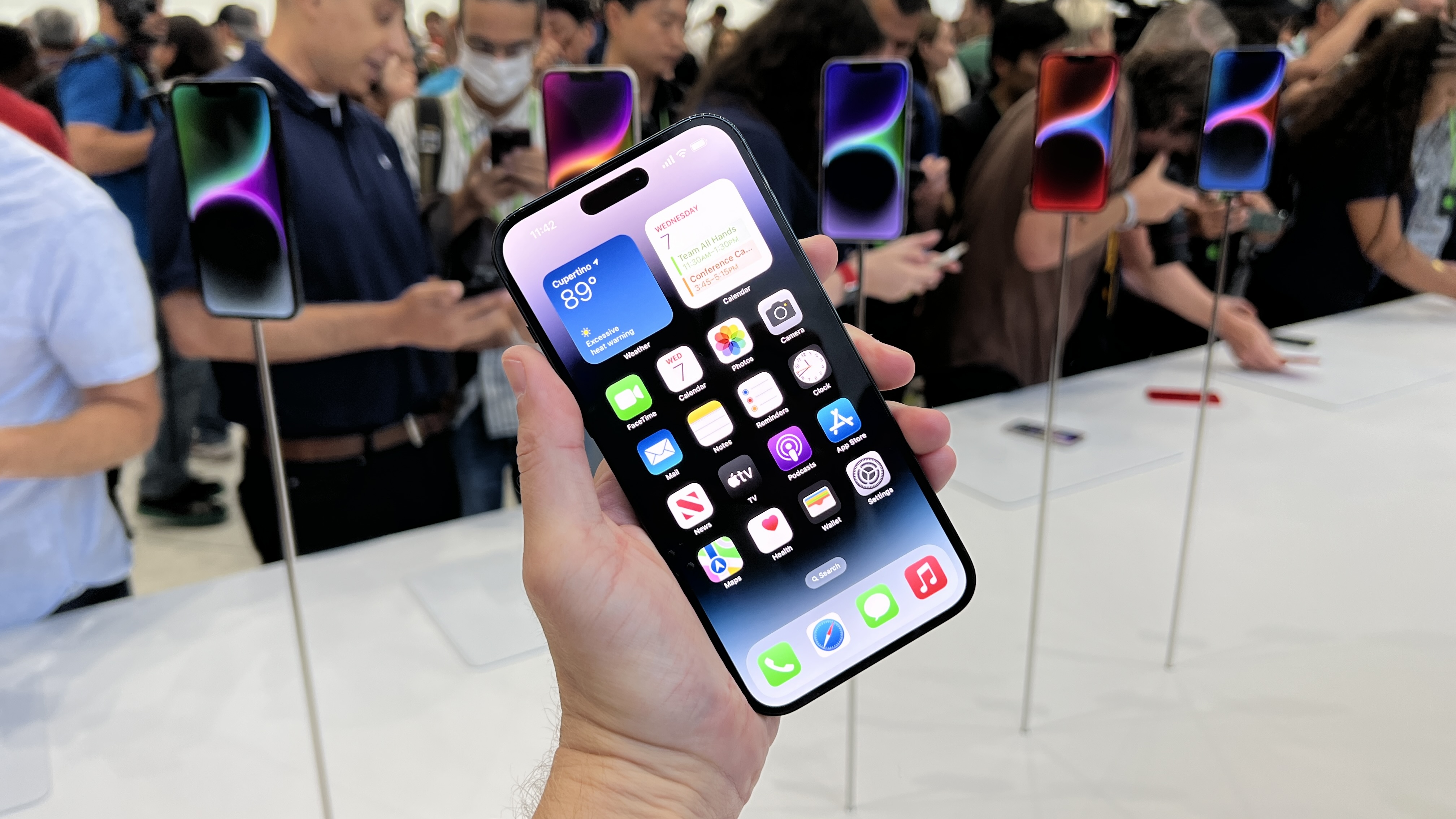 Right, I'm back and beavering away bringing you previews of the top products out there. If you've never been to an Apple event before, then you'll struggle to get just how much of a melee it is.
Basically, you get into a large, bright room, with loads of products to try, and the rest of the world's media is trying to do the same thing. So you get 10-15 minutes to try the new Apple Watch, then the same again for the top phone, and again for the AirPods Pro 2.
Then you come away and start writing it all up. I started with the iPhone 14 Pro Max, which is a... fine phone, but I genuinely think the Dynamic Island (ridiculous name aside) is a real innovation.
Go and read my hands on iPhone 14 Pro Max review - I dare you. I'll wait.
It's a new day! For some of the TR team, at least. With the dust now settling on what was an onslaught of announcements from Apple yesterday, we've now had time to get up close and personal with these shiny new products and we have some thoughts...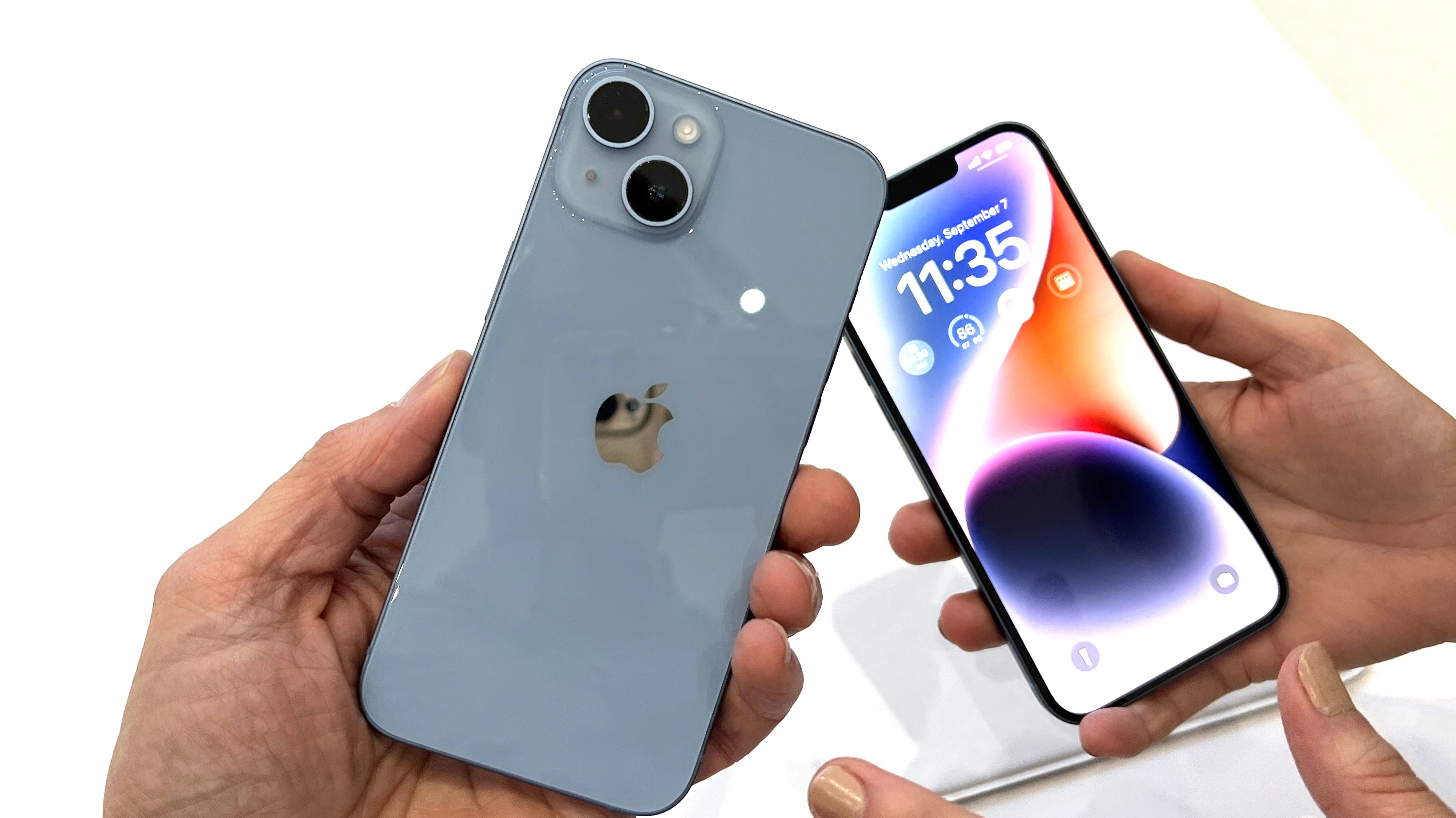 Let's start with the vanilla iPhone 14. It's the mildest of the upgrades generationally-speaking; with a familiar design and near-identical proportions to the iPhone 13 (although it's a little thicker).
That added bulk is reportedly down to a larger battery, although Apple itself hasn't confirmed such a change, simply stating the phone comes with 'all-day battery life.'

The A15 Bionic chip with a five-core GPU that was exclusive to last year's iPhone 13 Pro models runs the show inside the iPhone 14, while a new brighter lead 12MP camera - with a wider f/1.5 aperture - is the biggest camera hardware improvement over last year's model.
In his iPhone 14 hands-on, TechRadar's US Editor in Chief, Lance Ulanoff said, 'it'll be hard to look at the iPhone 14 and not cast sideways glances at the spiffy new iPhone 14 Pro and Pro Max with their notch-free display and 48MP cameras.'

I'm right there with you, Lance. Now, onto the Plus...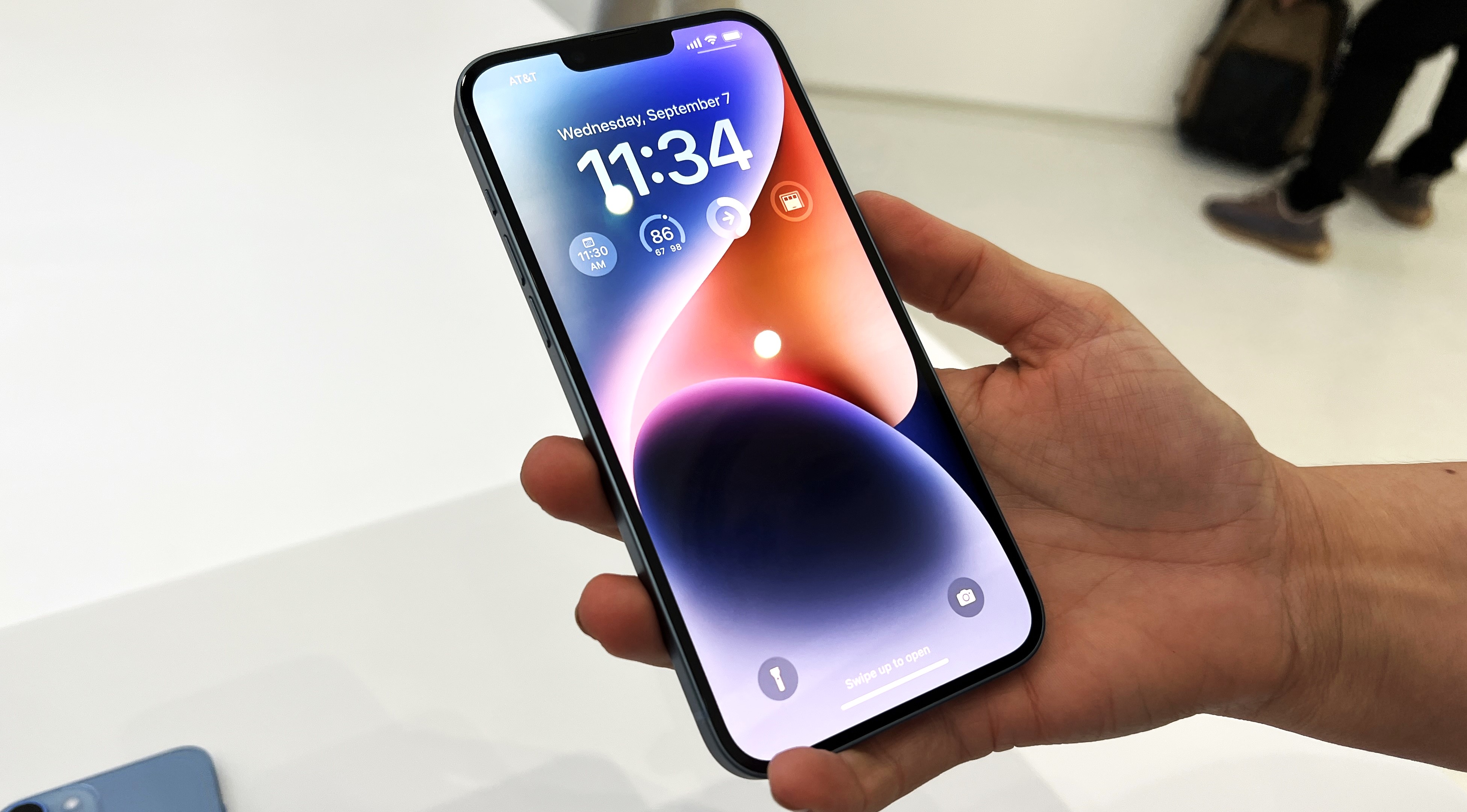 Things get a little more interesting when turning to Lance's iPhone 14 Plus hands-on experience.
The Plus sports the same notch-fronted design, rear dual camera and A15 chip as the standard iPhone 14, along with all the new benefits like emergency SOS via satellite.
Where it sets itself apart is that this is an entirely new model, marking the end of two generations of mini iPhone and serving up the same 6.7-inch screen size as a Pro Max without the price premium.
Of course, you don't get the triple rear camera or the newer A16 chipset but the Plus stands out by offering 'the best battery life ever in an iPhone' according to Apple.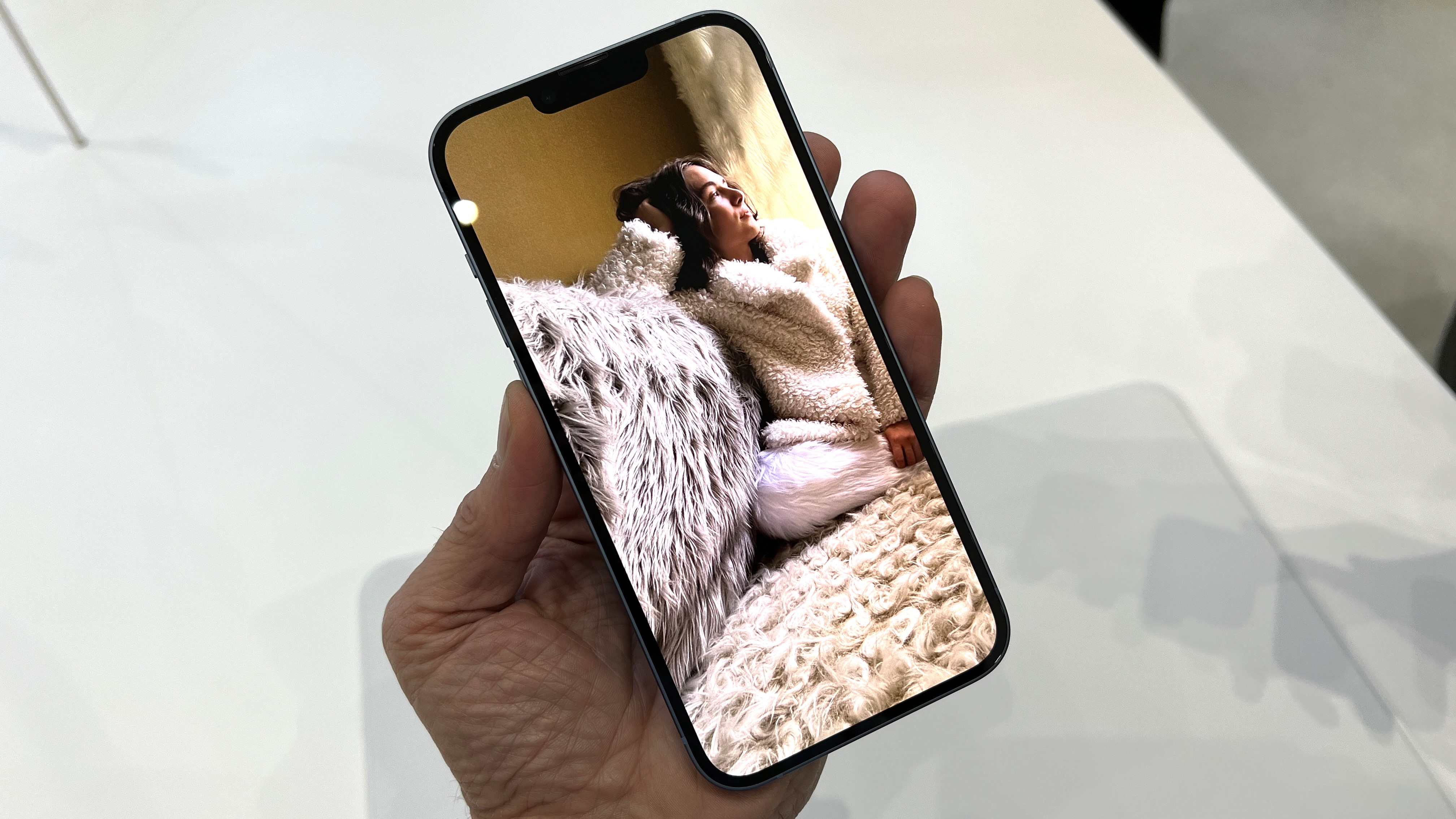 Lance called the Plus, 'a great throwback to the original Plus-era of iPhones,' when he got up close and personal with it; remarking on how surprisingly lightweight it feels when compared to the 13-range's only 6.7-inch phone.
'Despite its size, it feels considerably lighter than a similarly-sized iPhone 13 Pro Max. Turns out it weighs just 203 grams (the 13 Pro Max weighs 240 grams).'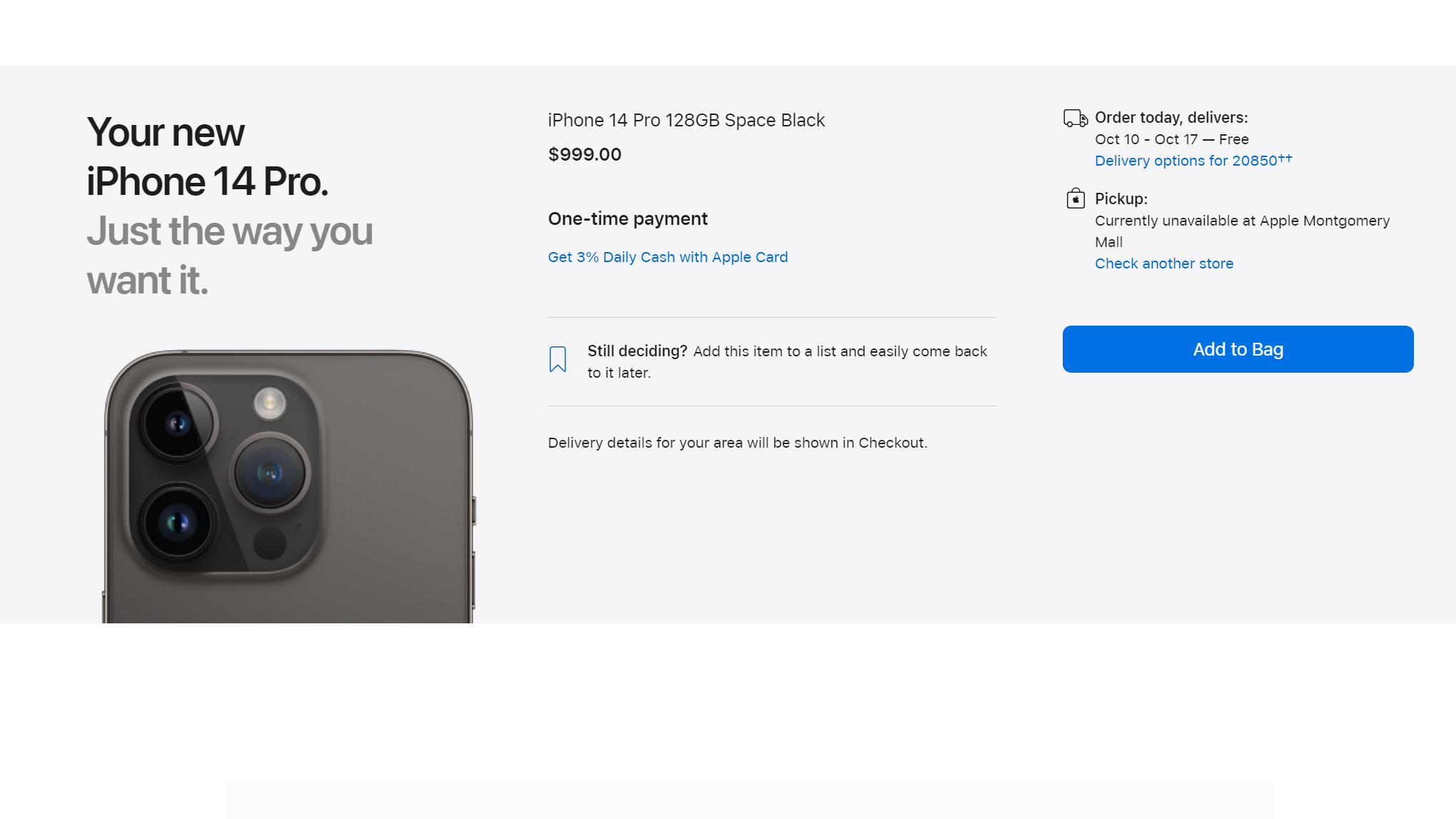 Early this morning Apple started accepting pre-orders for the Apple iPhone 14, the iPhone 14 Plus, the iPhone 14 Pro, and the iPhone 14 Pro Max. As of right now, if you order the iPhone 14 you will get it on launch day, September 16. The other iPhone may already see some delays if you haven't yet placed an order.
The iPhone 14 Plus won't be delivered until October 7, as Apple originally indicated at the Far Out event. The iPhone 14 Pro and the iPhone 14 Pro Max now won't be delivered until October 10, and possibly as late as October 17. That date has been continually slipping.
Those shipping times come directly from Apple, and all of the other retailers will have their own stocks and availability. You may be able to get the iPhone you want faster if you order from your carrier directly and take advantage of their best iPhone deals, or if you order from a retailer like BestBuy.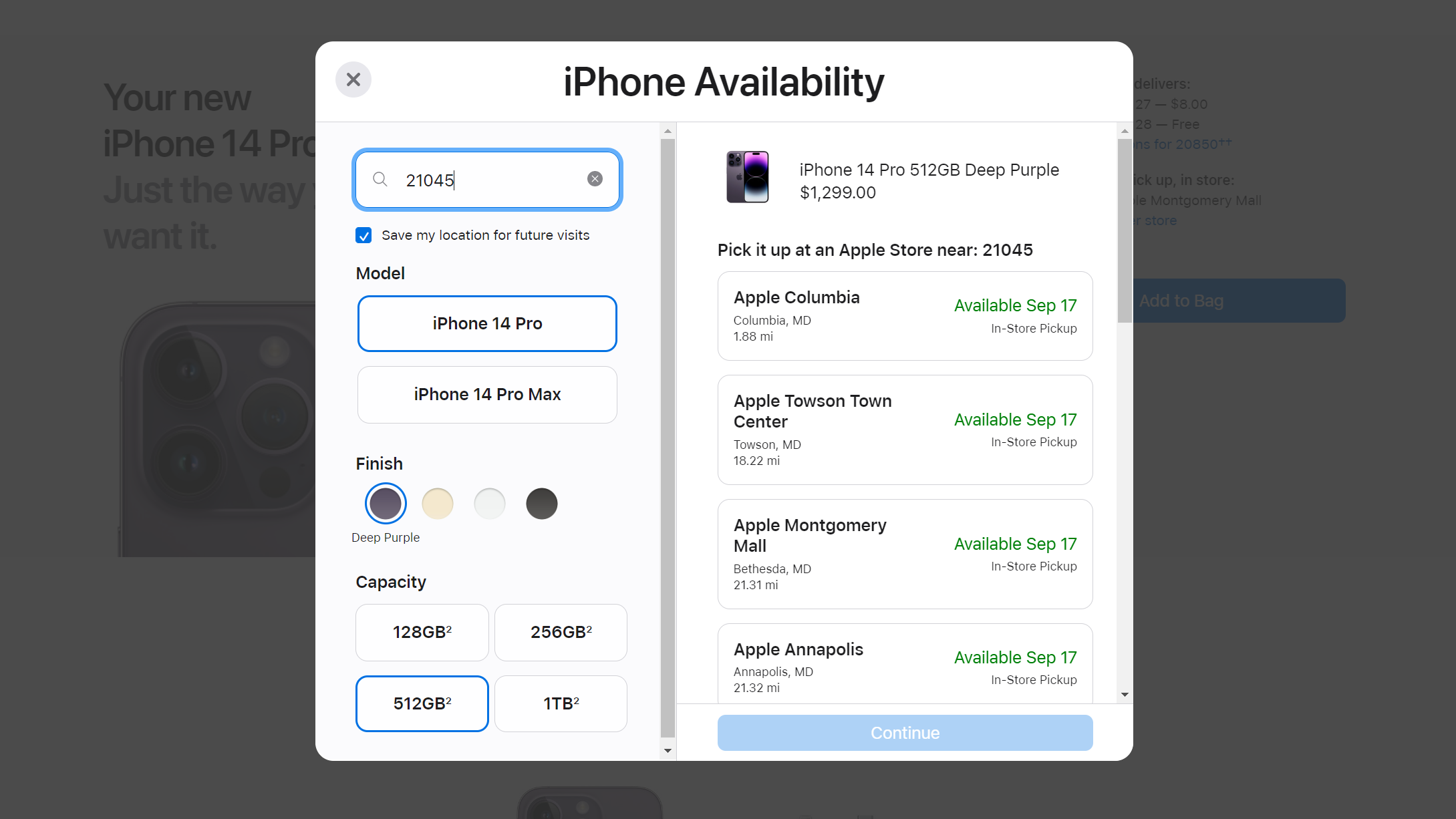 We're still seeing delays on pre-order shipments of the new iPhone 14 Pro and the iPhone 14 Pro Max if you order directly from Apple. Buyers looking for an iPhone 14 can still get the phone on time, the September 16 date that Apple promised. If you're looking for an iPhone 14 Plus, Apple was serious about the October 7 ship date. That hasn't changed.
We may have some tips if you're looking to get your hands on the iPhone 14 Pro or the iPhone 14 Pro Max as early as possible. While shipping delays say the phone won't arrive until October 10 to October 17, we noticed that the Apple site will occasionally offer the option to pick up in store. This doesn't not appear every single time we try to make the purchase, but it does happen frequently.
By setting our location and looking for an in-store pickup, we note that the iPhone 14 Pro is still available at launch or soon after. Some stores will still have stock on September 16, but some of our local stores have pushed back a day or so. We will keep monitoring the sales situation to offer the best tips for finding your new iPhone 14 Pro.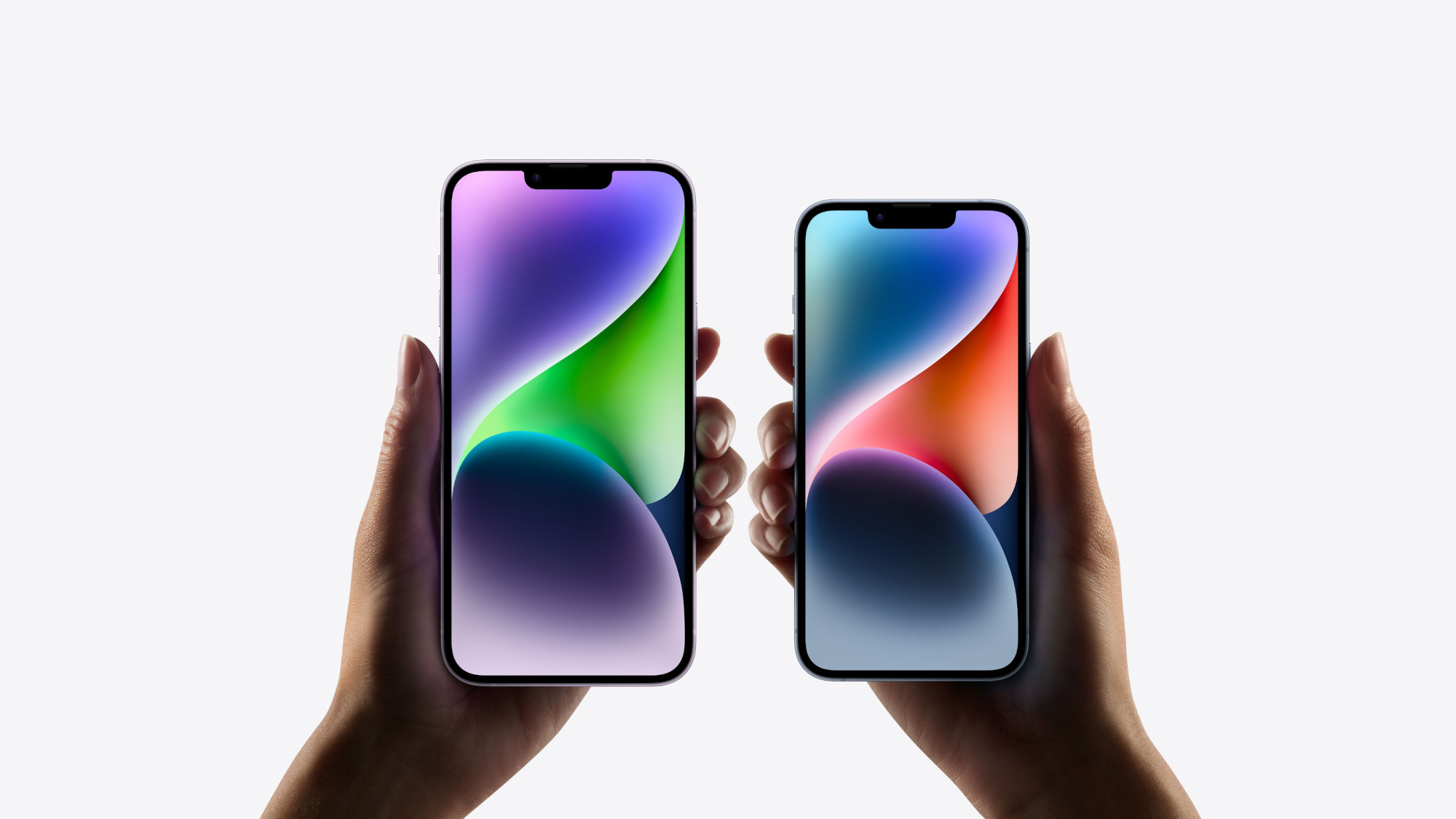 It looks like things have mostly stabilized on iPhone pre-order day. Some hiccups earlier in the day on Apple's own site seem to have been resolved, and iPhones are shipping on a predictable, if somewhat delayed, timeline. All of the iPhone 14 models will be available on the dates Apple promised: September 16 for the iPhone 14 and October 7 for the iPhone 14 Plus.
Most iPhone 14 Pro devices, on the other hand, seem to be ready to ship as early as October 10, though if you play around with configurations you can still find a few examples that Apple says will be available in stores on September 16 or 17.
Otherwise, we're seeing tons of iPhone 14 deals. Almost every major carrier has a deal to get the iPhone for free ... over time. That is, they will break up the payments into monthly chunks over two years, and as long as you remain a customer they will keep paying for your phone. If you switch or leave, the rest of the iPhone 14 bill is on your head.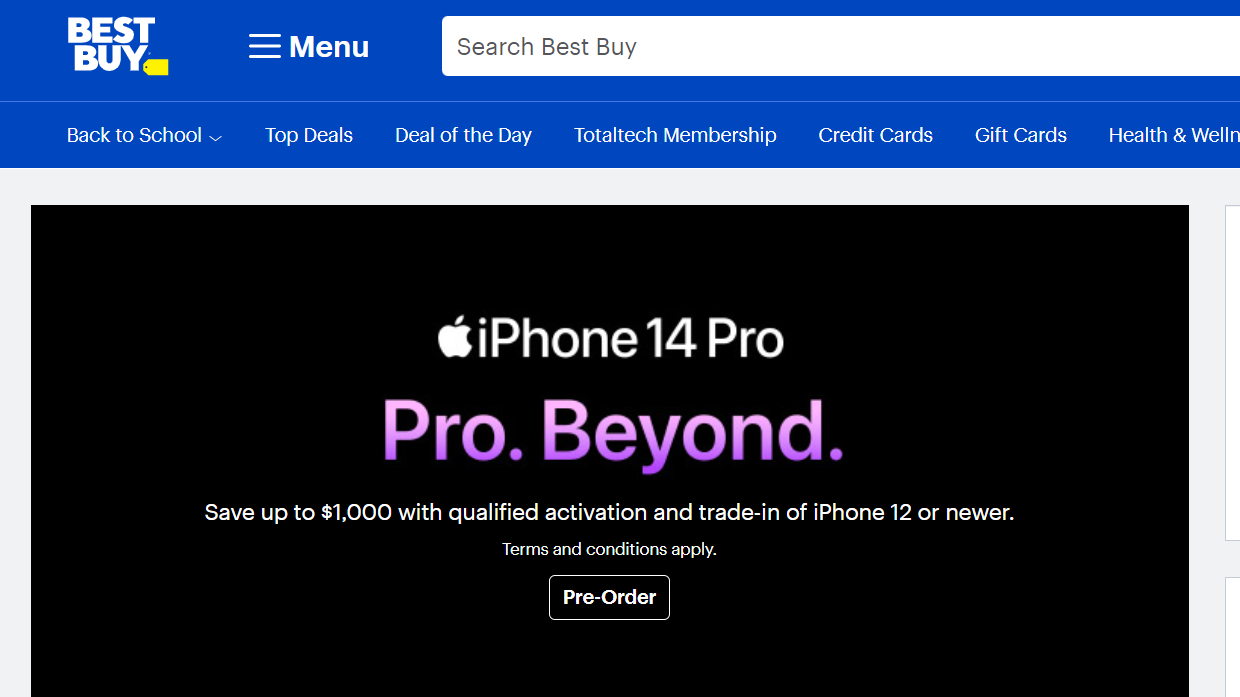 We're still checking in with retailers to see whether sales have outpaced the anticipated supply of the iPhone 14 when it hits shelves next Friday, September 16. While buyers still may face delays buying from Apple directly, you may have much better luck picking up the phone through either your preferred cellular carrier or a large retailer like BestBuy.
We've noticed that every major US carrier still has supply of the iPhone 14 Pro and iPhone 14 Pro Max with delivery expected on day one. BestBuy also says you can expect delivery of the phone on launch day, or you can head to a store to pick up your new phone in person on that day. We'll admit the launch day experience can be kind of a thrill if you're into it.
If you decide to buy through a carrier, you should know that some US carriers tend to lock down their phones. Verizon and T-Mobile recently have been selling their phones SIM-unlocked, so it is easy to switch later if you desire. AT&T makes it more of a hassle.
The iPhone 14 is sold SIM-free in the US, so you'll need to get an eSIM account through your carrier. That move could mean the end of SIM cards, but we have yet to see whether it will benefit average iPhone customers.
Sign up to receive daily breaking news, reviews, opinion, analysis, deals and more from the world of tech.
Thank you for signing up to TechRadar. You will receive a verification email shortly.
There was a problem. Please refresh the page and try again.