A new and so-far-unannounced compact Dolby Atmos soundbar from Sennheiser has leaked on the company's own website, which seems to indicate that a launch is just around the corner. Called the Sennheiser Ambeo Mini, it's made with big 3D audio in mind, but seems to be much smaller than Sennheiser's other soundbars.
The site says that the soundbar will deliver "the world's most immersive sound possible from just one compact device", and though in-depth technical information about the number of speakers and other specs is missing from the site, there are still plenty of details – including confirmation that it will support both Dolby Atmos and DTS:X, self-calibration tech, and Wi-Fi and Bluetooth for music streaming. It sounds ready to rival the best soundbars when it comes to features.
All we know about its sound capabilities, apart from support for 3D audio formats, is that it will include "high-end full range drivers" and "built-in 4-inch dual subwoofers". So, it's clearly designed to be an all-in-one system for smaller TVs, much like the Sonos Beam 2nd Gen although the leaked pictures make clear that it can be used with the Sennheiser Ambeo Sub, which launched alongside the fantastic Sennheiser Ambeo Soundbar Plus, if you want to add more bass.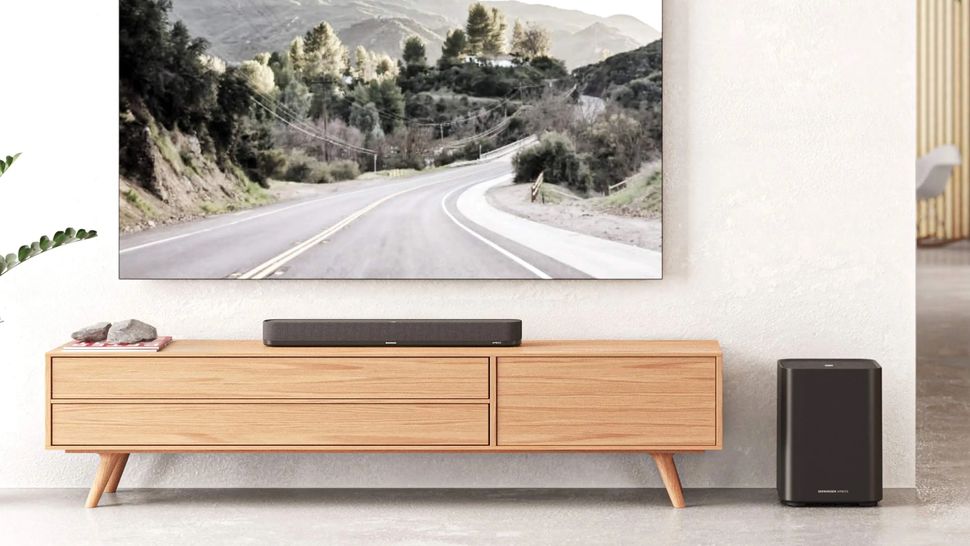 The picture with the Ambeo Sub is also useful because the leak doesn't reveal the size of the smaller soundbar at all, but we can make an estimation by comparing it to the Sub, for which we do know the size.
Though the power of comparing sizes in Photoshop and then doing some calculations, I think the Ambeo Mini will be roughly 28 inches wide, which makes it a little wider than the 25.6 inches of the Sonos Beam, which is definitely the soundbar to beat in this category.
With its support for Bluetooth audio and DTS:X – two things the Sonos doesn't have – and the generally phenomenal performance of the Ambeo soundbar range, we expect this to be big winner, and might kick the Beam right off its spot in front of your TV. We're hoping it includes 4K HDR HDMI passthrough too, which the Sonos also lacks, but the site doesn't give any hint of that.
The Ambeo Mini seems to have a fabric covering, based on the pictures (and Sennheiser's general predilection for such things in its soundbars), and a gray top. It looks very much designed to just disappear – not a looker, and that's okay when it comes to home theater equipment.
Compact soundbars are increasingly popular because people who've bought premium TVs over the last few years – especially the best OLED TVs – have found that they struggle to include meaty sound, but not everyone wants a huge, bulky soundbar with elite spatial audio. Some people just want something with more powerful, more expansive sound that doesn't take over their TV bench, and Sennheiser seems to be ready to help.
Of course, we don't have any pricing information or a release date for the Sennheiser Ambeo Mini – Sennheiser declined to comment or offer any information about the soundbar.
If you want to check out the leak yourself while it lasts, it can be found here. And don't forget you can see more of the best Dolby Atmos soundbars already available today in our guide.