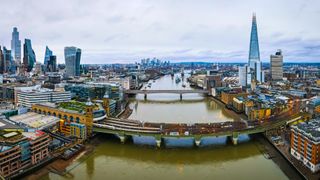 (Image credit: Shutterstock / Alexey Fedorenko)
The Mayor and London's boroughs have successfully worked in conjunction with broadband companies to boost the city's full fibre broadband connectivity rate above the 50% barrier.
More homes in London have been connected with full fibre year-on-year than any other city in the UK. Londoners in five London boroughs, Westminster, Newham, Camden, Southwark and Tower Hamlets have seen the most homes connected and account for 29% of all full fibre available in London.
What does 'full fibre' mean?
Full fibre broadband connections allow households to access broadband speeds of up to 1 gigabit per second.
By way of comparison, these speeds are more than 10 times faster than some speeds available on legacy copper connections. As a result of these faster speeds, homes in London will be able to support more devices at the same time and receive quicker downloads, all with greater reliability and performance.
What's happening in London?
Back in 2017, Mayor of London Sadiq Khan created the first 'Connected London' team at City Hall to support London boroughs and network operators sign legal agreements for full fibre and gigabit capable infrastructure roll-out.
Back then, only two of the boroughs had these agreements in place. Today, this number stands at 24 and all of the remaining boroughs are expected to sign by 2025 at the latest. As an added bonus, City Hall estimates that upwards of £1.5bn in infrastructure investment has been unlocked through negotiating these complex agreements.
As part of his plan, the mayor has focussed an additional £10 million on areas of London with particularly low connectivity rates, such as Enfield, Harrow, Hounslow, Kingston and Sutton. At present, these areas collectively account for just 4.16% of all full fibre available in London.
In order to meet the city's future connectivity needs, London's tube tunnels are being used to host a new Connected London high-capacity fibre optic network. Not only is this network delivering 4G and 5G connectivity for tube passengers, but it is also creating a backbone of connectivity that will reach further into areas of the city that have historically been under-served by the market.
This network will be used to take fibre connections directly into London's neighbourhoods. In doing so, it will create opportunities for businesses and domestic users. Both will be able to gain access to gigabit-capable speeds.
In addition, the network will also be linked to a planned 729 public buildings, including libraries, community buildings and hostels. With this, these public buildings will be able to improve the service they can provide.
Can I access full fibre broadband in my home?
Whether or not your home can receive a full fibre internet connection will depend on availability in your area. The easiest way for you to check this is to head over to our fibre broadband deals page and provide us with your postcode.
With this information, we can show you whether your home can receive a full fibre broadband as well as the best deals available in your area.
Loading...
Sign up for Black Friday email alerts!
Get the hottest deals available in your inbox plus news, reviews, opinion, analysis and more from the TechRadar team.
Tom is a freelance copywriter and content marketer with over seven years' experience. Originally from an agency background, he is proud to have worked on campaigns for a number of energy providers, comparison sites and consumer brands.