Gigabit-capable broadband gets major rollout in Wales and South West England
Over 600,000 more homes will soon be able to access to an ultrafast broadband connection in these areas of the UK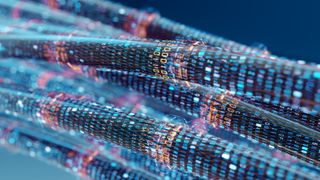 (Image credit: Shutterstock)
Two notable updates have been given this week about the installation of UK-wide gigabit broadband, as the reach of this ultrafast internet spreads to more households.
The first, as reported by ISPreview, is that Openreach has said that its gigabit-capable network now covers over 600,000 homes and business in Wales - roughly 35% of the country's total premises - with this forming part of the company's £180m investment in improving Wales' broadband infrastructure.
The report also claims that Openreach's work in Wales is in addition to another £52.5m contract it has with the Welsh Government, which so far has 'helped to deliver 34,122 premises of the aforementioned total and may benefit 39,000 premises once fully completed'.
The other update has come from a government press release which states that a new £36m contract has been awarded to a supplier in the South West to 'deliver lightning-fast broadband' to nearly 20,000 'hard-to-reach' rural premises.
What is FTTP broadband?
FTTP - or 'fibre-to-the-premises' - broadband is pretty much what the words in the initialism describe. It refers to a property getting a fibre broadband connection wired directly into it, rather than just into the fibre cabinet/exchange (FTTC) that's used to service an area.
FTTP means a complete fibre optic cable connection goes straight into a property. As a result, this connection can deliver super-fast internet speeds over 1Gbps.
What are the benefits of gigabit speeds?
Gigabit - and FTTP - broadband is said to bring a number of benefits. It of course has the fastest download speeds but it can also be a more dependable and secure connection. In turn, those using it can see less downtime and greater productivity.
The Chief Engineer for Openreach in Wales, Suzanne Rutherford, championed both the rollout and advantages gigabit broadband can provide. She said:
"Our investment across Wales continues at pace, and we're determined to deliver a great service which helps our communities to thrive and supports people to work from home easily, keep in touch with their loved ones and build connections and opportunities.
"Our network offers the widest choice of providers such as BT, Sky, TalkTalk, Vodafone and Zen – which means people have lots of choice and can get a great deal."
Each of these rollouts also form parts of wider respective investments in the UK broadband infrastructure. Openreach for instance has set aside £15bn to try and 'cover 25 million premises (80%+ of the UK) by December 2026, including 6.2 million in rural and semi-rural areas'. So far the operator has connected over 9 million properties and is adding around 62,000 more each week.
The work in the South West is just one part of the government's £5bn 'Project Gigabit' initiative. This is a programme that aims to 'level-up mostly rural and remote communities across the UK' with gigabit-capable broadband and tackle 'pockets of poor connectivity in urban areas'.
How can I get an FTTP broadband connection?
It might be the case that your property already has an FTTP connection, but you're under no obligation to have gigabit speeds for your broadband - instead you'll have your choice of all available speeds.
However, if you don't, or you're unsure but you're interested in switching to such a connection, then there are a few things you can do. Firstly, you can take a look at the latest broadband deals that offer these speeds (and you can use our tool below), and then when you find one, you can check directly with the provider to see if you're eligible. Openreach also has it's own checker if you want to look for yourself.
If you aren't connected with FTTP you can still sign up for an ultrafast package, you may just then need to wait until the provider can send out an engineer to get your home connected and your broadband activated.
Loading...
Get daily insight, inspiration and deals in your inbox
Get the hottest deals available in your inbox plus news, reviews, opinion, analysis and more from the TechRadar team.
Rich is a freelance copywriter and content strategist with over 10 years' experience. His career has seen him work in-house and in various agencies, producing online and offline content marketing campaigns and copywriting for clients in the energy industry.