The PS4 is on sale now - where can you find it?
Make more consoles, Sony!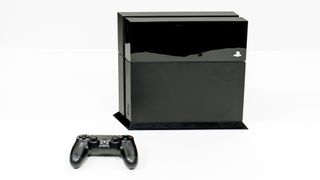 If you weren't willing to freeze your buns off waiting for a PS4 at its midnight launch, and you didn't pre-order one to be hand-delivered to your doorstep, you may feel a rising panic - "Will I ever find one??"
Thankfully, your friends at TechRadar are here to help.
Your best bet at this point is to hit up a few non-Sony retailers. We've gathered the most up-to-date information on the console at a number of these, so keep on reading for order info. And happy gaming!
Walmart PS4 availability
Not one of the lucky Walmart shoppers who picked up a PS4 courtesy of Dallas Cowboys wide receiver Dez Bryant? Don't worry, you're still in luck.
Walmart is currently showing online availability for a "PS4 Console Solution Bundle w/ DualShock 4 Controller and Game." For a cool $517 (plus tax and shipping), you can head online and order the console as part of a package with one game (we chose Call of Duty: Ghosts) and an accessory.
At the time we checked, only the PS4 Camera was an accessory option.
Walmart is offering free shipping, though you'll have to wait until sometime between November 26 and November 29 to receive the system. If you order your PS4 today and bump it up to the rush delivery for $14.91, it will arrive by Tuesday, November 19.
If you just want the console, we suggest calling or strolling into your local Walmart. The company has a store locator to help track the locale nearest you.
Amazon PS4 availability
Stock of the PS4 at the etailer soared off the virtual shelves. It may have had something to do with the PS4 + Kindle Fire HDX 7" bundle for $599.99.
You're out of luck when it comes to the console sans tablet too, though Amazon is offering notification sign-ups for all its PS4 bundles and standalone system offerings. It's little consolation, but being one of the first to know when the console is back in stock can mean the difference between getting your console this year or next.
Toys R Us PS4 availability
Unfortunately, the only way to score a standalone PS4 through Toys R Us' online store is to add it to a "Wish List," or a registry of sorts that lets family and friends know you want the console item.
However, you can still receive email availability notifications for several PS4 game bundles, including a CoD bundle, Battlefield 4 bundle and a Killzone: Shadow Fall and Knack bundle.
Keep checking with your local stores about in-store availability as well - like Walmart, Toys R Us has an online tool to help customers find their nearest brick and mortar locations. We suspect stock will find its way back into TRU's shelves by Black Friday.
Best Buy PS4 availability
Alas, the PS4 is sold out online at Best Buy as both a standalone console and as a bundle with Call of Duty and a PS Plus 12-month subscription card.
As with the above, calling in for availability never hurts, or you brave the weekend crowds and head into your nearest location, surmised by using the company's store locator.
Kmart PS4 availability
Attention Kmart shoppers - while the PS4 is harder to find here than all the space ship pieces in GTA V, the company does have a handy local availability tracker on its PS4 page.
You'll have to spot the yellowish box in the upper right hand corner of the page. From there, you can choose shipping availability for your region and stores where in-person pickup is available. Choose the latter, and Kmart will pull up local stores and inform you whether the PS4 is in or out of stock at each of them.
Undecided about whether to buy the PS4 or not? Check out our review to get the 411.
Sign up to receive daily breaking news, reviews, opinion, analysis, deals and more from the world of tech.
Michelle was previously a news editor at TechRadar, leading consumer tech news and reviews. Michelle is now a Content Strategist at Facebook. A versatile, highly effective content writer and skilled editor with a keen eye for detail, Michelle is a collaborative problem solver and covered everything from smartwatches and microprocessors to VR and self-driving cars.