The best free office and writing apps for iPad
Our favorite free iPad apps for writing, email, spreadsheets, presentations and calculations.
Secure ShellFish
Secure ShellFish plugs one of the last remaining holes in the iPadOS Files app: the inability to natively access remote servers.
Setting up SSH/SFTP connections is a breeze. Using the clear, simple interface, you can quickly connect to any shared drives the app can find, or manually configure servers to later access whatever's stored on them. Define the app as a location within Files, and you'll then be able to get at all your remote documents.
For free, Secure ShellFish is extraordinarily generous, with a feature-rich experience. For $6.99/£6.99/AU$10.99, you can upgrade to remove interruptions and add offline features. But if you want something robust for the odd connection – and with no outlay – it's hard to beat the vanilla version of this app.
Paper by WeTransfer
Paper by WeTransfer is the latest version of a much-loved iPad sketching app. It now echoes its earlier incarnation, in giving you a set of virtual journals that you then scribble pictures inside of.
The tools are straightforward, and designed for getting ideas down quickly. But although you're not deluged with options, the look of pen strokes and dabs of watercolor is spot-on. When you're done, you can export a page to share with others. It all feels rather sleek and elegant.
It's worth noting that quite a few features are locked behind IAP: multiple image import; freeform cut; paste between pages; iCloud sync; multiple brush sizes. But the free take – despite its limitations – feels really nice to use, not least when you're doodling with an Apple Pencil.
Otter Voice Notes
Otter is a voice memos app with a fine line in automatic transcription. Talk to your iPad, and the app should do an excellent job of getting your words down (punctuation and all), so you don't have to bother typing them out later. You get 600 free minutes per month – 6000 if you move to a paid tier.
Notes can have imagery added inline, and you can highlight words or entire lines. Usefully, the app attempts to extract meaning from longer passages, giving you summary keywords to scan. Should you need to edit transcribed text, that's possible, too.
Ultimately, the app's perhaps less useful for recording on iPad – although it works well enough. But with cloud sync, and features for working in teams, it's an excellent option for getting at and using content you've recorded on your iPhone.
DuckDuckGo Privacy Browser
DuckDuckGo Privacy Browser wants the internet to leave you alone. Specifically, it doesn't want you being tracked.
It comes across like a stripped-back alternative to Safari that's determined to have you leave no trace. Third-party trackers won't follow you as you browse, meaning no relentless and suspiciously targeted adverts because you several days back happened to check out a nice new TV online.
Sites are forced to use encrypted connections where available, and your searches are not tracked. The app grades sites you visit, too; and so even if you usually use Safari, DuckDuckGo gives you insight into any site's underlying privacy measures.
Also, if all of that doesn't go quite far enough, and you want your DuckDuckGo browsing history to be nuked from orbit, a tap is all that takes!
Documents by Readdle
Documents by Readdle has quite a lot of overlap with Apple's Files, in the sense it's designed as a place to stash, organize, and preview documents. However, it's worth grabbing for its wealth of features.
The app can import from a range of cloud services, but also local shared network drives, so if you want to get at documents on a Mac or PC, this is the cheapest way to do so. Imports can be arranged and archived as ZIP files, media can be previewed, and PDFs can be annotated.
Documents also integrates with Files, thereby providing widespread system-level access to whatever you've stored. This and the app itself can sit behind Face ID/Touch ID, thereby turning it into an off-limits space for more secure files. In all, for free, it's a no-brainer install.
LastPass
LastPass in some ways echoes iCloud Keychain, in giving you a central repository for storing passwords and payment details. You might therefore wonder what the point is in using such a system.
First and foremost, LastPass is fully cross-platform, so if you also work with Windows and Android, it means you can take your passwords with you everywhere, securely. But there are other advantages, such as secure notes and form fill options, all of which seamlessly integrate with devices running iOS 12 or later.
There is a premium tier; US$24/£23/AU$38 per year adds sharing options, 1GB of encrypted file storage, and premium multi-factor authentication. For most users, though, the extremely generous free version should be enough.
Drafts 5
Drafts 5 describes itself as the place where text starts. That might be a lofty claim on the iPad, given that Apple's tablet has plenty of top-notch text editors, but Drafts has some pretty amazing tools to help you capture ideas faster and work on lengthy texts.
The main writing view gives you a live word count, and a custom keyboard row for quickly getting at useful formatting options and actions. Texts can be tagged for grouping and retrieval purposes, and the app includes a large range of actions for processing and exporting missives.
If you want to make your own custom actions you're into subscription IAP territory, which also gives you custom workspaces, superior share extension options, URL automation, and themes. But even in its free incarnation, Drafts is extremely generous and a first-rate install.
Scanbot
Scanbot is a scanner with a sense of humor. No, you read that right – it starts off urging you to try a tutorial 'challenge mode'. In AR, you chase documents around the floor, trying to scan them as quickly as possible.
All this has a point: teaching you how to best to position your iPad when scanning, and to showcase how streamlined Scanbot makes the process. Once the scan's been done, you can adjust crop and contrast levels, append more pages, and upload the end result to a cloud service of your choice.
The app includes page size settings and integrates with iOS's Shortcuts app. And if you upgrade to the pro version, you gain OCR text recognition, one-tap actions extraction for things like triggering phone calls, and robust document editing. But even if you stick with the free version, Scanbot's an excellent choice.
Bear
A halfway house between full-fledged writing tool and capable note-taker, Bear provides a beautiful environment for tapping out words on an iPad.
The sidebar links to notes you've grouped by hashtag. Next to that, a notes list enables you to scroll through (or search) everything you've written, or notes matching a specific tag. The main workspace – which can be made full-screen – marries sleek minimalism with additional smarts: subtle Markdown syntax next to headings; automated to-do checkboxes when using certain characters; image integration.
There's not enough here for pro writers – they'd need on-screen word counts, customizable note column ordering, and flexibility regarding notes nesting. Also, for iCloud sync, you must buy a $1.49/£1.49/AU$1.99 monthly subscription. But as a free, minimal note-taker for a single device, Bear more than fits the bill.
Numbers
With Numbers, Apple managed to do something with spreadsheets that had eluded Microsoft in decades of Excel development: they became pleasant (even fun) to work with.
Instead of forcing workmanlike grids of data on you, Numbers has you think in a more presentation-oriented fashion. Although you can still create tables for totting up figures, you're also encouraged to be creative and reader-friendly regarding layout, incorporating graphs, imagery, and text. On iPad, it's all tap - and finger - friendly, too.
With broad feature-parity with the Mac version, iCloud sync, and export to Excel format, Numbers should also fit neatly into most people's workflow.
And although updates robbed the app of some friendliness (whoever removed the date picker needs a stern talking to), it still excels in that department, from nicely designed templates through to the handy action menu, ensuring common tasks are only ever a tap away.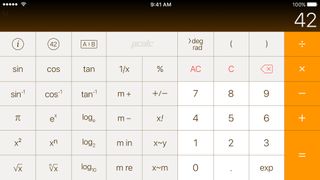 PCalc Lite
PCalc Lite's existence means the lack of a built-in iPad calculator doesn't bother us. For anyone who wants a traditional calculator, it's pretty much ideal. The big buttons beg to be tapped, and the interface can be tweaked to your liking, by way of bolder and larger key text, alternate display digits, and stilling animation.
Beyond basic sums, PCalc Lite adds some conversions, which are categorised but also searchable. If you're hankering for more, IAP lets you bolt on a number of extras from the paid version of PCalc, such as additional themes, dozens more conversions, alternate calculator layouts, a virtual paper tape, and options for programmers and power users.