Buying a new gaming rig doesn't have to cost you a fortune, as our list of the best budget gaming PCs demonstrates.
While you might think that the best gaming PCs are all prohibitively expensive, there are some fantastic budget gaming PCs that can still deliver brilliant gaming performance at budget prices.
And, now that all the latest components have been announced, like Intel Coffee Lake Refresh, Ryzen 2nd Generation and Nvidia Turing, there's never been a better time to pick up a pre-built budget gaming PC.
So, read on for our list of the best budget gaming PCs of 2018, which will leave the PS4 Pro and Xbox One X in the dust, without costing a fortune.
1. Intel Hades Canyon NUC
CPU: Intel Core i7-8705G - Core i7-8809G | Graphics: AMD Radeon RX Vega M GL - Vega M GH | RAM: N/A | Storage: N/A
Affordable
Low profile
No included RAM, Storage or OS
If you're looking for a cheap way to get some gaming in without having a gigantic tower taking up a ton of space in your apartment, you're going to want to take a look at the Intel Hades Canyon NUC. Don't go thinking that these onboard graphics won't be able to handle real gaming either – these Vega graphics will see you through AAA games at 1080p no problem, with some light 1440p thrown in for good measure. The only drawback here is that you won't have an SSD, RAM or an OS, but you should be able to make it a full system for under $1,000/£1,000, easy.
Read the full review: Intel Hades Canyon NUC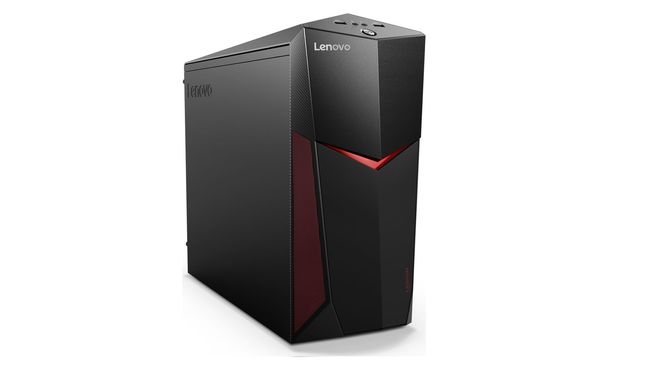 2. Lenovo Legion Y520
VR ready for budget gamers
CPU: Intel Core i3-7100 - i5-7400 | Graphics: Nvidia GeForce GTX 1050Ti – 1060 | RAM: Up to 16GB | Storage: 2TB HDD; 256GB SSD
Very good performance for price
Good price
Included mouse and keyboard aren't the best
When buying a budget gaming PC you sometimes have to make sacrifices in order to keep the price down, but the best budget gaming PCs, like the Lenovo Legion Y520, do an excellent job of minimising any such sacrifices. This is a desktop gaming PC that has enough oomph to give it a 'VR-ready' sticker, so you can use an Oculus Rift or HTC Vive with it, and there's plenty of storage space with a 2TB hard drive and a 256GB solid state drive. There are a range of specifications you can choose from, so if your budget allows you can pack more powerful components for even better results.


3. MSI Trident 3
A great performer at the higher end of the budget spectrum
CPU: 7th-generation Intel Core i5-i7 | Graphics: Nvidia GeForce GTX 1050 Ti - GTX 1070 | RAM: 8GB-16GB | Storage: 1TB HDD; Optional 256GB SSD
Looks great
Plenty of power
Last-generation processors
MSI has long held a reputation for being a top-tier laptop and PC component manufacturer, and with the MSI Trident 3, it has combined the two to great effect. And, while this budget gaming PC features last-generation Kaby Lake processors, you're still going to get fantastic gaming performance – especially at 1080p. Plus, unlike many small-form factor PCs like the Corsair One, you can easily upgrade the MSI Trident 3 in the future – making this purchase one that will last you a long time.
Read the full review: MSI Trident 3


4. CyberpowerPC Gamer Xtreme GXIVR8020A4
Another VR-ready budget PC
CPU: Intel Core i5-7400 | Graphics: AMD RX 580 4GB | RAM: 8GB | Storage: 1TB HDD
Very good price
Some good (and recent) components
No SSD
Limited availability
The CyberpowerPC Gamer Xtreme GXIVR8020A4 is another great budget PC that provides very good gaming performance without costing too much. It comes with some pretty recent components to help it power the latest games, and it can even support virtual reality headsets like the HTC Vive. It's let down by the lack of a solid state drive, but you can always add one in later if you want a speed boost.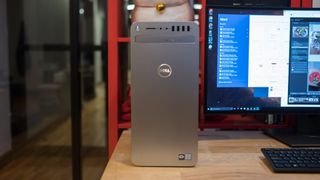 5. Dell XPS Tower Special Edition
It doesn't look the part, but plays it well
CPU: Intel Core i5-8400 – Core i7-8700K | Graphics: Nvidia GeForce GTX 1050 Ti – Nvidia GeForce GTX 1070 | RAM: 8GB – 16GB DDR4 (2,666MHz) | Storage: 256GB SSD; 1TB HDD – 256GB SSD; 2TB HDD
Compact, minimalistic design
Affordably priced
Non-K, locked processor
The Dell XPS Tower Special Edition is a lesson in subtlety. This on-the-DL gaming rig looks like something you'd find in your dad's office, rather than something powering the latest PC games. But, rocking an Intel 8th generation Coffee Lake CPU and a Nvidia GTX 1050 Ti even at the lowest configuration option, you're getting one of the best gaming PCs you can buy in 2018, but without any of the off-putting 'gamer aesthetic'.
Read the full review: Dell XPS Tower Special Edition