Audi's connected city goes live: Las Vegas stoplights start talking to cars
Roads and cars operating in harmony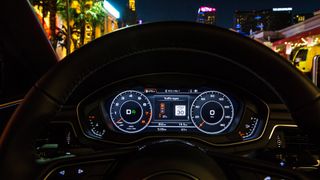 It's arguably the holy grail of traffic management: cars talking to roads, and roads talking to cars. Thanks to Audi and the folks who route traffic in and around Las Vegas, that's now our reality.
This week, Audi flipped on its first connected city, enabling owners of new A4, Q7, and Allroad vehicles to see just how long they'll have to wait for the next stoplight in Las Vegas to change. It's the first Vehicle-to-Infrastructure technology to go live in the United States, and it provides a glimpse at what's possible when data comes into play.
The connected city
The words above have oft been uttered, but mostly in the "our grandkids will experience it" sense. Las Vegas is different. Unlike most major metropolitan areas, the entire region sees its traffic managed from a central point in Clark County by the Regional Transportation Commission of Southern Nevada (RTC). That simplicity made it a no-brainer for Audi – rather than having to establish a multitude of relationships with entities that control various stoplights in a city, it essentially had a single point of contact in Sin City.
In a nondescript office just off The Strip sits a collection of wizards that keep a constant eye on Southern Nevada traffic. They monitor back-ups, accidents, and traffic flows in order to alter light timings to keep things moving. Most major intersections have the capability to both send and receive data, and it's that data that makes this all possible.
As cars come and go, data can be collected and analyzed by a third-party service (Traffic Technology Services). If you have the right agreements, that data can then be shared with automakers – in this case, Audi.
Traffic Light Information
While in Las Vegas, we were able to drive an A4 sedan along Las Vegas Boulevard as well as numerous side streets. Using a combination of sensors (and perhaps a bit of pixie dust), our chariot was able to detect which intersection we were approaching. From there, a stoplight indicator displayed on the dash along with a countdown timer.
Said timer enabled us to recognize how many seconds would transpire before the upcoming light would turn green, and while waiting at a light, gave us an overriding sense of calm. Indeed, a less stressful driving experience is a key benefit being pushed by Audi. If you know how long you have to wait – even if it's a really, really long time – you're simply more pleasant to be around.
The system is pretty genius. If you signal that you're going to make a left turn at the next intersection, TLI will grab data from the left-turn signal rather than the forward-facing signal. If you're coming up on a unconnected pedestrian crossing – a light that isn't triggered by an administrator, but rather a human pressing a button -- you won't get any indication at all. Audi also told us that it's erring on the conservative side, so if it can't substantiate the wait time data for any reason (construction, an IT glitch, etc.), it won't show a figure. Audi would rather show no data than an incorrect countdown, but as more Audis pass through lights, the data will get better and better.
When and where
As of now, around 250 vehicles in the Las Vegas area are seeing traffic light information pop up on their dash. You'll need an A4, Q7, or Allroad manufactured after June 1, 2016 to have the proper hardware, and you'll need to have an Audi Connect Prime subscription as well.
While Las Vegas is first, an Audi spokesperson confirmed to us that conversations are active and ongoing with a number of other cities across America. It's too early to tell which locales will go online next, and there's a load of block-and-tackle to be done in order to ink the right agreements for access to an intersection's data stream.
Driver (and societal) benefits
As of now, TLI is pretty simple. As you're driving, you're given a heads-up as to how long you're going to have to wait at the next light, dubbed "Time To Green". That gives you a moment to relax, to chat with a passenger, to retrieve a child's bottle in the back seat, or to change the radio station without fear of being honked at or T-boned.
But it's the future that has us really excited. Going forward, it's conceivable that Audi could route this data to a car's Start-Stop functionality, enabling it to more intelligently cut the engine off and on based on what's about to happen. There's also opportunity to link this to navigation for optimized routing, and "predictive services such as presenting the driver with a speed recommendation designed to maximize the number of green lights one can make in sequence."
Beyond all of that is something far more powerful: this doesn't just benefit Audi owners. Not only are these data streams open and digestible by any automaker that inks the proper agreements, but traffic light timing improvements that are made based on Audi's crowdsourced intel will make traffic flow more smoothly for every car on the road. Even if you're in a 1968 Mustang fastback, you'll benefit from a city optimizing their light timings based on this platform being live.
The logical conclusion
Audi has already achieved quite a bit on the autonomous front, including a 566 mile trek in 2015 from Silicon Valley to Las Vegas that was done without human interaction for 90 percent of the drive. As it forges ahead with self-driving cars, it's easy to envision how traffic optimization will tie in. It's not uncommon for a city to incur $5 million+ for each additional mile of roadway that's installed. Because of those costs, municipalities are looking for cheaper options on the technology front to reduce traffic.
Working with an automaker like Audi to optimize traffic light timing is orders of magnitude less expensive, and it's far easier to implement than paving a new road. To boot, taxpayers should be pleased to hear that their hard-earned dollars will be used on smarter, more affordable ways to make traffic less of a soul-crusher.
In a world where even a portion of cars are driving themselves, being able to maximize the stop-and-go could shave minutes from each driver's commute. Extrapolate that across a workforce of millions, and you're looking at a staggering amount of time that can be redirected to relaxing, being productive, or being present in one's family and community.
And, c'mon – who couldn't use a little more R&R?
Sign up to receive daily breaking news, reviews, opinion, analysis, deals and more from the world of tech.
Darren Murph has roamed the consumer electronics landscape for a decade, earning a Guinness World Record as the planet's most prolific professional blogger along the way. His work has been featured in Popular Science, Engadget, BGR, Mazda's Zoom-Zoom owner's magazine, Oprah.com, Gadling, and Thrillist, and he has appeared on ABC, PBS, CTV and NBC. He is presently dabbling in quantum physics in a bid to construct the 30-hour day, and is also TechRadar's Global Editor-in-Chief.