You can now sign up for the Android P public beta, so you can download the early software to your phone to try it out, and be one of the first to get it on their device.
This is the first year Google has included support for products that aren't part of either the Nexus or Google Pixel lines, so it may be that you can get the software early on your third-party phone as well.
If you have a Google device, it'll need to be the Google Pixel, Google Pixel XL, Google Pixel 2 or Google Pixel 2 XL. It seems the company has dropped the Nexus 5X, Nexus 6P for this release.
Other devices from third-party manufacturers that will be ready for the update are the Essential Phone, Nokia 7 Plus, Sony Xperia XZ2, Xiaomi Mi Mix 2S, Vivo X21 and the Oppo R15 Pro. The OnePlus 6 will also be able to run the beta when it's released.
Below we'll talk you through how you can sign up to the Android P beta and get the first release of the software as soon as possible.
1. Know the risks
You should be sure to back up your Android phone before you download the beta software, and you should be aware that there are set to be issues with the early version.
Expect to encounter at least a few gremlins when you're using the beta – that's the whole point of the early software build. So consider carefully if it's worth downloading the software, given that some core features of your phone may not work depending on what release you have running on your device.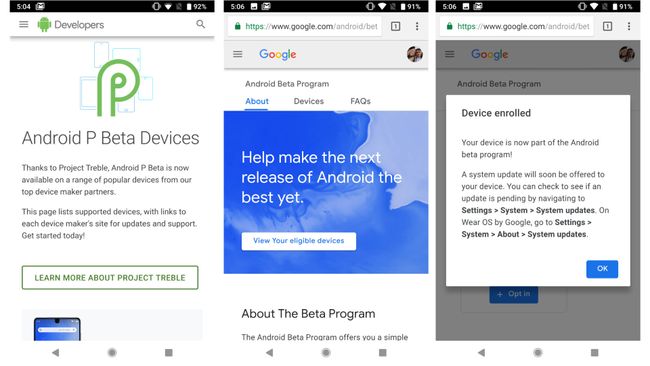 2. See if you have a compatible device
Once you've decided that you want to download the software, you need to double-check that your phone will be compatible.
Follow this link to Google's website where you'll be able to see which, if any, of your devices are eligible.
There you can sign up to the Android P Beta program. If you've already been a apart of a previous Android beta program you'll still need to sign up to the Android P one as it's a separate scheme.
3. Wait for it to land
Now you'll need to wait for your phone to be updated. This doesn't work in the same way as when you download an official release to your phone, as you won't get a notification saying it's ready.
Instead, you'll get an update in around 24 hours that will upgrade your handset to the Android P beta and give you access to all of the new features.
To check if you're running the updated software you can head into the settings of your phone, go to System, then About Phone and finally Build Number – that number should start with the letters PPP if it's Android P.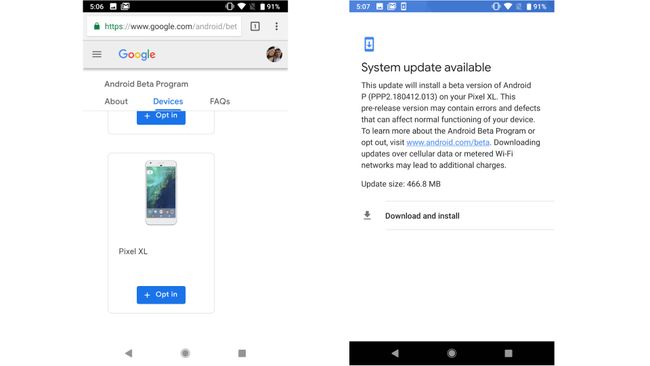 If it does say that, then congratulations! You're one of the first people to be running Android P software on your phone. Be sure to note any issues you've had and report them to Google.
To do that, head to Settings > System > About Phone > Send feedback about this device, or you can post on the Google+ community built specifically for the purpose.