9 TV shows coming to Hulu in June that you won't want to miss
The Bear, and more, is back!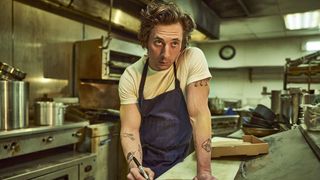 (Image credit: Hulu)
There are two kinds of people in the world. There are those who think The Bear is one of the best TV shows of all time, and there are people who haven't yet seen one of the greatest series of all time, which is The Bear. So the news that it's coming back to Hulu this month has got me shouting "yes, chef!" in delight.
That's not the only must-see show coming to Hulu this month. There are so many great shows coming to one of the best streaming services, including some of the best Hulu shows, that you won't want to go outside. Here are our favorites that we think are worth watching.
It's Always Sunny in Philadelphia
Can you believe It's Always Sunny in Philadelphia is now in its sixteenth season? The episodes may be new but the gang from Paddy's Pub are as dysfunctional as ever and the new season's going to be an absolute hoot. It'll be streaming from June 8.
The Full Monty
The original cast are reuniting in Sheffield for this eight-part season, based on the iconic 1997 movie. Set 25 years after the film, this comedy-drama series will explore what happened to the same group of brothers in the years after. This will be streaming from June 14.
The Age of Influence
There's a horrible dark side to influencer culture, and it's laid bare in this tense doc-series, which is set to debut on June 5. It covers some of the biggest social media scandals of our time including massive cons, dramatic cancellations and a few crimes too. Each episode focuses on a single story and it's likely to be uncomfortable and compelling viewing.
Flamin' Hot
A film about the invention of Flamin' Hot Cheetos? They had us at "Flamin' Hot Cheetos". It's the true story of Richard Montañez, the janitor who created a snack phenomenon, and while some of it is played for laughs, it's a lot smarter than it sounds. We'll be tucking in when it starts streaming on June 9.
Pride Never Stops
Hulu's a proud LGBTQIA ally, and on June 11 it'll be streaming the 53rd Annual Los Angeles Pride Parade; on 25 June it'll stream Pride Across America. Pride feels more important than ever this year. Just Google "LGBT Florida" or "trans bills" and you'll see that things are feeling pretty scary for the LGBTQIA community right now. The Pride Parade should deliver the joy many of us need.
Cruel Summer: Season 2
Featuring three different timelines around Y2K, the second season of Cruel Summer follows the rise and fall of an intense teenage relationship, a love triangle and a mystery that would have lasting consequences for everyone. The first season has a whopping 94% on Rotten Tomatoes and season 2 looks just as good, when it lands on June 6.
Somewhere Boy
This originally aired on Channel 4 in the UK, where it attracted rave reviews and an incredible 100% rating from Rotten Tomatoes' viewers, and will be returning on June 7. Pete Jackson's poignant drama is about Danny, whose dad has kept him locked away in their home to keep him safe from "monsters". And then everything changes. It's often a hard watch but it's ultimately a tale about tenderness, hope and humanity.
Dune
Dune is an epic, and a divisive one – quite literally, because director Dennis Villeneuve cut it into two films and the second will be released later this year. The people who love it really love it – the audience score is 90% on Rotten Tomatoes – and while even the most ardent fans admit it takes ages to get going it becomes a superb sci-fi spectacle that really deserves to be seen on the biggest TV possible and you will be from June 9.
The Bear
I bet you didn't see that one coming. The Bear is arriving to Hulu on June 22. It's a comedy drama set in the titular restaurant and features Jeremy Allen White as "Carmy", a former high-flying gourmet chef now trying to turn around a much less spectacular food joint. It's beautifully written, acted and the cooking scenes are so gorgeously, mouth-wateringly shot. If you haven't already seen season 1 you should cancel all your plans, turn off your phone and binge the lot.
Sign up to receive daily breaking news, reviews, opinion, analysis, deals and more from the world of tech.
Contributor
Writer, broadcaster, musician and kitchen gadget obsessive Carrie Marshall (Twitter) has been writing about tech since 1998, contributing sage advice and odd opinions to all kinds of magazines and websites as well as writing more than a dozen books. Her memoir, Carrie Kills A Man, is on sale now. She is the singer in Glaswegian rock band HAVR.