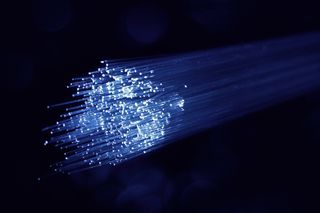 (Image credit: Denny Müller on Unsplash)
If you're looking to upgrade your broadband deal, then it's likely you're finding lots of fibre broadband and full fibre broadband options.
If you already have a fibre broadband connection, then you may be wondering whether upgrading to full fibre will provide you with any benefits, or whether the additional cost is worthwhile.
Thankfully, we're here to help. In this guide, we've outlined everything you need to know about the fibre vs full fibre debate, so you can make an informed decision about which option is best for your needs.
What is fibre broadband?
When we say 'fibre broadband', we're referring to 'fibre-to-the-cabinet' (FTTC) broadband. These connections primarily use fibre optic cables to supply your broadband, but they also rely on old copper wires for the last part of the journey. For this reason, these connections are sometimes called 'part-fibre broadband'.
With this type of connection, fibre optic cables run from a provider's broadband exchange to your nearest telephone cabinet (this is usually somewhere on the street outside your home). Then, copper wires run from here to the inside of your property.
Although these connections are more technologically advanced (and better) than the old ADSL connections that entirely rely on copper wires, they can be slow and inefficient. This is because, the further your house is from the street cabinet, the more copper wiring is required and the slower your connection gets.
That said, part-fibre broadband remains an incredibly popular option in homes across the country. This is because it is a reliable and cheap option that provides speeds that are much faster than typical ADSL connections.
What is full fibre broadband?
By contrast, the term 'full fibre' is used to describe 'fibre-to-the-premises' (FTTP) connections, which are much faster and usually more expensive.
With this type of connection, the fibre optic cables run straight into your home and copper cables are not involved in the process whatsoever. This means that you can receive a much faster connection that allows you to do more with your internet.
However, although full fibre options provide rapid download speeds and reliable connections, we should stress that the full fibre rollout remains underway and FTTP products are not universally available.
Why is full fibre broadband quicker?
Full fibre broadband packages are faster because they only use fibre optic cables. These are able to transmit large volumes of data at the speed of light. As a result, they provide incredibly fast download and upload speeds.
By contrast, FTTC or part-fibre connections use copper telephone wires for the final part of the connection. This severely limits the speeds you can expect to receive (although part-fibre packages are still much quicker than ADSL connections).
By way of comparison, most fibre broadband deals offer download speeds that range from 30Mbps to 85Mbps. However, full fibre packages can provide download speeds that are in excess of 1Gbps.
Why do people choose full fibre over part fibre?
This is an easy question to answer: it's faster. In fact, a full fibre connection can be up to 15x faster than a part-fibre connection. As a result, full fibre connections allow you to do more with your internet.
With a full fibre connection, even the busiest and largest households will be able to:
Work from home without interruptions
Download films and TV shows in UHD in seconds
Play data-heavy games online without lag
Stream in 4K Ultra HD with better quality and no buffering
Upload files to the cloud and emails quickly due to faster upload speeds
Connect a large number of devices thanks to the larger bandwidth
Is it worth getting full fibre?
This is a personal decision that will be influenced by three main factors: availability, your budget and how you use the internet.
At face value, full fibre is the best choice as it provides you with much faster average download speeds and allows you to use the internet in more ways. But, there's a chance it may not be available in your area yet. To see whether it is, use the comparison widget at the bottom of this page. Simply provide us with your postcode and we'll show you all the best deals available at your property.
If you find full fibre deals aren't yet available, then the good news is that they soon will be. This is because Openreach is in the process of retiring all its copper lines and making full fibre connections available 'to 25 million homes and businesses by December 2026'. So, we'd advise that you keep checking back regularly.
Found that full fibre deals are available? Well, now you have a decision to make. So, it's worth considering how much the two different packages will cost you. Thankfully, the results of your broadband comparison will show you the exact price difference between the best part fibre packages and the best full fibre packages, so you can make an informed choice.
Finally, before you commit, think about how you use the internet. If you live with a busy and connected family that all love to stream and download in HD simultaneously, then full fibre is likely the better choice as it will provide you with improved speeds that will prevent buffering.
However, if you live alone or only really use the internet for updating social media and logging onto Skype for the odd work call, then the speeds provided by a fibre broadband deal will likely be quick enough for your needs. If this is the case, you could save a considerable sum by opting for part fibre rather than full fibre.
What other broadband options do we have in the UK?
Concerned that neither a fibre or a full fibre package is right for your needs? Thankfully, here in the UK we have a number of different broadband types available. So, in this scenario, it's worth looking at all the following broadband types to see which is best for your needs:
Find the best deal for you today
Searching for a new broadband deal but unsure where to start? Head over to our best broadband deals page, which will provide you with lots of buying advice as well as a rundown of the best deals available today.
Alternatively, if you have a good idea of what you're looking for, use our widget below. Simply provide us with your postcode and we'll show you all the best deals available at your address. You can even use the filters to narrow down your options and ensure you're only seeing deals that match your requirements.
Loading...
Sign up to receive daily breaking news, reviews, opinion, analysis, deals and more from the world of tech.
Tom is a freelance copywriter and content marketer with over seven years' experience. Originally from an agency background, he is proud to have worked on campaigns for a number of energy providers, comparison sites and consumer brands.