In the Sony INZONE H7, the manufacturer has created a high-quality headset with immersive sound, an impressive 40-hour battery life, and a clever boom mic that you can toggle on and off with a flick. It can connect wirelessly, not just through the included wireless dongle but through Bluetooth – and to two devices at once. It's not very compact, making it less convenient for use away from your PC and console. Its big drawback is its price, which is perhaps too high, even given the headset's 360 Spatial Sound and crystal-clear audio production.
Pros
+

Fantastic battery life

+

High-quality immersive sound

+

Both Bluetooth and wireless connectivity
Cons
-

Mic isn't detachable

-

Large; not all that portable
Why you can trust TechRadar We spend hours testing every product or service we review, so you can be sure you're buying the best. Find out more about how we test.
Sony INZONE H7: Two-minute review
Sony is known and loved for blessing the gaming world with the PlayStation, and when it comes to gaming, that console is what it is known for. With its new-as-of-last-year INZONE range, however, the company is branching into the gaming peripheral market.
The Sony INZONE H7 gaming headset feature Sony's 360 Spatial Sound technology, which produces a surround sound-like effect in headphones; appropriately, given the technology suits FPS games, Sony, with its INZONE range, has become the official headset partner of Riot Games' Valorant Champions Tour.
The device's specs seem impressive and is arguably among the best wireless gaming headsets I've tested, but it's still slightly on the expensive side: is it worth its current price and the reputation of its maker? More importantly, how does it measure up against the best gaming headsets on the market?
With its white and black colour scheme and rounded corners, the Sony INZONE H7 is clearly intended to complement the PS5. Its clean, rounded design is notably different to the busy, sharp-edged look of the stereotypical gaming headset. It makes me think of I, Robot; aesthetically, I find it a bit of a miss.
But it's well-engineered. The large rounded earcups are sturdy and comfortable to wear, especially with their soft nylon padding. The headband is plastic and cushioned on the underside; being bendy, and with the black Sony-emblazoned yokes being adjustable, the H7 should fit most heads.
Image 1 of 3
The headset is large but still relatively lightweight; the ear pads do sit snugly around the ear. They don't leave much space for the cups to breathe, but I experienced no discomfort or sweatiness after seven hours of continuous use.
Image 1 of 4
As for the controls, there's a volume dial, a USB port for charging, two buttons, "Game" and "Chat" buttons (the purpose of which I'll get to), a Bluetooth pairing button, and an on/off button. All of these are conveniently placed on the earcups; you can easily find them with your hand without looking.
Unfortunately, the white angular boom mic isn't detachable, but its design is smart; you turn it on by pulling it down, and up by pushing it up, and it clicks to let you know it's changed state.
The Sony INZONE H7 can connect via the included USB transceiver or Bluetooth. Usefully, it can do this with two devices at once so you can voice chat on your phone and hear your game at the same time. A nice touch: you can hit the headset's "Game" and "Chat" buttons to increase and decrease the volumes of the streams relative to each other.
You can also mix these streams in Sony's INZONE Hub software, which features an equalizer and also indicators for your mic and Bluetooth status as well as battery life, among other things. Most interestingly, it lets you set up profiles, settings that take effect automatically as you start certain apps.
Image 1 of 3
The H7 features Sony's 360 Spatial Sound for audio precision in-game, so you know exactly what direction your opponent is shooting from. The mic focuses on your voice, though it doesn't have noise-cancelling.
The sound is truly the MVP of the Sony INZONE H7, as it should be, considering Sony's history. Songs I've listened to for years sounded like remasters. I heard details I'd never noticed before.
With the 360 spatial audio, Sony intends to make you feel like you're inside your game and part of the environment, and you certainly do. Playing Valheim, I could hear everything, the movement of trees, the mobs, and water. Valorant was an experience; I was able to detect where enemies were shooting from – a millisecond before I died, of course – through no fault of Sony's.
Being able to connect through a wireless dongle and Bluetooth simultaneously is practical and makes life easier. I connected to my phone whilst being connected wirelessly to PC, and was able to answer phone calls without having to interrupt gameplay.
I tested the mic in Discord (the mic is "Discord-certified", two words that look pretty funny put together), and in Facebook Messenger: my friends and family pronounced the mic clear and not too noisy – even though the H7 features no noise cancelling, unlike its pricier sibling, the Sony INZONE H9.
The battery life on the Sony INZONE H7 is impressive. Sony claims it lasts 40 hours without charge, so I put it to the test. It was still going after 46 hours. Plus, ten minutes of charging gives enough juice to start using it again. I found that it took around two hours to fully charge, but you can charge while playing.
It's important to note, that although the headset sat snuggly enough on my head if you have an afro or curly hair, you should adjust the headband so it doesn't slip off.
Sony INZONE H7: Price & availability
How much does it cost? $229 / £169 / AU$269
When is it available? Now
Where can you get it? In the US, UK, and Australia
Put plainly, the Sony INZONE H7 is a little expensive for a device that sits in the mid-range of the gaming headset market. Aesthetics-wise, it's underwhelming, and it doesn't have noise-cancelling. It is made of plastic (though is hardly tacky) with some softer cushiony areas, so it really should be more in the region of $120-140.
However, it does deliver great sound, and it's thoughtfully designed and sturdy. Even if it doesn't look the most stylish, it does match the PS5. Still, a lot of what impressed us most with the H7, like the separate Game and Chat streams and being able to mix their volumes, is available in the H7's budget brother, the Sony INZONE H3. The H9, the range's top-end product, doesn't seem all that essential, although it does, unlike the H7, feature noise-cancellation.
Sony INZONE H7: Specs
Swipe to scroll horizontally
| | |
| --- | --- |
| Interface: | 2.4 GHz, wireless, Bluetooth |
| Platforms: | PC, PS4/PS5, Switch, mobile devices |
| Mic: | bidirectional boom mic |
| Surround sound: | 360 spatial sound |
| Weight: | 325g |
Should you buy the Sony INZONE H7?
Swipe to scroll horizontally
| | | |
| --- | --- | --- |
| Value | Overpriced, could definitely lose about $50-60. | 3 / 5 |
| Design | Aesthetically, it is not the best. It is, however, comfortable enough for endless hours of use, even if it might slip if not adjusted well. | 3.5 / 5 |
| Performance | The sound quality offered is what saves this headset. It gives great sound, and its 360 Spatial Sound creates a gorgeous immersive audio experience. It has excellent battery life. | 4 / 5 |
| Avarage rating | The Sony INZONE H7 boasts great sound, battery life and simultaneous wireless and Bluetooth connectivity. The price is just too high. | 4 / 5 |
Buy it if...
You want to game and socialize conveniently
Being able to connect to both your phone and PC at the same time and control the volume of the audio coming from each is a great feature, particularly in a wireless headset. You could wear the thing all day.
You value battery life
The battery life on the Sony INZONE H7 is very impressive; you get well over 40 hours of use after a charge, and you can use the headset while charging.
Don't buy it if...
You want a cheaper headset
Costing a surprising $229, the Sony INZONE H7 is not the cheapest headset, despite it being mid-range. It's not to say it's not good, because it is, but not for the price.
You want a portable headset
Even though the H7 is designed for gaming on the PS5 and PC, you might also want to use it outside or when travelling – particularly when you spent $229 on it. But its bulkiness makes that less convenient.
Sony INZONE H7: Also consider
Swipe to scroll horizontally
| | | | |
| --- | --- | --- | --- |
| Row 0 - Cell 0 | Sony INZONE H7 | Steel Series Arctic Nova 7 | Corsair HS80 RGB |
| Price: | $229 / £169 / AU$269 | $179 / £174 (around AU$310) | $149.99 / £139.99 / AU$219 |
| Platforms: | 2.4GHz, wireless, Bluetooth | PC / MAC / PlayStation 4/5, Switch, Oculus Quest 2, mobile | PC / MAC / PlayStation 4/5 |
| Mic: | PC, PS4/PS5, Switch, mobile devices | high-quality boom microphone | Broadcast-grade omni-directional |
| Surround sound: | Bidirectional boom mic | 360 Spatial Audio | Dolby Atmos |
| Weight: | 325g | 324g | 367g |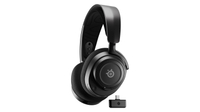 SteelSeries Arctis Nova 7
A little less expensive than the INZONE H7 in the US, the Arctis Nova 7 is a very similar headset, offering similar features and a bit more, like a 3.5mm jack and noise cancellation.
Read our full SteelSeries Arctis Nova 7 review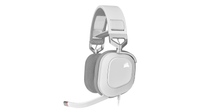 Corsair HS80 RGB
The Corsair HS80 RGB is a cheaper alternative to the INZONE H7, offering excellent sound, a more desirable, portable design, and RGB lighting; it's just generally a great peripheral, good enough to make our list of the best PC gaming headsets.
Read our full Corsair HS80 RGB wireless review
How I tested the Sony INZONE H7
I spent seven days testing the Sony INZONE H7
I tested it with HD movies, and music, focusing on a variety of genres
I used audiocheck.net's Ultimate Headphone test to give me an idea about the headphones' frequency response, dynamic range, and spectral flatness. I thoroughly tested different games that would best demonstrate the H7's 360 Spatial Sound. Most of the time I checked out the dual-device feature by simultaneously chatting on Discord and Messenger, and moved about to test the headset's range.
The Sony INZONE H7 can be best used for all genres of gaming, on PC, and most consoles. 3D adventure games and FPSes will best show off their 360 Spatial Sound. It is great for listening to music too, so get your favourite tunes out and get to dancing – or just listening, of course, no one's calling you boring. It's also fantastic for voice calls including group ones.
I have over 25 years of gaming experience and several years of testing gaming peripherals under my belt. I don't just review gaming peripherals in a detached "I have a job to do" type of way: I'm their manufacturer's target audience; I thoroughly, honestly and fairly review and test all units. I pretty much live and breathe games and computers, and have opinions about what is good and important, and can identify deficiencies.
First reviewed June 2023
Rosario Blue is a writer, playwright, and freelance journalist.
She is a Global Goodwill Ambassador for Postcards for Peace.