Buying a photo calendar for 2022 - either for yourself or as a gift - is a great way to stand out from traditional pre-printed calendars. Each month greets you with a treasured memory and warm feelings brought from your favorite photos of the past.
The personalized nature of the best photo calendars mean that you - or a loved one - get to enjoy something much more precious than a random collection of cute cats or local firemen posing conspicuously topless. Customizable photo calendars let you take your friends and family (or any images you wish) in their best moments, and have them sat there on the wall with you.
Or perhaps it could be you on the wall, as you gift a calendar to loved ones. The best photo calendars make for perfectly personal presents, with our best picks below all offering easy-to-use creating tools and loads of themes to choose from.
For the best results, you'll want to take a few factors into consideration: how easy is the service to use, how fast is it, what quality is the end result, and how much does it cost? We've taken into account these and plenty more factors when narrowing down this list of the very best photo calendars you can purchase right now.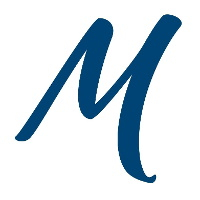 (opens in new tab)
The best photo calendars for 2022 in the US
Why you can trust TechRadar We spend hours testing every product or service we review, so you can be sure you're buying the best. Find out more about how we test.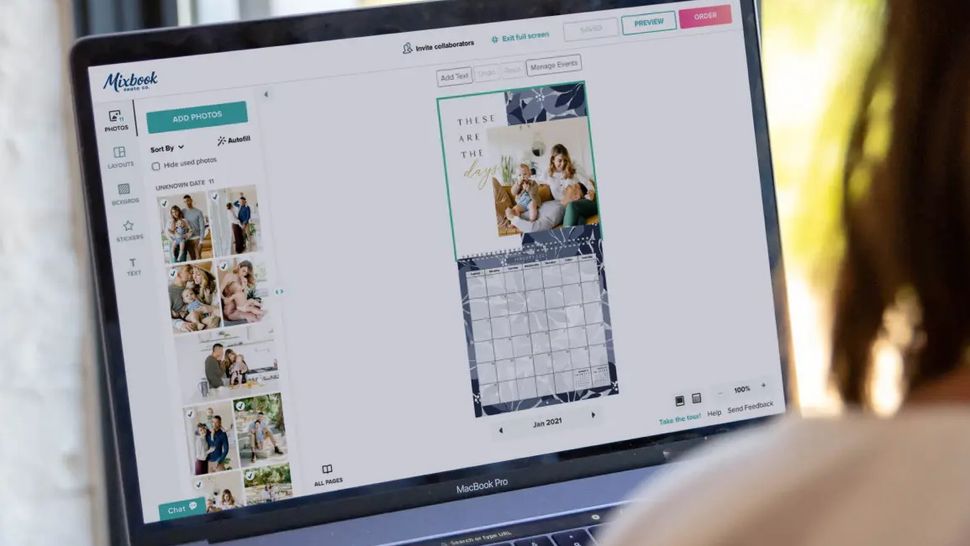 (opens in new tab)
Put your photo calendar business Mixbook's (opens in new tab) way, and we doubt very much you'll be disappointed. In fact, so does Mixbook - it offers '100% Happiness Guaranteed' with returns available if you're unsatisfied for any reason.
So what do you get from Mixbook? For starters, there are over 500 designs available to choose from. Even from there you can fully customize them all and Mixbook's software is really easy to use to do so. That goes beyond merely the photos you choose, as you can also add stickers and events that are pre-printed on the calendar to mark birthdays, holidays and other special events.
And if you do run into difficulties or creative block, then there's live chat support on hand to help you get your year back on track! There's also lots of extra handy hints and tips on its website to help you put together the perfect 2022 planner.
The heavyweight paper it uses makes the cost worth it for a genuinely premium feeling gift, and prices still start off pretty reasonable anyway.
Mixbook invariably has some kind of offer on, so head over to the site (opens in new tab) to see what you can save.
---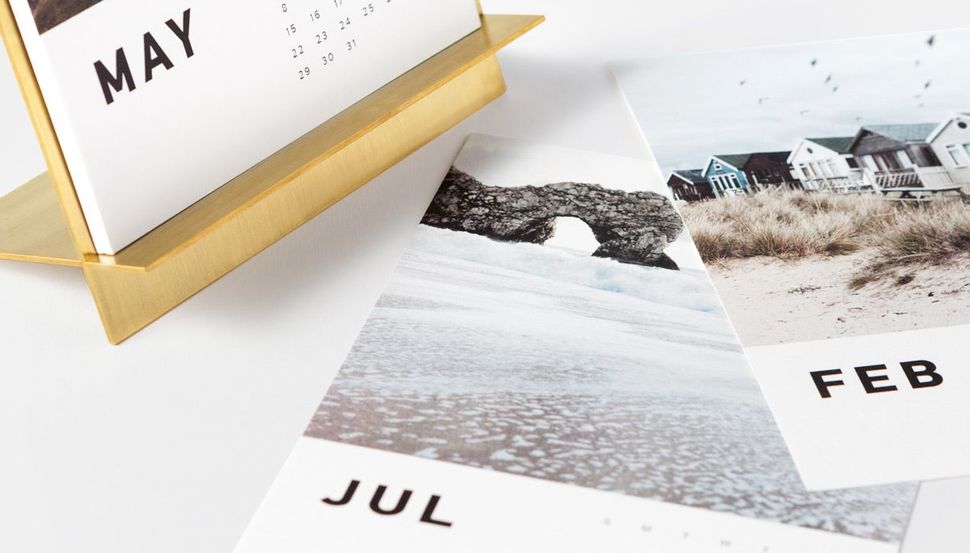 (opens in new tab)
If you think of your wall calendar more of an art piece to be admired, or you really want to impress the recipient of a photo calendar gift, then we strongly suggest that you take a look at what Artifact Uprising (opens in new tab) is offering.
Yes, you can simply order a basic wall calendar. It's a simple but classy looking design that should suit most homes (just don't expect the oodles of customization options here that you get with the likes of Mixbook).
But Artifact Uprising's point of difference here is in it's less...usual options. We're talking about its wood calendars, walnut desk calendars and brass easel calendars. These are genuinely splendid photo calendars that you'll gladly gift to a loved one... or yourself!
We definitely wouldn't use the word 'cheap' to describe this online service, but the quality is excellent and is always backed by the company's quality guarantee - check out the selection on site (opens in new tab) and create your new calendar-based wall-art now.
---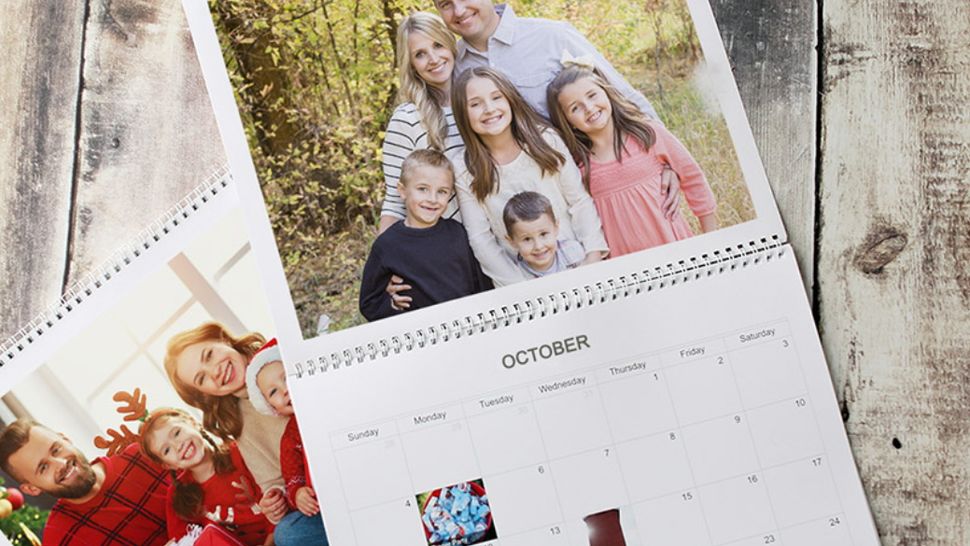 (opens in new tab)
There's a lot to like about the photo calendars that Picaboo (opens in new tab) provides. Due to the agile web-based editing software used to assemble and finesse your product, it just doesn't feel like a chore with this service. It's easy to use and, dare we say it, fun!
One of the things we like about Picaboo is that it encourages you to get creative with your calendar rather than to stick to the ordinary 12-month viewer. Think baby's first year, family year in review or milestone birthdays and anniversaries.
And because the designs are fully customizable you can be as daring or adventurous as you wish with your photos. The one downside we'd note is the quality, however. Sometimes the images on the finished article don't come out as defined or colorful as you might remember from your gallery.
To see what Picaboo has to offer, head over to the service's website (opens in new tab).
---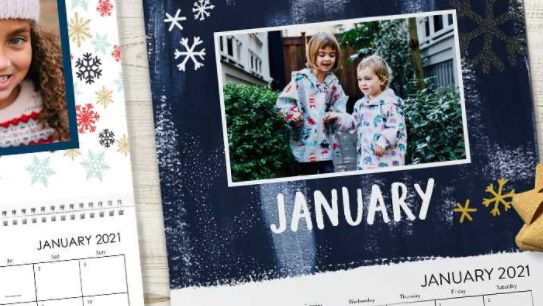 (opens in new tab)
If you're a frequent visitor to CVS, Walgreens or Walmart, then Snapfish (opens in new tab) might just be the best option for your photo calendar. It has come to an arrangement with those stores to let you pick up instore, which may be a godsend if you can't rely on being at home to take a delivery.
If that's one big plus for Snapfish, then price is another. Its range starts at less than $10 (for desk calendars - wall calendars start at $24.99), so it's a cheaper option than others. That may be reflected in the lack of customizability you get, but not so much in standard as high-quality paper stock is still used together with classic spiral binding. And like Mixbook, you can specify that certain days of the year are marked up with reminders.
---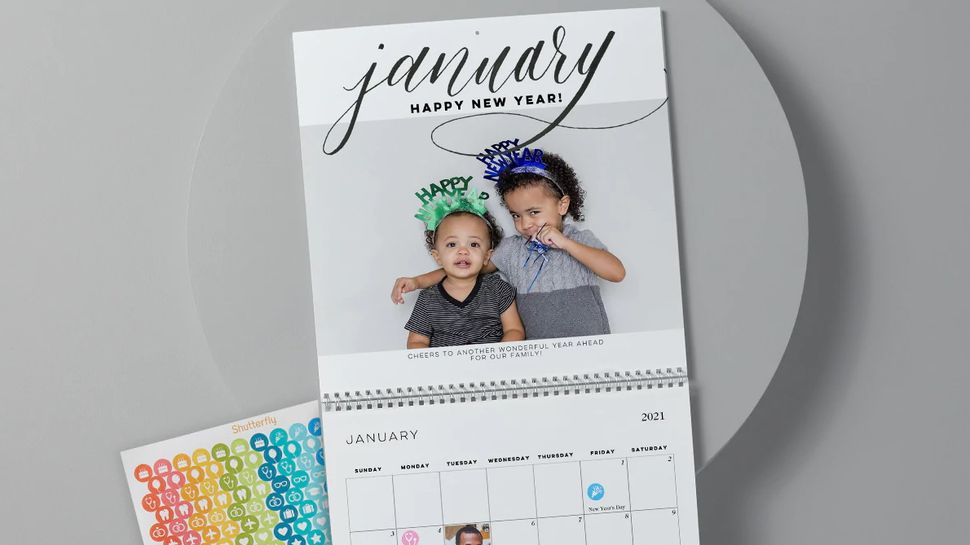 (opens in new tab)
Last but by no means least on our list is Shutterfly (opens in new tab). Although it takes up our final spot, bear in mind that there are dozens of these services so Shutterfly is still well worth a look. Especially at the price, as this is another photo calendar provider that has prices starting at sub $10 for mouse pads and magnet calendars (calendar posters are available from less than $20). The template designs are really striking, too, with some of the most attractive fonts and color combos that we've seen from anybody. There are more than 60 to choose from to get you started. And your choice expands still with spiralled wall and desk calendars, as well as easel style for something even more affordable.
From there, you can cut, chop and customize within reason. Although the control you have over borders and colors is somewhat limited. It feels like you have less overall say than with a service like Mixbook (opens in new tab).
---
Photo calendar FAQ
What is a photo calendar?
Very much as it sounds, a photo calendar is a full 12-month calendar that you insert your own photos and images into. Using the easy-to-operate software on the service's website, you upload your photos and then arrange them in any way you wish from month-to-month. The service then prints it up and sends it out.
That makes it perfect photo gifts fodder (especially in the lead up to Christmas) as it's something to be enjoyed by the recipient - or yourself - for an entire year.
What is the best photo calendar site?
There's some strong competition on the web, but Mixbook is our current #1 (opens in new tab) best photo calendar site. It's really easy to find your way around the creation tool, meaning that you'll be creating professional looking calendars within minutes. The quality of the finished photo calendar is generally excellent and, although it's more expensive than some, the prices are definitely still what we'd call reasonable.
How long do I need to create a photo calendar?
This entirely depends on how much of a perfectionist you are and just how customized you want your photo calendar to be. You can literally create a photo calendar in minutes, if you're happy to stick to the templates provided by the service and roughly know what photos you want to include.
But the best services let you customize everything - to the amount of images per page, where they sit, labels for special days, and much more. So if you really want to conjure up something special, you might want to give yourself adequate time to get it all just so.
How long to photo calendars take to send out?
This does change from service to service, but once you're happy with your design and hit 'Order', expect to receive your photo calendar after 7-15 days.
As we say, some services are faster than others. But also note that most photo calendar services let you pay extra to expedite the printing and delivery.
See also: the best photo books you can order
Send your snaps - there are greetings cards and there are photo cards!
Getting a great camera phone could be the first step to next year's calendar