The Tranya Nova are a reliable, good-sounding and comfortable pair of true wireless earbuds. All of the basics are here at a decent price. But at this level, competition is fierce, and there's very little that sets the Nova buds apart from rivals with similar price tags and specs.
Pros
+

Reliable

+

Good battery life

+

Comfortable fit

+

Good ANC and sound
Cons
-

They feel a little cheap

-

Sound not audiophile-grade

-

Lots of similar rivals to choose from
Why you can trust TechRadar We spend hours testing every product or service we review, so you can be sure you're buying the best. Find out more about how we test.
Tranya is a relatively new audio tech brand that has brought out several different types of true wireless and sports earbuds over the years. Its latest flagship buds are the Tranya Nova, a budget pair of noise-cancelling earbuds that promise an exceptional and immersive listening experience.
During testing, I found they delivered on that claim. They're certainly not audiophile-grade, and are light on features compared to higher-priced rivals. But for your money, you'll get a pair of buds I would go as far to describe as reliable because you've got all the basics. The sound here is good, the ANC is impressive for the price, the fit is comfortable, the battery life is better than most rivals, and the buds themselves may look a little cheap but they're minimal and unobtrusive.
The problem is that the Tranya Nova enter a crowded marketplace. Not just because there are so many of the best true wireless earbuds to choose from these days, but because there are lots catering to this specific price point that sits somewhere between budget and mid-range.
This doesn't take away from the fact that the Tranya Nova are a solid choice if you're looking for an affordable pair of true wireless earbuds, but it does mean you'll find plenty of other options that may have several better features, slightly improved specs and even a cheaper price tag.
Tranya Nova review: price and release date
Released in June 2023
Available to buy at $79.99 / £79.99
The Tranya Nova earbuds were released in June 2023 and cost $79.99 / £79.99. On the Tranya website, the official price is $99 (there's no pricing for other territories, as far as we can tell) but you'll find the $79.99 / £79.99 price on Amazon, which seems to be consistent.
At under $80 / £80, we'd class the Tranya Nova as a pair of budget true wireless earbuds, inching into the mid-range category. In this same price bracket there's a lot of competition. In our best budget wireless earbuds guide, there are similar buds, like the EarFun Air Pro 3, which are also available for $79 / £79.
There are also much cheaper buds, like the JLab Go Air Pop at $20 / £20, but they do deliver less accomplished audio. In comparison, at the higher end of the budget category there's the Cambridge Audio Melomania 1 Plus costing $139.95 / £119.95, although we did rate the audio on offer from those buds incredibly highly.
They're just several examples, but the upshot here is that competition is fierce in this category of the best earbuds and you usually have to sacrifice a certain feature or sound quality if you want a more affordable price.
Tranya Nova review: specs
Swipe to scroll horizontally
| | |
| --- | --- |
| Battery: | 9 hours (buds) 36 hours (case) |
| Drivers: | 12mm dynamic drivers |
| Microphones: | 6 mic system |
| Bluetooth: | 5.3 |
| Waterproof: | IPX5 |
| Weight: | 167g |
Tranya Nova review: features
Multi-point pairing
Nice EQ in the app
Good battery life
The Tranya Nova earbuds aren't packed with features, but you've got everything here you'd want from a budget pair of buds.
This includes an easy-to-use app with settings you can tweak, like an EQ with presets as well as a custom profile you can create. As well as touch controls on the buds themselves that you can customize, too, choosing from a range of taps and different functions, like play-pause, volume up/down, previous/next track, voice assistant, game mode and ANC mode.
It's in the app that you can check on the battery levels of the buds, select from three ANC modes (on, off and ambient sound), as well as switch on a game mode, which brings you 40ms low-latency.
A nice feature that we wouldn't always expect from budget buds is multi-point pairing, allowing you to connect the Tranya Nova to two different audio source devices. I found this worked well during my testing, allowing me to move between playing audio from my laptop and then from my iPhone.
Battery life here is impressive compared to most other buds in this category. You'll get 36 hours of playtime in total from the charging case and nine hours from the buds themselves.
To add a bit of context, the JBL Live Pro 2, which I think they're most similar to, have 10 hours in the buds and 30 in the case. But most other budget buds, like the Sony WF-C700N, offer seven and a half hours from the buds and only 15 hours from the case, which seems to be the norm at this level.
Features score: 4/5
Tranya Nova review: sound quality
Good bass
Call quality is decent
An expansive and enjoyable listen
I keep my expectations low when I'm testing a budget pair of buds, but I was generally impressed with the performance of the Tranya Nova earbuds – at least for this price.
The bass was decent, if a little fuzzy at times with particularly bass-heavy tracks. I really enjoyed listening to No One Loves Me and Neither Do I from Them Crooked Vultures, a track with some meaty bass that these buds just about did justice to. As well as vocals and highs that sounded crisp rather than tinny – a common complaint with similar buds.
There's a decent balance across the whole range here and a soundstage that, again, I'd say is broad for the price – although with the volume turned up high things started to get just a little muddy. Audiophiles will be looking for more clarity, detail and richness, but you'll likely only find that with higher-priced buds or buds a little more expensive with standout audio performance, like the Cambridge Audio Melomania 1 Plus. Having said all that, the majority of people will be happy with these buds, especially considering you can tweak the EQ a little in the app if you really want to.
Considering these are budget buds, the noise-cancelling was pretty impressive. I think this is both a testament to the buds and the fact I got a really great fit from the ear tips (more on that soon). It's the kind of noise-cancellation that didn't block out the sound of a barking dog in the street or loud laughter next to me in a cafe, but did wipe out ambient traffic sounds and the low hum of a fan – the level I'd expect at this price.
Sound quality score: 3.5/5
Tranya Nova review: design
A light, plasticky feel to them
Comfortable
IPX5 rating
The Tranya Nova earbuds are plain and minimal. They have the stem design that's become the norm since Apple released its AirPods. In the past I've found some stem earbuds stick out from my ears too much, but these were an ideal length.
They're made from plastic and have quite a cheap feel to them, but I like that as it means they're light. Unlike a lot of other buds, they don't come in black but a deep blue that Tranya calls 'midnight'.
They come with three different ear tips. Maybe I got lucky with the way the smallest tips fit my ears, but I found them incredibly comfortable and they created a great seal for the ANC to perform its magic. Like most buds at this price point, I did start to feel them a little after an hour or so of wear – they're certainly not the most comfortable buds I've tried – but that's to be expected.
There's IPX5 waterproofing here, which means they'll withstand the most sweaty workout. This is good news considering they're comfortable and stable buds, they fared well when I took them jogging in very windy conditions.
They come with a small, shiny charging case with a pill box design that's pretty typical. However, the high shine finish on the outside was prone to fingerprint smudging, although that's hardly a dealbreaker.
Design score: 4/5
Tranya Nova review: Value
Good value for the range of specs and features
Competitively priced compared to rivals
Not special, but a solid pair of budget buds
For the range of specs and features on offer and the solid performance and battery life, these are great value buds and I enjoyed using them.
Yes, there's a lot of competition and several other buds from different brands perform just as well at a similar price. But that shouldn't distract from the fact these are a solid pair of buds that should keep most people happy – especially anyone on a budget, those trying true wireless buds for the first time or anyone not fussed about the highest quality sound.
Value score: 5/5
Should I buy the Tranya Nova?
Swipe to scroll horizontally
| Section | Notes | Score |
| --- | --- | --- |
| Features | Multi-point pairing, nice EQ in the app and good battery life. | 4/5 |
| Sound quality | Good bass and call quality is decent, offering an expansive and enjoyable listen. | 3.5/5 |
| Design | A light, plasticky feel to them, yet comfortable. | 4/5 |
| Value | Not special, but a solid pair of budget buds. | 5/5 |
Buy them if...
You want a reliable pair of buds
Everything you need from a pair of buds is here, ANC, good sound, great battery and a comfortable fit.
You don't have much money to spare
These are not the cheapest buds you can find, but they're great value for only $79 / £79.
You have small ears
Not explicitly marketed to those with small ears, but I found the smallest ear tips to be a fantastic fit, and that's not always the case.
Don't buy them if…
You want top features
You'll get all the basics here for good sound and ANC, but nothing out of the ordinary.
You want great sound
At this price, the sound is good. To get a more immersive experience and expansive soundstage you'll need to pay a little more.
You like your tech to look and feel premium
Most buds at this level have a light, plastic feel. I don't mind it but if you want your tech with a more premium edge, look elsewhere.
Tranya Nova review: Also consider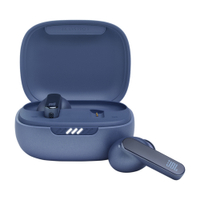 JBL Live Pro 2
The JBL Live Pro 2 are similar-looking with the same plastic design and yet feel a little more premium. They're slightly more expensive, but a good alternative offering a comparable listening experience.
Read our full JBL Live Pro 2 review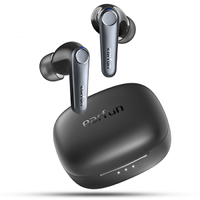 Earfun Air Pro 3
The Earfun Air Pro 3 are the same price as the Tranya Nova in most retailers. They deliver a similar experience in our books but we did prefer the shiny and deep blue design of the Novas.
Read our full EarFun Air Pro 3 review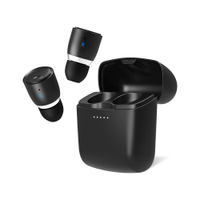 Cambridge Audio Melomania 1 Plus
If you want better sound for a similar-ish price get the Cambridge Audio Melomania 1 Plus. We also think these are good alternatives as they offer a different form factor for those not keen on the design of the stems.
Read our full Cambridge Audio Melomania 1 Plus review
How I tested the Tranya Nova
Tested over two weeks
With an iPhone 14 Pro
A mix of Spotify and Tidal with some movies on my too
I tested the Tranya Nova earbuds over the course of two weeks in a range of environments, including working at a busy coffee shop and in a silent library, as I took a walk along the beach and through a crowded city and everywhere in-between. This gave me a great opportunity to put the ANC and comfort of the buds to the ultimate test.
I used an iPhone 14 Pro with the earbuds for the most part, switching between Spotify and Tidal as my streaming services of choice. I also paired the buds with my MacBook Air while I was catching up on Apple TV's Foundation series.
I've had more than 12 years experience testing tech, especially devices you wear, from health and fitness trackers to VR headsets. Over the past few years I've been particularly focusing on audio tech, especially devices that fall into the same affordable but accomplished category as the Tranya Novas, so I have a lot of experience with similar buds to inform this review.
First reviewed: September 2023
Becca is a contributor to TechRadar, a freelance journalist and author. She's been writing about consumer tech and popular science for more than ten years, covering all kinds of topics, including why robots have eyes and whether we'll experience the overview effect one day. She's particularly interested in VR/AR, wearables, digital health, space tech and chatting to experts and academics about the future. She's contributed to TechRadar, T3, Wired, New Scientist, The Guardian, Inverse and many more. Her first book, Screen Time, came out in January 2021 with Bonnier Books. She loves science-fiction, brutalist architecture, and spending too much time floating through space in virtual reality.