Streaming is the dominant technology when it comes to television these days, but there's still a place for the more traditional set-top box for live television viewing, especially when it comes to pay TV.
Currently the two major pay TV players in the UK are Virgin Media and Sky.
Sky knocked it out of the park earlier this year when it launched its Sky Q earlier this year. As well as offering the ability to stream live TV to tablets around the house, the box was also recently updated to allow it to output at 4K resolutions.
Meanwhile Virgin hasn't updated its set-top box since the release of its last Virgin Media TiVo box in 2011. We were impressed when we reviewed it back then, but after five years its 1080p resolution is starting to look a little dated.
It's time for an upgrade.
Cut to the chase
What is it? Virgin Media's next set-top box
When is it out? 2016
What will it cost? Included with contract
Virgin 2016 set-top box release date
We first got word of Virgin's plans to launch a new box earlier this year, when it confirmed its intention to release a 4K-capable set-top box later in 2016.
In early October the official Virgin Media twitter account announced that it has something special coming, but didn't give any exact confirmation of when this would happen.
For now, all we know is that the box is coming at some point in 2016, but that could change any day now.
Virgin 2016 set-top box features
Our first glimpse of the box came in August when the company revealed that the V6 box would once again be powered by TiVo.
However, since then the company has remained silent on the features of its new box. We know it will support 4K resolutions, but the status of its support for HDR is still unknown.
Beyond display technologies, the box will almost certainly give access to a variety of streaming services, as well as offering live TV that you're able to pause, rewind, and record.
Another question is how Virgin plans to get 4K content onto the device. BT currently uses the internet to stream its sole 4K channel, and Sky relies upon satellite delivery for its content.
Could Virgin be about to unveil cable delivery of 4K content? We'll have to wait to find out.
Virgin 2016 set-top box price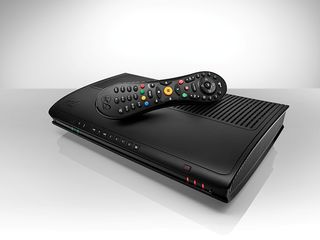 Virgin's current set-top boxes are available as part of the company's cable subscriptions. It's current 'V HD Box' is included as part of the price, but its more advanced boxes, the TiVo 500GB and 1TB models (pictured above) cost £5 a month in addition to the regular monthly bill.
Additionally the 1TB box can be purchased for a one-off fee of £49.95.
Without any official announcement from Virgin, we don't yet know exactly what the company intends to charge for its new box, but we would assume that it would be priced similarly to its existing set-top boxes.