JBL Live Pro 2 vs Beats Studio Buds: which affordable noise-cancelling earbuds are best?
We put these top-performing, mid-range true wireless earbuds head-to-head
Battery life: 10 hours (buds); 30 hours (case)
Driver: 11mm dynamic
Weight: 4.8g (buds); 48g (case)

The JBL Live Pro 2 true wireless earbuds punch above their weight in the most important ways. Noise cancellation is excellent and is perfect for busy, noisy environments and commuting. Sound is good, EQ customization is great and although call quality could be better, most people won't notice it unless they make a lot of them regularly.
For
Fantastic noise cancellation
Powerful, bassy audio
Good companion app
Against
On-ear controls a bit limited
Not audiophile sound
Calls can be muffled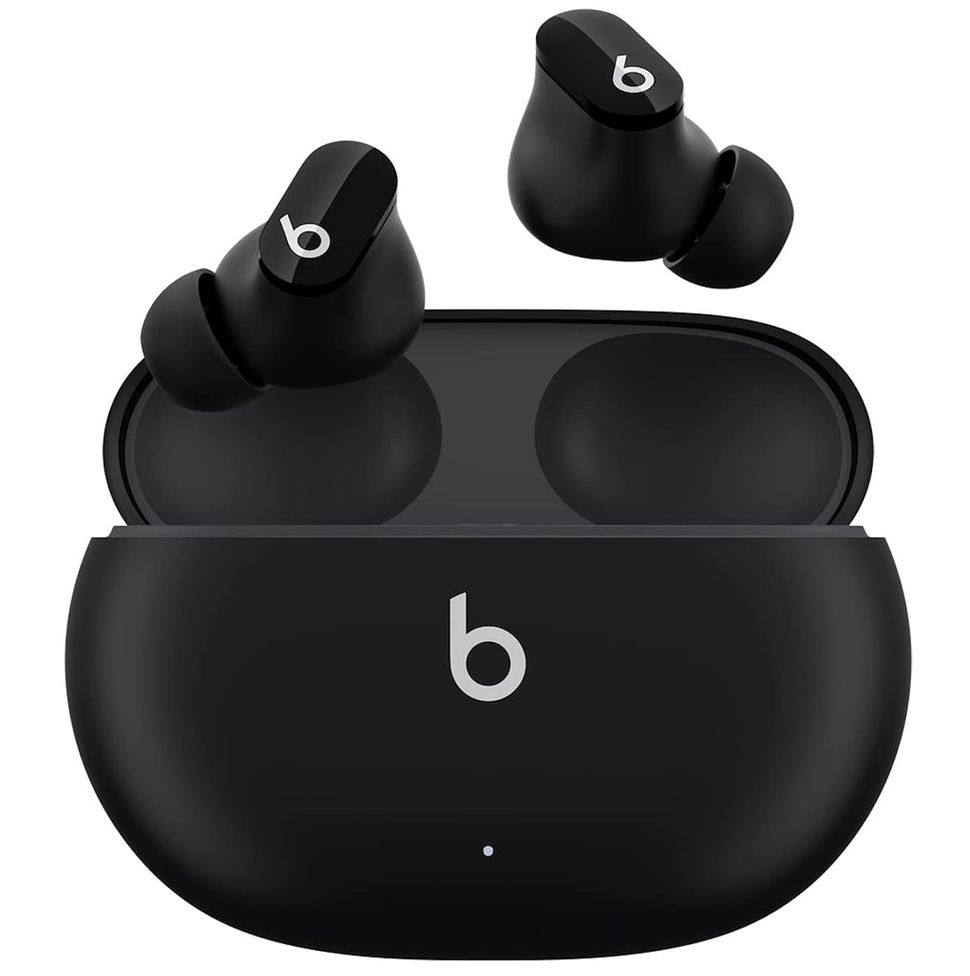 Battery life: 8 hours (buds); 16 hours (case)
Driver: 8.2mm dynamic
Weight: 5.1g (buds); 48g (case)
The Beats Studio Buds are the best-sounding earbuds Beats has ever made at this kind of price. They're comfortable to wear, they sound great, and there's effective ANC. They come with some smart features for both iOS and Android too, including some that the JBLs can't match, such as Find My support on both platforms. The JBLs have the edge on ANC quality and sound, though.
For
Good sound quality
Stylish and small
Great smart features
Against
ANC is only okay
Battery life is weaker
Poor call quality
Many of the top tech companies have true wireless earbuds that represent the best of the best in audio technology. But let's not overlook the buds that fill out the more affordable parts of our best true wireless earbuds list – high performers with a mid-range price tag.
Two of our favorite wireless buds that are firmly in this high-quality audio and mid-range price category are from affordable audio tech brand JBL and Apple-owned headphones brand Beats. So which is the best: the JBL Live Pro 2 vs Beats Studio Buds?
We've thoroughly reviewed them both, so in this guide we'll put these two noise-cancelling earbuds head-to-head to find out how they compare in terms of sound quality, battery life and comfort. Be sure to take a look at our best wireless earbuds and best noise-cancelling earbuds guides for more suggestions. Otherwise read on to find out which is right for you, the JBL Live Pro 2 vs Beats Studio Buds.
JBL Live Pro 2 vs Beats Studio Buds: Price and availability
The Beats Studio Buds were released in June 2021 and the JBL Live Pro 2 were released a whole year later in June 2022. At the time of their respective releases, both earbuds cost the same: $149.99 / £129.99 / AU$199.95, which makes them excellent to compare in terms of specs, features and sound.
Because the Beats Studio Buds have been around much longer, you're likely to find them permanently discounted from several third party retailers, and with big discounts during sales events.
So there's not much in it here between these two true wireless earbuds in terms of price. But are they both good value more generally? The short answer is yes. They may not be able to compete with the best of the best true wireless earbuds on the market, but if you don't want to spend more than $150/£150, then they're some of the best options available. In fact, unless you want high-end sound and features, you'd be more than satisfied with the levels of noise cancellation, sound quality and comfort offered by both buds.
JBL Live Pro 2 vs Beats Studio Buds: Design
The JBL Live Pro 2 earbuds have the stem-like true wireless earbud design we've been seeing from a lot of brands over the past few years – like the AirPods Pro 2 and LG Tone Free T90Q. We like that the JBL Live Pro 2's stems are fairly understated, although they do have a shiny finish that stands out in brightly lit environments.
In contrast, the Beats Studio Buds sit almost flush with your ear – although the 'b' Beats logo does set them apart from other, similar earbuds. Neither is necessarily better design-wise, but the one you go for will be down to personal preference – do you like the AirPods-esque stems or would you prefer something more compact?
Comfort-wise, we got on well with both pairs of buds when we reviewed them. The JBL Live Pro 2 earbuds come with small, medium and large silicone eartips so you can get a perfect fit. Similarly, in our Beats Studio Buds review we called them "supremely comfortable".
The JBL Live Pro 2 have an IPX5 rating, which means they're resistant to water splashes and a light water stream and perfect for a sweaty workout. The Beats Studio Buds have an IPX4 rating, which makes them a little less water resistant, but should still be good for light exercise – just don't accidentally take them into the shower.
JBL Live Pro 2 vs Beats Studio Buds: Features
In our JBL Live Pro 2 review we highly rated the JBL app, which is easy to navigate and filled with user-friendly features – but not too much to be overwhelming. We also like the gesture control on these buds, which makes use of the capacitive touch panel in the stem and can be customized.
In comparison, the Beats Studio Buds have a clickable button on the buds, which controls playback. This might be more reliable than some touch controls, but it means you don't get onboard volume controls here.
The JBL Live Pro 2 earbuds offer multipoint pairing, which is great news if you use lots of devices throughout the day. The Beats Studio Buds don't, but they do work with both Apple and Android phones very easily. This is good news for Android users, as there's a dedicated Beats app that we enjoyed using, as well as support for some cool features, like Find My in iOS and Find My Device in Android. But Apple users won't get multipoint pairing with other Apple devices and hands-free Siri – you'll need Apple buds like the AirPods 3 for that.
It might sound like a small point, but we didn't like that the Beats Studio Buds don't have automatic ear detection. So if you take them out, music won't pause. The JBL Live Pro 2 do have this feature, which if you're removing your buds a lot throughout the day makes a real difference.
JBL Live Pro 2 vs Beats Studio Buds: Sound quality
When we reviewed the Beats Studio Buds we paired them with an iPhone 11 Pro and turned on Apple Music, which supports Spatial Audio with Dolby Atmos and Lossless Audio. We couldn't get the full effect of Lossless Audio with the Beats Studio Buds (Bluetooth compression ruins the lossless nature of the music), but we used them to play songs with Spatial Audio, which sounded great. These buds have a lively sound quality, which elevates the high and low ends of a mix, resulting in toe-tapping, head-bobbing music that's engaging for long periods of time.
The sound quality on offer from the JBL Live Pro 2 is also impressive for the price. There's a good balance across the whole range and a fairly broad soundstage right out of the box too – especially when the volume is pumped up high. They handle bass remarkably well and vocals are, for the most part, clear. There was some richness of detail here, but not on par with the best-in-class buds, like the Apple AirPods Pro 2.
JBL Live Pro 2 vs Beats Studio Buds: Noise cancelling
The JBL Live Pro 2 earbuds are great for noise-cancelling. They're some of the best noise cancelling earbuds for under £150/$150 and to get a significantly better experience, you'd have to pay well over £200/$200 for something like the Bose QuietComfort Earbuds 2. We loved how ANC adjusts based on your environment, making them ideal for a range of scenarios.
In comparison, we found that the noise-cancellation in the Beats Studio Buds performs moderately well. We can imagine them being solid office companions, keeping out the roar of office conversation to a minimum, but probably not silencing the sounds of planes or trains. Although they do adapt to your environment like the JBLs do with two distinct listening modes.
We found the call quality of both buds to be lacking. The JBL Live Pro 2 and Beats Studio Buds are good enough if you're taking a call indoors but when they're competing with traffic, wind and general background noise it can be tricky to hear and, according to the people we were chatting to, it was challenging to be heard as well.
JBL Live Pro 2 vs Beats Studio Buds: Battery life
The JBL Live Pro 2 boast 10 hours of battery life in the buds but there's an additional 30 in the Live Pro 2's case, giving you 40 hours in total. This about the most you can get from any of the best wireless earbuds.
In contrast, you can get 8 hours from the Beats Studio Buds and 24 hours of playback with the case. So the JBL Live Pro 2 do outperform the Beats buds significantly in that regard, although the Beats aren't bad at all.
JBL Live Pro 2 vs Beats Studio Buds: Conclusion
The JBL Live Pro 2 vs Beats Studio Buds are two excellent pairs of true wireless earbuds and give higher-priced buds a run for their money. If you want good sound quality, top comfort and decent ANC they both deliver, but there are some areas in which one set of buds excels over the other.
For example, if battery life is important to you because you need all-day listening and don't like having to pause your music to charge, then the JBL Live Pro 2 outperform the Beats Studio Buds. In terms of design, it's largely down to personal preference and whether you love or loathe the stem-like look of the JBL Live Pro 2.
Some people really enjoy the sound of Beats devices, and we liked listening to the Beats Studio Buds, even though the JBL Live Pro 2 also offer great audio there's a fun and lively quality to the Beats. However, audio purists might want to look elsewhere – you'll need a higher-end pair of buds with a higher price tag for better sound.
If we had to choose we'd probably go with the JBL Live Pro 2, they're newer, some of the specs are slightly better, the noise cancellation is more effective, and we liked the stem design with the high shine finish. But given they're the same price, you can't go wrong with either pair of mid-range earbuds.
Sign up to receive daily breaking news, reviews, opinion, analysis, deals and more from the world of tech.
Becca is a contributor to TechRadar, a freelance journalist and author. She's been writing about consumer tech and popular science for more than ten years, covering all kinds of topics, including why robots have eyes and whether we'll experience the overview effect one day. She's particularly interested in VR/AR, wearables, digital health, space tech and chatting to experts and academics about the future. She's contributed to TechRadar, T3, Wired, New Scientist, The Guardian, Inverse and many more. Her first book, Screen Time, came out in January 2021 with Bonnier Books. She loves science-fiction, brutalist architecture, and spending too much time floating through space in virtual reality.