Features and performance
To try out Hive, we didn't just road test the thermostat for over a month but added a bunch of extras, too. A few years ago, Hive was just a connected thermostat but the service has since expanded to include smart plugs, sensors and connected lights. All of these are also controlled by the Hive app and can be used in a number of ways.
Let's start with the thermostat.
The Hive thermostat is one of the best-looking controllers we have seen for smart heating. It has a physical dial in the centre of the device, which you can move clockwise or anti-clockwise to turn the temperature up or down.
That's pretty much it.
The controller is dormant until you turn that dial - once turned it will show on the left-hand side the 'target' temperature and on the right the 'actual' temperature. If your house has hit the target temperature, then the heating will stay off until it drops, then will turn back on again.
If you feel the need to boost the temperature a little then there's a physical button on the top, press this and you can choose how long you want the heating to stay on for, regardless of whether or not you've hit your optimum temperature.
There are three clickable buttons below the dial as well. The middle one brings up extra settings - child lock and frost protection - on the left of this is a back button and on the right a confirm button.
It's really easy to use and has been deliberately made this way. After all British Gas is a company that's been in the heating business for years, and clearly they've learnt a thing or two in that time. If you want more heating control, then you head to the app.
The Hive app is well designed and a joy to use. The more Hive products you have the more circles you have to press on the main screen - heating always remains in the centre though. If you don't fancy the visual layout, then you can also look at all your Hive products in list form - at a glance you will be able to see which are online, what status they are in and any schedules you may have sorted.
We struggled a little with scheduling our heating through the app but did get there in the end. Click into heating and what you get is a quick-fix boost button, a circle telling you what the temperature is and another telling you what you want it to be. You can move the temperature with a flick of the thumb.
At the bottom there are a few options: Schedule, Manual and off. Schedule is where you can tell your thermostat when to go on and off during the day. The layout is simple enough, but it's actually a little fiddly to do. It offers up six time slots - click on one of them and you can change what the temperature will be for that time. It's all fine, until you start changing the times - sometimes the app gets confused with the start and end points of when you want the heating to be on.
It's a far cry from the Nest app with its granular 15 minute increments and ability to learn intelligently how you like your heating set up.
Persevere, though, and the Hive app does eventually sort itself out.
Once you have got one day sorted you can copy that schedule for the rest of the days of the week, if you so wish. Once this is done, you'll find the app is so easy to use that you'll hardly touch the actual thermostat - controlling your heating with your phone is much more fun.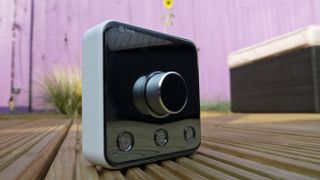 The Hive app also has a neat geolocation tool. Use it and it will tell you if you have left your heating on when you are out of your house and send you reminders to switch it on before you get back home, so the place will be toasty for you. It's not a feature you will use if you have rigidly sorted the schedule but it's a worthy addition nonetheless. And if you go on holiday, there is a mode for this too, which essentially keeps your heating dormant until you return.
Unfortunately the thermostat doesn't support any kind of motion sensing (like that found in the Nest), so it has to rely solely on this geolocation tool to work out if you're home or not. It's a shame that this feature has been omitted, since it's a feature that makes the Nest a much more effortless experience.