There's a lot of substance when it comes to the Steelcase Leap office chair, with comfort and adjustability being the clear design priorities. It's a classy seat that's been selling in various versions for many years. At it's price point, though, you're well into premium office chair territory, but if your derrière likes a cushion instead of a net, then the Leap is an excellent upper-echelon option if your wallet can take the hit.
Pros
+

Quality construction and materials

+

Comfort and adjustability

+

Looks good without being ostentatious
Cons
-

Arm rests not super comfortable

-

Very expensive
Why you can trust TechRadar We spend hours testing every product or service we review, so you can be sure you're buying the best. Find out more about how we test.
Steelcase Leap: One-minute review
The Steelcase range caters to mostly workplace and small office/home office (SOHO) sitters, with a large selection of models encompassing features and pricing that allows you to be quite specific about what you want in an office chair.
Most recently we reviewed the high-back Personality Plus chair (available in Australia and Singapore), which outwardly resembles the Leap in terms of construction and design, but where the Personality Plus comes in at a palatable price point, the Leap is decidedly more premium, coming in with a four-figure cost for the base model. Go for the leather option and the price climbs to compete with properly upmarket chairs like the Herman Miller Aeron.
Where the Leap differs to the Personality Plus is it's a fully cushioned chair. The Personality Plus has a mesh back (although does offer a cushioned backrest option too for more money), while the Leap is a cushion back (and seat), and with that comes a bit more adjustability for lumbar support as well as upper and lower back firmness via mechanisms hidden away in the seat back. The backrest is shaped and contoured to provide specific zones of support, which also forces you into a better posture. Mesh-backed chairs are more limited in adjustment here.
It arrived fully assembled with a simple and easily disposable plastic covering, accompanied by a small envelope-sized instruction sheet. Which is all you need, really. There was no huge box to dispose of, which we appreciate. So you just plonk in and start playing with the various adjustments as you begin your new seating journey.
Steelcase has been making the Leap for some years, and this is in fact the V2 model, though that moniker isn't shown in the listing on the Steelcase site or at authorised dealers. The latest model feels very sturdy – there's no wobble at all where the seat shaft connects to the wheel base, unlike most 'gamer' chairs, and all movement is smooth, whether you're making adjustments or just leaning back in a recline. Everything feels rock solid with smooth mechanisms. You can sense straightaway that a big part of the relatively high price is in build quality and materials, along with the multitude of adjustment options.
Steelcase Leap review: price and availability
How much does it cost? Prices start at AU$1,503 / SG$1,859
Where is it available? Available to buy in Australia and Singapore
Even with the basic fabric covering without accessories like the headrest option, the Leap costs a staggering AU$1,503 / SG$1,859. Move up to the base model with the leather covering and you're looking at spending AU$2,350 / SG$2,699. Opt for a headrest and you'll need to add another AU$260 / SG$300 to those numbers.
Overall there's seven colour/covering options to choose from with various prices.
We see a chair's value not only in terms of what you get initially, but also how good a long-term investment it is. Some may scoff at expensive chairs and say their AU$300 / SG$350 chair is just fine, but cheap chairs break, cushions sag or bits and pieces wobble. The hope here is that this chair could last a decade or more, thus creating justifiable long-term value. The Leap feels like it could go the distance, though the fabric covering will undoubtedly wear and stain over a long haul spanning many years, but you do get a 12-year warranty on the Leap.
If you happen to live in Australia or Singapore, you can purchase the Leap directly from Steelcase, while the chair is available from third-party retailers in New Zealand.
Value score: 3/5
Steelcase Leap review: design and features
Conservative styling
Abundant adjustability options
It only took a few minutes of experimentation to get the Leap to suit this reviewer, and that process was easy and the changes felt obvious as we made them. More on that in the next section.
It's a somewhat safe and conservative design overall, with small flourishes to make it feel a little bit special. But it's an office chair, not an over-the-top gamer chair (though it makes an absolutely fine gamer chair – tested and verified!), so nothing about the chair is ostentatious.
Where the Leap really shines is in adjustability, and we'll talk more about comfort in a moment, but there's a total of eight things you can tinker with on the Leap, nine if you include the headrest. That's generous, although chairs like the ErgoTune Supreme V3 (a fully mesh seat) offers 11 points of adjustment at a much lower cost.
All the adjustment dials and levers are where you would expect them, and you can just reach behind to adjust the lumbar support which, we should add, is far more substantial than what's available on the cheaper Personality Plus.
Like the Personality Plus, the Leap's seat can also glide back and forth, which is useful if people of varying heights is going to be using the same chair for work. You can even pivot the armrests or adjust their height – similar to other Steelcase chairs – with the addition of the armrests being able to glide forward too.
Design score: 4/5
Steelcase Leap review: comfort
Back is nicely shaped and contoured
Seat cushion nice and thick
Not hard to get it 'just right'
Being a cushion chair, the seat doesn't spread the fat mass we all carry on our rear end quite as evenly as a mesh chair, but the cushion here is a good compromise between too soft and too hard. There's good support and it forces your body into a good ergonomic position where slouching doesn't come naturally. The cushion is thick and you'll sink into it quite pleasantly.
Lumbar adjustment is done by reaching back and grabbing small tabs on either side of the back, then sliding them up and down to position the solid bit inside to support your back. It can go quite high, putting pressure on the middle of your back if necessary, and we found it most comfortable to have this as low as possible for lower-back support. The firmness of this lumbar support is also adjustable so, in combination, these two settings make it possible to achieve good back posture and comfort for people of all heights.
Upper back firmness adjustment is also here, and is a seperate setting to lumbar. We found that just a small amount of tension here worked well in tandem with a few degrees of recline while still keeping the shoulders upright.
The adjustment that pleased us the most is the gliding seat. Chairs with seats locked into one position don't favour taller users and they can make you feel like you're perched on the edge. Not so here! This reviewer is tall (188cm / 6ft 2 in) and with some adjustments to the position of the seat, we found the thighs nicely supported – Steelcase recommends there should be 5-7cm between the back of your knees and the seat edge.
The arm rests go quite low – low enough for this tall reviewer's elbows to rest comfortably without causing shoulder hunching. Having tested a few office chairs in our time, we've found several chairs don't allow tall users to get into a relaxed posture with the armrests dropped while also allowing the wrists to be parallel to desk/floor. With the Leap, once you've got the rests at a comfortable height, adjust the overall seat height to fine tune to your desk height and you're left with a comfortably useable ergonomic that lets you get on with being productive without any niggling bothers.
The armrest coverings are a finely-textured softish plastic, with enough squish to let your elbows dig in just a little a bit. They compress about 1cm when you lean in hard with your elbows. This reviewer would have preferred a touch more softness – the only complaint we had about this chair's comfort level. The lack of softness combined with the edges of the rests not being particularly rounded makes this a slight detraction from overall comfort.
Apart from that, it's an extremely comfortable chair clearly designed for function first. We felt no aches or discomfort after long days at the desk, and there's no mistaking the Leap's design intention to be comfortable and well postured.
Comfort score: 4/5
Should I buy the Steelcase Leap office chair?
Swipe to scroll horizontally
Steelcase Personality Plus

| Attribute | Notes | Rating |
| --- | --- | --- |
| Value | Quality comes at a steep price here, and although there are far more adjustments available on the Leap when compared to cheaper Steelcase chairs, there are more affordable ergonomic chairs to consider. | 3 / 5 |
| Design | The Leap is a safe, no-risk design that will blend well into any office environment. Ample colour choices also help, with adjustment dials and levers nicely placed for ease of use. | 4 / 5 |
| Comfort | As far as cushion chairs go the Leap is right up there with the very best and is able to give you a full day or night of seating with no fatigue or aches. | 4 / 5 |
Buy it if...
A good-quality chair with plenty of adjustments is important to you
You want an attractive chair that your household teenage gamer won't steal based on looks alone, and you want a dependable chair that welcomes you each morning and sends you home at night feeling good. If you just plain prefer cushion to mesh, this is at the top tier for this type.
You want simple yet classy styling
The looks are low risk and won't make any CEO feel like they're sitting in a garish gamer chair.
Don't buy it if...
You live in a hot climate
Cushioned chairs don't have the same amount of breathability as mesh chairs. So if you think you're going to be sweating through the day, you might want to consider a mesh alternative.
You want a flashy show-off chair
The Leap is subtle and simple, designed to blend into office environments. If your tastes tend towards radical styling this isn't your best choice.
You're on a budget
Despite its subtle design, the Leap is a very premium option, even if you opt for the base model. So if you're on a tight budget, you'll need to consider alternatives and there are plenty excellent ones available for under a grand.
Also consider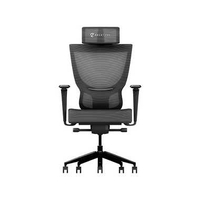 ErgoTune Supreme V3
This is the best office chair we've tried to date and it's all down to its ergonomic design and remarkable adjustability. This full mesh chair wasn't built for comfort, it was designed to make sure you sit properly and avoid all the aches and pains that accompany our sedentary lifestyle.
Read our in-depth ErgoTune Supreme V3 review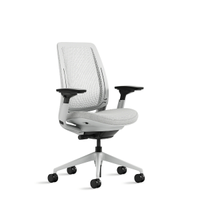 Steelcase Series 2 Task
The base model of the Series 2 Task chair is excellent, of very high quality and is really quite customisable. It comes with a cushioned seat and mesh backrest, so it's ideal for long sitting sessions and hot climes.
Read our in-depth Steelcase Series 2 Task review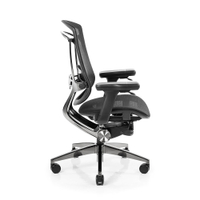 Secretlab NeueChair
Secretlab has made a name with its excellent gaming chairs. The NeueChair, however, looks like it was made for the office rather than a gaming setup, with a mesh back, thickly cushioned seat and a rather high degree of customisation to make sure it's real comfy. It's so good, we've got it listed quite high on our best office chairs list.
How we test
We pride ourselves on our independence and our rigorous review-testing process, offering up long-term attention to the products we review and making sure our reviews are updated and maintained - regardless of when a device was released, if you can still buy it, it's on our radar.
Ben Mansill is the Editor, APC at Future Publishing Australia. He is a Consumer technology editor and writer with close to three decades of experience at the senior level. Ben is a founding editor of groundbreaking and wildly successful media brands.