The Samsung Galaxy SmartTag Plus is a cheap way of tracking anything you want to attach it to. That's providing you have a Samsung Galaxy phone already and want to embrace the ecosystem.
Pros
+

Long battery life

+

Compact size

+

Can control smart home devices
Cons
-

Only works with Samsung phones

-

Not the lightest of tags

-

Less water resistance than some
Why you can trust TechRadar We spend hours testing every product or service we review, so you can be sure you're buying the best. Find out more about how we test.
Two-minute review
For those of you that have a habit of losing things then the Samsung Galaxy SmartTag Plus will be an instantly appealing gadget to you, provided you use a Samsung smartphone running AndroidOS 8 or later.
These item trackers can be attached to a keyring or tucked inside a bag or a wallet, and then once you've paired them with a compatible smartphone you'll be able to use your handset to hunt your tagged things down if they go missing. If they're lost around your home you can rely on the Ring feature that makes the Galaxy SmartTag Plus let out a continuous siren until you hit stop, and you can use the Search nearby tool to know how strong the signal from the tag is – like a high-tech version of Hot and Cold.
If your smartphone supports Android 11 or later, and comes with ultra-wideband (UWB) support (which includes devices like the Samsung Galaxy S21 Plus, Samsung Galaxy S21 Ultra, and the Samsung Galaxy S22 family of products) you'll be able to find the tag with much more high-tech tracking that includes onscreen directions to your lost item.
This feature is super helpful and only comes with the more premium Samsung Galaxy SmartTag Plus tracker which sells for $39.99/£39.99 (around AU$55); those of you content without UWB tracking can save some cash and opt for the cheaper (but less feature-full) Samsung Galaxy SmartTag for $29.99/£29.99 (roughly AU$40).
These trackers are also super easy to set up using the SmartThings app too, and thanks to this app you can unlock a few extra features that aren't offered by typical trackers. This includes the surprisingly convenient option to use a button on the tag to switch your Philips Hue lamps on and off.
Samsung's SmartTags have their faults though. Chiefly they're only compatible with Samsung devices – so if you have a different Android smartphone or one of the best iPhones you'll be out of luck. That said if you use Samsung and plan to stick with it then the Samsung Galaxy SmartTag Plus tracker could be the best option for you.
Samsung Galaxy SmartTag Plus: Price and availability
$39.99/$39.99 for the SmartTag Plus
$29.99/£29.99 for the SmartTag
Different color options available
The Samsung Galaxy SmartTag Plus is available for $39.99/£39.99 (around AU$55), with the cheaper Samsung Galaxy SmartTag available for $29.99/£29.99 (roughly AU$40). There's currently no availability in Australia.
The main difference between the two is that the SmartTag Plus has ultra-wideband connectivity to go with the Bluetooth connectivity, and it uses your phone's rear-facing camera to help guide you towards the SmartTag, providing you have one of the latest Samsung Galaxy phones, that is.
In the case of the Samsung Galaxy SmartTag, you can buy it for a little bit less than the recommended price if you shop around at third-party retailers, but don't expect discounts to be huge yet.
Different colors are available including black and denim blue for both models, and oatmeal for the standard SmartTag.
Samsung Galaxy SmartTag Plus: Design
Lightweight design
One button for interacting
Curved edges
The Samsung Galaxy SmartTag Plus measures 40.9 x 40.9 x 9.9mm. It has sleek rounded edges that feel good in your hand and means you won't have to worry about any sharp edges damaging anything.
Weighing about 14g, it's slightly heavier than some Tile units but we're quibbling here. You won't complain about any extra bulk at all. It feels fine and looks good on your keychain or even your dog's collar if that's where you need it to go.
One side of the Samsung Galaxy SmartTag Plus has a button that you tap to interact with it, while the other side is solely devoted to the Samsung logo which is suitably hidden away. The tracker uses a CR2032 battery which should last about a year before it needs replacing. A hole allows you to attach it to a key chain or whatever else you need to stick it on.
In terms of ruggedness, the Samsung Galaxy SmartTag Plus has an IP53 rating for water resistance, so it should be fine if it gets dripped on but it isn't fully waterproof.
Samsung Galaxy SmartTag Plus: Performance
Quick setup
Easy to use app
Smart home automation features
Setting up the Samsung Galaxy SmartTag Plus takes a matter of minutes. Downloading the SmartThings app if you haven't already is the main time consuming portion. Once that's done, you're a couple of taps away from the tag being paired up with your smartphone.
Options are varied yet clear. Tapping the View Map button shows you exactly where your SmartTag Plus is located along with a bevy of other useful options. A tap of Search Nearby brings up a strength meter which helps you figure out how close you are. It would almost feel like a game if not for the fact that you'll probably be quite keen to track down your misplaced item sooner rather than later.
A Ring button means the Samsung Galaxy SmartTag Plus can emit a noise to help you find it a bit faster. The noise is pretty loud too so you won't have trouble finding it, even if it's hidden under a pile of stuff.
The range is pretty good too, and it works both ways. If you've lost your phone but have your Samsung Galaxy SmartTag Plus, you can double squeeze the button to set off the alarm on your phone until you find it.
Although, in our tests, the Samsung Galaxy SmartTag Plus didn't quite meet the estimates from Samsung of 390 feet (120 meters). About 250-300 feet (75-90 meters) works admirably though, which should be fine for most users.
However, the Samsung Galaxy SmartTag Plus isn't just limited to tracking. It also helps with smart home automation. It's possible to use the button to control a lot of your smart home, such as your lighting system or even your thermostat.
You can assign different actions for if the button is being pressed or held, so there's a bit of flexibility here, and we found it particularly useful when walking into a dark room.
Samsung Galaxy SmartTag Plus: Battery life
Samsung claims one year of battery life
Uses CR2032 battery
Easily replaceable
Samsung promises that the Samsung Galaxy SmartTag Plus's CR2032 battery will last users about a year before it needs replacing. Obviously, we haven't got a year to test that theory out but it sounds reasonable.
In the meantime, users can check the battery life via the SmartThings app, which has a battery life notification that uses an admittedly vague 'Sufficient' banner to tell you it's just fine.
When it does come to replacing the battery, you just need to pry the case off with a screwdriver or coin then pop the battery out. It only takes a couple of minutes and it's far from complicated. That should be sufficient for everyone.
Should I buy the Samsung Galaxy SmartTag Plus?
Buy it if…
You have a Samsung Galaxy phone
If you want to easily find your misplaced items and you have a Samsung Galaxy phone, it makes sense to go with the Samsung Galaxy SmartTag Plus. It's so simple to use and ties into your existing setup very well.
You want to control your smart home more easily
It's convenient being able to set up the Samsung Galaxy SmartTag Plus as a way to control your lights and more. It's a feature we ended up using more frequently than the item finding function. You won't want to go back once you've set things up.
You want a cheap solution
Tile offers great features via its Tile Premium service but if you want a one-off fee then the Samsung Galaxy SmartTag Plus covers everything you need. It's simple like that, much like the rest of the device.
Don't buy it if…
You don't have a Samsung Galaxy phone
No Samsung Galaxy? The Samsung Galaxy SmartTag Plus is useless. Buy a Tile or Apple AirTag (if you have an iPhone) instead and you'll reap similar benefits that actually work with your phone.
You need ruggedness
The Samsung Galaxy SmartTag Plus is fairly durable but it has a lower IP rating than the Tile Pro or Apple AirTag. If you're liable to be dealing with a lot of water or dust, one of these might be a better option.
You don't lose anything
If you never lose a thing then the Samsung Galaxy SmartTag Plus is a tempting gadget you'll probably never use. Be proud that you never misplace your keys and don't be tempted by the cool tag. Unless, of course, you want some extra smart home automation features. That's where things get more appealing.
Also consider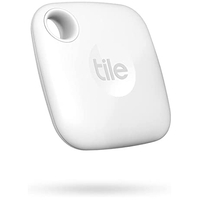 Tile Mate (2022)
If you don't have a compatible Samsung smartphone, or if you don't want to be locked into the Samsung ecosystem then the Tile Mate (and its Tile Slim and Tile Sticker variants) is a great pick for you. Tile's trackers offer many of the same benefits as the Samsung Galaxy SmartTag are about the same price.
Check out our Tile Mate (2022) review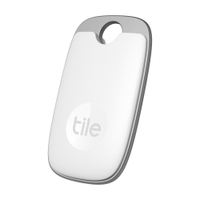 Tile Pro (2022)
The more pricey Tile Pro is more of a Samsung Galaxy SmartTag Plus competitor. While the 2022 model lacks ultra-wideband tracking and a few other SmartTag features it is platform agnostic (meaning it works with many Android and iOS smartphones).
Check out our Tile Pro (2022) review
First reviewed: August 2021
Jennifer is a roving tech freelancer with over 10 years experience. Having graduated from Swansea University with a degree in Media and Communication Studies, and later with a diploma from Staffordshire University with a post graduate diploma in Computer Games Design, she's written for a huge number of publications, including T3, FitandWell, Top Ten Reviews, Eurogamer, NME and many more.
Her main areas of interest are all things B2B, smart technology, wearables, speakers, headphones, and anything gaming related, and you'll find her writing everything from product reviews to buying guides. In her spare time, she enjoys the cinema, walking, and attempting to train her pet guinea pigs. She is yet to succeed.