Ruark MR1 MkII: Two-minute review
If we're cutting to the chase here (and why not?) then we'll just go ahead and say the Ruark MR1 MkII is basically all gain, no pain. It's small enough to sit happily on any remotely tidy desk, it's built and finished to a standard that belies its fairly modest asking price (so pride of ownership is more-or-less guaranteed) and it sounds very accomplished indeed.
Choose between walnut veneer or 'soft' grey lacquer. Choose between the integrated control dial or the tidy little remote control. Choose Bluetooth 5.0, digital optical (with 24bit/192kHz compatibility) or analogue inputs. Attach a subwoofer if you need some grunt. And then simply enjoy the robust, detailed and entertaining sound the Ruark serves up via its high-quality Class A/B amplification.
Naturally enough, the Ruark MR1 MkII does its best work when given some content of a decent standard to work with – but it doesn't give up the ghost if asked to play some free Spotify stuff from the headphone socket of a standard laptop. In every circumstance, it's an enjoyable listen that that beats out the best stereo speakers at this small size and price.
Ruark MR1 MkII review: Price & release date
Originally released in 2017
Officially priced at $379 / £349 / AU$749
The Ruark MR1 MkII is on sale now, and in the United Kingdom it sells for around £349. In the United States it's yours for $379 or thereabouts, while in Australia you'll need to find AU$749 (or maybe a little less if you shop around.
You're not short of choice when it comes to powered (or active) stereo speakers with lesser or greater streaming capability. But when it comes to combining affordability and small dimensions that are great for a desktop or small shelf, the MR1 MkII isn't what you'd call overrun with competition.
Ruark MR1 MkII review: Features
Bluetooth 5.0 with aptX for high-quality wireless audio
Class A/B amplification
Crying out for a USB input
There's a definite pecking order here. Both speakers feature a 20mm silk dome tweeter above a 75mm polypropylene mid/bass driver, both have a bass reflex port at the bottom of their cabinet – but after that it's the right-hand speaker that is in charge.
This is the speaker where the MR1 MkII keeps its amplification. There's a total of 20 watts (which is nothing special), and it's of the Class A/B type (which most certainly is) – virtually every alternative to the Ruark uses Class D amplification, and the use of Class A/B here let's you know Ruark is deadly serious where sound quality is concerned.
All physical and wireless connectivity is handled by the right-hand speaker, too. It uses Bluetooth 5.0 for wireless streaming, and there's compatibility with SBC, AAC and aptX codecs. Physical inputs consist of a 3.5mm analogue socket and a digital optical socket – not only does the digital input mean the MR1 MkII can work as speakers for your TV (as long as it has an optical output, of course), but it's also equipped to deal with digital audio files up to 24bit/192kHz resolution. So the Ruark is a hi-res system… but not over USB, sadly, because there's the only major connection we really miss here, though it would be nice if it supported Wi-Fi and Apple AirPlay 2 and Chromecast, of course.
There's a pre-out for a subwoofer on the rear of the cabinet, a power connection, and an output for the braided cable that's in the packaging to join the right speaker to its left-hand partner. If you don't make that connection, though, the Ruark will automatically switch to single-speaker mono operation. And if you fancy taking your single MR1 MkII speaker out and about with you, there's an optional 'backpack' battery that attaches to the rear of the speaker cabinet and should be good for 12 hours or so of playback as long as you're not going for it in terms of volume – but that's a separate purchase.
The circular turn-and-click dial that's been a feature of numerous Ruark products makes an appearance here, and it's a welcome appearance, because it's a useful and actually quite satisfying way of controlling the MR1 MkII. A press powers up the system, and Bluetooth pairing begins immediately – further presses allow you to scroll through your input options, a long press powers the system down again. And, of course, turning the dial adjusts volume.
If you're using Bluetooth to stream music, of course, then control is available via your smartphone and/or your music streaming service's control app. Nevertheless, Ruark provides a small, slim remote control of the clicky type that covers every eventuality.
The right-hand speaker needs to be reasonably close to power, of course, and the speakers can't be further apart than the 2m length of the cable that connects them. That will be long enough for the vast majority of people, but it will be a limitation for some, and so is one of the few potential downsides here.
Ruark MR1 MkII review: Sound quality
Open and well-defined soundstage
Impressive detail retrieval
Surprising punch and muscularity
Don't let the Ruark's size fool you – the MR1 MkII is all business. It sounds fuller, more open and more convincing than seems remotely likely.
No matter if you're listening to Animal Collective's Merriweather Post Pavilion streamed via aptX, or a Netflix stream of The Power of the Dog using the optical input via a TV, or sending The Smile's A Light for Attracting Attention into the analogue socket using the output from a MacBook Pro, the MR1 MkII (broadly speaking) maintains its sonic characteristics.
Naturally, it prefers a digital signal on which it can bring its Cirrus 24-bit DAC to bear rather than the rather humdrum output of a laptop's headphone socket – but it doesn't get picky. It simply rolls its sleeves up and makes the best of things.
And given a fighting chance with some digital audio over Bluetooth or optical, 'the best of things' turns out to be very listenable indeed. The Ruark creates an open, quite spacious soundstage, with plenty of detail handed over and a very agreeable sense of clarity to its overall presentation. 'Musical' might seem a redundant term when describing a pair of speakers when they're playing music, but there are some alternatives that don't sound anything like as musical as the MR1 MkII – it's a revealing, confident and entertaining listen.
Low frequencies are gratifyingly deep, punchy without becoming overblown or musclebound, and properly controlled, so the Ruark has no trouble motoring through recordings and expressing rhythms with confidence. There's a degree of crunch and shine to the opposite end of the frequency range, but the sound never threatens to get unruly or in any way abrasive – overall tonality, in fact, it's just slightly on the 'warm' side of neutral. And in a system of this type, that's almost certainly a positive almost all the time.
There's the same sort of solidity, the same level of detail retrieval and the same sense of completeness to the way the Ruark hands over the midrange, too. No matter if it's a vocalist in a band or an actor in a movie, the MR1 MkII is distinct, positive and eloquent when it comes to the human voice.
Despite the unspectacular power rating, the Ruark is capable of decent outright levels of volume and has a fair degree of dynamic potency when it comes to shifting from 'quiet' to 'loud'. And it is similarly adept when it comes to the more subtle, but no less significant, dynamic variations apparent in voices and instruments too.
Ruark MR1 MkII review: Design
185 x 130 x 145mm (HxWxD) per speaker
Walnut veneer or 'soft' grey lacquer
Impressively built and finished
You either enjoy a retro look or you don't – but in any event, Ruark has contrived to keep you happy. The MR1 MkII is of desk-friendly proportions at a mere 185 x 130 x 145mm (7.3 x 5.1 x 5.7 inches) per speaker, and its elegantly curved, beautifully finished cabinet are available in either a walnut veneer or 'soft' grey lacquer.
Regardless of the finish you prefer, the speakers feature gray acoustic cloth grilles. The look is understatedly classy and actually quite sophisticated – certainly I felt compelled to tidy my desk up a bit during the course of this test to house them.
Build quality is well up to standard, too – the Ruark speakers feel both as good as they look and ready to last the long haul. It's not always an easy trick to pull off when a product is necessarily small, but the MR1 MkII looks and feels the part.
Ruark MR1 MkII review: Value
Best-in-class for the size and price
No USB input is the only major flaw
There are bigger-sounding desktop audio systems – but, without exception, they're bigger or more expensive or, most usually, both. So the Ruark MR1 MkII represents great value for those who take desktop or bookshelf listening serious, but can't devote much space to it.
It looks and feels more expensive than it is, and it sounds that way too – as long as you don't just hook it to the headphone socket of your laptop, anyway. As it stands, the Mr1 MkII is without meaningful competition when you keep the price/size/sound quality ratio uppermost in your mind.
Should I buy the Ruark MR1 MkII?
Swipe to scroll horizontally
| Section | Notes | Score |
| --- | --- | --- |
| Features | Great audio tech inside, and good connections – but we wish it had USB or W-Fi. | 4.5/5 |
| Sound quality | Built for music lovers – natural, rich, deep and clear. It's even got good volume levels. | 5/5 |
| Design | Small and perfectly formed. Very smart looking, and build with quality. | 5/5 |
| Value | As good as it gets when you look at the price and size – a USB input would make it perfect | 4.5/5 |
Buy it if...
You enjoy a scale model
The MR1 MkII looks like a couple of miniaturized loudspeakers – because that's what it is.
You take audio seriously
The specification of the Ruark lets you know the company is serious too.
You want to listen to multiple sources
The suite of input options here is useful, even if it's lacking a few that we'd like in an ideal word.
Don't buy it if...
You absolutely require a USB input
The Ruark doesn't have one (and it really should).
It's always a party in your workplace
'Quite loud' is the best the MR1 MkII can manage.
Ruark MR1 MkII review: Also consider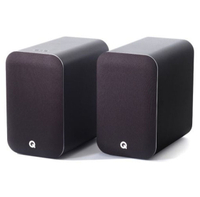 Q Acoustics M20 HD
This stereo system is very similar to the Ruark, and offers competitive performance for not much more money than Ruark wants for the MR1 MkII, but the M20 system is significantly larger, so won't suit the same kind of spaces that the Ruark can. Here's our full Q Acoustics M20 HD review.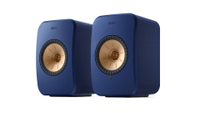 KEF LSX
This beautiful wireless stereo speaker system is almost as compact and desk-friendly as the Ruark, but costs three times as much. It does sound wonderful, though… Check out our full KEF LSX review.
First reviewed: April 2023