Verdict
The Moto G6 Play is a great deal. What else did you expect from the Moto G series?
Its slightly more expensive brother the Moto G6 is the biggest issue. For an extra $50/£50 you get a glass back, sharper screen and better, more versatile camera. It may well be worth the extra.
Read more: Moto E5 Plus - recension
That said, the Moto G6 Play is still one of the best phones for buyers on a budget. Like the Moto G phones of old, it focuses on the basics to get you a day-to-day experience with minimal obvious compromises.
Who's this for?
This phone is for people who want something affordable, reliable and low-maintenance. It's a quality phone at the right price.
Should you buy it?
If your budget is tight, the Moto G6 Play is a great buy. There's nothing wrong with this phone, it's just not quite as snazzy as the more expensive members of the family.
There are other cheap options, such as the following three phones:
Moto G6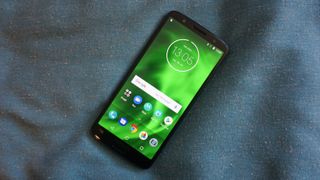 Is the Moto G6 worth the upgrade? You get a nicer glass back, a faster chipset, a better camera and a higher-resolution screen. There are improvements all-round, but you'll have to judge whether that's worth the extra $50/£50.
More money gets you less in upgrades further up the phone scale, but we also need to factor-in that it's a 35% price hike. It's a great value upgrade in our book, but we'll have to leave this one to you.
Read our full Moto G6 review
Honor 7A
For a little less money, the Honor 7A is the most important alternative. It has the same CPU, and a secondary rear camera for basic background blur effects.
However, the Moto G6 Play has fast charging, a better-looking screen and simpler software. It also looks a little better. Both phones are made of plastic, but the light-reacting finish of the Moto G6 Play adds an extra touch of class. General performance of the Play is much better too. It's the better choice.
Read our hands on Honor 7A review
Honor 9 Lite
If you want a phone that does not have a plastic back but can't quite afford the Moto G6 upgrade, the Honor 9 Lite is a good middle-ground. Its rear is glass, the sides metal, and the screen is sharper than the Moto G6 Play's.
You also get a secondary back camera for blur effects. However, some of you will prefer the simpler software of the Moto and the battery is much larger in the G6 Play. The Honor 9 Lite also lacks fast charging.
Read our full Honor 9 Lite review
First reviewed: April 2018