The Kemove Angel K68 mechanical keyboard is a satisfying, well-designed keyboard for everyday use with well-balanced RGB lighting and versatility. It's a good choice for wired and wireless use, however, the tight layout of the keycaps may be off-putting for some, and can take a while to get used to.
Pros
+

Very pretty design

+

Easy to set up

+

Satisfying key clicks
Cons
-

Keycaps are too close together

-

A compact design might not suit larger hands

-

The RGB is temperamental
Why you can trust TechRadar We spend hours testing every product or service we review, so you can be sure you're buying the best. Find out more about how we test.
One-minute review
There is no better way to up productivity than the satisfying little click-clack of your keyboard going off as you zoom through ideas. For example, this review is being typed up on the Kemove K68 keyboard and the little not-too-loud, not-too-soft taps are super motivating. The keyboard has been through a lot: floor changes in the office, being stuffed into my bag with no second thought, and several various impractical nail lengths on my typing fingertips, but it has triumphed through those adversities (and more) to become my new favorite keyboard.
This is the ideal keyboard for writers looking for versatility, as well as those of us that enjoy an aesthetically-pleasing desk setup. The wireless mechanical keyboard comes with low-profile keycaps, hot-swappable keys, and RGB lighting. The K68 is a multitasking machine and has solidified its place on my desk with how easy it is to swap between devices, so I can hop between my PC, my laptop, and my phone with no fuss.

We did find typing on it to be a bit of a learning curve, particularly if you're used to more spacious, larger keyboards. However, it's still a capable and fun-to-use keyboard, and a relatively cheap one at that. It may not be as inexpensive as the Logitech K380, but starting at $89.99 (about £75 or AU$130) (depending on the configuration you select) it's not a bad price for such a versatile device.
Price and Availability
How much does it cost? $89.99
Where is it available? Available now
Where can you get it? Available worldwide
The Kemove K8 wireless keyboard sets you back between $89 to $119 depending on the switches you opt for. The model with Cherry RGB keys is the most expensive configuration you can pick at $119, but our model has the Brown Gateron Mechanical switches which are on the cheaper side. This places the keyboard in the mid-range tier and might be a bit more expensive than most people are willing to pay for a keyboard. So, if you are on a tight budget, this may not be the keyboard for you.
That being said Brown Gateron switches work perfectly well, and unless you're after Cherry switches specifically you're going to be fine with the other, cheaper options. You still get a nice-to-look-at, customizable, and most importantly, clicky keyboard with enough portability to make the keyboard feel almost worth it. Almost.

There is no denying the K68 is rather expensive for a keyboard and you can get a lot of mini gaming keyboards much cheaper.
Design
Compact and portable
Aesthetically pleasing with a white exterior and RGB combo
Very comfortable to type on
The cool white exterior combined with the RGB keys gives the K68 a clean look that separates it from the usual 'gamer aesthetic' a lot of keyboards tend to fall into. It slots perfectly into a work set up and the different RGB settings you can assign via software allows you to customize the way your keyboard lights up.
With the size of the keycaps, the K68 is unforgiving for those with larger hands as a 65% sized keyboard. This basically means the K68 is more compact than traditional keyboards, and comes without a number pad but still has arrow keys. So, if you don't have small hands or a very delicate touch you might find yourself making a lot of typos.
However, once you're used to the size, it makes typing a breeze and has yet to lose the brilliance that many white accessories suffer after a bit of use. It is quite a change getting used to typing on such a compact bit of kit, but pushing through yields a very smooth, colorful typing experience. The keyboard is hot-swappable so you can upgrade and mix switches to your preference, and the double-shot keycaps give you a soft and satisfying tactile experience.
The K68's size means it very easily slips into any backpack (or in our case a tote bag) and can be taken around without fear of damage. This keyboard survived some serious (not always intentional) endurance tests, swinging it around in a bag, dropping it several times, and maybe a cheeky spill here and there. After all that, the durability of this small-but-mighty keyboard gives us confidence that it will survive the next fall. Or spill.
Performance
Plenty of connectivity options
No too-loud key hammering
Long battery life
The Kemove Angel K68 keyboard is great for people that want an aesthetic addition to their setup at work or at home. It's a nifty little thing that comes with loads of different RGB settings when you download the right driver and accompanying software, and would suit most people, no matter what your tastes are. If you're after a clicky but not obnoxiously loud keyboard that has pretty lights and works well, this is the keyboard for you. It has lived on my desk for a while and that is where it'll stay because I've become so attached to it.
You have the choice of wired or wireless usage of the keyboard and can swap between them with the switches on the left side of the keyboard. There's also a switch to optimize the keyboard for Windows or Mac which is super handy if you're using it between devices. You can multitask across three devices whether that's a tablet, laptop or phone.

In terms of battery life, Kemove promises 12 days on a single charge and six months without the backlight on, which is rather impressive. While we can't quite comment on the six-month claim just yet, the K68 does live up to its promise of a long lifespan.
With the driver and software installed, you unlock a whole new range of personalization, key mapping, and RGB configuration that really makes this little keyboard shine. You can create custom key RGB templates to suit your particular mood, change key combination settings and even customize the light strip that goes across the keyboard.
The drivers unlock a lot of cool stuff with the K68, but the software does leave you strung up on your own when you first run it. We found the software would not open after its initial install and we had to uninstall and reinstall it again to get it open a second time, even then it's a lot of effort to keep putting in just to change the vibe of your keyboard. If you're not used to using this kind of software the Keymove application is a bit daunting and doesn't really offer much guidance on how to get everything going.
Should I buy the Kemove Angel K68 keyboard
Buy it if...
You're looking for something cute and practical
The Kemove Angel K68 is perfect if you're after something that will spice up your desk without going overboard. Its simple but pretty design makes it the perfect addition to any setup. Especially if you're tired of the usual black keyboards with RGB.
Personality and customization are important to you
If you want to have complete control of the way your keyboard looks, this might be the one for you. The many options the driver software offers are perfect if you get bored pretty quick with the usual lights and patterns.
You like the click-clack, but not too much
There's nothing more satisfying than hearing your mind and fingers go off at lightspeed, but really loud keyboards can be distracting and even a little annoying. The K68 is just loud enough to be satisfying without being obnoxious, perfect for the office.
Don't buy it if...
You have larger hands or wear your nails longer than most
Typing on such a compact keyboard with long nails is prime territory for spelling mistakes and sore nailbeds. And if you happen to have big hands, you might find yourself pressing keys you don't want to.
You want extra function buttons
As a 65% keyboard, the K68 lacks function buttons like media controls, and if you are a gamer you may need a keyboard with more features.
How we test
We pride ourselves on our independence and our rigorous review-testing process, offering up long-term attention to the products we review and making sure our reviews are updated and maintained - regardless of when a device was released, if you can still buy it, it's on our radar.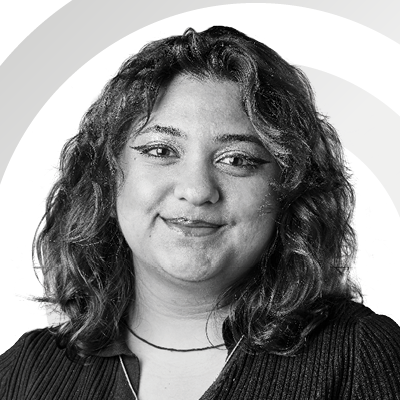 Muskaan is TechRadar's UK-based Computing writer. She has always been a passionate writer and has had her creative work published in several literary journals and magazines. Her debut into the writing world was a poem published in The Times of Zambia, on the subject of sunflowers and the insignificance of human existence in comparison.

Growing up in Zambia, Muskaan was fascinated with technology, especially computers, and she's joined TechRadar to write about the latest GPUs, laptops and recently anything AI related. If you've got questions, moral concerns or just an interest in anything ChatGPT or general AI, you're in the right place.

Muskaan also somehow managed to install a game on her work MacBook's Touch Bar, without the IT department finding out (yet).