Gigabyte G5: Two-minute review
Gigabyte has a solid track record in putting out pretty outstanding gaming laptops that deliver good performance for the asking price. They're durable and simplistically designed, and despite being a little loud or a little heavy, they're usually worth top marks - like the Gigabyte Aorus 17, which racked up a respectable 4 stars. Even in their non-gaming laptops they usually pack a powerful punch, like the 2021 Aero 17 model, which hit home with 5 stars and an abundance of praise for being the creative professional's dream. So, naturally, we had very high expectations for the Gigabyte G5.
This expectation was, predictably, met and at times surpassed by the Gigabyte G5 and we couldn't reasonably ask for more from a gaming laptop with a sensible price tag like this one. After spending some time with this laptop we can definitely see it hanging with the best gaming laptops and holding its own.
The model we tested had an Intel Core i5-10500H CPU and an Nvidia GeForce RTX 3060 graphics card which places the laptop as a midrange entry in relation to other gaming laptops. There are many different (some more powerful) versions of the G5, some with newer RTX 4000-series GPUs from Nvidia, but to be quite honest even if you're running a bunch of AAA titles at max settings you're unlikely to need much more internal power, since this one performed really well in our benchmarks and the G5 only packs a 1080p display - so there's no need to shoot for higher resolutions.
The laptop comes with a stunning 1080p 15.6-inch display with anti-glare technology and a thin bezel. Colors come to life and maintain a rather striking brilliance on the screen that never dulls. You can see this very clearly with games like Cyberpunk 2077 or even when you're watching films or Youtube videos.
I popped on an episode of Bojack (Horseman, obviously) and it really felt like I was watching the show on a cute and compact TV rather than a little laptop screen. 15.6 inches doesn't sound like a lot on paper but it arguably looks a lot bigger than it is, so don't be too worried if screen real estate is a big concern for you.
Aside from the sound benchmark scores and pretty face, the Gigabyte G5 is just a really nice bit of hardware. It has some weight to it, but not as much as you would expect for a gaming laptop; I threw it in my backpack on multiple occasions and it didn't drag me down or make itself consistently known, never screaming 'I'm here! And heavy! And fragile! Good luck to your shoulders!'
Gigabyte G5 review: Price and availability
Starts at $1,099.99 / £1,293.49 / AU$2,349
UK version tested costs £1,800
Massive variety of configurations
The Gigabyte G5 RTX 3060 configuration starts at $899.99 in the US which is pretty decent for the specifications you're getting and the package those specs come in. The RTX 4060 version costs $1,099, but in the US you can only get this version with 8GB of RAM, and not the 16GB of RAM you can get in the UK with an RTX 4060. As standard, we'd advise that any gaming laptop should have 16GB of RAM as the baseline.
As I said, I don't think there are many cases for upgrading to the more expensive configuration unless you are looking to fully 'future-proof' your investment. The RTX 3060 graphics card is perfectly sufficient to be able to play just about any game at 1080p right now, but if you're worried about things getting ahead of you, it's worth considering moving up if you have the cash to spare. If not, our version is perfectly fine.
In the UK our review model costs £899.99 (AU$1,499) which is basically dead on with the US pricing, and is still a pretty decent asking price for what you get. The models are the same across the US and UK barring that one caveat we mentioned above, though again, we can't really justify dropping that extra cash when the cheaper model is still really impressive.
The Gigabyte G5 has a good chance of gracing our best cheap laptops list for sure, as it offers strong performance and a lot of dazzling features for the asking price.
Gigabyte G5 review: Specs
The Gigabyte G5 comes in two variations. The model we tested comes with the RTX 3060 graphics card, and the other configuration comes with RTX 4060.
In terms of CPUs, it can come with ever an Intel Core i5 or i7 processor - ours uses the i5 version. The RAM and SSD capacity varies between the two models. You can check out the specs of our version below:
Swipe to scroll horizontally
The specs of our Gigabyte G5 review unit

| | PRODUCTNAME |
| --- | --- |
| Price: | $899 / £899 / AU$1,449 |
| CPU: | Intel Core i5-10500H |
| Graphics: | Nvidia GeForce RTX 3060 |
| RAM: | 16GB |
| Screen: | 15.6-Inch 1920 x 1080p |
| Storage: | 512 GB SSD |
| Ports: | USB 3.2 x 2, USB 2.0 x HDMI 2.0 x 1 - DisplayPort 1.4 x 1, Mini DisplayPort 1.2 x 1 |
| Wireless: | Intel® WiFi 6 AX200, 2x2 |
| Camera: | HD camera |
| Weight: | 2.2 kg |
| Dimensions: | 27.9 X 361 X 258 mm (H x W x D) |
Gigabyte G5 review: Design
Sturdy design
Ports on the rear edge of laptop
Pretty lightweight for gaming laptop
The design of the Gigabyte G5 is pretty bog-standard in terms of aesthetics; nothing specific or unique to write home about, but I don't actually mind that. It's still a very handsome laptop and the classic chassis design is a breath of fresh air from other gaming laptops that try a little too hard to scream 'gaming' as loud as possible.
It isn't riddled with flashy RGB that demands attention and maintains a very classy appearance. There's slightly blue-tinted LED backlighting for the keyboard and if you're like me (read: not a fan of excessive RGB), that is enough.
The G5 is super portable, so much so that I forgot about the laptop being in my backpack at times - not just because of the lightness, but because the build is very durable. I've accidentally dropped my bag with the G5 inside on the office floor and been knocked around on public transport, but I never felt worried because this thing is very robust.
Despite its sturdy build quality, it's definitely one of the more portable 15-inch gaming laptops I've reviewed, so if you're after a machine you can take with you on adventures, this is it. Like most of the best laptops, the physical appearance of the laptop is sleek, and slightly futuristic and doesn't go too crazy with RGB lighting that offends the eyes.
Some of the USB ports and the headphone jack are on the side of the laptop with more of the physical ports along the back edge. However you feel about port positioning, we must admit that rear ports can be super convenient if you're planning to plonk the laptop down on your desk and never move it, letting you keep your workspace free of cable clutter. Though with how easy this is to carry around it may be a little inconvenient if you want to plug in a USB mouse or a flash drive.
You get an adequate amount of ports and a somewhat unusual keyboard layout. Personally, as someone with smaller hands, I found the keys to be a little too spaced out for me when typing on the keyboard, but it felt fine when playing games with it. I asked someone with larger hands to give it a go and they felt the keyboard was well spaced out and rather comfortable, so be warned smaller hand gang! Do some finger stretches before you start writing that novel on the Gigabyte G5.
Gigabyte G5 review: Performance
1080p is ideal for most games
Might be weaker on CPU-heavy tasks
Relatively quiet when gaming
Benchmarks
Here's how the Gigabye G5 performed in our suite of benchmark tests:
3DMark Night Raid: 38,189; Fire Strike: 17,723; Time Spy: 7,572
Cinebench R20 multi-core: 2,660
GeekBench 5: 1,205 (single-core); 6,345 (multi-core)
PCMark 10 (Modern Office): 5,694
PCMark 10 (Battery life test): 3 hours and 51 minutes
TechRadar Battery Life Test: 4 hours and 1 minute
Total War: Warhammer III (1080p, Ultra): 63 fps; (1080p, Low): 173 fps
Cyberpunk 2077 (1080p, Ultra): 68 fps; (1080p, Low): 91fps
Dirt 5 (1080p, Ultra): 69fps; (1080p, Low): 137 fps
All things considered, the performance of the Gigabyte G5 is pretty hard to beat at this price point. The RTX 3060 is a decent affordable graphics card and while it may not delight you with 4K gaming, it'll deliver excellent performance at 1080p with the best PC games. You can play the most demanding games without dropping to abysmal framerates.
The FHD display does a great job, and you'll definitely appreciate its stunning clarity when you're gaming, watching a film, or scrolling through photos.
The Intel Core i5 processor at the heart of the gaming laptop is pretty standard - as you may have noticed, it's an older 10th-gen Intel chip that doesn't have the fancy split core architecture of those newer 12th and 13th generation processors, but it's not so old that it'll cause any noticeable performance bottlenecking - you can do most basic CPU-bound tasks without causing the laptop to stutter. However, CPU-intensive workloads like real-time strategy games may struggle to run on the Gigabyte G5.
From the decidedly average scores in benchmarks like Cinebench R20 and GeekBench 5, you probably won't be able to run a lot of heavy workloads like video editing or 3D animation but it should be able to handle some lower-level creative work. You can dabble in a little music creation or some very basic home video editing, but that might be where the bar lies.
The fan design within the Gigabyte G5 is emphasized quite a bit by Gigabyte and rightly so: the laptop doesn't have a nuclear meltdown when playing games for extended periods of time, and when the fans do kick in they're relatively quiet for a gaming laptop. The laptop does get a little warm but never uncomfortably hot to the touch. The cooling technology comprises two gigantic fans and four heat pipes all vented out through the three exhaust slots.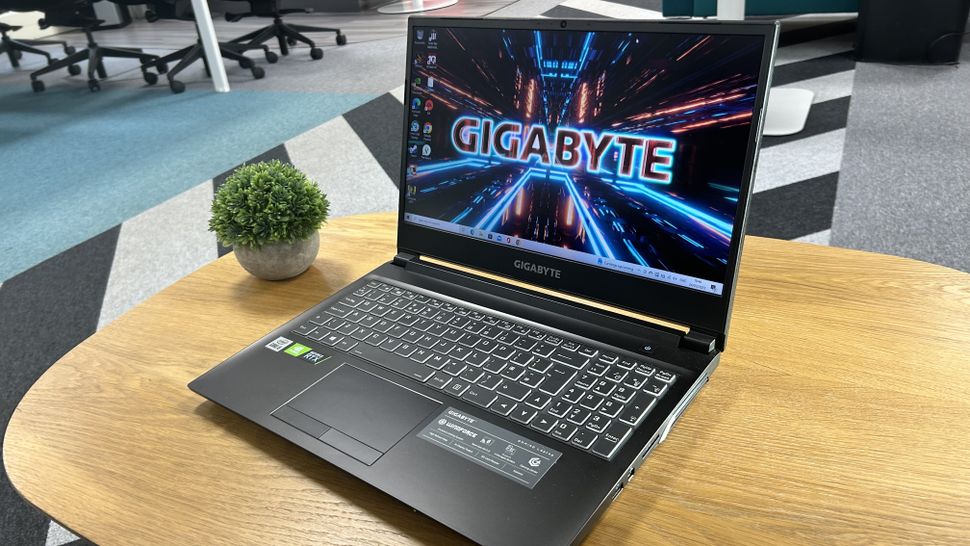 Gigabyte G5 review: Battery life
Lasts about 4 hours
A little disappointing for a gaming session
Pretty quick charge
If you're planning to take the laptop around with you and game on the go, the four hours the Gigabyte G5 lasted in our battery life benchmark doesn't really feel like a lot. The power brick is not that heavy, but it's inconvenient to carry both the laptop and the brick in a backpack.

So the battery life is not great, but fairly middle-of-the-road for a gaming laptop. When playing triple-A games on the G5, you're not likely to get more than two hours of use without plugging it in - less if you're got a bunch of wired peripherals connected. Keep in mind that if you don't plan to keep the laptop on your desk and move around with it, you'll be searching for wall sockets a lot.
Should you buy the Gigabyte G5?
Swipe to scroll horizontally
Gigabyte G5

| Attributes | Notes | Rating |
| --- | --- | --- |
| Price | For a gaming laptop of this capability, the Gigabyte G5 is fairly priced and has a lot to offer. | 4/5 |
| Design | The vintage, simple design of the laptop chassis and incredible portability earns the laptop a decent score in this area. | 4/5 |
| Performance | While gaming is easy and runs pretty smooth, more CPU-heavy tasks take a dive on the G5. | 4/5 |
| Battery life | As is common for gaming laptops, the Gigabyte G5 has an underwhelming battery life, which disappoints since it's otherwise so portable. | 3/5 |
| Total Average | A solid effort from Gigabyte, the G5 offers good 1080p gaming performance at a sub-£1000 price point. | 3.75/5 |
Buy it if...
You want to game on the go
As we've said, the Gigabyte G5 is incredibly portable. You can whack this bad boy into any backpack and roam (and shoulder strength) for more.
You plan to use the laptop as a mini TV
With the clarity and vividness of the display any game gets a breath of new life on the Gigabyte G5, it would be a shame to relegate it to just gaming. Any movie or TV show streaming from the laptop would defiantly shine on this device.
Don't buy it if...
You're planning on doing anything creative
If you're planning on doing some serious video editing, 3D modeling, or animation work, the older CPU means this may not be the laptop for you.
You want an office laptop
There are loads of laptops that double as gaming laptops, and if you're doing very basic admin you might get away with it on the G5 - but ultimately, this is a gaming laptop and should really be kept that way.
Gigabyte G5 review: Also consider
If our Gigabyte G5 review has you considering other options, here are two more laptops to consider...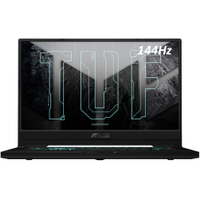 Asus TUF Dash F15
A favorite of ours, the TUF Dash F15 provides good performance in a well-built chassis for around the same price as the Gigabyte G5. If you're looking for a gaming laptop with a bit more style, this could be a great choice - and it's a bit thinner than Gigabyte's offering, too.
Check out our Asus TUF Dash F15 review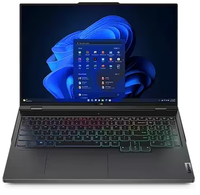 Lenovo Legion Pro 7i
If you want to go next-gen and get yourself a gaming laptop with an RTX 4000 GPU, this is one of the best-value options right now. It does have some drawbacks (such as being a lot more expensive), but it's a powerhouse machine that will blow Gigabyte's offerings out of the water.
Check out our Lenovo Legion Pro 7i review
How I tested the Gigabyte G5
Played games in the evening
Did some light work during the day
Took with me between work and home
As with most of my gaming laptop reviews, I tried to swap the Gigabyte G5 into my daily life and place myself into the vibe of a potential user. I used it for both work and play and really got to know the product.

I did regular tasks like writing emails, basic web surfing, and some long-form writing. In the evening I played the Sims 4 on it and a little bit of Cyberpunk 2077 too.

Most of the general-use testing I did was with the laptop running on battery power, leaving it to charge to full power before using it till it died to get a better sense of what it would be like relying on the battery when carrying it around. Naturally, our benchmarking tests were conducted with the laptop plugged in for maximum performance.
First reviewed March 2023