The EarFun Air might not look like much but they have good sound quality while keeping battery life high and offering some useful bonuses like wireless charging.
Pros
+

Solid sound quality

+

Excellent battery life

+

Wireless charging
Cons
-

Awkward touch controls

-

Bulky case
Why you can trust TechRadar We spend hours testing every product or service we review, so you can be sure you're buying the best. Find out more about how we test.
EarFun Air: Two minute review
Earfun has done a good job of developing the best budget earbuds in recent times, even if it continues to be relatively unknown in the mainstream thanks to not having an extensive range of products.
With the EarFun Air, the company has proven its growing reputation once again. While their controls could be a little more user-friendly and the charging case is pretty ugly, the EarFun Air are great where it counts.
These wireless earbuds do a pretty good job of offering many of the features you'd see in pricier entries in our list of the best true wireless earbuds.
Looking a touch like Apple AirPods but a bit heavier and bulkier, they take a little more effort to find the right fit for your ears (and you'll need a larger pocket for the case), but in exchange you get remarkably punchy sound, wireless charging, and great battery life for just $80/£60.
Granted, the EarFun Air lack ANC, which would have been a nice bonus, but you get great sound quality instead. A lovely mixture of punchy bass and detailed mids that are far from overpowered keeps you happy. The only downside here are the trebles which are a bit muffled at times. For this price though, something's got to give.
Elsewhere, the EarFun Air offers a lot of everything else you could want. There's wireless charging which continues to be the most effort-free way of recharging earbuds.
Also, a waterproof rating of IPX7 means you can submerge them in water up to a depth of 1m for up to 30 minutes. Always useful.
On top of that, a long battery life of 35 hours that actually mostly lives up to its expectations proves superior to many competitors, with 7 hours away from the case working out well. Not that we're huge fans of the rather bulky charging case but fast charging means 10 minutes gives you an extra 2 hours and we're definitely happy with that.
The EarFun Air have touch controls that are a little finicky but with highly effective in-ear detection, you can at least avoid using the controls too often.
So, there are concessions to make when picking up the EarFun Air but they're worth it at this price. A snug fit with some key features, they're among the best budget wireless earbuds whether you're looking for some workout earbuds, or simply don't feel like spending a fortune.
EarFun Air review: price and release date
Released in summer 2020
$80 / £60
Available in three colors: Black, White, and Red
The EarFun Air are currently for sale in the US and UK. Priced at $80 / £60, they can be frequently found heavily discounted at third-party retailers for around $50 or £40.
EarFun does sell its products in Australia, but this model isn't current available there.
With a choice of colors, the price (or, really, the discount) can vary depending on your preferred style. At the time of writing, the red variety is unavailable.
EarFun Air review: design and features
Bulky charging case
IPX7 water resistant
7 hours battery from earbuds, 35 from case
The EarFun Air replicate Apple's AirPods in many ways. They're a bit longer and a bit bulky, so it takes a bit more effort to place them in your ear firmly, mostly if you're moving about while doing it. Once in, though, they're pretty snug and we found them more secure than non-Pro AirPods even when just walking on a windy day.
The rounded area at the top of each stalk offers the touch controls. They're fairly typical with a mixture of long presses or taps changing volume, pausing, or skipping tracks, as well as voice assistant support. You'll need to practice though as we found double taps and triple taps took a bit of effort, especially when moving.
In-ear detection means that pause and playback are pretty much dealt with separately and it works effectively too. There's barely any pause between pulling an earbud out and the music pausing.
The charging case is a bit of a beast. Bigger than most, it's satisfyingly secure but awkward to place in a vaguely small pocket. Placing the earbuds in is a little more convoluted than simply slipping them in place too.
USB-C and wireless charging are both supported here with the former proving faster and the latter being more convenient. A quick 10 minute charge via USB-C gives back two hours but you won't need to do this too often with 7 hours from the buds keeping things going for a while, with up to 35 hours courtesy of the case.
Bluetooth 5.0 support means we never experienced any connection dropouts either.
EarFun Air review: audio performance
6mm custom-built drivers
Reasonably strong bass
Noise-cancelling mics
For budget earbuds, the EarFun Air sound pretty good. They offer reasonably strong bass and a wide enough soundstage to not feel like tracks are being squeezed right into your ear. While they may not rival more expensive options for detail, rhythm and overall range, at this price they're perfectly satisfying.
Listening to music like Foo Fighters' All My Life sounds suitably punchy and enthusiastic. Alternatively, something like David Bowie's Under Pressure sounds suitably crisp. Every word of Eminem's My Name Is is clear and potent no matter how fast it gets. The weakness here? Trebles are a touch muddled, and nothing is quite as revolutionary as with more expensive buds – spending a little more on the Cambridge Audio Melomania 1 Plus will open up more from your music, no question.
Just keep an eye on volume with the EarFun Air. Crank it up too high and things turn distorted – but it's not good for your ears anyhow.
There's no way of tweaking anything in their sound balance, as there's no app support here. If you like to adjust your music, you'll have to use whatever EQ your music player might include (if at all).
The EarFun Air also offer four-microphone noise-cancelling technology for taking calls. Call quality was pretty clear and crisp, with a mostly noise-free experience.
EarFun Air review: should I buy them?
Buy them if…
You want dependable earbuds on a budget
The EarFun Air offer a lot while staying cheap. They may lack some finer details, but at this price, it's hard to say no to them.
You want long battery life
With up to 35 hours of charge including the case, these won't find you digging out the cable (or charging pad) too often.
You take a lot of calls
The noise-cancelling mics are impressively competent – making and taking calls with these earbuds very convenient.
Don't buy them if…
You want perfect sound
At this price, you're not going to get perfect sound, and that's true here. It's good for the price, but not great in the grand scheme.
You want a sleek design
The case is bulky and the earbuds are a bit hefty too. If you want the sleekest of builds, you'll need to look elsewhere.
You like to tweak the experience
With no app support, there's not much you can do to improve on what's already there for the EarFun Air. That's fine for most, but won't suit everyone.
Also consider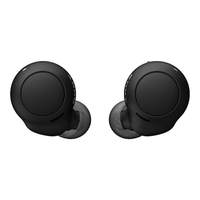 Sony WF-C500
Brand familiarity goes a long way, but the Sony WF-C500 also sound lively, offer app support, and feel good in your ears. Shame about the battery life, but they're so impressive for the low price in every other way.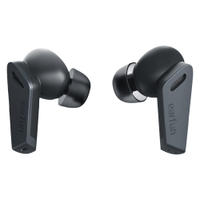 EarFun Air Pro
Adding active noise cancellation the EarFun Air produces an even more pleasing audio balance, plus now you can block out traffic noise and so on.
Jennifer is a roving tech freelancer with over 10 years experience. Having graduated from Swansea University with a degree in Media and Communication Studies, and later with a diploma from Staffordshire University with a post graduate diploma in Computer Games Design, she's written for a huge number of publications, including T3, FitandWell, Top Ten Reviews, Eurogamer, NME and many more.
Her main areas of interest are all things B2B, smart technology, wearables, speakers, headphones, and anything gaming related, and you'll find her writing everything from product reviews to buying guides. In her spare time, she enjoys the cinema, walking, and attempting to train her pet guinea pigs. She is yet to succeed.