If you're looking for an entry-level full-frame camera that's ridiculously affordable, look no further than the Canon EOS R8. Of course, there are some trade-offs, such as the lack of IBIS, a small battery and only a single card slot; but if those aren't dealbreakers, this could be the camera for you.
It's a compact, travel-friendly hybrid camera that can comfortably handle most shooting scenarios, and it even gives some more expensive models a run for their money, particularly if size and weight are big factors for you. It has the same 24MP full-frame sensor as the Canon R6 Mark II, but it's more than just the baby brother to that camera. Think of it as the Canon RP meeting the R6 Mark II – it's the size of the former camera, but has many of the same inner workings of the latter.
I was really impressed with the image quality the camera produced, and its ease of use – it's an absolute dream to shoot with. There are, however, a few things that make it obvious that this is more of an entry-level camera, in particular the EVF and the LCD screen, neither of which is particularly high in resolution.
This would be a great camera for anyone who wants to up their photography game but who doesn't have the budget for meatier full-frame cameras. It would easily lend itself to most shooting styles, is extremely user-friendly, and will be able to handle almost anything you throw at it.
Canon EOS R8 price and availability
Released April 18 2023
$1,499 / £1,699 / AU$2,489 body-only
Cheaper than its direct rivals with a lot of similar features
The Canon EOS R8 is the newest full-frame camera in the Canon R lineup. It's priced at $1,499 / £1,699 / AU$2,489 body-only, and $1,699 / £1,899 / AU$2,699 if you purchase it with Canon's new RF 24-50mm F4.5-6.3 collapsible kit lens, making it one of the most affordable full-frame cameras on the market from any brand.
This camera is receiving a lot of attention because it's so much cheaper than its closest rivals – it's around $1,000 / £1,100 cheaper than the Canon EOS R6 Mark II.
Given that there's nothing else available at around $1,500 / £1,700 that can compete with what this camera has to offer, you might be wondering what the catch is. How can Canon create such a good entry-level full-frame camera for that price? And there are, indeed, some trade-offs which go some way to explaining the lower price point, which I'll get into in the course of this review.
Canon EOS R8: Specs
Swipe to scroll horizontally
| Header Cell - Column 0 | Canon EOS R8 |
| --- | --- |
| Price (body only) | $1,499 / £1,699 / AU$2,489 |
| Sensor: | 24.2MP CMOS full-frame 35.9 x 23.9mm |
| AF points: | 1053-point array |
| Video: | 4k 60p |
| Viewfinder: | 2.36m-dot |
| Memory cards: | 1 x SD/SDHC/SDXC UHS-II |
| LCD: | 3-inch fully articulating, 1.62m-dot |
| Max burst: | 40fps |
| Connectivity: | Wi-Fi, USB-C |
| Size: | 132.5 x 86.1 x 70mm (5.22 x 3.39 x 2.76″) |
| Weight: | 414g (461g with card and battery) |
Canon EOS R8: design
Essentially the same as the Canon RP
Compact and lightweight
Comfortable to hold, though you can get a separate grip
The body of the Canon EOS R8 is essentially the same as the Canon EOS RP. The only real difference between the two is that on the R8 the on/off/lock are combined into one switch, and there's a separate photo/video switch where the on/off switch used to be on the other side of the top plate. It also has a new sensor – it's the same one that's in the Canon EOS R6 Mark II, which was released in late 2022, which is an advantage, especially when Canon could have easily used an older sensor to keep the cost down.
In terms of ease of use and comfort, I got on incredibly well with this camera. It fit really well in my hands, and it felt like it was made just for me – though it's worth noting that I do have small hands, so this may not be the case for everyone. It measures approx 132.5 x 86.1 x 70.0mm and weighs just 461g (with the battery and card), so it's extremely light and compact, which makes it a dream to use.
Canon offers the EG-E1 Extension Grip that attaches to the bottom of the camera and gives you a bit more to get hold of, which could make it a lot more comfortable to hold if you have larger hands or are using the camera for longer periods. Canon is asking $80 / £89.99 for this grip, and it doesn't do anything other than give you more to hold onto, and specifically somewhere for your little finger to sit; it's not big enough to house an extra battery and there are no vertical shooting controls.
The camera is weather sealed, though not to the same extent as models aimed at more serious photographers and pros. During the few days I spent shooting with the camera, the weather was fair, but it's safe to say you wouldn't want to shoot for very long in a downpour, where you should err on the side of caution.
I did identify a few niggles in terms of usability, one being the lack of an AF joystick. You can just tap the screen to focus and take a photo, but it would make life a lot easier if Canon had included a joystick on the back of the body for adjusting the focus point, rather than making users wholly dependent on the touchscreen. There are also no dials on the D-pad on the back of the body, which would've been helpful. There are only two control dials, but it would be really helpful if the user was able to control all three elements of the exposure triangle independently when shooting in manual mode.
I also didn't love that the menu button was on the left of the body, where it felt like it was rather out of the way. I like to be able to get to all the controls easily, and the button's placement became annoying when I wanted to access the menu while holding the camera, as I had to adjust my grip in order to be able to press it. That said, once I'd configured the customizable buttons and got everything how I wanted it, I didn't have to go into the main menu much when I was out shooting.
Canon EOS R8: features and performance
Can shoot up to 40fps
Small battery means shorter battery life
Impressive tracking and autofocus
One of the major strengths of the Canon EOS R8 is its autofocus tracking. For a long time, Sony was known for being the industry leader when it came to this technology; however, this camera, along with other newer Canon cameras that I've used, are giving Sony a real run for their money in this area, and some are outright better.
It has the same autofocus system as the Canon R6 Mark II, which is really impressive when you consider the R8 costs $1,000 / £1,080 less. This means you get the same subject detection that can track people, faces, and animals, and which can effortlessly detect subjects and remain locked onto them as they move through the frame.
When I was out testing the camera I came across several dog walkers who were happy for their pets to be used as test subjects, and while none of them were especially cooperative, the AF still managed to track their faces and eyes effortlessly, and all the shots I got were in focus. It also worked really well on my black cats, animals that are notoriously difficult to photograph; many cameras wouldn't even recognise that there's a face in the frame, and cats aren't known for being the most obliging sitters even at the best of times, so I was particularly impressed.
There's also a new subject detection feature which is super useful if there's more than one face in the frame. When this feature is enabled and you're looking through the viewfinder, you can just tap the screen and toggle through the different faces in the frame until you settle on the one you want to focus on (particularly useful if you're shooting weddings, for example).
Another notable feature of the R8 is its ability to shoot up to 40fps which is, quite frankly, ridiculous. However, this is only achievable in electronic shutter mode. If you shoot in electronic shutter first curtain, it's more like 6fps when you're shooting in raw, which, for most situations, is still enough, though there isn't an option to use a mechanical shutter. I actually found 40fps to be a bit much, particularly as it filled up the buffer a lot faster and it took longer for it to clear before I could start shooting again. Compressed raw basically gives the same results in terms of image quality, but the smaller files allow improved performance for continuous shooting.
Another downside of this camera is that the battery is very small, which may be great for keeping the size and weight down, but isn't so great for battery life on long shoots, particularly on a camera this powerful. At least the small size of the battery means it's easy to carry a couple of charged spares with you, so this isn't a dealbreaker. I took the R8 out to shoot some friends rollerskating in a car park and ended up taking over 1,000 shots, and the battery life was more than enough for that.
Features and performance score: 4/5
Canon EOS R8: image and video quality
Can shoot 4K 60p uncropped video
Great colors straight out of the camera
No IBIS, but most lenses have image stabilization
In terms of image quality, the EOS R8 performs very well. I tested it in a poorly lit car park where the camera set the ISO to 16000 and, although there is noticeable noise in the images, they're still pretty decent, and usable. I did notice a bit of banding and rolling shutter, so if you're going to be shooting fast-moving subjects in bad light, this may be an issue for you. There were also a couple of occasions where the autofocus missed the subject. Its high-ISO noise-handling capabilities would make it a great camera for astrophotography, though, and where shots are underexposed you can still bring out a lot of detail in the shadows during editing.
I tested the R8 with the Canon RF 24-70mm f/2.8 lens, and I was able to capture images with beautiful bokeh, images that were pin-sharp from the center to the corners, and images with great dynamic range. I was also impressed by how accurately it reproduced colors, particularly on a fairly overcast day.
Overall, the Canon EOS R8 is a pretty solid offering in terms of its video package. It can shoot uncropped, oversampled 4k 60p video which, for the price point, is quite good. You can also shoot slow motion at up to 1080/120p – the quality isn't amazing, but it's a useful feature to have.
One downside of this camera is that it doesn't have IBIS, but most Canon lenses do offer some kind of image stabilization. That said, there is a digital image stabilization mode for video – footage does still have a slight wobble, but overall it's pretty good. I still wish there was a full IBIS system within the camera itself, but most serious video shooters will be using a gimbal anyway, and when you remember that this is a $1,500 / £1,700 camera, it's hardly a surprise that IBIS is one of the features Canon omitted.
Should I buy the Canon EOS R8
Swipe to scroll horizontally
Canon EOS R8

| Attributes | Notes | Rating |
| --- | --- | --- |
| Price: | You won't find a better full-frame camera for this price, but there are trade-offs. | 4.5/5 |
| Design: | A pleasure to hold and handle | 4/5 |
| Features and performance: | Great AF, ridiculous fps rate. | 4/5 |
| Image quality: | Good, but 24MP sensor means it's nothing outstanding | 4/5 |
Buy it if...
You want a small, compact camera
If you want a camera setup that you can easily take with you on your travels, and which can handle whatever you throw at it, the R8 would be a great option. It's small enough to carry around without issue, but still packs a punch for both photo and video.
You have a smaller budget
The Canon R8 is a fantastically affordable camera, especially for full-frame. While there are definitely some trade-offs for the price, this camera is solid and dependable if you don't have a huge budget to spend.
The lack of some features isn't a dealbreaker
The main downsides of this camera are the lack of IBIS, a smaller battery, and only one card slot. For most non-professional uses, though, whatever they're shooting, none of these things will be a real problem.
Don't buy it if...
You want something to use professionally
For shooting in professional settings, like weddings or for portraits, you'd likely want to go for something a bit heftier that has a few more features than the R8. It has the basics, but the lack of dual card slots and the small battery could make life a lot more difficult.
You don't want to invest in expensive lenses
Currently there aren't any third-party lenses available for the Canon R or RF mounts, so purchasing a lens for your Canon camera is not cheap. If you want more lens options, you may want to look at a Sony or Nikon camera.
You already have a decent camera
Unless you're going to use this as a second camera, it's unlikely that you'd ever be buying this camera as an upgrade to your existing one, unless all you have is a very old DSLR or compact.
Canon EOS R8: Also consider
Swipe to scroll horizontally
| Header Cell - Column 0 | Canon EOS R8 | Canon EOS R7 | Nikon Z5 |
| --- | --- | --- | --- |
| Price (body only) | $1,499 / £1,699 / AU$2,489 | $1,499 / £1,349 / AU$2,349 | $1,399 / £1,299 / AU$1,900 |
| Sensor: | 24.2MP full-frame CMOS | 32.5MP APS-C CMOS | 24.3MP full-frame CMOS |
| AF points: | 1053-point array | 5915 manually selectable, 651 automatic selection | 273-point array |
| Video: | 4K/60p | 4K/60p, Full HD/60p, High-speed 120p Full HD | 4K/30p, cropped |
| Viewfinder: | 2.36m-dot | 2.36m-dot, 0.39-inch OLED | 3.69m-dot 0.5-inch OLED |
| Memory cards: | 1 x SD/SDHC/SDXC UHS-II | Twin SD/SDHC/SDXC UHS-II | Twin SD/SDHC/SDXC UHS-I |
| LCD: | 3-inch fully articulating, 1.62m-dot | 2.95-inch vari-angle touch 1.62m-dot | 3.2-inch tilt touch 1.04m-dot |
| Max burst | 40fps electronic | 15fps mechanical shutter (buffer 224 JPEG / 51 raw), 30fps electronic shutter (buffer 126 JPEG / 42 raw) | 4.5fps mechanical |
| Connectivity: | Wi-Fi, Bluetooth, USB-C | Wi-Fi, Bluetooth | Wi-Fi, Bluetooth, USB-C |
| Size: | 132.5 x 86.1 x 70.0mm | 132 x 90.4 x 91.7mm | 134 x 100.5 x 69.5mm |
| Weight: | 465g (inc. battery and SD card) | 612g (inc. battery and SD card) | 675g (inc. battery and SD card) |
Before you leave our Canon EOS R8 review, it's worth considering these alternatives that offer some of the same advantages for either stills or videos (or both).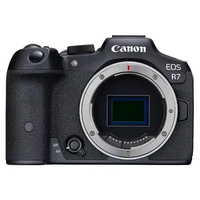 Canon EOS R7
Although the Canon EOS R7 is an APS-C camera, it gives the R8 some stiff competition, and, in some areas, is outright better. It's the same price, yet the R7 has IBIS, has more megapixels on a smaller sensor, and has two card slots. However, the R8 has a wider ISO range and more autofocus points. All told, for more casual, non-professional uses, I'd give the R7 the edge.
Read our full Canon EOS R7 review here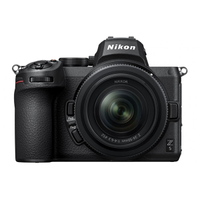 Nikon Z5
The closest rival to the R8 in the Nikon lineup is the Nikon Z5. It offers similar image quality and nice handling, but is more affordable, and has nicer controls and a better EVF. But if you're more into video, the R8 wins for 4K video as well as for its better autofocus system.
Read our full Nikon Z5 review here
How I tested the Canon EOS R8
I tested the Canon EOS R8 over several days, with the Canon RF 24-70mm f/2.8L lens, around my local area.
In the short time I had with the camera, I wanted to capture a number of different subjects to see how well the camera performed in different environments. I tested it in daylight and low-light situations (though sadly the weather didn't allow for any astrophotography), and I tried to capture a range of different colors, as well as contrasting light and shadows. I also enjoyed testing the eye autofocus on a number of different animals.
As a photographer, I know that choosing a camera is a serious decision, so I tried to test this camera in a way that reflects many of the 'real-world' situations that photographers will encounter, and with a focus on the features and specs will be most important for most users.
First reviewed March 2023