Benchmarks
Performance
Intel Core M-series processors seem like the perfect part to power Chromebooks, as they offer more performance than your average Celeron chip while being efficient. And that's not just us saying that: the benchmark results back us up here.
The C302, with its Core m3 processor, performs nearly twice as fast as the with a Celeron processor. That said, this hybrid doesn't quite have the gusto to keep up with the Intel Core i5-powered or the Core m5 chip inside , though it's only a quarter less power.
Numbers aside, the 2-in-1 Chromebook performs admirably even with two open Chrome windows with 12 open tabs each. Along with our heavy browsing habits, we also had Google Music playing in the background and the Slack Android app open.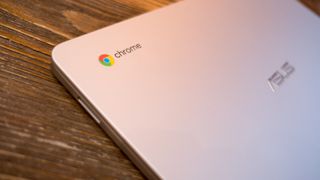 Optimal performance
Chromebooks are famous for their long battery life, and the C302 is one of the best examples of why. In fact, it's the longest-lasting premium Chromebook we've tested yet that ran for 10 hours and 46 minutes on our standard local movie playback test.
By comparison, the Acer Chromebook 14 ended its run an hour and 10 minutes earlier, and the HP Chromebook 13 only managed to last for just a minute over eight hours.
With our regular everyday workload, the C302 ran just shy of hitting the eight-hour, all-day battery life mark. However, any combination of running fewer tasks, turning off the keyboard backlight or lowering the screen could dramatically increase usage time on this machine.
Screen and speakers
Although the Asus Chromebook Flip C302 only rocks a 1,920 x 1,080 display, FHD is really all you need on a 12.5-inch screen. It's not as sharp as the QHD HP Chromebook 13, but the lower pixel count affords two more hours of battery life – a trade off we would gladly take.
Photos and text look plenty crisp as is, and the C302 resolves strong colors, which is exactly what we're looking for in a companion device to flip through e-comics and stream videos. Average contrast levels – dark pixels often falling off to deep blacks – is the only weak point of the display, but it's still better than most Chromebooks, and we prefer this to seeing muddy grays.
Audio-wise, the Chromebook Flip's speakers are loud, but lack much nuance to really appreciate music. There's also a slight hint of tininess that limits how high you can set the volume before it's unbearable, so plug in a pair of headphones if you're looking to rock out.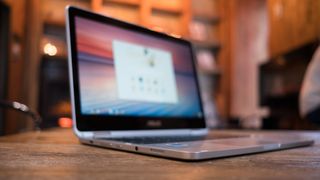 We liked
From top to bottom, the Asus Chromebook C302 is our most favorite Chromebook yet. It meets high standards set by the HP Chromebook 13 and other premium Chrome OS machine with a classy design and high-spec parts – yet it does all of this at a lower price.
We disliked
Our only legitimate complaint about this hybrid Chrome OS machine is it's mediocre speakers, but it's an issue we take with 80% of laptops. In other transitory problems, we wished Android app integration would have been more seamless, but for now, it's an ongoing process. We're sure Google will add Play store access to a stable Chrome OS build for this particular Chromebook as it has with others in the past.
Final verdict
If you've been on the fence about buying a premium Chromebook, this one has 100 reasons (read: dollars, pounds … you get it) to make you jump for it. Although it isn't a huge price difference, the Asus Chromebook Flip C302 rises to its premium stature with a gorgeous screen and a better keyboard than you would find on some .
This is the first Chromebook that genuinely feels as comfortable to use as a tablet as it is a traditional laptop. While the Samsung Chromebook Pro nearly renders this model moot with a sharper screen and built-in stylus, we have yet to see how it performs. For now, the Asus Chromebook Flip C302 is king of the Chrome OS hill and it's well worth your utmost attention.