Best laptops for Blender in 2023
Get creative with the best laptops for Blender
Quick menu
The list in brief
1. Best overall
2. Best Windows
3. Best for gamers
4. FAQs
5. How to choose
If you're looking for the best laptops for Blender, your main focus needs to be on a good graphics card and decent RAM.
Like any of the best 3D modeling software, the free and open-source Blender can be a bit of a resource-hog, demanding a well-specced machine to run and render smoothly. But with so many devices on the market, how can you be sure which laptop is best for Blender?
Well, the graphics tool is a true-cross-platform app, so you can take your pick of Windows, macOS, and Linux machines. And the minimum requirements to run Blender on a laptop are surprisingly forgiving - a 64-Bit CPU, 8GB RAM, a full HD display, and a graphics card with at least 2 GB of VRAM and OpenGL 4.3 support. However, we strongly recommend choosing a laptop with much higher internal components for optimal performance - the best gaming laptops are usually a good starting point.
To help you find the right machine for your next animation project, we've gone hands-on with the best laptops for Blender. As part of our extensive review process, we've compared internal specs with a focus on graphics, build quality, overall performance, and pricing.
Quick List
Best overall
1. Apple MacBook Pro 16-inch
A powerhouse for creatives, whether you need a laptop for Blender, other animation apps, and even video editing, graphic design, and photo editing.
Best Windows
2. Microsoft Surface Laptop Studio
An impressive but expensive Windows laptop for Blender animators. It's effectively Microsoft's creative answer to the MacBook Pro.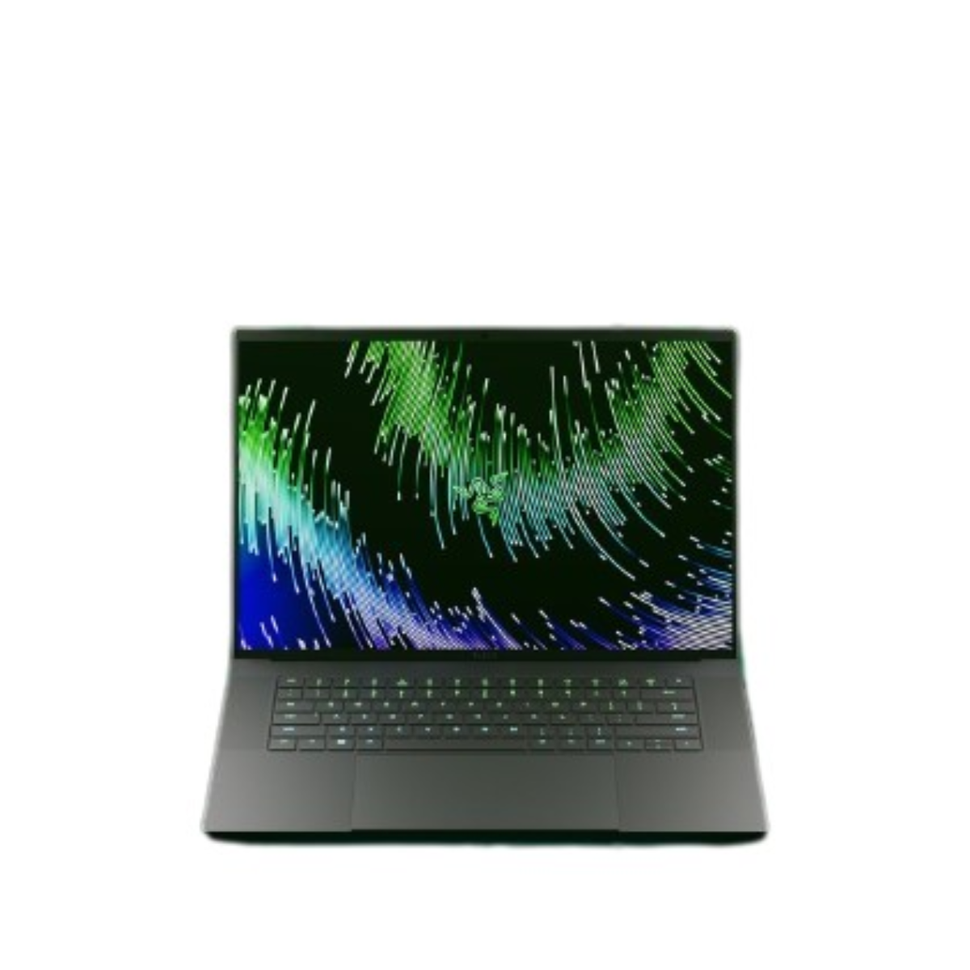 Best for gamers
An incredibly powerful gaming laptop ideal makes this a great choice for running Blender - but that high performance comes at a price.
Best laptop for Blender overall
Top choice for Blender projects
Specifications
CPU:
Apple M2 Pro . M2 Max
Graphics:
Integrated 19-core GPU (16-core Neural Engine) (Up to 38-Core GPU)
RAM:
16GB (Up to 96GB with Apple M2 Max)
Screen:
16.2-inch Liquid Retina XDR display
Storage:
1TB SSD (Up to 8TB)
Dimensions:
14.01 x 9.77 x 0.66 in / 35.57 x 24.81 x 1.68 cm
Reasons to buy
+
Incredible processing power
+
Dazzling display
+
Long battery life
Reasons to avoid
-
Some compatibility Issues
-
Expensive
The MacBook Pro 16-inch is easily one of the best laptops for Blender, and any other creative pursuit, like video editing and photo editing. Better still, Blender has supported the newer Silicon Macs since version 11.0. That powerful M2 Pro CPU handled every task we tried when we tested out the laptop. Even when on battery life, this caused only a tiny hit to synthetic benchmark results, but no noticeable drop in performance - since the MacBook Pro doesn't throttle performance when on battery, unlike some other laptops. If you like to animate on the go, you'll be pleased to learn our tests showed that the advertised battery life of 20 hours was spot on.
The reason we chose this particular model as the base hard drive is a 1TB SSD (Solid State Drive), which we feel is large enough to handle both installation of Blender and store all your .blend files created within the software.
Our benchmarks also showed that loading times were excellent. Both versions can be upgraded to 8TB of storage space, though it'll cost more to max out your SSD.
The Retina XDR display is perfect for creating intricate animations, given that the ProMotion refresh rate of 120Hz keeps everything looking dazzling. Although there's a 13 and 14 inch model available, we feel the 16-inch display is best suited for painstakingly giving life to your digital creations.
You can upgrade the specs on the M2 Pro model up to 32GB memory. The M2 Max model can also be upgraded to a huge 96GB memory, though this will cost extra. You may not need to do this, as the CPU as the M2 Pro was more than capable of handling complex graphics and processing tasks in our tests. Still the recommended requirements for Blender are at least 32 GB of RAM and an 8-core CPU. Just bear in mind that upgrading to the M2 Max and 96GB of unified memory will set you back at least another $1400. If you do need more processing power the M2 Max model offers twice the unified memory bandwidth of the M2 Pro at 400GB/s.
Besides the high cost, the only real downside to opting for a MacBook Pro is that of compatibility, though this is becoming less of a concern as time goes on. For instance, in 2015 Apple announced that its new IOS graphics API 'Metal' would be coming to macOS. Once this happened Apple discontinued support for OpenGL. This meant that GPU rendering was unusable if you were using Blender 2.8 or later on a Mac, forcing users to deploy much slower CPU rendering.
Still, after revealing their new silicon based 'M' processors, Apple announced that they would contribute to open source projects including Blender. As of Blender v3 the software now fully supports Apple's Metal API both for newer and old Intel-based Macs too, provided they're running macOS 13.0 or above. There are some Blender features such as 'Light Trees' and 'Shadow Caustics' which are not supported when using an AMD graphics card with Meta but this doesn't apply to the newer 'M2' series.
Read our full Apple MacBook Pro 16-inch (2023) review
Best Windows laptop for Blender
An impressive but pricey laptop for Blender
Specifications
CPU:
1.3GHz Intel Core i7-11370H (quad-core, 12MB Intel Smart Cache, up to 4.8GHz)
Graphics:
NVIDIA RTX A2000 Ada
Screen:
14.4-inch QHD (2,400 x 1,600) touch
Storage:
1TB SSD (PCIe, NVMe, M.2) (Up to 2TB)
Dimensions:
12.72 x 8.98 x 0.746 in ( 32.3 x 22.8 x 1.9 cm)
Reasons to buy
+
Cool design
+
Powerful GPU
+
Amazing display
We have previously reviewed the Microsoft Surface Laptop Studio and are very excited about its successor, the Microsoft Surface Laptop Studio 2 which performed twice as fast as a 2023 M2 MacBook Pro when rendering a digital image in Blender at a live Microsoft Event, making it an ideal device for preparing complex animations, as suggested by its name.
Whether you buy the original or its successor, both "Studios" feature the NVIDIA RTX 2000 series of cards. The original Studio laptop comes with 4GB of VRAM, whilst the latest device using the 'Ada' variant comes with 8 GB of non-ECC VRAM. The lack of error correction actually is a good thing, as it makes the GPU better at working around the clock and performing very intensive tasks.
At 14.4 inches the display is not amazingly large for displaying your animated creations. However, the 2,400x1600 (3:2) resolution should be capable of displaying images given it supports 3.84 million pixels. The 120Hz refresh rate also lends itself well to image rendering or any application that requires constant refreshes, which is perfect for displaying detailed animations. If you're just starting out in animation, consider the Surface Slim Pen 2, which supports drawing directly on the Surface screen.
The 1TB NVMe SSD is the ideal size for storing your Blender files and projects. At just under 2 kilos it's also ideal for animators who want to design on the go.
Speaking of working outside the office, the original model's battery life came to around 11 hours in our tests. We've yet to review the latest Surface Laptop Studio but online research shows it lasts much longer on battery - around 19 hours.
In our review, we complained about the lack of legacy ports but this should only be a major concern for animators if you want to use an older drawing tablet. This leaves the main objection to choosing a Surface Laptop Studio being the price - one of the highest we've seen even for a very powerful laptop. There are other versions available that use the RTX 4050 and 4060 series of graphics cards, which may be sufficient.
Read our full Microsoft Surface Laptop Studio review
Best Blender laptop for gaming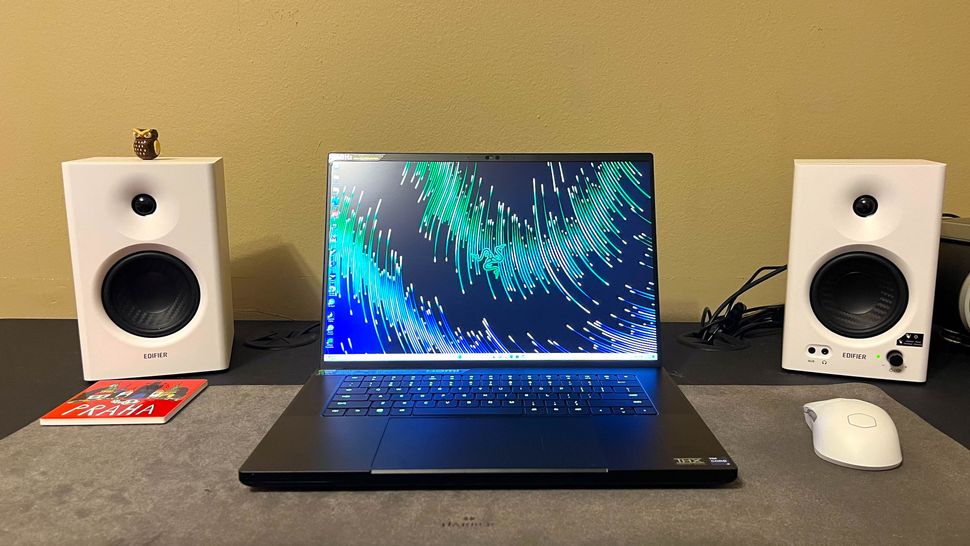 Easily capable of running your Blender projects - for a price
Specifications
CPU:
13th Gen Intel Core™ i9-13950HX 5.5 GHz
Graphics:
NVIDIA GeForce RTX 4090 (16GB GDDR6 VRAM)
Screen:
16" UHD+, 16:10 (3840 x 2400 WQUXGA) / FHD+ 16:10 (1920 x 1200, WUXGA)
Storage:
1 TB + 1 TB (2 TB) PCIe 4.0 NVMe M.2 SSD
Dimensions:
0.87 x 9.61 x 13.98 in / 22 x 24.44 x 35.5 cm
Reasons to buy
+
Dual display mode
+
Powerful graphics capabilities
+
Multiple charging options
Reasons to avoid
-
Very expensive
-
Relatively short battery life
The Razer Blade series are actually high-end gaming laptops. Still, what better way to be sure that you can run resource-intensive animation software like Blender than with a machine specifically designed to provide excellent graphics performance?
The Blade 16 is actually highly customizable. Although we've recommended the model with a 16" screen here, you can actually specify up to 18 inches which may be suitable for more intricate animations.
Perhaps one of the biggest draws for animators is that the Razer Blade 16 has a mini-LED display, which supports dual mode. In other words it can handle both 4K 120Hz (UHD+) and 1080p 240Hz (FHD) content natively. This means that any images, 3D renderings and models you pull up are going to be much clearer than an inferior display that would simply take 4K content and render it down to whatever resolution it supports.
The refresh rate in particular is impressive, as usually you'd need to have a separate external monitor to benefit from this kind of graphics quality and speed. The only downside is that you need to use Razer's own proprietary app to switch between monitor modes, then reboot the laptop.
The Razer Blade 16 can be customized with a variety of graphics cards - which is incredibly useful when you're running Blender. The specs we're recommending for animators is the one with a NVIDIA GeForce RTX 4090 card with 16GB of GDDR6 VRAM. High processing power is also assured by maxing out the DDR5 RAM to 32GB.
Naturally powering a high-end graphics card is a drain on the battery. We found in our tests that it lasted around 5 hours between charges, leaving it well behind the MacBook Pro. On the plus side, there are multiple ways to charge the laptop given that you can also use the Thunderbolt or USB-C ports for charging alongside the official power supply.
If you do choose this model of Razer Blade 16, you also benefit from 2TB (2 x 1TB) NVMe SSDs, which offer much faster read/write speeds than the previous SATA models. This should be more than sufficient for months of animations - the fact that the drives are separate also means you can use one for loading the operating system and another for archiving older files, making your laptop tick over faster.
The Razer Blade 16 weighs in at 5.40 lbs (2.45 kg), making it rather hefty compared to slimline ultrabooks and MacBook Pros. Still the aluminum chassis makes it sturdy enough to handle the kinds of bumps and scrapes you can encounter when you're not working in the sanctity of the studio.
The standard configuration for this Razer Blade model comes with 32 GB of RAM. This can be upgraded up to 64 GB but no further, which may not be sufficient for very resource-intensive animation.
The only major downside to choosing a high-end gaming laptop like the Razer Blade 16 is the price, as maxing out the specs can actually be more expensive than an Apple device. If you're happy with the series but are on a tighter budget, consider buying a lower spec model like the Razer 15.
Read our full Razer Blade 16 (2023) review
Best laptop for Blender: FAQs
What laptops are compatible with Blender?
The best way to be sure that your laptop will run Blender is to first check the company's minimum requirements by clicking here.
Even if your laptop meets the requirements, it's worth getting a device that exceeds the minimum hardware requirements - this will ensure the resource-intensive animation app runs smoothly at all times.
Can I use a low-spec laptop for Blender?
The laptops we've chosen here are the ones which support the recommended requirements for Blender, though as you've seen the minimum requirements are much more modest. Some lower-specced machines may run Blender, but the experience may not be as good.
For more help, Blender maintains an excellent community page with links to their chatroom, subreddit. and more. If you're working to a budget, we're now tracking the best laptop for AutoCAD deals, too.
How to choose the best laptop for Blender
Blender is a powerful software known for its 3D modeling, animation, and rendering capabilities. A laptop for Blender is an excellent choice for users who love portability. Still, to ensure optimal performance and harness the full power of Blender, it is essential to choose a laptop that can handle its demanding requirements. Like the best laptops for animation, these machines are typically designed to be graphical beasts capable of handling resource-hungry apps. Here are the key factors to consider when selecting a laptop for working in Blender:
Processing power
Blender relies on the CPU for tasks like rendering and simulations. You need a powerful multi-core processor with a high clock speed to ensure smooth rendering and efficient task handling. Something with 4 physical cores would be a minimum, while 6 cores or more would be ideal and future-proof.
Regarding clock rate, for the base clock rate, aim for at least 2.3GHz and above, with high boosted clock rates (3.5GHz and higher). Examples include AMD Ryzen 9 5900HX (8 Cores, 3.3GHz) or the Intel Core i9-11980HK (8 Cores, 2.6GHz). A faster CPU will reduce rendering times and allow smoother real-time interactions within the software.
Graphics card (GPU)
Blender utilizes the GPU for rendering and viewport display. A powerful GPU will ensure smooth manipulations, responsive viewport navigation, and quick feedback as you work on complex scenes. Look for a graphics card with ample VRAM capacity and CUDA cores, as they greatly influence rendering speed and the ability to handle complex scenes. When it comes to VRAM, you want something with at least 6GB minimum. Examples include NVIDIA's GTX 1660 Super and the RTX 3060, with the RX 6600M and the RX 6700M on the AMD's side.
RAM
Usually, Blender consumes more RAM than some software options. With this in mind, aim for at least 16GB or higher; 32 GB or more would be ideal. If on a budget, know that it is possible to add or change RAM on most laptops, so you could buy something with 16GBs of RAM now and then add to it later when you get the cash.
Storage
Invest in a laptop with an SSD to ensure swift file access and faster project load times. Blender benefits from solid-state drives' fast read and write speeds. An SSD offers more immediate data access, shorter file load times, and quicker application launches, resulting in a more efficient workflow within Blender. Consider pairing an SSD with a secondary hard disk drive (HDD) if you require additional storage capacity.
Display considerations
A larger screen size provides more workspace and improves the overall user experience. Look for a screen size that suits your workflow while considering a high-resolution (1920x1080 at least) display for precise detailing work. Choose a laptop with a color-accurate display for accurate rendering and consistent color representation - look for models with a wide color gamut to ensure vibrant and lifelike visuals.
Cooling system
Rendering and complex simulations in Blender can significantly load the laptop's hardware, generating heat. To maintain optimal performance and prevent overheating, choose a laptop with an efficient cooling system to dissipate heat effectively. Adequate ventilation and advanced cooling mechanisms will keep your laptop running smoothly during intensive Blender tasks.
Are you a pro? Subscribe to our newsletter
Sign up to the TechRadar Pro newsletter to get all the top news, opinion, features and guidance your business needs to succeed!
Nate Drake is a tech journalist specializing in cybersecurity and retro tech. He broke out from his cubicle at Apple 6 years ago and now spends his days sipping Earl Grey tea & writing elegant copy.