Best laptops for animation in 2023
Bring your creations to life with the best laptops for animation
Quick menu
The list in brief
1. Best overall
2. Best Windows
3. Best for gamers
4. FAQs
5. How to choose
The best laptops for animation combine performance, portability, and a well-sized screen so you can see every detail of your latest project.
Whether you're a professional animator, a beginner, or hobbyist, if you want to create animated assets with the best 3D modeling software or rendering tools, you're going to need some powerful hardware. But with so many laptops on the market, what does that look like in practice? Ideally, you're looking for plenty of CPU, RAM, and a good GPU to make sure your programs run and your projects render exactly as envisioned.
To help you find the right machine for your animated masterpiece, we went hands-on with the very best laptops for animation. Our team of experts have tons of experience in reviewing hardware for creatives, including reviews of the best laptops for photo editing and the best video editing laptops. During our testing for laptops for animators, we've assessed the specs, compared screen size and resolution, and evaluated overall performance, so you can concentrate on getting creative instead of worrying about whether your software will run.
Quick List
Best overall
1. Apple MacBook Pro 16-inch
A powerhouse for creatives, whether you need a laptop for animation, video editing, graphic design, and everything else.
Best Windows
2. Microsoft Surface Laptop Studio
An impressive but expensive Windows laptop for animators, designed to rival the MacBook Pro.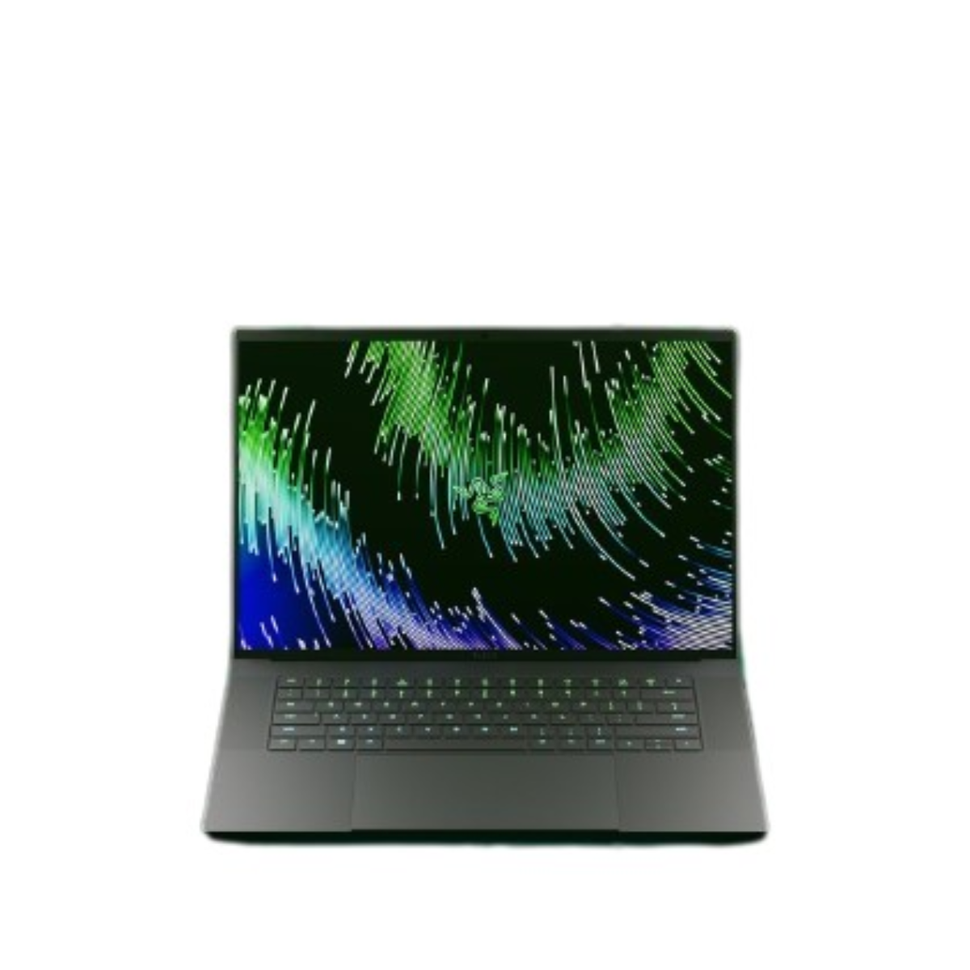 Best for gamers
An incredibly powerful gaming laptop ideal makes this ideal for animation - but high performance comes at a high price.
Best laptop for animation overall
Outstanding choice for professional animators
Specifications
CPU:
Apple M2 Pro . M2 Max
Graphics:
Integrated 19-core GPU (16-core Neural Engine) (Up to 38-Core GPU)
RAM:
16GB (Up to 96GB with Apple M2 Max)
Screen:
16.2-inch Liquid Retina XDR display
Storage:
1TB SSD (Up to 8TB)
Dimensions:
14.01 x 9.77 x 0.66 in / 35.57 x 24.81 x 1.68 cm
Reasons to buy
+
Incredible processing power
+
Dazzling display
+
Long battery life
Reasons to avoid
-
Some compatibility Issues
-
Expensive
Voted 'Best in Class' by TechRadar, the latest MacBook Pro is a true powerhouse for creatives across the board, making it one of the best laptops for animation, video editing, photo editing, and graphic design.
There are actually 3 base models available, all of which can be customized but we feel the mid-range option provides a good balance between raw power and cost.
During our in-depth review, we found the new M2 Pro CPU was able to handle all the tasks our reviewer threw at it. Even when on battery life, this caused only a tiny hit to synthetic benchmark results, but no noticeable drop in performance. This is because, unlike many other laptops, this MacBook Pro doesn't throttle performance when on battery. If you like to animate on the go, you'll be pleased to learn our tests showed that the advertised battery life of 20 hours was spot on.
The reason we chose this particular model as the base hard drive is a 1TB SSD (Solid State Drive), which we feel is large enough to handle installation of popular animation programs. Our benchmarks also showed that loading times were excellent. Both versions can be upgraded to a whopping 8TB of storage space, though it'll set you back an extra $2,200 to max out your SSD.
The Retina XDR display is perfect for creating intricate animations, given that the ProMotion refresh rate of 120Hz keeps everything looking dazzling. Although there's a 13 and 14 inch model available, we feel the 16-inch display is best suited for painstakingly giving life to your digital creations.
You can upgrade the specs on the M2 Pro model up to 32GB memory. The M2 Max model can also be upgraded to a huge 96GB memory, though this will cost an extra $200-$400 dollars.
You may not need to do this, as the CPU as the M2 Pro was more than capable of handling complex graphics and processing tasks in our tests. Still popular programs like After Effects recommend at least 32 GB of RAM. Just bear in mind that upgrading to the M2 Max and 96GB of unified memory will set you back at least another $1400.
If you do need more processing power the M2 Max model offers twice the unified memory bandwidth of the M2 Pro at 400GB/s.
Besides the high cost, the only real downside to opting for a MacBook Pro is that of compatibility, though this is becoming less of a concern as time goes on.
For instance, After Effects 2022 now natively supports Apple's 'M' series of processors, so should run without any issues. The same is true for popular 2D animation program Moho Pro, which has supported Apple Silicon (M1) chips since version 12.5.
Still, some animation programs like CelAction2D are only designed for Windows. While there's an ARM-compatible version of Windows 11, traditionally software that uses OpenGL (as many animation programs do) hasn't worked well. The good news is that the latest version of Parallels has much better OpenGL support, allowing you to run virtualized versions of your favorite programs.
Read our full Apple MacBook Pro 16-inch (2023) review
Best Windows laptop for animation
An impressive but expensive offering for animators
Specifications
CPU:
1.3GHz Intel Core i7-11370H (quad-core, 12MB Intel Smart Cache, up to 4.8GHz)
Graphics:
NVIDIA RTX A2000 Ada
Screen:
14.4-inch QHD (2,400 x 1,600) touch
Storage:
1TB SSD (PCIe, NVMe, M.2) (Up to 2TB)
Dimensions:
12.72 x 8.98 x 0.746 in ( 32.3 x 22.8 x 1.9 cm)
Reasons to buy
+
Cool design
+
Powerful GPU
+
Amazing display
The Microsoft Surface laptop Studio and its successor, the Microsoft Surface Laptop Studio 2, are the company's pitch for the creative hardware market - a market largely dominated by Apple. At a recent Microsoft event, the firm even showed the V2 model performed twice as fast as a 2023 M2 MacBook Pro when rendering a digital image in Blender at a live Microsoft Event, making it one of the best animation laptops for preparing complex projects.
Whether you buy the original or its successor, both "Studios" feature the NVIDIA RTX 2000 series of cards. The original Studio laptop comes with 4GB of VRAM, whilst the latest device using the 'Ada' variant comes with 8 GB of non-ECC VRAM. The lack of error correction actually is a good thing, as it makes the GPU better at working around the clock and performing very intensive tasks.
At 14.4 inches the display is not amazingly large for displaying your animated creations. However, the 2,400x1600 (3:2) resolution should be capable of displaying images given it supports 3.84 million pixels. The 120Hz refresh rate also lends itself well to image rendering or any application that requires constant refreshes, which is perfect for displaying detailed animations.
The 1TB NVMe SSD is the ideal size for storing both your animation software and creations. At just under 2 kilos it's also ideal for animators who want to design on the go.
Speaking of working outside the office, the original model's battery life came to around 11 hours in our tests. We've yet to review the latest Surface Laptop Studio but online research shows it lasts much longer on battery - around 19 hours.
During our review, we complained about the lack of legacy ports. However, this should only be a major concern for animators if you want to use an older drawing tablet. This leaves the main objection to choosing a Surface Laptop Studio being the price - one of the highest we've seen even for a very powerful laptop.
There are other versions available that use the RTX 4050 and 4060 series of graphics cards, which may be sufficient for your chosen animation software.
Read our full Microsoft Surface Laptop Studio review
Best laptop for animation and gaming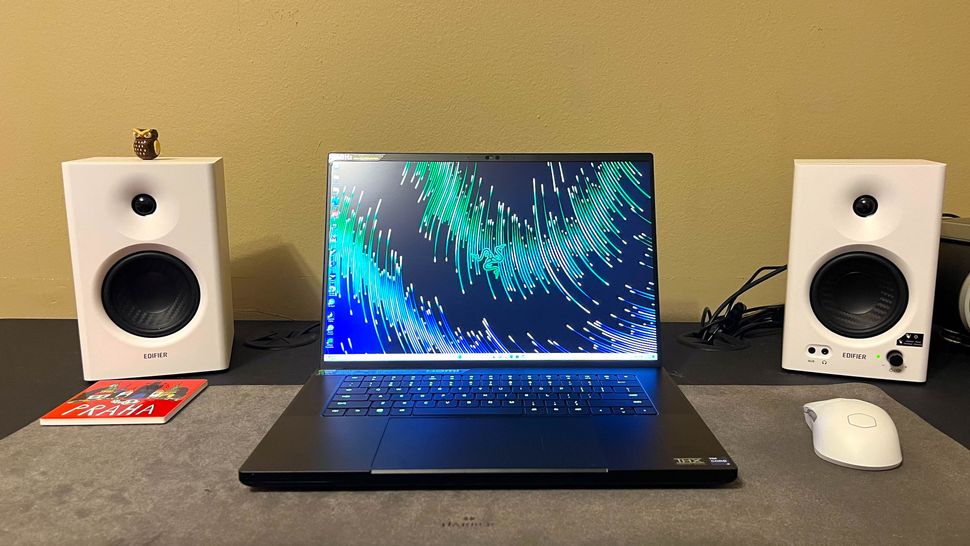 A laptop that can handle virtually any animation program - for a price
Specifications
CPU:
13th Gen Intel Core™ i9-13950HX 5.5 GHz
Graphics:
NVIDIA GeForce RTX 4090 (16GB GDDR6 VRAM)
Screen:
16" UHD+, 16:10 (3840 x 2400 WQUXGA) / FHD+ 16:10 (1920 x 1200, WUXGA)
Storage:
1 TB + 1 TB (2 TB) PCIe 4.0 NVMe M.2 SSD
Dimensions:
0.87 x 9.61 x 13.98 in / 22 x 24.44 x 35.5 cm
Reasons to buy
+
Dual display mode
+
Powerful graphics capabilities
+
Multiple charging options
Reasons to avoid
-
Very expensive
-
Relatively short battery life
The Razer Blade series are actually high-end gaming laptops. Still, what better way to be sure that you can run resource-intensive animation software and articulate complex designs than with a machine specifically designed to provide excellent graphics performance?
Unlike the MacBook, this laptop comes with an Intel CPU. This means it can run the latest version of Windows 11, so is more likely to be compatible with whatever animation software you choose to run.
The Blade 16 is actually highly customizable. Although we've recommended the model with a 16" screen here, you can actually specify up to 18 inches which may be suitable for more intricate animations.
Perhaps one of the biggest draws for animators is that the Razer Blade 16 has a mini-LED display, which supports dual mode. In other words it can handle both 4K 120Hz (UHD+) and 1080p 240Hz (FHD) content natively. This means that any images, 3D renderings and models you pull up are going to be much clearer than an inferior display that would simply take 4K content and render it down to whatever resolution it supports.
The refresh rate in particular is impressive, as usually you'd need to have a separate external monitor to benefit from this kind of graphics quality and speed. The only downside is that you need to use Razer's own proprietary app to switch between monitor modes, then reboot the laptop.
The Razer Blade 16 can be customized with a variety of graphics cards. The specs we're recommending for animators is the one with a NVIDIA GeForce RTX 4090 card with 16GB of GDDR6 VRAM. High processing power is also assured by maxing out the DDR5 RAM to 32GB.
Naturally powering a high-end graphics card is a drain on the battery. We found in our tests that it lasted around 5 hours between charges, leaving it well behind the Macbook Pro. On the plus side, there are multiple ways to charge the laptop given that you can also use the Thunderbolt or USB-C ports for charging alongside the official power supply.
If you do choose this model of Razer Blade 16, you also benefit from 2TB (2 x 1TB) NVMe SSDs, which offer much faster read/write speeds than the previous SATA models. This should be more than sufficient for months of animations - the fact that the drives are separate also means you can use one for loading the operating system and another for archiving older files, making your laptop tick over faster.
The Razer Blade 16 weighs in at 5.40 lbs (2.45 kg), making it rather hefty compared to slimline ultrabooks and MacBook Pros. Still, the aluminum chassis makes it sturdy enough to handle the kinds of bumps and scrapes you can encounter in the field.
The only major downside to choosing a high-end gaming laptop like the Razer Blade 16 is the price, as maxing out the specs can actually be more expensive than an Apple device. If you're happy with the series but are on a tighter budget, consider buying a slightly older model like the Razer 15.
Read our full Razer Blade 16 (2023) review
Best laptop for animation: FAQs
What laptops are compatible with animation software?
The best way to be sure that your go to animation app will work well on your chosen laptop is to visit the developer's website. There's almost always a 'system requirements' page.
Even if your laptop meets the requirements, it can't hurt to contact the developer to make sure its graphic card is supported. If you use accessories like a drawing tablet, double check that these are supported too. For instance, the minimum requirements for CelAction2D are 8 GB of RAM and an Intel i5 CPU.
How to choose the best laptop for animation
Creating captivating animations requires powerful hardware and efficient workflow tools. Choosing the best laptop for you will depend upon your experience level, your budget, and how demanding your work will be.
However, there are certain key features to look for when choosing a laptop for animation:
Processing power and performance
Animation software, such as Autodesk Maya, Adobe Animate, or Blender, demands substantial processing power to handle complex calculations and renderings. Look for a laptop with a high-performance processor, preferably an Intel Core i7 or i9 from the 10th or 11th generation, or AMD Ryzen 7 or 9, last generation series H - especially if you are doing 3D animation.
Although animation relies mainly on graphics, the GPU will be pretty useless without a good CPU. Always make sure to look for the highest clock speed (4 to 5GHz) and 3D animation, as many cores as you can get.
Graphics capability and GPU
Look for a laptop with a dedicated graphics card offering high-performance graphics rendering designed for animation tasks. Ample video memory (VRAM) on the GPU is essential for smoothly handling large textures and complex scenes.
For 2D animation, we recommend Nvidia GeForce GTX 1050 Ti or AMD Radeon 560. Any other card with +4GB of VRAM will also be enough.
When working on 3D animation, look for Nvidia RTX 2050 to 3050Ti. Nvidia Quadro is also an option, but it won't make much difference. Going for any other card with more than 8 GB of VRAM will also do.
For more complex 3D animations, you are probably better off using your GPU, so we would suggest looking at laptops with a dedicated graphics card - especially if you're going to be attempting final-quality rendering. They will be more expensive, but their impact on the speed of your work is definitely worth the investment.
RAM
Animation projects often require significant memory to handle multiple layers, complex character rigs, and large data sets. Aim for a laptop with a minimum of 16GB of RAM, which allows for efficient multitasking and smooth playback of complex scenes. Also, consider 32GB or more if you work with extremely large projects or engage in extensive rendering and simulation tasks, especially if you are doing 3D animation.
Storage type and capacity
Animation files can occupy substantial disk space, so it is crucial to have sufficient storage capacity and fast data access. Solid-state drives (SSDs) are recommended for animation work due to their faster read/write speeds. Look for a laptop with a sizable SSD, preferably over 256GB of SSD storage for 2D animation and 512GB of SSD storage for 3D animation.
Additionally, consider external storage options or cloud backups to ensure ample space for your growing animation library.
Display quality and color accuracy
A high-quality display is crucial for accurate color representation and detailed visual editing. Look for a laptop with a high-resolution display, preferably a minimum of Full HD (1920x1080) or higher. IPS (In-Plane Switching) or OLED (Organic Light-Emitting Diode) panels offer accurate color reproduction, and better contrast ratios, ensuring you can view your animations with precision and clarity.
Touchscreen and stylus support
Some animators prefer the flexibility of working directly on the screen with a stylus. Consider a laptop with touchscreen functionality and stylus support if you enjoy drawing and sketching directly on your animations. This feature can enhance your workflow, allowing for more natural input and precise control over your animations.
Are you a pro? Subscribe to our newsletter
Sign up to the TechRadar Pro newsletter to get all the top news, opinion, features and guidance your business needs to succeed!
Nate Drake is a tech journalist specializing in cybersecurity and retro tech. He broke out from his cubicle at Apple 6 years ago and now spends his days sipping Earl Grey tea & writing elegant copy.