One of the reasons we rate Apple Music highly among the best music streaming services is that for a pretty average price, you get both Hi-Res quality and Dolby Atmos tracks ready for Spatial Audio. The latter is a big draw for any listener who wants to experience albums and tracks mixed in a new, immersive format that can make regular stereo mixes sound bland in comparison… if you can find them.
Spatial Audio on Apple Music can be experienced using the best headphones, but if you happen to own an Apple TV 4K, it can also be played back over the best Dolby Atmos soundbars or a surround sound speaker system. All it takes is an Apple Music subscription and the patience to track down music on the service that's been mixed in Spatial Audio.
I say "patience" for a very real reason: finding specific Spatial Audio tracks on Apple Music can be a time-consuming project. That's because Apple doesn't always clearly tag relevant content – sometimes a single track on an album will have an Atmos mix, but the album itself will be simply tagged as being "Lossless." Typically, the only way to find out if a track is in Spatial Audio is to play it, and then look for a Dolby Atmos tag in the Apple Music app window. Apple does make an effort to promote new Spatial Audio additions to its service within the app, but finding which tracks in your existing library have been converted to Dolby Atmos can take a lot of digging.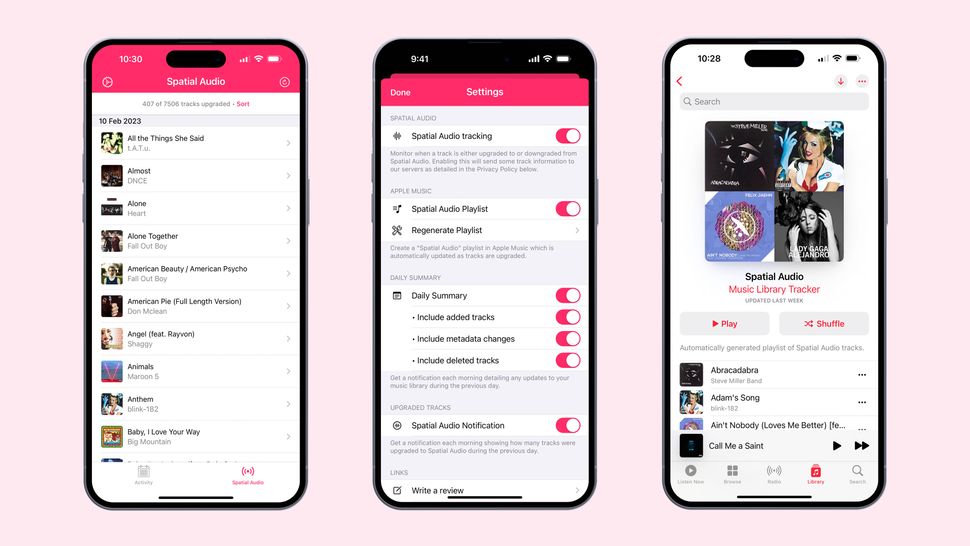 Ben Dodson is keenly aware of Apple's Music Dolby Atmos shortcomings. The software developer and creator of Music Library Tracker, an iOS app that monitors your Apple Music collection and alerts you when any tracks have been added or deleted, recently added a feature that lets you scan your full library for Spatial Audio tracks. Any tracks that have been upgraded for Spatial Audio appear in a new Apple Music playlist, and the app can send you notifications for new tracks in your library that get the Spatial Audio treatment.
The project stems from Dodson's work in creating a searchable database of Apple Music Spatial Audio albums and tracks. He also maintains the Twitter account @NewSpatialAudio, one that automatically generates tweets whenever a Spatial Audio album or track is added to Apple Music. Both are great free resources for finding music mixed in Dolby Atmos, but those capabilities should ideally be built into Apple Music, which "does not yet have a clear strategy for displaying Spatial Audio tracks," according to Dodson. Tell me about it!
Hands on with Music Library Tracker
Music Library Tracker ($2.99 / £2.99) is very easy to use. You just allow the app to scan your Apple Music library, and it will send you alerts going forward on which tracks have been added or deleted. When you select the Spatial Audio option, your library is compared with listings in the Spatial Audio Finder database, and you can view your full Spatial Audio library as well as sort it by track, album, artist, or album artist name.
Your custom Spatial Audio playlist that the app creates will show up in the Apple Music app, where you can easily dig into all the new tracks you previously didn't know were available in Spatial Audio. And same as with the regular Music Library Tracker functions, you can receive notifications when albums and tracks are upgraded to Spatial Audio.
In my case, the discoveries included the Sigur Rós album ( ), a good candidate for a Dolby Atmos mix if ever there was one, and the Mazzy Star track Fade Into You (please Apple Music, add this entire LP in Atmos ASAP).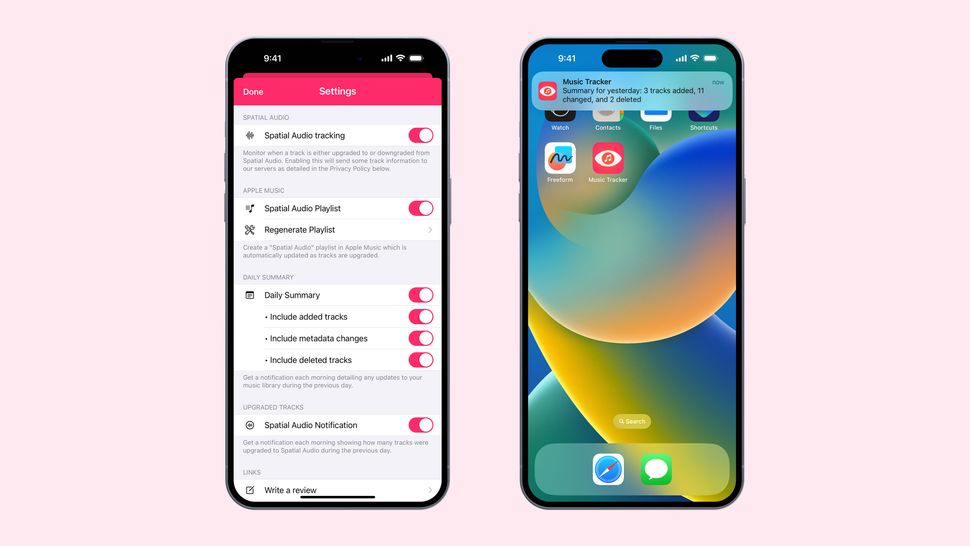 I was excited to find another favorite track, Aphex Twin's Tha, among the app's Spatial Audio discoveries, but that one turned out to be a false positive. When I queried Dodson about the situation, he said "there have been a few issues with a small number of tracks as Apple have pulled them for breaching their terms (specifically if they've used AI to upscale to Spatial Audio)." Was Aphex Twin's Selected Ambient Works 85-92 among the AI offenders? Possibly so, because, according to Dodson, the album was showing as "Dolby Atmos, Lossless, and Lossy Stereo" when his script last accessed it in January.
The app developer says that he's only recently become aware of the issue of tracks reverting back to non-Spatial status, primarily at Apple's behest, and is working on another script that will scrub the database and remove tracks that are no longer showing in Spatial Audio. So that's an update Music Library Tracker users can presumably look forward to.
As a fan of Apple Music's Spatial Audio offerings, and of music mixed in Dolby Atmos in general, Music Library Tracker's ability to notify me of Spatial Audio upgrades to my library is a welcome development, and certainly worth the app's $2.99 cost. Now where are my headphones – I've got some listening to do in my Spatial Audio playlist.