Samsung Jet Bot 90 AI+ robot vacuum release date, price and everything you need to know
Can Samsung's new robot vacuum rival iRobot and Dyson?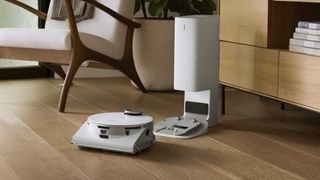 (Image credit: Samsung)
The best robot vacuums make cleaning your floors a breeze, as they take on the chore completely – pootling around your home sucking up fine dust, dirt and any other debris in its patch, while you put your feet up and take a well-earned rest.
Many of today's best robot vacuums have powerful suction that can rival the best vacuum cleaners on the market, along with rechargeable batteries that can outlast some of the best cordless vacuums, too. They can be controlled either by a smartphone or your voice thanks to integration with Alexa and Google Assistant, while state-of-the-art sensors ensure the machine doesn't bump into your furniture or fall down any stairs.
It's been more than four years since Samsung launched a robot vacuum but, at CES this year, Samsung unveiled a new robot vacuum that used Intel's AI technology to ensure it could navigate its way around your home as easily as you do. So it's no surprise we're keenly awaiting the release of the Samsung Jet Bot 90 AI+ to see just what innovations they'll be surprising us with next.
Cut to the chase
What is it? A new Samsung robot vacuum that can double as a home security camera
How much will it cost? $1,299
When will it be out? It's available in the US now
Samsung Jet Bot 90 AI+ price and release date
The Samsung Jet Bot 90 AI+ is priced at $1,299 (around £950 / AU$1,750) making it the most expensive robot vacuum the brand offers.
At the same time, Samsung has also launched the Jet Bot robot vacuum with intelligent power control that doesn't have the same AI smarts for $599 (around £450 / AU$800), and the Jet Bot+, which comes with a clean station where it will automatically empty its dust canister for $799.99 (around £580 / AU$1,075).
The Samsung Jet Bot 90 AI+ robot vacuum is available to buy in the US now - a few days later than its initial launch date of June 2021. At present, the robot vacuum currently isn't available in the UK. However, we expect the tech giant to make it available very soon.
However, Samsung may delay it until late August/early September 2021 - a time when it would usually unveil its latest crop of small appliances at the IFA-trade show, which happens in Berlin, Germany in September. However, due to the global pandemic, IFA was unable to take place in 2020 and Samsung opted to host its own virtual event called Life Unstoppable instead. IFA 2021 has also been canceled, and we expect Samsung to hold a virtual event in place of the conference.
Can't wait for the Samsung Jet Bot 90 AI+? Then check out the best prices for these robot vacuum cleaners below:
Samsung Jet Bot 90 AI+ Design
The Samsung Jet Bot 90 AI+ robot vacuum has a similar circular design to many robot vacuums on the market, and offers 30w of suction power and sucks up dust from the air as well as from the floor. It can even automatically adjust the suction power to suit the type of floor it's cleaning, as well as the amount of dust and debris it needs to suck up - a feature we've seen on some of the best vacuum cleaners such as the Dyson V15 Detect.
Samsung also says the robot vacuum can rotate through 360 degrees and has a brush bar with soft bristles, which can easily reach into tight crevices. The brush bar is self cleaning, too.
The Samsung Jet Bot 90 AI+ also includes a base unit, known as a Clean Station, which the robot vacuum will return to when it's full and automatically empty its dust bin into a 0.55 gallon / 2.5-liter dust bag that you only need to replace once every two to three months, according to Samsung.
Samsung Jet Bot 90 AI+ Features
The Samsung Jet Bot 90 AI+ robot vacuum has a range of sensors that ensure it can navigate around a home without bumping into anything. The first is a 3D depth camera, which has a 60-degree horizontal field of view and a 40-degree vertical field of view, to scan the area 1m wide in front of the robot vacuum cleaner to detect, and avoid, objects on the floor as small as 0.39 x 0.39 x 0.39 inches / 1 x 1 x 1cm.
Next up, Artificial Intelligence (AI) ensures the Samsung Jet Bot 90 AI+ can identify the objects on the floor, as well as any appliances and furniture in the room, and clean as close to them as possible without colliding into them. For example, it'll give a porcelain vase a wider berth than it would a child's toy.
If the Jet Bot 90 AI+ thinks the object will cause secondary contamination or could be dangerous, it will simply avoid it, so there's no fear of it trailing mud or pet poop around your home because it thought it was something it could clean up. Similarly, the AI smart will put an end to fishing charging cables out from the dust bin because the robot vacuum cleaned too close to them and they were sucked up.
Finally, the on-board LiDAR sensor can accurately judge distance and location to ensure the robot vacuum follows the optimal cleaning path around the room. It scans through 360 degrees over an area of 6m, 10 times a second to ensure it's as accurate as possible. According to Samsung, this technology works well in low-lit rooms or underneath furniture.
The Jet Bot AI+ can be controlled manually or by the SmartThings app on Android and iOS smartphones. As well as allowing you to schedule cleaning sessions and even set no-go areas in your home, the app also lets you keep an eye on your home when you're not around through Patrol Mode, which utilizes the robot vacuum's camera. End-to-end encryption is employed so video clips are secure and can only be viewed by an authorized user.
While this feature isn't new for robot vacuum cleaners – models such as the Ecovacs Deebot Ozmo T8 AIVI already offer this – it is new for Samsung robot vacuums and can be accessed via the SmartThings app.
It also has Bixby, Samsung's voice assistant built-in, so you can use voice commands to start the robot vacuum on a cleaning spree, change the cleaning mode or even just ask for the news or the weather.
Sign up for Black Friday email alerts!
Get the hottest deals available in your inbox plus news, reviews, opinion, analysis and more from the TechRadar team.
Carrie-Ann Skinner was formerly Homes Editor at TechRadar, and has more than two decades of experience in both online and print journalism, with 13 years of that spent covering all-things tech. Carrie specializes in smart home devices such as smart plugs and smart lights, as well as large and small appliances including vacuum cleaners, air fryers, stand mixers, and coffee machines. Carrie is now a copy editor at PWC.