Panasonic predicts CSCs will overtake DSLR sales by 2015
Global sales to take lead from Japan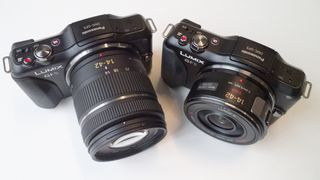 Panasonic has said that it is predicting total compact system camera sales will overtake DSLR sales globally by 2015, rising from the current 22% share they have.
The first manufacturer to enter the CSC market with its introduction of the Micro Four Thirds G1 camera back in 2008, Panasonic has continued to develop its range of CSCs, with four different ranges in its line-up.
At present, Japan and Taiwan are the only countries in the world that sell more DSLRs than compact system cameras, selling at 51% and 54% respectively.
Overtake
Speaking at the launch of the new Panasonic Lumix GF5, Barney Sykes from Panasonic UK said that he predicted the stagnation of DSLR sales over the coming months and years to see a total global market share of all compact system cameras rising to 51%.
This year, sales are on track to rise to around 34%.
Although Panasonic was the first to market, it is has since been joined by almost every major manufacturer, with Canon being the only one without a mirrorless system in its line-up. Panasonic believes that Canon will enter in 2012.
Panasonic has also seen its market share rise by 9%, with record sales in August last year placing it as the number three photography brand in the UK (behind Canon and Nikon).
Sign up for Black Friday email alerts!
Get the hottest deals available in your inbox plus news, reviews, opinion, analysis and more from the TechRadar team.
Amy has been writing about cameras, photography and associated tech since 2009. Amy was once part of the photography testing team for Future Publishing working across TechRadar, Digital Camera, PhotoPlus, N Photo and Photography Week. For her photography, she has won awards and has been exhibited. She often partakes in unusual projects - including one intense year where she used a different camera every single day. Amy is currently the Features Editor at Amateur Photographer magazine, and in her increasingly little spare time works across a number of high-profile publications including Wired, Stuff, Digital Camera World, Expert Reviews, and just a little off-tangent, PetsRadar.